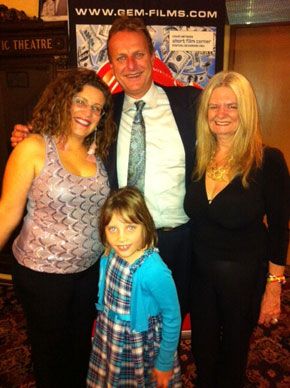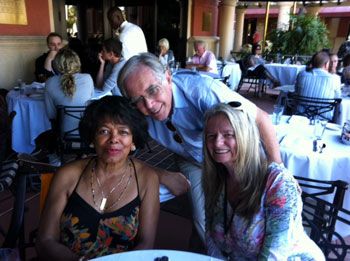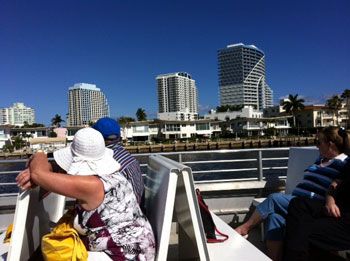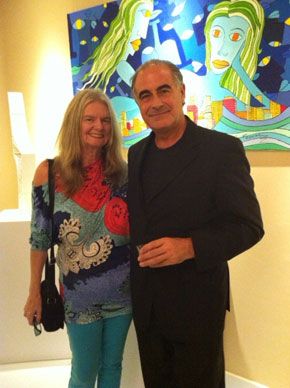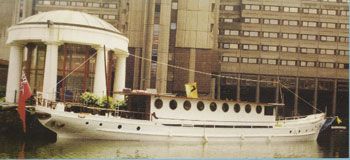 Picture Credits:
1. Cool premier screened on the beach at the Cannes Film Festival
2. Inger (my co-producer), Scot who we share our production studio with, myself and Inger's daughter Claudia who also was in our film, at the Fort Lauderdale Premier of our film 'Condo Commando'.
3. Friend Joan (actress and writer), her husband Tony, and myself having lunch in Florida as they took a day off from their Caribbean cruise to visit
4. Fabulous view from our Fort Lauderdale water taxi going to lunch with Joan and Tony
5. Writer J. Kent Planck, Elisabeth Bartlett Sturges and myself at Bonnet House book signing
6. Emanuele Viscuso at Fort Lauderdale art exhibition at a showing of his famous sculptures
7. My sumptuous yacht to rent for the Olympics see information below.


Films and Festivals:

I made a couple of wishes for this year and one seems to be on the way to coming true. Last years wish was to have my film 'Condo Commandos', which I co-produced with my attorney and friend Inger Garcia, entered in the short film competition at the Cannes Film Festival and that happened. However, this year I wished for it to be in competition at the Fort Lauderdale Film Festival. It has just been premiered and we are now waiting to see if we have won our place, I am crossing my fingers.

You may think wishing is rather insignificant but it has now been scientifically proven that words affect our DNA, so it is never too late to start wishing!


THE HUMAN DNA IS A BIOLOGICAL INTERNET

This looks to be by far more superior to the artificial internet. Russian scientists are trying to explain the phenomena such as clairvoyance, intuition, mind influencing weather patterns and much more. There is evidence for a whole new type of medicine which DNA can be influenced and reprogrammed by words and frequencies without cutting out and replacing single genes.
One can simply use words and sentences of the human language! This, too, was experimentally proven! Living DNA substance will always react to language-modulated laser rays and even to radio waves, if the proper frequencies are being used.

Ah! So the key is to get the right frequency?

The individual person must work on the inner processes in order to establish a conscious communication with their DNA. The Russian researchers work on methods that work based on finding the correct frequency.

If this has caught your interest then have a look at the works of Russian biophysicist and molecular biologist Pjotr Garjajev and his exploration into the vibrational behavior of the DNA. Then, maybe 'your' wishes can come true.

Now for my next wish. We have recently started filming on the full-length documentary, and I am in the process of writing the treatment for my feature film. Busy and exciting times, and will be giving you updates as I go along. One of the most difficult aspects of films is obtaining the finance; even the major studios have and do find this a challenge. You can never be sure if you will get the finances in place until they are in the bank! If however you have good people in the industry supporting you as we do, at least we are in with a fighting chance. I hope to soon let you know this wish has also come true.


Weekend in the mind:

I had a great International Hypnosis Conference at the end of last year in London at the world famous Shepperton Studios, it was I am proud to say over subscribed. Owing to the success of my first conference I have been asked to do another one in the second week-end of September 2012. So many of the attendees insisted I make it an annual event, so put a "save the date" in your calendar.

My old friend and incredibly talented artist Emmanuelle Viscuso, based in Miami had his sculptures shown at a lovely elegant art gallery in Fort Lauderdale recently; the gallery has an excellent reception. He gave me a very generous New Years present, a ring he has just designed. It is a circle of magnet tiny balls surrounding a stone; it is truly a unique piece and commented on whenever I wear it, which is often!


Some Fort Lauderdale history in the making.

I enjoyed a book signing by. J. Kent Planck at one of the special homes in Fort Lauderdale 'Bonnet House'. This great old residence is seeped in history and charm is where people can roam about the house and the many acres of grounds just a few miles from the town centre and see how life was at the turn of the century. It's acres of sea front property was purchased as a wedding gift by artist Frederic Clay Bartlett in 1919. This ensured the site would be preserved for the education of future generations. Elisabeth Bartlett Sturges, grand daughter of late Frederic Clay Bartlett was kept busy co-signing the book. This wonderful house in acres of land gives an example of earlier life in this incredible paradise where the rich retired to an exotic climate of warmth all year round.


On the Organic Front

I received an email from someone and thought it was worth mentioning ain my column. He is a promoter of organic food I would be interested in feedback, as I have not tried it myself. "My name is Chris Thompson and I own a company called 'Seed Stacked', we produce the Seed Stacked flapjacks which are 100% natural containing only seeds oats and honey.

I created the products myself after being diagnosed with Cohn's disease and had to retire as a professional wrestler, I lost 4 stone in 6 months! There were created in my kitchen for my own health benefit and I was placed in remission 2 years ago thanks to my diet and lifestyle. I launched the company and we have now sold over 2 million bars! This proves that you can be in control of your health".


How much toxicity is in your body:

New studies are looking at what toxins are in your body. The researcher tested nine people, Andria Martin was among them and on NBC news special she was interviewed and said the researcher found 95 chemical contaminants in her body.

The New York study was by Mount Sinai school of medicine in New York and the Environmental working group (EWI). Although a small study but, they believe an important one to show what we are being subject to and the possible chemical overload by just going about your life. Fifty three of the chemicals were known to cause cancer, sixty-two to the brain and nervous system and fifty five associated with birth defects. They said the sheer trace amounts were unnerving. Jane Houlihan spokesperson for the EWI stated, "This is irrefutable proof that humans carry in their body scores of industrial contaminants most of which didn't exist seventy five years ago."

In the research the scientists found chemicals that cause birth defects in animals, found in items like makeup hairspray and food wraps. Other chemicals target the nervous system in synthetic fragrances like perfume and soap. Acetone in nail polishes removers and poisons in weed killers and bug sprays. Herlo acetone in dry-cleaning. It recommends organic products not just in food but in most items you have in your house.

Serious illnesses and even death from perfumed products
Until the 20th century, perfumes were made from natural ingredients derived directly from plants and animals. As fragrances became more widespread, they also became more synthetic and that is the problem now.

12-year Old Boy dies of deodorant overdose.
Daniel Hurley died because he used too much deodorant spray in a confined space, according to a British Coroner. His father said that he was frequently spraying on deodorant, even on his clothing. The presence of a volatile agent caused the cardiac arrhythmia. Dr. Robert Hunter said that people need to know the risks that these products have on the cardiovascular system.

Perfume caused vomiting
Eleven students were taken to hospital after perfume spilled in a school bus. District Fire Chief, Michael Gamache said a couple children vomited, and others experienced shortness of breath. According to Gamache, the perfume was very "pungent." The incident began when a student discovered a perfume bottle in her knapsack was leaking. She took it out and the cap fell off, spilling the perfume. In Origan US disciplinary action now face those who wear too much scent in all city offices so beware of the strong chemicals.

5 year old girl in coma over pesticide used for head lice
Doctors treating a five-year-old girl who lapsed into a coma after pesticide was squirted on her hair to kill head lice. "Sometimes the effects of the pesticide can be worse than the illness it is meant to treat because users risk going beyond the recommended usage and frequency," said the doctor, adding that products applied to the scalp go directly into the bloodstream.

One of my attorney friends has gone completely organic now with everything she buys, it's expensive; but cheap in the long urn. Not only was her body suffering from the toxicity in everyday life and having to eat out a lot but she noticed that her memory was not functioning as well as it should. Since she has been on a strict completely organic diet, she has slimmed down and her thinking is much clearer for her legal challenges and that is only after a few weeks. Loosing a case would be far more expensive than paying the extra price for health.


TIPS:

Chips
A surprising healthy snack is homemade potato chips. 
When it comes to keeping high cholesterol under control. Potatoes themselves are actually low in calories, high in fiber, and filled with potassium, a mineral helpful in keeping blood pressure under control. Stick to the baked version of potato chips, and, when possible, prepare your own at home, seasoning them lightly with extra-virgin olive oil and herbs like rosemary before popping them in the oven.

Oatmeal
Don't think of oatmeal as a breakfast-only treat. You can eat it at any time of the day to help lower cholesterol. Oatmeal contains a specific soluble fiber that soaks up cholesterol and helps get it through the digestive system without being absorbed into the body. In addition, the fiber links with bile acids to aid in excretion, forcing your liver to make more bile, which helps lower LDL cholesterol, says Brill.

Fruits
Instead of reaching for a candy bar, to satisfy your sugar craving reach for a healthy snack that can actually help lower your cholesterol. Apples, strawberries, grapes, and citrus fruits all contain a high amount of pectin, a kind of fiber that can decrease your LDL levels. Clementine's make an especially good choice, as they are particularly easy to grab on the go.
If you mash a couple of bananas with a fork and add a small amount of milk you can create a thick paste, which is easy to create an attractive desert that is both nutritious, and delicious. Great for kids that wont normally eat fruit. To make sure the banana is sweet wait till the banana is almost black and you will be amazed how sweet it tastes.


Doctor's recommendation
"If you master only one herb in your life, master cayenne pepper. It is more powerful than any other." Dr Schulize.

A cup of cayenne tea is great for heart problems. A teaspoon of cayenne in a cup of hot water". Dr Christopher.
It also is claimed to have curative powers in colds, circulatory digestive problems and much more.


WANT TO RENT A CLASIC YACHT FOR THE SUMMER OLYMPICS?

How about Edith Piaf's former love boat? Many of you have been invited to our parties so here is something about it. Moored in the Famous and glamorous St, Katherine's Dock next to historic Tower Bridge London the Flamont Rose is a luxury 100 foot classic yacht, the most photographed boat in the marina as the only one of her kind, there is no other like her in the world! If that wasn't unique enough the boat is believed to have been the love boat of France's most famous singer Edith Piaf when she was having an affair with the love of her life French boxing champion Marcel Cerdan.

'This distinctive yacht is available to rent for the very first time under the current owners'. It is so unique and sumptuous, perfect for a couple that would like to enjoy the Olympics in style with its huge sitting rooms and wonderful bedroom cabin that includes a gold covered full size bath. Or you may want to entertain your major clients on this romantic love boat stepped in history. Where your guests or clients can experience a very memorable lunch or a cocktail party as the marina is situated between Mayfair and the Olympic site. You won't have to worry about the horrendous traffic jams to the Olympics just a few minutes walk away is the 'clipper' a large elegant water taxi that will whisk you off to Canary Warf to pick up the speed travel specially organised for the games. Some of the large yachts are being charged £40,000 for mooring so you can see the moorings take up a large part of the rental. Olympic package including maid service is £36,000. Email me now if you are interested

[email protected]




Eds Note: VALERIE AUSTIN is an author of six successful self-help books including SELF HYPNOSIS (Thorsons), journalist and trainer with an international reputation in the field of hypnosis. Her best-selling books and training help people achieve their full potential. She founded the Austin Corporate Stress Management Company focusing on reducing stress and anxiety amongst executives and CEO's. She is also founder of UKRAH (1992) The UK Register of Advanced Hypnotherapy. Valerie has also worked as a consultant in hypnosis at the Priory Hospital, the UK's equivalent to The Betty Ford Clinic, which specialises in food addiction and alcohol abuse. Her work in the film industry (Hollywood) interviewing movers and shakers, producing TV news segments and publishing celebrity magazines in London gave her invaluable experience for her current Harley Street practice.