I have been doing readings for approximately 25 years now. If you'd like to find out more about me, click on the tab to the right. Or you can go to my website (www.victoriabullis.com). Also, Google me!



• • • • • • • • • • • • • • • • • • • • •
SPRING 2012



NEXT ISSUE -- look for great changes to my column: amazing transformation is in progress!

MORE ABOUT MY 'INSPIRATIONAL' JEWELLERY LINE



I am very excited about a few recent events: one is that the stylist from the US X- Factor Finale selected eleven bracelets from my line, to work with contestants coming back for the finale.

In addition, Reverend Michael Beckwith's brother and son each bought a lava and pyrite bracelet that was being featured in the Agape bookstore. Also, Alice Beckwith (Reverend Michael's mother) who runs the concessions and bookstore selected a lovely mangowood and finely carved, antiqued jade-bead bracelet (Reverend Michael Beckwith is one of the inspirational speakers in the mega-famous book/DVD The Secret).

Also new shops are acquiring my bracelets both in the UK and the LA area!

Here are four new designs: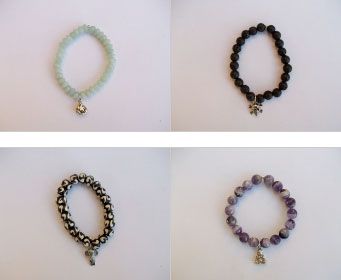 I have now been creating unique bracelets for over two years. In addition to my 'inspirational' line, I have a pirate line, an 'ethnic' line – a few others...

I am currently working on building a new website just for these designs; stay tuned!


WINNER OF WINTER GIVEAWAY

A client/friend, Ruth, and her partner Sheryl, generously donated a stunning sterling necklace from their trendy, sleek, spiritual line of jewellery -- D2B (refer back to my Winter 2011 column for details on the line, and ways to purchase their jewellery). The winner of the lovely necklace (see photo below) is a reader from the United States, Jessica Hudson... She is a single mom, now going to graduate school, is working full time and has very little discretionary income. She stated in her e-mail that she has not bought anything for herself for a very long time and that she really resonates with the spiritual theme of the necklaces; she was also the sixth to request receiving the necklace.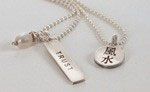 Congratulations, Jessica! You absolutely deserve to be the recipient of something elegant at this time of your life...


[email protected]




CIRQUE DU SOLEIL'S OVO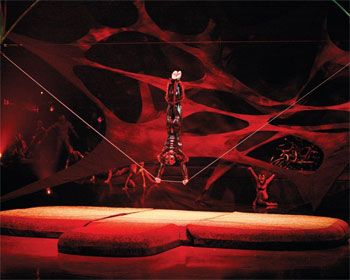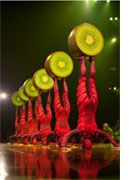 I love attending premieres; I always have. I was recently invited to attend the LA area's Premiere of Cirque Du Soleil's very unique OVO. It was held under massive tents on the beach at Santa Monica Pier. I was accompanied by an up and coming Hollywood fashion designer, kaMi...This is the third Cirque Du Soleil performance I have attended. Everything about the organization of the event, from parking to human traffic flow to security to vendors to the seating arrangements was absolutely superb; about the best I have ever experienced. Period.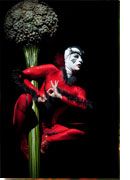 The show itself was entertaining and fun – it was entirely about bugs and insects, with a huge egg as a recurring focal point. The high energy during the performance was very electric.

So many interesting celebrities were in attendance...

As we were leaving the tent after the show, the vibe, the buzz, everyone's conversation indicated that this was an act to suggest.

Photography by Benoit Fontaine; Costumes by Liz Vandal - 2009 Cirque du Soleil




TIPS TO THE WISE



CONNECTING WITH YOUR SOUL MATE
ARIELLE FORD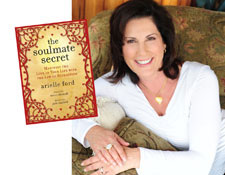 I have known Arielle since the early 1980s when she was making the rounds of bookstores with a then new author, Deepak Chopra ... I knew immediately that she was going to be big in her own right! She is not only responsible for making Deepak famous, but also the two authors of the Chicken Soup for the Soul series, Mark Victor Hansen and Jack Canfield as well as many more. Her book The Soulmate Secret is a best seller worldwide – because what she discusses in the book works! Arielle does seminars on creating one's perfect partner; she just did a big one in Ireland in June.

In the 1990's Mark Victor Hansen and Jack Canfield convinced her to have her own series of books similar to the Chicken Soup books. There were six in the series, entitled Hot Chocolate for the Mystical Soul; I have stories in five of them. Arielle is an absolute master at helping people connect with their soulmates. Her husband Brian is a wonderful man and a true life partner. Arielle and Brian live and work in La Jolla, CA.

This Is The Way To Overcome Doubt

"How do I overcome my doubt that I will ever find my soulmate," is the #1 question I am hearing most often.

First I would ask you to determine: is this a random thought, a random doubt or do you have a serious "belief" that you will never find your soulmate?

It's important to make this distinction.  As human beings, it's normal to have occasional doubts but, if your core belief is you won't find your soulmate, this is something that you need to overcome.

When I have a doubt about something, I choose not to buy into.  I say to myself "cancel-cancel" and then select a more empowering thought.

For instance, you have the doubt, "I'll never find my soulmate." Change that to "My soulmate is not only out there but he/she is actively seeking me as well and soon we will be together."

When I have a "belief" about something, I look to see what feeling is attached...is it Fear? Anxiety? It is possibly an intuitive warning to look more closely at something?

Then I will imagine a "worst case scenario" which usually helps me see the issue with perspective, immediately reducing any fear or self-doubt.

Next I begin to investigate the belief.  Is it true? Where did it come from? Am I willing to change my belief?  If not, what is my payoff for holding onto this belief?

Our beliefs shape our lives and become self-fulfilling prophecies. If we believe we "can't," then we get to be right – we can't.  

If you are ready to manifest the love of your life right now, please visit www.soulmatekit.com/dvds.

About ARIELLE FORD:

Arielle Ford has spent the past 25 years living and promoting consciousness through all forms of media. She is the author of THE SOULMATE SECRET: Manifest the Love of Your Life with the Law of Attraction (Harper One). She lives in La Jolla, CA with her husband. Please visit her websites:

www.soulmatesecret.com www.facebook.com/ariellefordfanpage

Contact her:

[email protected]




INSIGHT ON SKINCARE
NERIDA JOY

I am thrilled to have Beverly Hills Skin Care Expert Nerida Joy on board. Nerida Joy happens to be MY skin care expert -- as well as a very close personal friend: she is amazing. She has spent countless years continually researching ingredients, products, techniques and all other aspects of 'skincare/ beauty' and she is an expert consultant to Guthy Renker (the major producer of infomercials, many of which are on skincare lines). Her level of knowledge is incredible.

She has a vast list of celeb clients, all of whom tout her abilities publicly: Jennifer Garner, Courteney Cox-Arquette, Isla Fisher, Catherine Deeley, Kate Beckinsale, Reese Witherspoon, Miranda Kerr and Tyra Banks.

Nerida Joy is a kind, lovely woman, sophisticated spiritually and I am very happy that she without hesitation agreed to provide a tip or two each month for my column.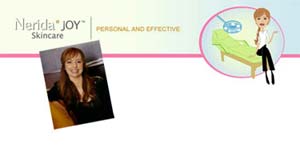 Nerida Joy is now on the Editorial Advisory Board for NewBeauty magazine and blogs on the DailyBeauty Line-Up Topics under 'Expert Insight' for newbeauty.com/dailybeauty.

Nerida has just launched an important new beauty line with Jessica Simpson, called BeautyMint; please read all about it in my Winter 2011 Column!

"To be truly effective, skin care regimens need to address individual needs and goals," says Nerida. "I am so proud to bring the products I love and trust to women everywhere, while being afforded the opportunity to guide and advise in a really personal way. That's what I'm all about and that's what BeautyMint is all about."

Getting Your "Beauty Sleep"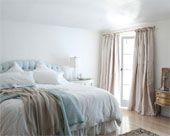 Nerida believes that sleep is very important and the number of hours each person requires varies. People who consistently get quality sleep need fewer hours.

She says, "When your body is resting, your organs and systems are also resting and recovering, healing. Since your skin accepts topical nutrients differently at night, the products prescribed for your evening regimen are often stronger from those prescribed for the morning."

Hydrate, Hydrate, Hydrate!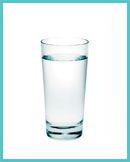 It's important to drink water and keep hydrated throughout the day. If you don't particularly like the taste of water, we suggest you add lemon, mint or cucumber to amp up your refreshment. These additions provide flavor and antioxidant benefits. Cucumbers contain antioxidant nutrients like Vitamin C, which can help protect the skin from sun damage. Lemon is also a rich source of Vitamin C. Vitamin C boosts collagen and elastin, which helps keep the skin looking vibrant. While mint is quite invigorating, it also has properties that act as a body toner.

The next time you're thirsty, grab a glass of cold water and add some lemon, mint or cucumber. We love all three!

Reducing Eye Puffiness



Did you know... when you have puffy eyes, the best way to reduce swelling if you are applying eye cream is to lightly rub the formula in a circular motion from the inside of your eyelids, out, and under the eye. This will help reduce the swelling and increase drainage. Look fresh and awake all day no matter what happened last night!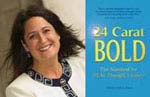 LEARN HOW TO WRITE FROM A MASTER
MINDY GIBBINS-KLEIN

Write From the Heart, Then Edit From the Head

You may have heard many people tell you to write from the heart.  It gives you a much more engaging result, one that resonates with readers and makes them feel like you are telling your truth.  They then feel more inclined to engage with you, check out your other products and services and hopefully even book you and spend money with you!

However, it is not all about the heart.  I believe you also need to involve the head, and specifically your left-brain critical, logical thinking brain.  Most people flip back and forth between the two, allowing their left brain to come into their writing, which in fact can stifle the feel of your piece.  At The Book Midwife, we have found that the best way to write is to allow your authentic, heartfelt writing enough space to do what it needs and wants, and then, after stepping away from it, to use the critical eye and make it better. 

First, you have to recognize that you are letting this happen.  Then you need to consciously tuck that inner critic safely away while you are in the flow.  It can be challenging at first but it is worth it!  If you want help or coaching with this aspect of writing, just get in touch.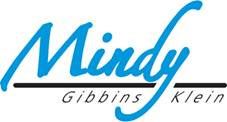 International Speaker  
Executive Coach and Thought Leadership Strategist
Founder and CEO of The Book Midwife and Ecademy Press
 "Turning Experts into Thought Leaders and Published Authors"
Winner, East of England Business Champions "Enterprising Business" 2011
Winner, APCTC "Specialist Coach of the Year" 2011
Finalist, FSB Small Business Awards "Enterprising Business" 2010
Call me!   T: +44 (0)845 003 8848     M: +44 (0)7764 163312
Connect with me online!

[email protected]


As featured in




JOIN THE GREATS
SIMON PHILLIPS



My good friend from the UK, Simon Phillips, sent me the following blog in December. As soon as I read it, I asked him if I could post it in my next column – even though it was past the deadline for January. Simon immediately wrote back and said absolutely (thus the fact that his appears to be slightly dated!). Simon had written several books, which he is currently updating. Simon conducts seminars, coaches key people, and is very well known on www.ecademy.com. He is definitely on his way being a major success in the world.

Here is that blog:

2012 – A Year for Results or Reasons

So, if you are anything like me, the excesses of the holiday season are just starting to wear off and your clothes now feel less likely to burst at the seams!  Normally, I am more than capable of resisting temptation, but there is something about twinkling lights, bells, children's laughter and the smell of Christmas pudding that disarms all of my defences and I suddenly find myself eating cheese and drinking red wine at all times of the day and night.

Now, it's back to more reasonable volumes of food and, more importantly, eating foods that provide energy rather than induce sleep.  I've got some major goals for 2012 and I'll have more time to achieve them if I'm awake!

So, big stretch, sitting up and feeling great? Let's get this year off to a fantastic start!

The phrase "Results or Reasons" is attributed to Socrates and relates to what he observed when people around him set their goals.  The outcome was always the same, either they delivered results or they served up some reasons as to why the results had not emerged.  Analysis of the reasons presented to me by the people I have had the privilege to coach over the years indicates that they have either applied insufficient energy or they have been unwilling to continue when outside factors, other people or "circumstances" have got in the way.  Whereas the results I have seen others deliver have been delivered in very similar conditions and sometimes despite even bigger challenges.

So, what about you?  What will you do in 2012?  Is this the year that you finally deliver on the New Year's Resolution?  Is this the year that you will get that promotion, land the role or achieve your target?  Or are you already creating some reasons why it's just not going to happen?  Don't worry if it's the latter, just acknowledge it as a point in time from which you can choose a different route. Don't worry also, if you haven't got everything you need right now to achieve the overall goal; if you have enough to make a start, then just get going.  Apparently, there is an ancient Chinese proverb that says something like, walk as far as the highest peak you can see; from there you'll be able to see a whole lot more...and the next peak!

I hope you've got something exciting that you want to achieve in 2012 and that your reasons for not giving it everything you've got are not as powerful as your vision for the results you will achieve.

About SIMON PHILLIPS: 

Simon Phillips is a personal development specialist who is on a mission to develop a community of change agents, people fully enabled to make a difference in their world. He is the author of "Mastering Time 24/7" and the creator of Join The Greats, a personal leadership development programme for people at a crossroads in life with ambition and a big heart.

Please visit his website for more free tips: jointhegreats.com and check out his book on Kindle amzn.to/vo5qzT


• • • • • • • • • • • • • • • • • • • • •


I look forward to reading your comments!

[email protected]



www.victoriabullis.com

Follow me on Twitter

I have a Facebook page!!! Please become a fan!