On Jubilee year: let us have the best of British food. Two classic restaurants where typical dishes are cooked just as they should be and the service is impeccable with everyone making you feel quite at home.

Simpson's-in-the-Strand 100 Strand, London WC2R OEW Ph. 020 7836 9112 www.simpsonsinthestrand.co.uk

I doubt there is a better restaurant in London for true British 'Bill of Fare' than Simpson's-in-the-Strand.

Since 1828 the then 'Simpson's Grand Divan Tavern' catered for famous guests including Benjamin Disraeli, Charles Dickens and William Gladstone. And whilst the customs are now more relaxed than in those days as ladies are welcome and gentlemen can dine without jackets, one still feels the overpowering atmosphere of history embedded in their walls.

The large room is austere and elegant. Four large chandeliers preside over elegant laid tables, comfortable cubicles on one side and small tables for two on the other next to large windows. The centre piece in the back of the impressive room is a large painting by Baron Rozenkranz, named 'Wasn't it a dainty dish to set before the King'. This is unique as only another one is known to exist painted by the same person. This other one, though, I believe is hidden at Claridge's as during some refurbishment they covered it up as they were not allowed to destroy it but it did not go with the new decor. Table 53 for two in front of the painting is the best table if you can get it. Regulars love it.

In 1848 John Simpson introduced the practice of wheeling the large joints of meat on silver dinner trolleys to each table and carving them in front of guests. This continues to be done today. The original trolleys are still in service and star carver, Giuseppe, who has been with Simpson's for 47 years is a pleasure to watch. He asks how you wish the meat served and professionally he carves it exactly what you asked for. The slices are placed on the plate with thin gravy around it, freshly grated horseradish and a gorgeous Yorkshire pudding for the roast rib of Scottish beef (£ 27.50) and homemade mint sauce/redcurrant jelly for the roast saddle of lamb (£25.50).

A separate dish is then brought with cabbage and roast potatoes. I honour the tradition of placing a piece of silver (now a pound coin) on the carver's table.

This is a lovely place to come for breakfast, lunch or dinner. Their legendary breakfast offers Ten Deadly Sins, the Great British Breakfast or a Healthy one. The Ten Deadly Sins include Cumberland sausage, fried egg, streaky and back bacon, black pudding, fried bread, liver, bubble & squeak, baked beans, grilled mushrooms and tomato (£21.50) plus toast, pastries, fresh orange juice, cereals, porridge, stewed fruit and coffee. Crosswords and newspapers are complimentary.

Their Cote du Rhone at £35.00 is very good unless you prefer of course the Chateauneuf du Pape at £ 122.50.

They offer carving classes and have a charming art deco cocktail lounge with a pianist in the evenings.

Simpson's heads towards its 200th anniversary with the knowledge that innovation can co-exist happily with tradition.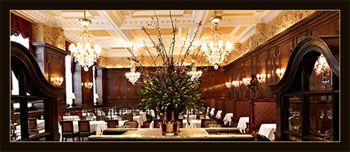 SWEETINGS
39 Queen Victoria Street, London, EC4N 4SF Phone: (0)844 5672326 www.sweetingsrestaurant.com

I rushed from the Common Hall after the election of Lord Mayor hoping I would not be too late for lunch and was greeted by Manager Angelo with a warm smile.

I first visited this classic fish restaurant when my solicitor took me to lunch there many years ago – I knew it would be good as John has excellent taste in food and wine as well as excellent contacts and wins legal cases all the time.

Happy to share his details with you.

First come first served as Sweetings does not take reservations and is only open for lunch from 11.30 am till 3 pm. (Mondays to Fridays). Evening functions can be arranged. This is a perfect place if you are alone as you can sit at the bar: watch a lot of activity in the preparation of dishes and drink orders.


On the day I visited I sat on the second stool shown in the picture and it was charming long-time employee Lee with whom I had an interesting conversation.

Sweetings speciality: fish. The finest. I like to order from the list in the blackboard -- somehow makes me feel that it was caught that morning but everything is as two of the owners are fish suppliers to the restaurant. I had the grilled Sea Bass (£19.25) and buttered spinach (£5.00). As I had started with the fish terrine (£7.60) I only glanced through their classic English puddings: steamed syrup sponge and baked jam roll, spotted Dick (£4.50) and savouries not usually seen in menus such as Roes on Toast (£4.75).

The sign of a good restaurant is the high quality of their house wine – no exception here. Their Sauvignon Blanc (£ 5.50 /£22) was excellent as is their carefully selected short wine list which includes a Mersault 1er Cru at £ 89. Highly recommended. Sweetings is not 'old-fashioned' but 'traditional' at its best.