Happy spring, dear readers. The snow was pretty but bring on more sun!
I hope you like this month's cover image of THE GIRL WITH THE DRAGON TATTOO stars ROONEY MARA and DANIEL CRAIG at the film's prem, snapped by our delightful Celebrity Gossip Journal Ed, BOLLY GOLIGHTLY. The film is a brill stand alone piece, although purists prefer the previous, Swedish version which was truer to STIEG LARSSON's iconic book.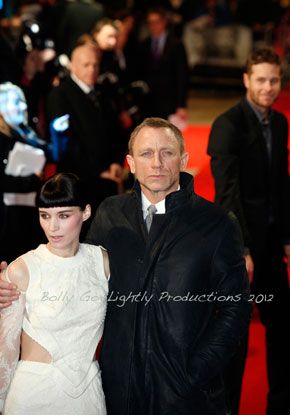 DANIEL CRAIG and ROONEY MARA. cr: BOLLY GOLIGHTLY.



Other films I can recommend this Awards Season include THE ARTIST, TINKER, TAILOR, SOLDIER SPY, THE HELP, HUGO, W.E., THE DESCENDANTS, HARRY POTTER, MIDNIGHT IN PARIS, WAR HORSE and the only real comedy, BRIDESMAIDS You should also check out THE IRON LADY and YOUNG ADULT for MERYL STREEP's and CHARLIZE THERON's extraordinary performances. As I write I am due to see MY WEEK WITH MARILYN before casting my Final Round BAFTA votes and tottering off to the Awards.

SPAS:
Spa visits are a must when the weather is bad and your spirits need lifting. I have checked out several London spas recently and here are my 2 favourites:
the brand new and exotic THE SPA in the famous DOLPHIN SQUARE, Pimlico (020 7798 67 67 / www.dolphinsquare.co.uk /spa
I missed the grand opening of THE SPA but got along there with JADE for a blissful afternoon of rest, relaxation and pampering shortly afterwards. THE SPA is Moroccan themed with a proper Hammam where SIOBHAN rubbed us down in the steamy warmth with Savon Noir to cleanse and exfoliate the skin before she and SUSANA respectively gave us both the luxurious 'Moroccan Majorelle' (named after the famous exotic gardens in Marrakesh). This totally heavenly experience comprised a Full Body Massage with Argon Oil 'Liquid Gold', a Facial Masque with honey, ginger and rose and a Rassoul Clay head massage and conditioning treatment for the hair. The spirit of Morocco continued as we rested with pistachio nuts and mint tea, then we rinsed our hair in the needlepoint showers before departing homeward on a cloud, with our stress knots massaged out and the gorgeous fragrant oils massaged in. THE SPA has definitely captured the languid Moroccan Hammam atmosphere of relaxation and all the staff are delightful, including CATHERINE DE VILLIERS, the manager and LAURA, the receptionist. Couples can enjoy the His and Hers treatments and all the usuals are offered, including wraps, hot stones, manis, waxing, lash extensions and hair treatments, as well as champagne, cocktails and tea. You can park in the underground car park and thus avoid losing your SPA calm in wind and rain. JADE and I would like to move in! Open 7 days a week - highly recommended.
Here's a pic which will give you a feel for the calm and beautiful atmosphere of THE SPA: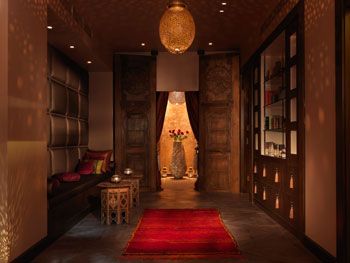 THE SPA at DOLPHIN SQUARE.




The best spa I found within a hotel is the charming BAGLIONI SPA (020 7368 5923 / www.baglionihotels.com
at that famous boutique hotel and celeb haunt THE BAGLIONI in Kensington. I recently toddled along there with my pal GINO and had a really good Deep Tissue Massage which also undid my stress knots and made me feel much better. THE BAGLIONI SPA also offer hot stones, facials, wraps, treatment for men, manis and pedis. The spa staff are excellent, the friendly, low lit Bar is just next door and it's easy to park outside, drivers!

Thank you for all your emails about Health and Beauty Shows, dear readers. The best one I've attended recently is OLYMPIA BEAUTY where JADE and I were 'on duty for beauty' for CETUEM SKINCARE
www.cetuemnews.com
along with the stunning SOPHIE ANDERTON, who swears by CETUEM's brill body firming products, especially their SCR Gold Seaweed Body Wrap Gel which is cool, green and really zaps the old cellulite!.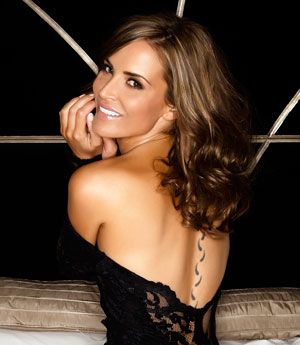 SOPHIE ANDERTON. cr: CETUEM.



Roll on, the rest of the shows and a full report on the best of all the Fashion Weeks in the next issue.

BEST NEW BEAUTY SALON:
Talking of CETUEM, I recently attended the launch of a divine new 'gem' of a salon in Kensington which offers CETUEM, ELEMIS, etc treatments and products as well as all sorts of other relaxing and beautifying experiences.
ANGELI SENZA ETA (AGELESS ANGELS), 228 High Street Kensington, W14 8NZ / 020 7348 0664 / www.agelessangels.co.uk
is at the more tranquil - and easier to park! - Holland Park end of the High Street. The launch was a very lively affair, awash with pretty models and trendy designers and the gorgeous proprietor SALLY GOODARZI and her therapists and staff are all charming. My pic shows SALLY with myself and CETUEM boss ANDRIA in front of the CETUEM 'Mother and Daughter Range' poster of JADE and myself.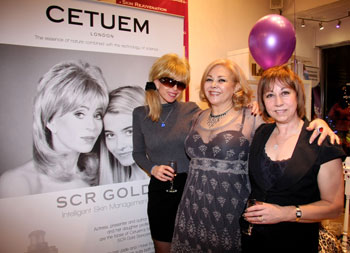 Pic: SALLY GOODARZI with SALLY and ANDRIA. cr: GABOR SCOTT.

I recently had an excellent PEDICURE with Raquel who made my exhausted and horny (not in a good way!)feet silky soft and cherry toed in double quick time. At AGELESS ANGELS they use a separate pedi pack on each client, thus guaranteeing total health hygiene - a very important consideration. The pedi chairs are very comfortable and I enjoyed a delish ginger tea whilst chatting with SALLY and RAQUEL.
JADE opted for the HOT STONE MASSAGE with crystals with REKHA MAHARAJAH who offers all sorts of excellent holistic facial and body treatments at AGELESS ANGELS. JADE said the massage was her 'best ever' and the hot stones relieved all the aches and pains she had accumulated from her catwalk shows during LFW, whilst the fragrant oils which REKHA applied smoothed her skin beautifully. She said she felt both relaxed and invigorated afterwards and now intends to visit SALLY and REKHA regularly - as do I!
AGELESS ANGELS offer all the best beauty treatments and therapies including facials, massages, skin tightening, threading, waxing, spray tanning, I prophesy great things for this fab new salon.
You read it here first, folks!

Other AMAZING PRODUCTS this month are:
THE SKIN SHOP's Yeast Face Masque (0871 871 9975 / www.skinshop.co.uk ) Trialler PADDY said " I have been using this masque twice a week for a month, leaving it on for 20 minutes, then washing off gently with tepid water and my chronic acne spots have almost completely gone now - really good."

LASH CONTROL mascara (www.cloud10beauty.com) described by trialler EVVA as "best ever - I've got very sparse lashes and this mascara contains chamomile and ginseng which conditions my lashes as well as making them look long and lush. A great find. You just squeeze the tube and it never goes blobby like most of the big lash ones."

And if you're just too lazy for mascara, become a 'lash junkie' with the fabulous DORA who will give you a full set of super thick semi permanent lashes in just 15 mins at her boutique salons in Camden and Hackney. 020 7485 77 55 /

[email protected]


DORA also does the best hair weaving in town - total magic - and is rumoured to have attended to the tresses of the sensational TYRA BANKS, the supermodel / TV presenter who sets a good example to young gels by being Curvy in Fashion!


BTW if you love beauty blogs, ALEXIA INGE's CULT BEAUTY - The Insider's Guide to the World's Best Beauty Buys - is a must. ALEXIA really knows her stuff and cherry picks all sorts of great beauty and grooming tools from all over. Worth visiting regularly.
www.cultbeauty.co.uk


My BEST FITNESS DVD this issue is PILATES - THE CORE WORKOUT presented by the world's best- selling Pilates instructor LYNNE ROBINSON. Pilates is huge now and considered very safe. Trialler CAMILLA says "I've tried all the home workouts but I'm going to stick with this one because it's easy to follow and the Ab Blaster bit is the only thing that has worked for my tummy."
www.amazon.co.uk and www.play.com plus HMV shops.

For those of you who know your fave workout really well and can do it safely, you can watch telly whilst following the routine - concentrating on something else eases the pain! JADE and I do this together and have written about it in our first column for FAMOUSLY FIT = OK!'s fab new online mag created by super fit celeb PR guru RICHARD CURSON
famouslyfit.com

And if you want to try an exotic alternative to Yoga, I recommend Tai Chi. I recently presented a promo film about this now hugely popular martial art form of exercise with Martial Arts Master and 5th Dan JOEL REEVES and the glamorous, multi talented DR ANNA, LADY BROCKLEBANK and learned a lot about it. It's very calming and brilliant for reducing stress - also good practice for your balance and apparently also helps your memory - now what was I saying?! Oh, yes - here's the link:
www.kazzyandsally.tv/tai-chi-forest


MEN'S PRODUCTS:
Our fave gents' prods this issue are the JASON SHANKEY SHAVING PRODUCTS which comprise Exfoliating Face and Scalp Rub to start, Smoothing Shave Cream for the actual shave and Skin Soothing Moisture Balm to finish and provide the ultimate shaving experience. Personally I know nothing about shaving but I am sure that mwah mwah air kissing was invented just as much to avoid prickly guys' fizzogs as to not damage ladies' make-up so I'm all for a super smooth shave! Our 'expert' in these matters, trialler PETER says "JASON SHANKEY are very superior products - use a sharp triple blade razor and warm towel as they suggest and you will get a perfect shave, just like at the barber's shop". So now we know! JASON SHANKEY MALE GROOMING is now big business in England as well as Ireland - check em out.
www.jasonshankey.com


BOOKS:
My BEST FASHION BOOK OF 2011 is the totally fabulous A FRONT ROW SEAT by fashion super snapper KIRSTIN SINCLAIR with a foreword by supermodel ERIN O'CONNOR. (The lovely ERIN is a very caring lady who recently started a free 'LONDON FASHION WEEK 'models' lounge' in fashion land for models to eat, drink and relax in between shows during those frenetic few days - it's great when superstars give something back to the industry that made them and new young models such as my daughter JADE find it a real boon.) But back to A FRONT ROW SEAT ...................this is quite simply the most stunning coffee table book and a must for all fashionistas. All our HG Eds loved it and people who browse it at the office get totally immersed in it. KIRSTIN is an amazing photographer who spent 7 years writing and shooting the book - it's really interesting, about all the shows all over the world with brill catwalk images of all the great collections including DIOR, VUITTON, CHANEL, MCQUEEN, fashion personalities including ANNA WINTOUR and KARL LAGERFELD and supermodels KATE MOSS, CLAUDIA SCHIFFER,LILY COLE, et al - a real Collectors' Item and true Fashion Feast.
www.antiquecollectorsclub.com


My BEST CELEBRITY BOOK this issue is the divine STEVEN SMITH's funny and gossipy IT SHOULDN'T HAPPEN TO A HAIRDRESSER - CELEBRITY TALES FROM MY CRIMPING DAYS (BOOK GUILD). The handsome and charming STEVEN is a celeb in his own right as well as a talented hair stylist and he's attended to the luscious locks of such interesting stars as GAZZA, KATIE PRICE, THE HOFF and LORRAINE KELLY, as you can see from the book's cover.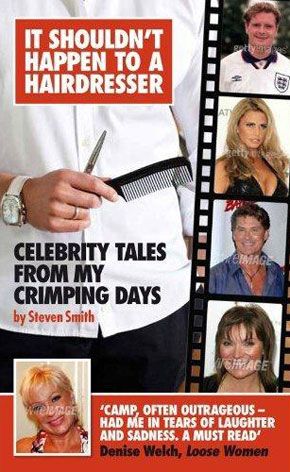 IT SHOULDN'T HAPPEN TO A HAIRDRESSER cover.



The book is foreworded by STEVEN's best friend and client, LOOSE WOMEN's DENISE WELCH, also featured on the cover. DENISE is a delightful gal who recently saw off several Big Boobies, in all senses of the word, to win CELEBRITY BIG BROTHER - best congrats, DENISE! STEVEN is a talented columnist as well as a crimper and ISHTAHD is a great read, covering his adventures in LALA Land as well as London with tales of all the great characters in his life including showbiz journo LESTER MIDDLEHURST, Irish chanteuse ROSE-MARIE and society PR guru PAM SHARROCK. Here's a pic of the lovely STEVEN avec moi at the recent BARNADOES' SAND BALL which he generously helped to organise and where I was Auctioneer.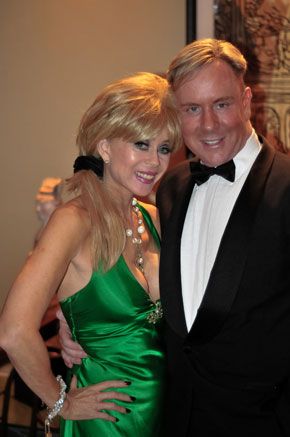 SALLY and STEVEN. cr: BARNARDOES.


(My gorg slinky emerald green frock is by AMAKA, btw. www.amaka.co.uk)

My MOST PRACTICAL BOOK this issue is CRAZY GIFTS by CHANTAL ALLES and ANNE KERLOC'H (VIVAYS PUBLISHING) which is self explanatory. We all have pals and relations who are impossible to buy for and this clever book will solve those problems. For instance I am now planning to buy dear Auntie Pam who lives alone some Brightfeet Lighted Slippers for her 88th b'day so that she can pad around in the dark without knocking into things. Good friend DEBBIE who has just been dumped by a swine will be getting the Ex-Lover Voodoo Doll to stick pins in! All brill ideas. The book is divided into sections for easy following and I don't know how I lived without it!
VIVAYS also publish similarly formatted CRAZY ART, also by clever CHANTAL ALLES for the arty farty types in your lives and 100 CLASSIC TOYS by DAVID SMITH for the kiddie winkies and their families. Also extreeeeeeeeeeeeeeeeeeeeeeeeeeeeeeemely useful.
www.vivays-publishing.com

DATE THERAPY:
Looking for lurrve, guys n gals? My B WELL TV colleague, the fabulous DR LYDIA BELTON, 'DR TRANQUILITY' herself, can help. Read on.........
Dr.Tranquility's Date Therapy Contest. From Feb - the month of love - onwards, 20 people will be selected for a free Dr.Tranquility's Date Therapy Consultation. Shoot us an email to

[email protected]

and in the subject line put Date Therapy entry.
#1 For Coaching & Hypnotherapy Practitioners. For info visit Dr.Tranquility U section on drtranquility.com. A specific certification course. Increase your existing income. Learn how to increase your PR exposure for your practice from someone who knows.
DrTranquility has been an expert for The View,Good Day NY, Cosmopolitan, British Glamour and REDBOOK magazines I village, countless national and international magazines. www.drtranquility.com


CHARITY NEWS:
Congrats to anyone doing charity fund raising in today's financial climate - it's tough out there.
Firstly above mentioned FAMOUSLY FIT PR guru RICHARD CURSON and cage fighter and former hubby of MISS KATIE PRICE, ALEX REID are running THE VIRGIN LONDON MARATHON in April together in aid of THE BRITISH HEART FOUNDATION. The boys are dead fit, as you can see from this pic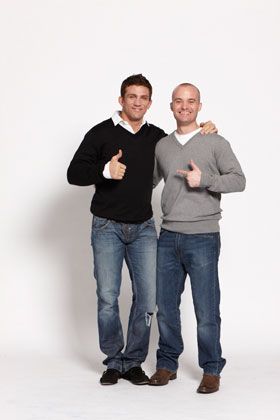 RICHARD CURSON and ALEX REID. cr: FAMOUSLY FIT



and should make good time. Good luck, boys! You can donate to their fab team effort at
www.justgiving.com/alex-reid

Janie Martel, who has battled with breast cancer, bacterial meningitis, epilepsy, brain damage, seizures and multiple orthopedic injuries since a boating accident 20 years ago, is greatly in need of your help at www.yestolife.org.uk as she needs to pay a hospital bill of £20,000.

Most of us have lost friends and family to cancer at some time and it's always good to donate if you can. At the moment I am particularly remembering HG's esteemed founder GEORGINA, talented CHARLES DICKENS actor GEOFFREY 'NANNY GEOFF' HARRIS, my dynamic party planning partner OLIVER BAXTER and JADE's beautiful young agent HEATHER, all of whom succumbed to different types of that horrible disease in recent years.

Thirdly champion jockey, national treasure and I'M A CELBRITY star WILLIE CARSON and his good pal celeb crimper (yes, another one = also blond and handsome, like STEVEN SMITH!) RUSSELL NURDING are organising a fab fashion and cabaret show in Cirencester on April 1st in aid of WILLIE's fave charity CLOUD 9 for trerminally ill children. I'm going to be co-compering with WILLIE and am much looking forward to it.This is the third show I've done for the dynamic RUSSELL and they are always great fun. Celebs expected to model this year include those gorg gals SHARRON DAVIES and LORRAINE CHASE.
Tickets and info from

[email protected]

/ 01285 64 34 25


Finally please don't forget FOOD RELIEF INTERNATIONAL, a wonderful charity founded by the iconic spiritual leader MOTHER RYTASHA and for which I'm British Chairman. FRI raises funds for the poorest of the poor all over the world, particularly in 3rd World countries. The charity's helpers all work voluntarily and overheads are sponsored - so every penny raised goes to FRI's work in feeding the starving and running medical camps and free schools. I am currently maintaining a small free school in Bangladesh myself and will inform you, dear readers of my fund raising events. To donate to FRI please go to:
www.chela.net




Thank you for all your emails about my latest theatre role, as FENELLA in CARRY ON BRIGHTON. I have now completed 3 productions of this hilarious farce, complete with 3 different and charming leading men and am thoroughly enjoying it. Here is a pic from the latest PHOENIX THEATRE / ARTISTS production where, as you can see, FENELLA is enjoying a drink!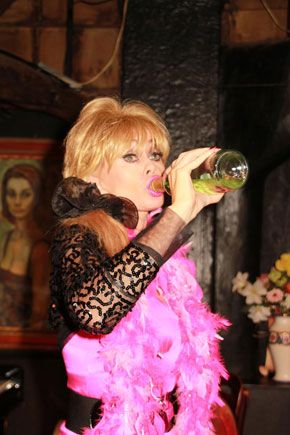 SALLY as FENELLA in CARRY ON BRIGHTON cr: JOHN ULLENS.


(Cute lacey black shrug by SHAHNAZ SHRUGS. /

[email protected]

)

Of course I had to get into character to play FENELLA and am now a bit of a wine connoisseuse!
Sometimes a role just clicks with an actor and I am delighted that the dynamic and witty writer JACKIE SKARVELLIS has contracted me to play busty, boozy FENELLA in all of her upcoming productions. CARRY ON BRIGHTON will indeed be carrying on at BAFTA in March, THE BRIGHTON FESTIVAL in May, the ISLE OF WIGHT in the summer and THE ARTS THEATRE in the autumn - watch this space. and I hope to see you at one or more of the productions, dear readers.





CELEBRITY HOT GOSSIP:
As I predicted recently, the lovely DEMI MOORE is being comforted by her former husband, iconic film tough guy BRUCE WILLIS after the demi-se, excuse the pun, of her marriage to unfaithful toy boy and TWO AND A HALF MEN star ASHTON KUTCHER. Poor DEMI has been looking extremely sad and thin and recently checked into rehab to deal with her 'drug probs and an eating disorder'. All at HG wish her a speedy recovery.
Will the glam former couple, DEMI AND BRUCE get back together? Who knows but here's a gorg picture of them taken during their marriage by famous celeb snapper and director of HOW TO MARRY A MILLIONAIRE, BILLY CARTER: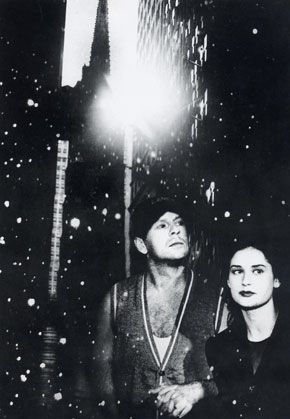 DEMI MOORE and BRUCE WILLIS. cr: BILLY CARTER.




And here's the HOLLYOAKS cast's Valentine's promo in case you missed it, TV fans:

youtube.com




ONE FROM THE ARCHIVES:
Looking through the old HG covers in the days before we started archiving, I found this FEBRUARY 1998 cover of our JADE, aged 5. JADE was a child model back then (a grown up one now, although we don't use the phrase 'adult' as it means something else!) and our much missed HG founder GEORGINA was one of the first to recognise her talents. JADE is the only Cover Girl apart from moi who has graced our cover 3 times. Nepotism is alive and well and living at HG Towers!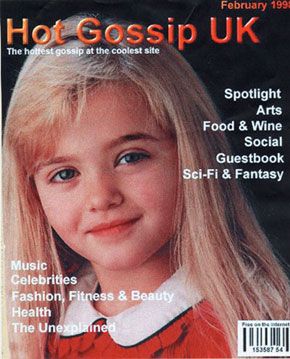 JADE / HG cover Feb 1998. cr: R. KAZ.








LEGAL SAVIOUR:
Best congrats to my pal, lawyer DAVID GOODMAN (an extremely handsome and articulate chap who may or may not become involved in our new MORE THAN A MISTRESS TV show - we shall see......!) who recently 'apprehended' a horde of desperate motor cycle villains intent upon robbing the ANYA HINDMARCH shop in the West End. Well done, DAVID, a blow for burglars everywhere and the rescue of an important fashion house from damage and theft.

thisislondon.co.uk





STOP PRESS!
Thank you for all your kind messages about my eye implant surgery with OPTICAL EXPRESS (0800 023 2020) - I've just had the operations and now have better than 20/20 vision in both eyes! You can 'read all abaht it' in THE DAILY EXPRESS and in this column next issue.


Thank you too for reading my page. Please contact me at:


[email protected]



and check out my other websites:
www.sallyfarmiloe.com
www.kazzyandsally.tv