A very belated Happy 2012 to all readers.

I hope that you all had a good break. Cat and I did, cuddling up in warm solitude in a cosy living room filled with the ambiance of a festive twinkling Christmas tree for a few days before venturing into the world to see friends to celebrate with. Sadly, as usual my favourite holiday of the year just flew by.

There seems to be a bit of catching up to do since my last issue...so here goes.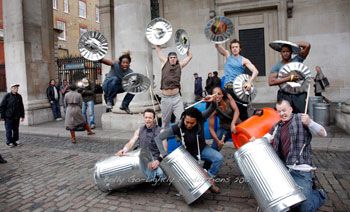 STOMP 20TH ANNIVERSARY - COVENT GARDEN PIAZZA

Twenty years after STOMP started it's humble bin beating, foot stomping existence on the cobbles of Covent Garden's Piazza, it returned to provide a 10 minute free show for those fortunate to be there that morning. I have seen this show several times through work, and what I love about it is how people react when they come out of the show: tapping their way home across London to their beds. Fascinating, but true.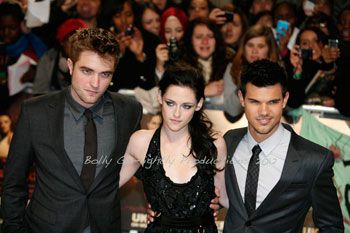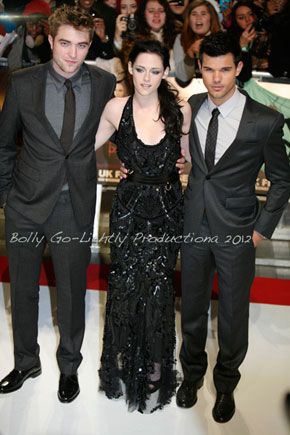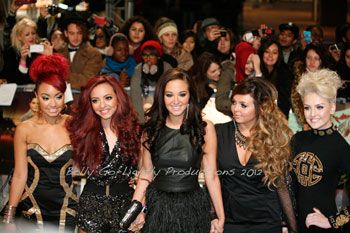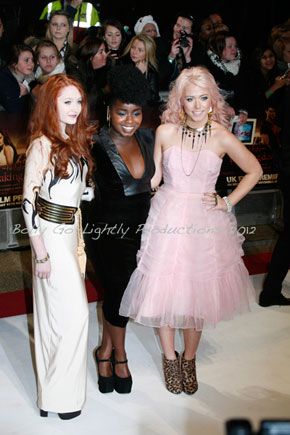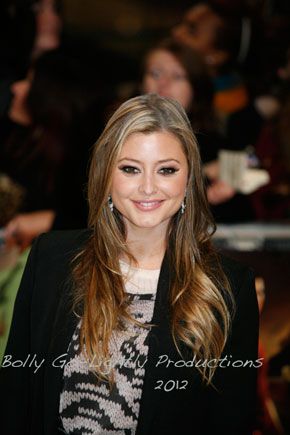 TWILIGHT PREMIERE - WESTFIELD SHOPPING CENTRE, STRATFORD

The most famous and adored werewolf, vampire and his new screen wife/off screen girlfriend graced the red carpet under the Christmas Lights of East London's new shopping centre. As you can imagine, most of the crowd were female teenagers with strong lungs. It is obvious why they have so many fans: charming and polite beautiful people with chiseled faces always do.

Every time I take photos of ROBERT PATTINSON he seems uncomfortable and embarrassed. This time he seemed less shy, leading his real-life coy girlfriend KRISTEN STEWART and his famous co-star TAYLOR LAUTNER along the very long carpet laced by fans 5 deep who had camped out to see them. Although this film did not go down well with the critics, I am sure the fans will all have seen it several times regardless.

At all big premieres, characters from the higher rating TV shows attend, some bringing their own camera crew. This time it was HOLLY VALANCE and OLA AND JAMES JORDAN from STRICTLY COME DANCING and TULISA CONSTOSTAVLOS and her "girls" from X-FACTOR: LITTLE MIX, JANET DEVLIN, MISHA B and AMELIA LILY.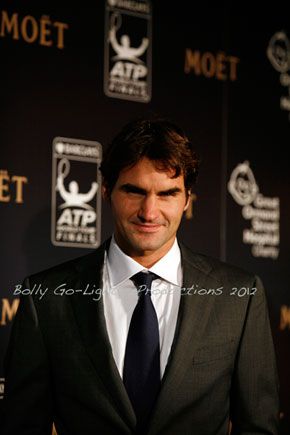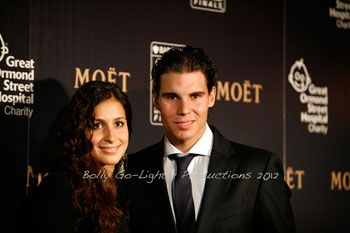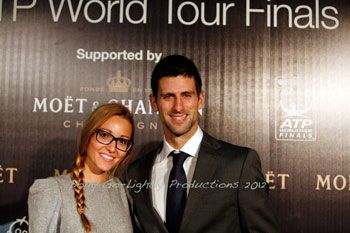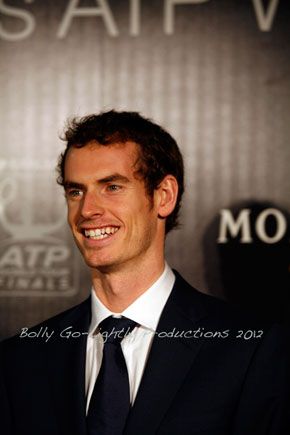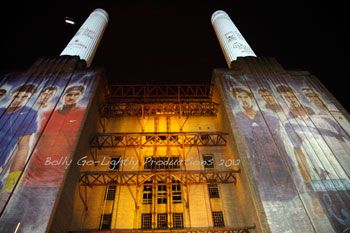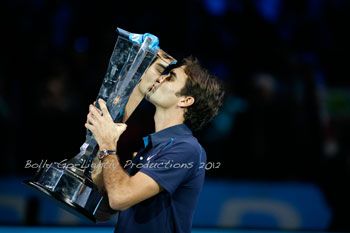 BARCLAYS ATP WORLD TOUR FINALS - 02

The boys were back in town for just over a week, competing for the ultimate annual prize on the Mens' Tour.

The curtain raiser was a player charity dinner and award ceremony for GREAT ORMOND STREET HOSPITAL held at the iconic Battersea Power Station.
This was followed by two afternoons of press conferences for the top eight singles players to meet the press.

At the press conference, a Union Jack sofa was too tempting for us not to set up for a Murray picture. Fortunately, he obliged, even though I am sure he would have preferred it to have been a Scottish Saltire bedecked one instead.

RAFA carried an injury, ANDY MURRAY pulled out due to injury, NOVAK looked tired, DAVID FERRER fought like a terrier worrying a bone. This is the annual problem of having such an event at the end of the year, when players are inevitably in need of a rest after a crammed diary.

The best players by far were the finalists:
ROGER FEDERER who beat JO-WILFRED TSONGA in the final and in doing so successfully defended his crown in his 100th career final.

The week is not just about the play, dry ice player entrances into the arena, heartbeat Hawk Eye replays of crucial points, but also about the famous guests sitting court-side.

I have never seen so many Premiership footballers as I did this year. ROBIN VAN PERSIE was on form in contrast to a reclusive THIERRY HENRY. GRACE JONES was her animated self, supporting JO-WILFRED. But the best were at the final: PIPPA MIDDLETON and also a very greasy looking CRISTIANO RONALDO who left half way through.

Rumour has it that this event will continue to be held here after the existing contract ends in 2012. This would be fab news for The British fans. However, better news would be if this was extended into a fortnight of tennis, with the top women playing here in the first week. This would do a lot to increase the profile of womens' tennis I think.

The first grand slam of 2012 has just begun. I am not sure about ANDY MURRAY hiring IVAN LENDL as his new coach. IVAN was a great player in his time, even though grass eluded him. But as we know being a great sportsman in your field does not always successfully translate itself into management and coaching. Watch this space. I do think that NOVAK DJOKOVIC will find it hard to keep his crown. To do this, you need skill, luck and need to remain injury free throughout the year to stand a chance of doing this.

The ATP tour is highly competitive and there is very little to choose between the top 6 on a good day, which adds more pressure to the top seeds.

My predictions for 2012 are:
- RAFA will sadly continue to have injuries
- ROGER may win one grand slam, but it won't be on clay
- ANDY will be close, but not close enough
- JO-WILFRED AND DAVID FERRER will be up there
- BERNARD TOMIC AND JOHN ISNER will be the dark horses

Let's see how off the mark I am by November.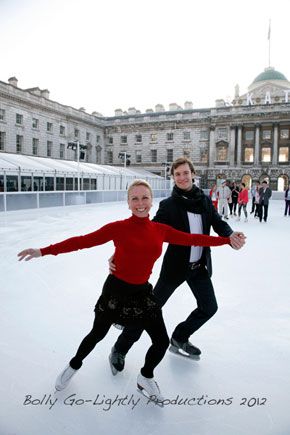 JAYNE TORVILLE - SOMERSET HOUSE ICE RINK

DANCING ON ICE may be back on our televisions, but before Christmas JAYNE TORVILLE was gliding with serene ease around this beautiful ice rink with the rink helpers.

This is a stunning venue in the heart of The West End. Luckily we got to shoot from the roof. This was a great opportunity to also shoot the stunning river view on the other side of the building as the mist wrapped around The London Eye and Big Ben. Very ethereal.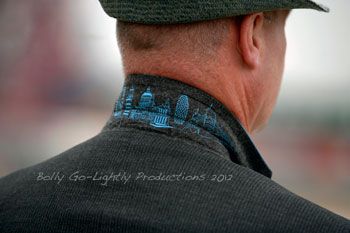 LAUNCH OF THE OLYMPIC UNIFORMS - WALKWAY BETWEEN THE AQUATIC CENTRE AND THE OLYMPIC STADIUM

I was very excited to be visiting the Olympic area for the first time. I do think that 2012 may produce even more bad news from an economic perspective. But on the upside the Olympics will create a once in lifetime experience for us all that we can be proud of across our planet. I am still biting my nails on whether I have been successful to obtain accreditation to photograph this event in my capacity as a press photographer. Fingers crossed that I get to work rather than watch it on TV,as nothing beats being there when history is being made.

Accessing the Olympic site was not easy, even though I was accredited to do so. Security was intense as you can imagine for what is probably currently the most important building site in the World.

To walk past these new iconic landmarks of the London Skyline was a privilege. They are stunning in design, and I am very glad that nearly all of them will remain under the legacy plans after The Games become a memory.

Talking of Skyline, the OLYMPIC TECHNICIAN'S UNIFORM is amazing. The collar of this grey suit is embroidered with a turquoise London skyline. The buttons are of Big Ben, and the lining expands on the collar theme. Absolutely stunning. I can't wait to see STELLA McCARTNEY's completed designs of the athletes uniforms.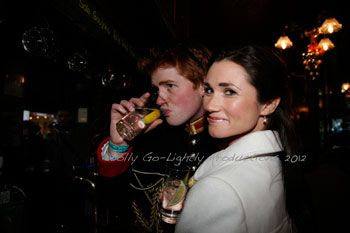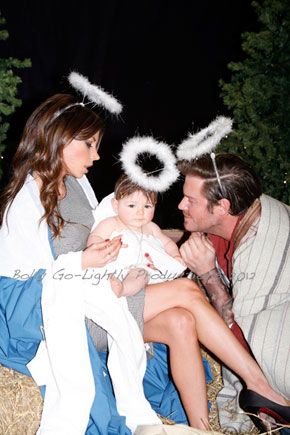 ALISON JACKSON "EXPOSED!" BOOK PROMOTION SHOOTS - THE WEST END AND HARRODS

Alison Jackson's photography is all about photographing characters from an extensive portfolio of celebrity look-a-likes to create humorous and risque images of the rich and famous.

To promote her latest book I covered two different events.

The first was a PIPPA MIDDLETON AND PRINCE HARRY extended lunchtime photo shoot around The West End. It tickled me to watch how people reacted to this "romantic pair" as they drank in a couple of pubs, ate ice cream in a parlour called SNOG, perused books in FOYLES and walked past Soho sex shops. How could people think that this couple would really do this, especially HARRY in military uniform! ( I know he has historically worn a well known uniform that he shouldn't, but I don't think even he would do this for a joke ).
You would be surprised how the public reacted...one even stopped "Harry" and asked him for his autograph. Very surreal, but funny.

The second was a closed photo call early one morning in HARRODS. A pre-Christmas nativity scene involving POSH, BECKS and baby HARPER. Very cute, but props don't always do what you want, especially tinsel halos!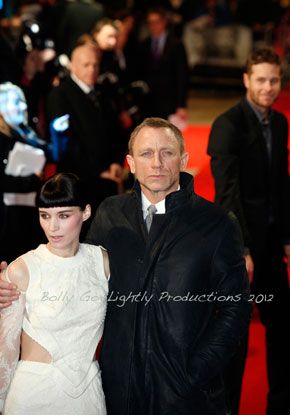 PREMIERE OF THE GIRL WITH THE DRAGON TATOO - ODEON LEICESTER SQUARE

As we all now know 007 will be back on our screens in October 2012 in SKYFALL, but for those who needed a fix of DANIEL CRAIG before then, this film is a must. It is always challenging to update anything which has already become a successful film franchise. To be honest, I don't recall any remakes touching the successful originals. Thankfully the brilliant director, DAVID FINCHER brilliantly pulled it off.

Sadly, Daniel did not bring his wife, the talented RACHEL WEISZ along to keep him company. So we still wait for an official outing of the recently married private couple.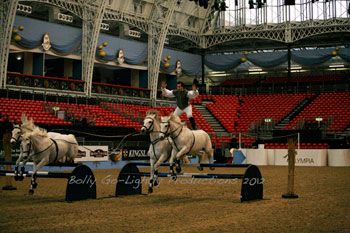 LORENZO, THE FLYING FRENCHMAN - KENSINGTON OLYMPIA

I have vivid memories as a child of watching the tense Puissance with my sister and our friend Jenny K. At the time, as now, many of the competitors were local riders:
The controversial two-fingered HARVEY SMITH and also brothers JOHN AND MICHAEL WHITTAKER, trying to conquer the famous wall. The week long event has always looked like a "must" diary event for any horse loving child in particular.

This early morning photo call was my first chance to see this auditorium in all its splendour.

LORENZO THE FLYING FRENCHMAN, like all artistes at this level, made standing on a horse whilst it jumps over a fence look easy...even when he had added into the mix the horse being connected to three other greys. Not a stunt that I would ever envisage doing, even if you paid me a lot of money...especially as I can't ride properly.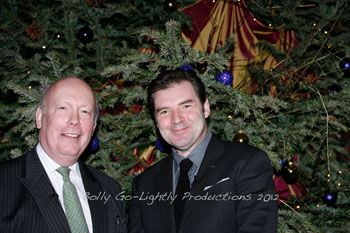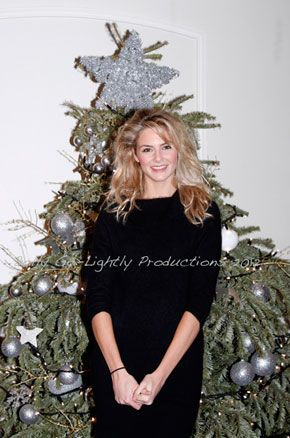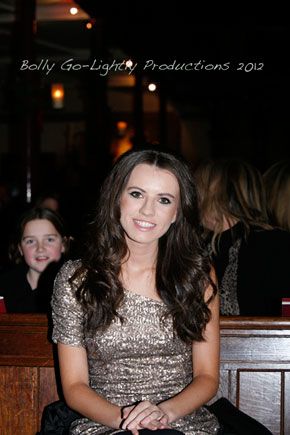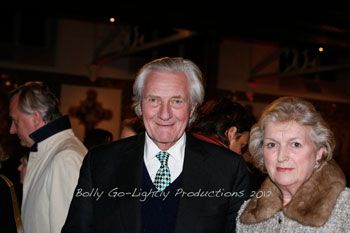 GREAT ORMOND STREET CHRISTMAS CAROL CONCERT AND AUCTION- KNIGHTSBRIDGE

I have recently started covering events for this fab charity. If there is one charity that I am proud to be associated with, this is it.
Not only is it for an extremely good cause, but the people that I have worked with are friendly, helpful and as you would expect, empathetic by nature.

The church was beautiful and the attention to detail was spot on. There was beautiful lighting, a large dressed Christmas tree and even snow that fell onto the choristers at the end of the concert. This concert was recorded for LBC and aired on Christmas Eve. The contributors were top class, with readings from JULIAN FELLOWES and BRENDAN COYLE from GOLDEN GLOBE winners DOWNTON ABBEY, and a long legged TAMSIN EGERTON and a beautiful solo sung by FARYL SMITH.

The charity has many high profile supporters, many of whom prefer to remain anonymous in their acts of kindness ( which all goes to prove that there are celebrities who genuinely want to help for no official personal gain ). That night LORD AND LADY MICHAEL HESELTINE also attended the concert.

The auction in a nearby, well known hotel, was also well attended, raising money for a new ward and beds. One of the most popular lots was created on the spot by JULIAN FELLOWES: a visit to the set of DOWNTON ABBEY with some special goodies thrown in for good measure. Nights like this remind me that good causes will always be supported, recession or not.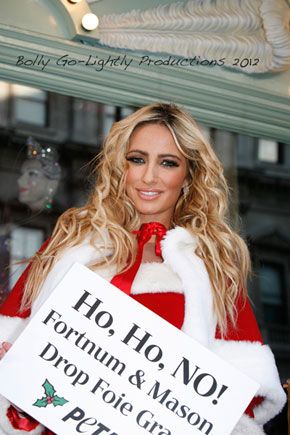 CHANTELLE HOUGHTON - PETA ANTI FOIS GRAS CAMPAIGN - FORTNUM & MASONS

A pregnant CHANTELLE HOUGHTON, dressed as SANTA, was the latest high profile celebrity to try and place pressure on FORTNUMS to cease being the only store still selling Fois Gras in the capital.

Society does move on in its retail likes and dislikes and by the same token successful retailers both create and react to trends to increase their profile and market share. If the public get behind what has become a long campaign, I am sure that FORTNUM & MASONS will cease selling FOIS GRAS, and HARRODS will stop selling real fur.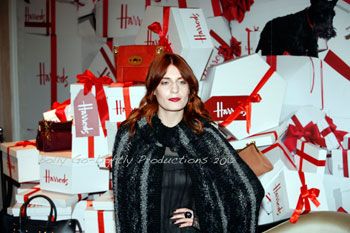 HARRODS CHRISTMAS SALE - KNIGHTSBRIDGE

Talking of HARRODS, it has become a photography diary tradition to cover this event on the day after Boxing Day.

Historically, the event meant running around parts of the store for multiple photo opportunities with the famous name opening the sale. Memories of running from the jewellery, to pets to clothes and then to the upstairs restaurant for a final photo call before editing over a nice free breakfast are etched in my memory.

Thankfully this year's event was less stressful, though still early.

FLORENCE WELCH arrived on a HARRODS double decker and then FLORENCE & THE MACHINE performed a clutch of songs from their latest album before declaring the sale open. Just one more photo call in the restaurant with FLORENCE WELCH before editing and eating at the same time. Who said photographers can't multi-task.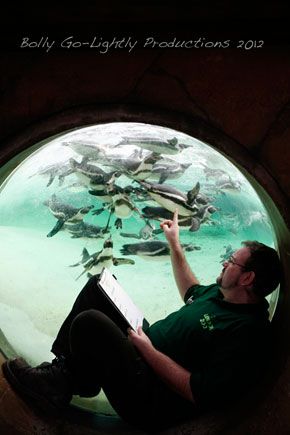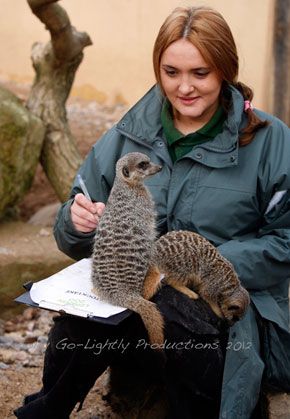 LONDON ZOO STOCK TAKE - REGENTS PARK

The arrival of a New Year always means counting the inhabitants of the zoo.
Like the historic HARRODS SALE photo calls, this involves a lot of legwork and an early start.

This year the photo calls were with the Penguins, some vicious Camels, a Tarantula, a Jungle Nymph, some Waxy Tree Frogs, Monkeys and the in vogue Meerkats.

By the time I had finished carting my big camera bag and computer around the zoo and to and from the tube station, I felt that I had done a workout.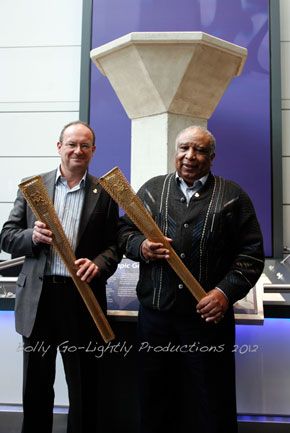 THE OLYMPIC TORCH BEARERS - WEMBLEY STADIUM
Another early start, but it was interesting to hear the stories of two of the athletes parents chosen to carry OLYMPIC TORCHES across the country:

JIM REDMOND ( father of DEREK REDMOND ), famously leapt from the crowd in the 400m semi finals at the Barcelona Olympics and then supported his son across the finishing line when he incurred a hamstring injury. The other announced torch bearer was PAUL MEARS who kept a bedside vigil with his wife when their son ruptured his spleen whilst competing for Team GB at the youth games in Australia.

The photo call took place in front of the 1946 OLYMPIC CAULDRON. A piece of history, crude in nature, which aptly symbolised how as a nation we prepared for the games in just three weeks after being victorious in WW2, but still plainly suffering from its fiscal impact. Rationing was in place in the Olympic Village....wonder if that will happen this time round!?

Another personal prediction for 2012 is that SIR STEVE REDGRAVE will be chosen to light the cauldron in the OLYMPIC STADIUM.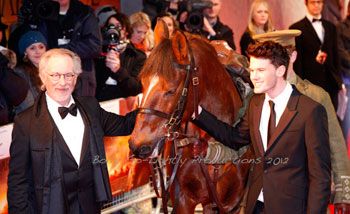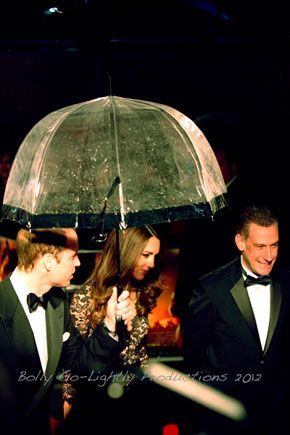 UK PREMIERE OF WARHORSE - ODEON LEICESTER SQUARE

This was always going to be a big event for multiple reasons:

- The film adaptation of a much loved book and follow up to an award winning play on both sides of the water
- A STEVEN SPIELBERG film with his personal attendance
- A royal charity gala attended by HRH THE DUKE AND DUCHESS OF CAMBRIDGE

As you can imagine for such a big premiere, due to the never ending major works being undertaken in LEICESTER SQUARE ( sorry I keep hammering on about this! ), the photographer press pen was small!

To get in was a relief, but the difficulty in working in there was high, literally. I teetered on the top of a four step ladder, squashed in a work space which involved shooting images from my left and in front of me. It was not ideal, and the royal pictures were not great as you can imagine as trying to get a clean shot was impossible.
Still, at least I got enough to make the ordeal worthwhile. As they say, no pain, no gain.

I would love to know what they are doing in the middle of LEICESTER SQUARE and why it is taking so long to complete it. It is starting to make the major works on the Jubilee line seem like a walk in the park! You can bet your bottom dollar that little thought will have been made to cater for the logistics of future premieres held there. Fingers crossed I am wrong on this one.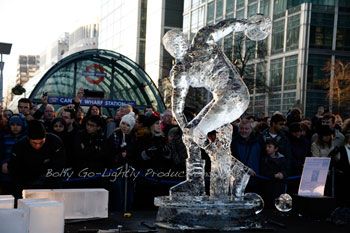 LONDON ICE SCULPTING FESTIVAL - CANARY WHARF

I enjoyed this event last year and made some great friends with some of the sculptors.

Sadly, this year I could only cover the last day of the two day event. This was the crucial day as it saw the finishing of two days of work on one piece of ice. This was followed by a 90 minute speed competition on a piece of ice half the size of the latter.

It is amazing to see these sculptures evolve from such a beautiful natural product with seemingly a life of its own. Ice is unforgiving, and patience is definitely a virtue when working with it.

Personally, as a photographer, I would find it soul destroying to create masterpieces to see them disappear to nothing but a memory in a pool of water.
Still it must be a great job to travel the world, being creative and bringing awe, wonder and inspiration to all those fortunate to see these transient structures.

Anyway, time to sign off. Enjoy the next couple of months and let's see if THE ARTIST takes all the film awards next month. I really want to see the dog in action on celluloid.

All my love

Bolly.