I hope you have all been enjoying the summer hols. For those of you who have not yet taken a vacation, the best year round resort I have found in the whole wide world is THE KEMPINSKI SAN LAWRENZ HOTEL AND SPA in Gozo, near Malta (00356 215 58640). THE KEMPINSKI has 4 swimming pools, 2 tennis courts, 3 restaurants, 3 bars and, best of all for us ladies, the wonderful AYUVERDA SPA where you can be pampered to your hearts' content with massages, facials, hair dos, manicures and pedicures. All this and the sun too! What more could one want on holiday? Your kids will be looked after all day by the excellent KEMPINSKI staff while you lounge around being prettified. Now that's what I call a perfect family hols. What's more the Natives are extremely friendly and didn't bat an eyelid at JADE and her friend SAVANNAH's unusual outfits of mini skirts, fluffy handbags and french berets in the heat of summer. A new look for autumn perhaps?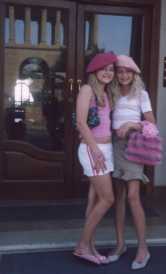 JADE AND SAVANNAH at THE KEMPINSKI SAN LAWRENZ.




Back in jolly old Blighty I managed to recreate my Gozoan beautification regime by visiting THE HURLINGHAM CLINIC AND SPA (020 7348 6380) where I had quite the best massage I'd had in yonks.THE HURLINGHAM CLINIC offer all sorts of yummy treatments which will make you feel and look a million dollars, not to mention an attached cosmetic surgery clinic where you can have treatments that are rather more than skin deep!


If, like moi, you have been playing a lot of sport this summer, I hope you have been well supported. The best sports bras in the biz are made by LESSBOUNCE so give your bust a helping hand now and help others by sending your worn-out bras to THE LESSBOUNCE SPORTS BRA AMNESTY who will collect the old bras and send them to Africa, give you £3 off a new sports bra and also give you some useful bust exercises by GMTV's gorg fitness expert NICKI WATERMAN. To find out more ring 020 7240 24 44.


The summer sun's great but it can exacerbate spots and so can suncreams. If you have a less than perfect skin, help is at hand. SKIN DOCTORS have brought out a great anti-pimple regime called BLEMISH FREE which incorporates an Exfoliating Cleanser, a Skin Clearing Toner, Pore Minimising Cream and Overnight Zit Zapper, all for just £54.95. Unbelievable! And, guess what, the regime really works. Our guinea pig, who shall remain nameless cos that's the way she wants it, has had spots for several years. However, after just 2 months of using BLEMISH FREE, her skin is 80% improved and seriously on the road to perfect- ion. If you have the dreaded pimps, don't feel bad: loads of celebs suffer from spots, including stunning beauties like CAMERON DIAZ. Take a close look at this recent snapette, CAMERON fans, beacause I would say she's cracked the problem now, wouldn't you?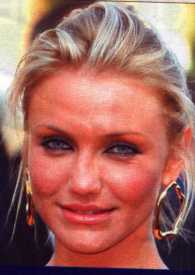 For those of you who haven't experienced much sun this summer, i.e. those of you who live in the UK, a fake tan is the obvious answer. CLARINS have brought out a really fab new one which nourishes your skin at the same time as tanning it: RADIANCE-PLUS SELF TANNING CREAM-GEL (£22 FOR 50 ML.) This is a brill product which gives your skin that sunkissed look while keeping it well moisturised and is ideal for those bits which show all year: the face, hands and decollete. Check it out. One lady who allegedly uses this product is the gorgeous, pouting and now highly tanned CLAIRE SWEENEY and here she is: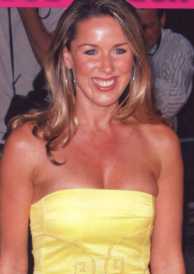 LANCOME have got some absolutely wonderful new products on their counters this month, particularly:


SOLEIL SPRAY FRAICHEUR PROTECTION EXPRESS INSTANT COOLING SPRITZ, a suncream whose smell alone embodies the true spirit of summer in St Trop and which really does cool your skin whilst protecting it from those naughty mediterranean, or even tropical, rays.


HYPNOSE CUSTOM-WEAR VOLUME MASCARA, a luxurious lash builder which enables you to make the most of even the sparsest lashes. Who needs false eyelashes with a mascara like this? Yes, fluffy flutteres, HYPNOSE is The One, go for it, those lil ole boys won't know what hit em!


RESOLUTION D-CONTRAXOL INTENSIVE ANTI-WRINKLE TREATMENT WITH DEEP ANTI-CREASING ACTION. The name of the cream says it all really; our guinea pig, Gloria, has been using this miracle potion for 3 months now and says she looks and feels like a new woman! Certainly Glo's skin is glo-wing, ha ha, and even her boyfriend has noticed a difference which is saying something. What's more the cream smells nice and glides on easily with no residue. Highly recommended.


Btw, talking of LANCOME, it's good to hear that the cosmetics giant has told its latest model, LIZZIE JAGGER, daughter of SIR MICK and JERRY, to fatten up if she wants to keep her £1 million-a-year contract with the company. Too many of today's young superstars are anorexic waifs and it's setting a bad example for our teenies and tweenies who look up to them. Good for the chubbier juve icons like HILARY DUFF, LINDSAY LOHAN and BRITNEY SPEARS who have proved that puppy fat can be cuddly. All the skinny queens like THE DUCHESS OF WINDSOR and JACKIE O who said "you can never be too rich or too thin" were wrong about the last part.

But one LANCOME model who could never be too thin or too fat is the gorg MENA SUVARI and here, for all you AMERICAN BEAUTY fans, is the lady herself:






The best celeb books of the summer are by tennis stars:

THE PLAYER, BORIS BECKER's autobiography (Bantam: £17.99) seems to me to be a very truthful warts and all account of the ups and downs in BB's colourful life including his marriage, his divorce, his big tax-evasion case, his drugs and alcohol battles and, yes, even the broom cupboard business! Fascinating stuff.

Then there's MR NASTASE: THE AUTOBIOGRAPHY (Collins Willow: £18.99) the true story of the naughtiest, if not really the nastiest, man in tennis. This is a rollicking good read by the high spirited Rumanian king of the game who's still wowing them in the aisles and on court in Senior tournos all around the world. ILIE comes across as a real character and, even if you know zilch about tennis, you 'll love this book for its humanity.

And if, like me, you always wanted to get to the bottom of THE DA VINCI CODE, a smart little book called CRACKING THE DA VINCI CODE (O' Mara; £6.99) will do just that for you. So now we know! Buy it for that boyfriend who's been driving you mad about the original!

Finally I would just like to salute SIMBAT, the truly delightful traffic warden who waived my ticket in Chelsea last month because he could tell that I was a mob handed harassed mother who had been so desperate to get the little dears to the latest tweenie extravaganza, THE CINDERELLA STORY, on time that I'd forgotten to buy the blooming parking ticket! So some of them do have hearts. They're probably parents themselves and "it's a tough job but somebody's got to do it". "SIMBAT for Mayor", that's what I say! (Sorry, Ken!)


Thank you for reading my page: you can e-mail me at:

[email protected]



Please check out my personal website:
www.sallyfarmiloe.co.uk

and don't forget to buy my world famous potty training vid., LOO TIME, for all the bubbas amongst your friends and family.

LOO TIME VIDEO available from:

[email protected] and:

http://www.121music.com/pages/video_01/home.html