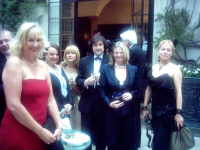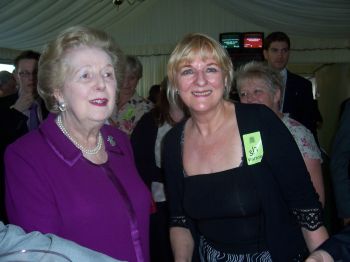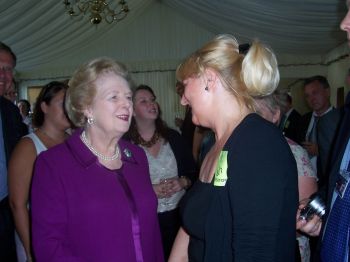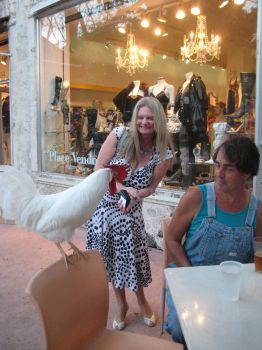 Picture credits:
1.Georgina at one of the social dinners she organised with Valentin Borissov and myself in the background.
2.Georgina at a Conservative Party Way Forward function at the House of Commons. We had been invited by the Comtesse de Goutiere Lorraine et Bar.
3.Margaret Thatcher talking to Georgina at the function.
4. Me with the famous Mr Cluckie of Lincoln Road.


Finding Time to have fun!

Well, I am back in the swing of it here in sunny Florida. Charity balls have been replaced by full time fighting in "Condo Hell". There is a song you can listen to: http://www.ccfj.net/onewayticket.htm.
It's a whole world out there. So I just haven't had time to check my calendar and I have missed some of my favourite functions. The name 'condo' in the US means an apartment that you buy. Whereas, an 'apartment' here means one that you rent. Our fight is to stop huge unnecessary restoration work that can cost millions of dollars. Some condo owners have had to pay an unexpected $75,000 in just a couple of years so it's serious money. I now have a monthly column in 'Fort Lauderdale City News',one of the local newspapers which tells it like it 'really' is, highlighting the fights and 'cons' in the condos in sunny 'Capone' country. Yes, Al Capone came from his native Chicago to spend time in South Florida at his second home. Talk about Fort Lauderdale – it's more like Miami Vice, with more corruption here than 20s down town Chicago!
At the moment, I feel as though I am in a movie like Lorenzo's Oilor The Whistle Blower and, yes, it could be saving lives if I win our court case. There are a lot of old people in our building and the massive reconstruction work may be too much for them; old people have died in other buildings because of the upset and injustice.But the good news is that our case will cause a precedent if we win. It will be recorded in history and help lots of owners to have the right to vote in order to stop this type of work being carried out unnecessarily.
On a lighter note it makes terrific material for a book and that's just with the people in our building. alone. I worked throughout Christmas and New Year, phoning, emailing and researching - all with a ridiculously tight time schedule. I warned you in an earlier column that it is not a good idea to buy a condo in Florida until they change the laws. Well, I hope you take my advice or you may be one of the unlucky ones fighting to save your property like me. The corruption is so bad that judges are starting to come down heavily on the condo criminals, even jailing them without bail. And not a moment too soon.


Now Jamie is looking into poultry and how cruel it is.
Can you really eat chicken after seeing his program?

A Fowl Experience:

I recently travelled to Miami for a short break to have lunch in the fabulous Delano Hotel. It is quite an experience as the weather is lovely almost every day and evening. You can take a stroll down the famous Lincoln Road where you meet the most extraordinary people. A regular visitor is Mark Buckley - certainly one of the most unusual characters. This is mainly because his constant companion is a beautiful pet, a pure white rooster. He saved it when it was a chick. He found it dazed and bleeding with its beak chopped off, having been left to die by food producers. Mark hand reared it and now it goes everywhere with him and even sits on the handlebars while he cycles. The strange twosome have had extensive press coverage, even on CBS. It's worth a look at his website to make you smile. http://www.mrclucky.com

I have not eaten chicken for at least 6 years. I just cannot stomach the thought of all the antibiotics used to prevent chickens from dying while they are bred in terrible circumstances. Jamie Oliver hosted a dinner in which food producers were served chicken. Then they were shown clips of the birds being slaughtered and suffering during intensive farming. Jamie said we should be wondering why chicken is so cheap.It seems that the farmers only receive about £3 per 100 chickens which he said is outrageous. He believes that if changes are not made now we may not have an industry left. Many people have remarked that chicken tastes really bland now whereas before the taste used to be very distinctive and succulent.



Will our Diets be the Death of Us?

You will probably have noticed all the TV programmes showing us how dangerous our food is. One even showed an autopsy on someone obese, where they found it difficult to find their heart and other main organs under all the fat. I have three obese men friends who are only in their early 50's but who have grown unrecognisable in the last couple of years. Both are under the doctor now and one nearly died because his blood pressure was so high. The outward sign was that distinctive large pregnant-type stomach full of toxins which I call the pesticide pouch. Are you killing yourself with chemical foods? Do eat 'real' food while you can because if the GM variety gets into the UK there will be no real food left. It will have been contaminated and there will be no turning back.



Introducing Cloned Food. More on Frankenstein Farming

It has been determined that food from cloned animals is safe. Of course there is no long-term proof since cloning has only been around for a few years. But that doesn't seem to matter, as in fact officials said there is no evidence that eating healthy cloned cattle, pigs and goats is a risk. The Maryland-based Food and Drug Administration disagrees. Nevertheless, it has been recommended that cloned animals should be cleared for sale and a final decision will be made later this year. It has been rumoured that there are bets in the food industry that consumers will not buy 'cloned' food but who knows?



Tips:

Manipulating a first date:
If you are female and a few pounds overweight, arrange to have drinks before dinner. Researchers at NYU and Stanford have discovered that hungry men prefer heavier women. When checking out a dining hall, scientists had hundreds of students fill out questionnaires about their preferences in a mate. Men who filled out the questionnaire just before they entered the hall described their ideal woman as an average of three or four pounds heavier than men interviewed after they had eaten. Strangely enough the researchers did not find the same change in women's preferences.

A friend of mine who is an expert at website dating was telling me how you can meet your ideal man. She went on the site www.eharmony.com and had 168 replies. It was the type of man who responded that was interesting. Several wanted to fly her to them first class for a date. She has decided to conduct a workshop in June and is calling herself the 'Love Coach'. She will be grooming ladies to present themselves with the right photo and the best biog to attract the right man.



There is a new HRT cancer alert. It is reported that women who have been taking HRT for more that three years are at risk of developing a certain type of breast cancer. Dr Christopher, who led the US study at the Fred Hutchinson Cancer Research Center in Seattle, Washington said "Our study suggests that a significantly shorter exposure may confer an increased risk in cancer." Since there has recently been a fall in new breast cancer cases due to women having given up HRT it isn't surprising. I read in the Lancet that when HRT was first introduced one scientist said that no women should take HRT and so I didn't. It only seemed to get rid of the hot sweats and you can take something else for that.



Be careful when taking supplements. Doctors fear heart attacks could be caused by taking calcium supplements. They could do more harm than good and put women at a higher risk of heart attacks, strokes and sudden death.A study was led by Professor Ian Reid at the Faculty of Medical and Health Science at the University of Auckland, New Zealand.



Finally, I am so very, very sad to lose my wonderful and extraordinarily talented friend Georgina. I was introduced to her by Sally when I wanted someone to help me with my London Charity Ball. Georgina worked so hard and we became firm friends. It has not sunk in yet: it is so tragic. I will miss her wonderful talent at writing, her incredible shoes, her hobbies and so very many things that are too numerous to mention. I would love to fill the column with just her achievements and her humour but I know it would not end there - it would more than likely fill a book. Goodbye, my very special friend.




Eds Note: VALERIE AUSTIN is an author of six successful self-help books including SELF HYPNOSIS (Thorsons), journalist and trainer with an international reputation in the field of hypnosis. Her best-selling books and training help people achieve their full potential. She founded the Austin Corporate Stress Management Company focusing on reducing stress and anxiety amongst executives and CEO's. She is also founder of UKRAH (1992) The UK Register of Advanced Hypnotherapy. Valerie has also worked as a consultant in hypnosis at the Priory Hospital, the UK's equivalent to The Betty Ford Clinic, which specialises in food addiction and alcohol abuse. Her work in the film industry (Hollywood) interviewing movers and shakers, producing TV news segments and publishing celebrity magazines in London gave her invaluable experience for her current Harley Street practice.