IN MEMORIAM / GEORGINA BRUNI .

Dear readers,

I am devastated to have to tell you that GEORGINA, founder and Editor in Chief of HOT GOSSIP, died on Saturday, January 19th with all her family around her after an extremely brave battle against cancer. GEORGINA was my dear friend for 16 years as well as our boss at HG for 12 years. She had one of the most generous spirits of any person one could hope to meet, always putting others before herself, supporting charitable causes and giving her friends and their families so many kind gifts.

Professionally GEORGINA was a dynamo, running various businesses, including, of course, HOT GOSSIP, and CLUB 2000, her social and networking club. She also operated a successful PR business and was publicist to all sorts of interesting places and people, including HG Editors JACQUIELINE, VALERIE and myself for many years. Georgina had a lifelong fascination with fashion; she had businesses in the UK and in Hong Kong selling her own designs. She was the designer behind a beautiful range of lingerie sold under Jilly Johnson's label and, in her own name, designed and manufactured bespoke headbands and hair accessories. She founded HG in 1995, launched it in 96 and was thrilled to see the magazine achieve one million hits a month and win a much deserved PURE Award. Club 2000 was a fun club with an eclectic collection of members who would meet in various London clubs and venues and have a riotous time, hosted by GEORGINA. She was also a patron of APOLLO FUNDRAISING with myself and helped to raise money for worthy causes internationally.

One of GEORGINA's greatest achievements was her extraordinary book YOU CAN'T TELL THE PEOPLE (the title came from a quote BARONESS THATCHER gave her on the subject) about the Rendlesham Forest UFO incident, the UK's equivalent of Roswell. GEORGINA always had a great interest in 'the unknown' and she painstakingly researched and wrote this fascinating book, sacrificing her weekends for it so that her other work would not suffer, over 6 years. YOU CAN'T TELL THE PEOPLE was a best seller and GEORGINA became a respected expert on the incident and UFOs in general, giving TV, radio and print interviews all around the world. To read more about YOU CAN'T TELL THE PEOPLE, go to NICK POPE's WEIRD WORLD page and you will be able to read other tributes to her on all of our HG pages this month.

I know that we, GEORGINA's friends, will always remember her fun parties and happy times with her in her cosy Knightsbridge flat. Our world will be a poorer place without such a sparkling and charismatic lady in it.

All of our HG Editors - NICK, JACQIE, JOE, VALERIE and JOAN - join our publisher JAMES, our designer GRAHAM and myself in sending heartfelt condolences to GEORGINA's mother JOAN, brother JOHN, son PAOLO and sisters ROWENA, GLORIA and BARBARA. Rest in peace, GEORGINA.

We hope you like our cover picture of GEORGINA taken by our mutual friend MARYSE DE GOUTIERE at one of the fun CLUB 2000 events at THE CRICKETERS' CLUB in London's West End at the end of 2006 before she became ill. Now here is the complete image which I keep in a beautiful silver frame on my mantelpiece at home and will always treasure.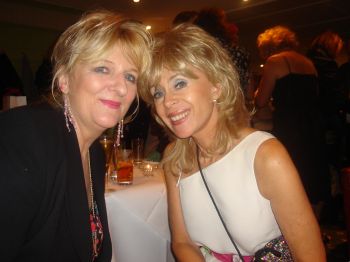 GEORGINA with SALLY. C.r.: COMTESSE DE GOUTIERE.



Please write to me at:

[email protected]



SALLY FARMILOE - NEVILLE
Editor / Deputy Editor in Chief / HOT GOSSIP.