OBITUARY: GEOFFREY HARVARD HARRIS
The year started on a sad note for my family and friends as we had lost our dear friend GEOFFREY just before Christmas after a long and extremely brave fight against cancer. GEOFFREY had become famous world wide for his portrayal of CHARLES DICKENS in his one man DICKENS show and he will be missed by friends and fans alike .

GEOFF was quite simply one of the nicest people I have ever met in my whole life ; I never heard him say a bad word about anyone and there are not enough good words to write about him. He was a wonderful husband to his beautiful wife JOAN, a fantastic father to his dear children, MANDY, JOHN, DEBBIE and DAN and a loving grampa to his baby grandson DYLAN.

GEOFF and I shared a flat and various cars with never a cross word and he helped me look after JADE when she was a toddler, earning him the sobriquet "NANNY GEOFF" which he politely never complained about! JEREMY and I also shared some wonderful holidays with him and JOAN that we will always remember.

GEOFF was extremely clever with an IQ worthy of MENSA, was a thoughtful and imaginative actor and had a beautiful speaking and singing voice. Although I only worked with him once myself, JOAN, JEREMY, JADE and I saw most of his productions several times. He was quite brilliant in his one man DICKENS show, produced by JOHN GRECO and put on by DAVID PARKER at THE DICKENS HOUSE and with which he toured the world.

GEOFF, JADE and I met his beautiful second wife, EASTENDERS' actress JOAN HOOLEY through our esteemed Ed In Chief GEORGINA in 1993 and they were together ever since, marrying in 2002.

GEOFF's brother STEPHEN conducted a beautiful funeral service for him at The West London Crematorium with a "full house" including his other brother DAVID and his first wife LIZ. Then his dear friends MAGGIE AND JOHN threw a magnificent wake for him with a stunning photo taken by JOAN at his beloved LORDS on the TV screen.

GEOFFREY will remain in our hearts forever and GEORGINA and all at HGUK join me in sending heartfelt condolences to JOAN and all the family. My photo shows GEOFF and JOAN on their wedding day.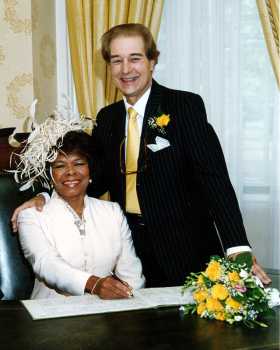 GEOFFREY HARRIS and his wife JOAN HOOLEY HARRIS



GEOFF would not have wanted any of us to be sad in this New Year, nor would our other close friends we lost at the end of last year, JADE's beautiful agent HEATHER and my dynamic former party planning partner, OLIVER. We must all live our lives to the full and strive for health and fitness.


If you are still feeling distinctly unhealthy after the Christmas and New Year festivities, I suggest you buy yourselves a workout DVD immediately and fitten up instead of fatten up! The best new DVD I have found is KARDY LAYGUDA's DANCE AEROBIC PARTY, "a revolutionary DVD where fitness and entertainment meet." I met the handsome and dynamic KARDY at PINK AEROBICS last year where he motivated hundreds of women, including DIANA MORAN, KATE LAWLER and myself, to "bop till you drop" in aid of BREAST CANCER CARE. KARDY is a real showman and a talented dancer and choreographer as well as a fitness and aerobics expert and this is reflected in his up beat and amusing DVD. Apart from the usual warm up, main section and cool down, KARDY'S DANCE AEROBICS PARTY contains a comedy section and a fashion section so you will not get bored and the whole workout is painless! Great fun and highly recommended: available from:
www.dvdfitness.co.uk
Or 01268 54 88 99.


If you really cannot stand exercise but want to look slim, svelte and toned, JANET GINNINGS' celeb hair and beauty salon has the answer: BESPOKE BODIES, a unique consultation service where beauty guru JANET will personally assess your figure and any little, er, "problem areas" and recommend a treatment programme to achieve the results you want. JANET's Mayfair salon offers all the latest and greatest slimming, firming and detoxing treatments to make you look truly scrumptious without setting foot in the dreaded gym! The salon's latest and greatest treatments include PRESSO-03 to reduce water retention and improve circulation, CORPO to stimulate the breakdown of fat and firm and tighten the whole bod and EPOREX to banish cellulite for ever and lose inches in all the right places. JANET will recommend one or more of these treatments to suit your personal requirements and you will see results after just 6 to 8 treatments. EPOREX, btw, is a favourite treatment of stunning TV presenter and former BLUE PETER babe KATY HILL and here is the beauteous KATY herself.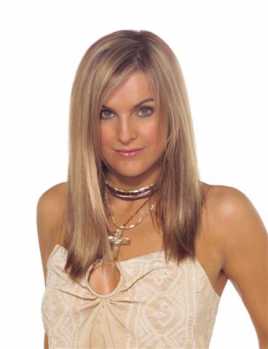 KATY HILL



THE JANET GINNINGS SALON 020 7499 27 67 and www.janetginnings.co.uk also offers fab hair and beauty treatments at reasonable prices, including great facials, relaxing massages, super fast wax jobs and a team of brill crimpers. I favour ALZIRA, the fastest setter in the West (or is it West End?!) but MICHAEL is also a great stylist and SHAUNNA is a brill colourist. JANET looks after her many celeb clients herself and her regular client CAPRICE reckons hers are "the best hair extensions in the world." You may have noticed how glowingly lovely CAPRICE looked without a scrap of make up on CELEB BIG BROTHER recently; JANET tells us she gave her loads of facials before she went "inside" so maybe that is what we all need if we want to have a complexion like CAPRICE.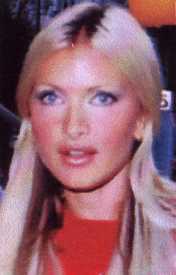 CAPRICE



JANET's other celeb clients include ELLE MCPHERSON, whom she says is really nice and un-diva-ish, TAMARA BECKWITH, AMANDA HOLDEN, IVANA TRUMP and (allegedly) SHIRLEY BASSEY. The charming and dynamic NUREYEV author CAROLYN SOUTAR recently flew back from a jolly in CANNES with the Great Dame, MS. BASSEY, and confides that she is looking "terrific" so something is obviously working well!


Once you have started working out with KARDY and getting yourself titivated with JANET you will be ready for some new party frocks. Check out top coutourier PARVEEN's fab shop in Dorset St., W.1. (020 7486 84 80.) The delightful PARVEEN not only sells her entire collection of glam day and evening wear but also stocks a complete treasure trove of great accessories, including sparkly jewellery, elegant pashminas and neat little bags: everything for you and for gifts.What is more, it is always sale time at PARVEEN'S. Check out the treasure trove. Here is the lady herself with one satisfied customer, a star who is always on our screens nowadays for all the wrong reasons, the extraordinarily talented and (allegedly) equally troubled MICHAEL JACKSON.


PARVEEN with MICHAEL JACKSON




MICRODERMABRASION is very popular nowadays and is a good way to start the New Year: off with the old and on with the new, skin wise! Various companies have manufactured home microdermabrasion kits but most of them contain chemicals which are actually bad for the skin. However DR DENESE, the American skin guru, has recently launched her excellent home kit, containing completely natural ingredients, in the UK and it is excellent. The kit contains a hand held applicator to brush the sloughing / anti-ageing cream on with and the cream itself contains natural pumice, vitamins A, C and E, ceramides and botanical extracts to leave skin feeling soft and nourished. The treatment is extremely easy and quick for home use and our 2 guinea pigs, AMANDA (36) and GLORIA (60) reported great success after just one month's use. The ladies both used the kit once a week and said that their skins looked a much healthier colour, felt smoother and that there was a definite reduction in their "expression lines." GLORIA microdermabraded her decollete and hands as well as her face and neck and also used DR DENESE's HYDROSEAL Hand And Decollete Serum for those areas. She said she noticed a difference almost immediately and was thrilled with both the kit (£39.55) and the serum (£45 for 90 ml.) DR ADRIENNE DENESE, MD, PhD, from New York is herself a great beauty and specialises in "Advanced Science in Skin Care." The DR DENESE range is a welcome addition to these shores and can be ordered from: 01295 72 45 83 and: www.drdenese.co.uk


Thank you for all your letters about SKIN DOCTORS' latest products, RELAXADERM, the pain free alternative to Botox in cream form and ANTARCTILYNE, the "miracle cream" with a secret ingredient from the Antarctic Ocean. Yes, I do use both products myself which pleases JADE no end as she does not want me to have any needles near my face! The effects of alternating the 2 creams is extraordinary: people comment on how good my skin looks all the time, even when I am feeling tired or cold-ridden and, now that the texture is better, I can get away without wearing foundation. ANTARCTILYNE is available exclusively from SELFRIDGES (which has an excellent beauty dept, btw) and RELAXADERM and all the other marvellous SKIN DOCTORS prods, including their wonderful ZIT ZAPPER, are available also from SELFRIDGES, in HOUSE OF FRASER Cosmetics dept.s, in larger BOOTS stores and many salons and pharmacies. If you have any probs finding the prods contact their brill PR, JACKIE at:

[email protected]




If you like totally natural beauty products, you will be thrilled to learn that experienced beauty writer SIDRA SHAUKAT has finally agreed to reveal her personal beauty secrets and launched her very own INCREDIBLE BEAUTY range, BUFF. With yummy conditioning lip glosses with titles such as "Lick My Lips", she cannot fail! All the BUFF range is natural, edible and organic and includes cosmetics, hair and skin care prods and even "anti cellulite cinammon".You can order the range from: www.sidrashaukat.biz JADE and I especially like the lip products: delicious!


My celeb book of the month for Feb is guaranteed to keep you tucked up inside during this cold and windy time of year. It is Royal author LADY COLIN CAMPBELL's long awaited and highly praised new book, THE REAL DIANA (BLISS BOOKS, £17.99) finally spilling the whole darn sack of beans about you know who and her full and eclectic love life, amongst other equally riveting subjects. LADY COLIN (GEORGIE) 's DIANA IN PRIVATE, the very first of all the DIANA books, was an international best seller and I have no doubt that this new and revelatory book will be equally successful for its talented author. Unlike some so-called "Royal writers", the highly respected LADY COLIN does not just write enough words to serialise in a newspaper, she writes a whole, painstakingly researched, completely accurate and utterly compelling tome. What is more she did actually know the person she has written about, which helps! The late great PRINCESS DIANA is endlessly fascinating ; for instance LADY C's new revelation that PD was pregnant to OLIVER HOARE and had an abortion answers a lot of questions about all those "nuisance calls." THE PRINCESS may have had feet of clay but she was very human. THE REAL DIANA answers various other questions her millions of fans have wondered, including "was she preggers to DODI or had she just had a good Cote D'Azur 5 - course lunch on the day the following pic was taken?" ( I am not going to reveal the answer: read the book! )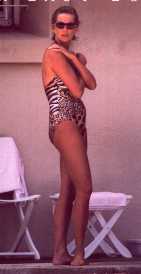 PRINCESS DIANA in a bathing suit




If, like me, you like to use greetings cards for every occasions, you will be thrilled to learn that JAY of MEMORIES MAJESTIC can design something really special for you. Artist and designer JAY's cards are true works of art and recipients tend to keep them long beyond the occasion concerned. Check out the website at: www.memoriesmajestic.co.uk or phone: 0870 034 0288


Finally I am happy and relieved to report that our very own HGUK cover girl, VALERIE AUSTIN and her family survived the TSUNAMI in Malaysia. VALERIE is a renowned hypnotherapist and founder of the famous AUSTIN TECHNIQUE and has kindly offered to give complimentary treatments to other traumatised Tsunami victims. You can reach her at: 020 7702 4900.


I would like to join GEORGINA and my fellow HGUK Editors in sending our sincere condolences to all those who have been bereaved by the Tsunami world wide. By the time you read this GEORGINA and I will have held at least one fundraiser and I know we are all giving as much as we can but I believe we need to continue to help: "a little and a little and a little make a lot."


Thank you for reading my page.
Please visit my personal website at:
www.sallyfarmiloe.co.uk

LOO TIME VIDEO available from:

[email protected] and:

http://www.121music.com/pages/video_01/home.html