STOKE PARK CLUB, PARK ROAD, STOKE POGES, BUC KS, AND SL2 4PG. Tel: 01753 717172.

ROMANCE IS IN THE AIR - VALENTINES DAY, 14th February, falls on a Monday, so why not make it a weekend of unbridled delight, and drive, only 30 minutes, your beloved to this luxurious Palladian Mansion, set in acres of Parkland, with secluded terraces overlooking Italian Fountain gardens and stay in one of the 21 deluxe bedrooms.

For details of their special Valentine's Package, phone the above number.

Alternatively – are you cooking Dinner for y our loved one at home. If so, here are a few tips.

SET THE MOOD: Champagne sipped by candlelight with background romantic music.

A simple Menu - Food that can be eaten by hand or fed to each other, like Asparagus or Artichokes. Include a few Aphrodisiacs, Oysters, Caviar, and Chocolates.

If all this sounds too much like hard work I would enthusiastically suggest -


DINNER at THE PARK RESTAURANT

Prepare to be Seduced - All your senses, sight, smell, taste, touch will be aroused by the Special Valentine's Gourmet Menu created by Head Executive Chef Chris Wheeler. It includes a Chocolate Lovers Collection - a heart shaped Pavlova Mille-Feuille with Champagne marinade strawberry, vanilla cream and Passion fruit coulisse. Not to mention a dark, red rose, symbolizing Love that will be on your table. It could provocatively decorate a plunging cleavage.

A Valentine's Message for your Loved One: Keep your Heart healthy – drink Chilean Red Cabernet or Merlot Wine.


A SLIMMING VALENTINE - Eat less Bread. You can eat the same number of slices, but eat THINLY sliced bread. Shops and Supermarkets seem to stock only thick or medium cut. Then I discovered thinly sliced wheat germ bread at Green Park's Marks and Spencer.

Two toasted slices for Breakfast with - an SOS to ANTONY WORRALL THOMPSON.

Where oh where, did I buy a jar of your original Blood ORANGE Marmalade - I agree, it is fine cut and zesty with a delicious bittersweet flavour, a perfect partner for breakfast time slenderly sliced brown toast. Please E-mail me the retail outlet and I'll relay the information to Hot Gossip readers.

SOS to a FLOWER POWER CHEF - Where c an I have a Floral meal, Courgette Flowers, Dandelion Leaves, Marigolds, Sunflowers, all beautifully dressed, crispy and tender, succulent and aromatic.


NEW YEAR RESOLUTION - THROW OUT YOUR SCALES

Don't weight yourself any more, scales can be misleading, you might look thinner but the scales say otherwise. Why, because muscle weighs more than flesh. Remember, behind e very Shapely Curve lies a Shapely Muscle.


You don't want to be skinny thin, aim at a Curvaceous Slenderness.

Become a SLEN DER GOURMET, if you want to weigh yourself, do it with CHAMPAGNE.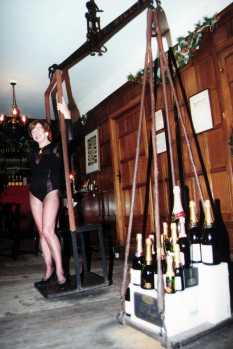 Joan



Happy Bubbles - JOAN

E-mail:

[email protected]