Joe's, 126 Draycott Avenue, London SW3 3AH - Ph 020 7225 2217 – www.joseph.co.uk

This is a most popular restaurant and the 'in' place for locals to meet. Opposite famous shop Joseph, Joe's Restaurant features a narrow bar with red stools which leads to the first of two rooms with tables on both sides. Cosy and relaxed atmosphere. You can see the adjoining dining area through a lovely purpose built bookcase. This room is airy with several skylights and black and white photographs. On this side of the bookcase there is an interesting collection of books and bottles.

Federica, the charming Italian Manager, is everywhere making sure that everything is running smoothly.

Whether you are passing by, or shopping or live locally Joe's is worth a visit or two. Delicious food by Chef Maria Elia whose book 'The Modern Vegetarian' published by Kyle Cathie Limited (£16.99) is a beautiful publication featuring mouth watering illustrations. Brunch is served between 11 am and 4 pm followed by dinner. We had Beetroots and puy lentil salad (£5.25) and Haddock carpaccio (£6.75), Asian scented fish stew, beluga lentils (£17.95) and Spiced slow braised lamb, rainbow chard and chickpeas (£16.25) which were thoroughly enjoyable. At £3.50 each their 'Small Desserts' are a must: cherry and chocolate rice pudding, treacle tart, peach gel and vanilla ice-cream and summer berry pudding. Their Jegromaro Rose 'Donnadele' rose wine (£22) was delicious.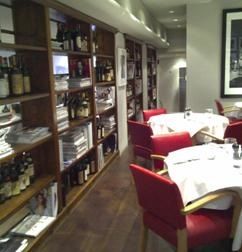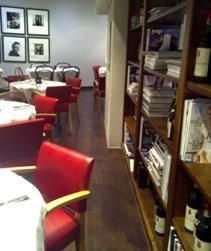 Le Bar at Sofitel, 6 Waterloo Place, London SW1Y 4A, Ph. 020 7968 2900

Whilst waiting for their Brasserie to re-open after refurbishment, a more extended menu is being offered at the Bar. A beautiful chandelier with cascading fibre optics lighting is the centrepiece decoration of this red, white and black room. Both the service and the food are superb. And the presentation excellent.

The Scottish organic smoked salmon covered the square plate and was accompanied by a scoop of horseradish cream and quail egg (£13.50). At £11 the Roasted boxed camembert with toasted baguette and mixed baby salad would be an excellent light lunch as well as a great dish to nibble on whilst having their signature cocktails: an interesting variety of Martinis as well as ingenious vodka, rum and bourbon ones.

We both had the lemon sole 'bonne femme' which was served with asparagus on a delicious sauce instead of grapes. Although I am not normally enthused about lemon sole this one was excellent both in presentation and taste. (£20).

Gaskin farms berries soup and Champagne granite (£6) caught my eye but we settled for an espresso. To and from lunch we admired the beautiful flower arrangements this hotel has in its lobby. Worth a visit.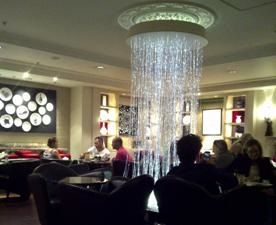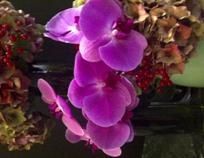 Le Petit Nantais, 41 Bridge Road, Hampton-Court, Surrey KT8 9ER – Ph 020 89792309 - e:

[email protected]



A mere half an hour away from London, and 200 yards from the train station you will find LE PETIT NANTAIS – a true Bistro. Owner Jean Pierre, married to Kim, is the Chef. Jerome – also very French – described the menu and attended front of house in an unusual (nowadays) welcoming way.

The food is excellent and I can recommend the stuffed tomatoes with minced meat and herbs with a garlic hint (Tomates Farcies £ 8.50) and Filet de Loup de Mer au Beurre Nantais £17.50 – a delicious tasting dish of a filet of sea-bass on mash potatoes that do justice to the description: 'with jp's great grandmother special recipe'.

The King Prawns were excellent and I was told that on Saturday mornings they set up a fresh fish stall outside the restaurant to the delight of the locals. A balanced small menu include French classics ranging from Croque Monsieur or Madame (£8.20), Soupe de Poissons, Saucisses de Toulouse (£12.95), Poulet Chasseur (£12.95), Mousse au Chocolat (£ 6.50). House Wine: £ 11.00 and an excellent Sauvignon Blanc at £ 15.50.

Across the road the Hampton Court Emporium stocks thousands of antiques from 30 pence to a few hundred pounds. Worth a visit. And on your way to and from the restaurant visit Newby Crouch (35 Creek Road) and acquire new accountants: good ones that charge reasonable prices are hard to come by and I can certainly recommend them. And of course, I almost forgot, you can visit Hampton Court Palace – also just around the corner.