Happy autumn, dear readers! Do you all have business cards? If not, why not? I couldn't live without my little 'networking tools' and recently discovered the BEST EVER PRINTERS = VISIONCARD / 0151 630 5006 / www.visioncard.co.uk

Marvellous MERV at VISIONCARD specialises in laminated biz cards with a full colour photo one side and your details t'other. This is an ab fab idea which more and more peeps are now adopting, not just actors and models. You will not be forgotten, even after the most drunken encounter, if you slip your new contacts a gorg pic of yourself with your vital statistics on the back!
I have just received my VISION CARDS, am totally thrilled with them and am now flashing them around to all and sundry.
Highly recommended.


Thank you for all your emails about AMY WINEHOUSE. Here, by popular request, is another pic of the tragic songstress: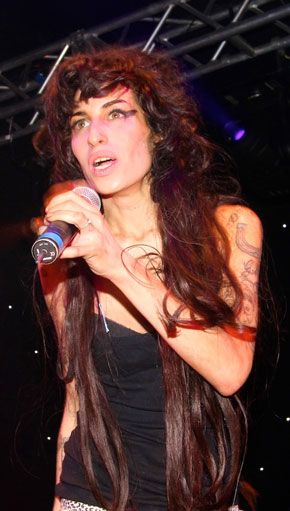 AMY WINEHOUSE. cr: GABOR SCOTT.



I only met the talented AMY once when she fell on top of me in a club - however it was quite painless as she was so light - and she was feeling no pain either! The champagne she spilled on me was most refreshing............RIP, AMY. There were so many unnecessary deaths this summer, a sad time.


On a happy note, thank you also for all your emails re my current play, JACKIE SKARVELLIS' hilarious 'rumbustious romp' CARRY ON BRIGHTON in which I play FENELLA, a cabaret singer who schemes to marry her walker - but he is gay so she has to dress up a bit to fool him into marrying her........needless to say it's a farce! After its success at THE COMMONWEALTH, C A B has transferred to the trendy PENTAMETERS THEATRE in Hampstead (Box Office: 020 7435 3648) = see you there!
Here are some pix of moi with the 2 delightful actors who played HENRI, my 'intended' in both productions: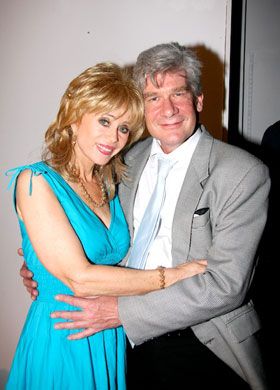 SALLY with LUCIEN MORGAN. cr: GABOR SCOTT.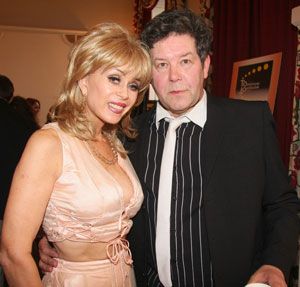 SALLY with MARK PERRY of DEAD RINGERS fame. cr: JOHN ULLENS.




On the work front, the next film I am booked for is a short called BLOODLINE where I will be playing an obsessive compulsive mother who cleans the whole time = absolutely NOT type casting, but bring it on - it may make me into more of a Domestic Goddess! Here's a pic of the beautiful writer/director of BLOODLINE (which is absolutely chilling, bloodcurdling and brill, btw), LUANA DI PASQUALE at the cast announcement of BLOODLINE: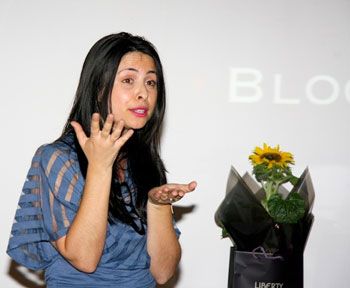 LUANA DI PASQUALE. cr: GABOR SCOTT.




Modelling wise, JADE and I are delighted to be the new faces of CETUEM SKINCARE's MOTHER AND DAUGHTER RANGE: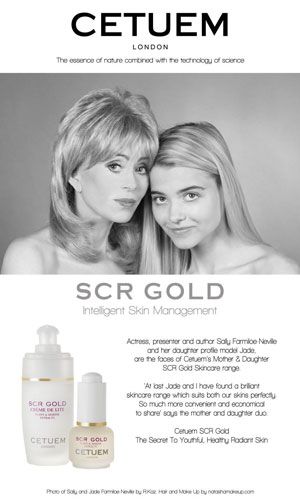 CETUEM MOTHER AND DAUGHTER RANGE poster / SALLY AND JADE F-N. cr: R. KAZ.



This wonderful range works for both younger and older skin as its pure ingredients soothe and heal as well as plump up. JADE and I both love the CETUEM GOLD SERUM and CETUEM CREME DE LITE which make our skins glowing and radiant.
Fans of CETUEM include PETER ANDRE, SOPHIE ANDERTON, CHELSEY BAKER, NANCY DELL' OLIO and MP MARK FIELD and here's a fab pic of gorg SOPHIE and CHELSEY taken at the glitzy launch of the MOTHER AND DAUGHTER range, covered by OK!, THE DAILY MAIL, THE DAILY EXPRESS, THE INDEPENDENT and THE TELEGRAPH, at the chic MILLENNIUM HOTEL AVISTA BAR in Mayfair: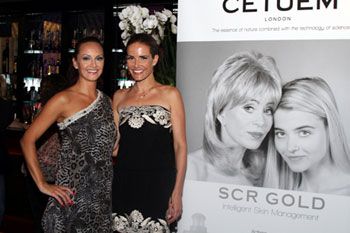 CHELSEY BAKER and SOPHIE ANDERTON. cr: R. KAZ.




Women of all ages are using nourishing and rejuvenating creams these days and there are hundreds of brands out there. Apart from CETUEM which we all love, here are my triallers' FAB FIVE BEST SKIN NOURISHERS for this issue (in alphabetical order so no favouritism!) with the guinea pigs' comments:

ARK RADIANCE SKIN RESPONSE SERUM - "I used this for 4 weeks and my skin looks really bright now with a much better colour. I would definitely use it regularly now." (MAY, 34).
www.arkskincare.com

BABOR HSR DE LUXE ULTIMATE ANTI-AGING CREAM - "Wow! This product is amazing. I used it for just 3 weeks and my lines are already looking lighter. Love it! I will try BABOR's other products now. The company is German and obviously very efficient." (HELEN, 49).
www.babor.com

CORINA REJUVENATING CREAM FOR WOMEN - "The CORINA range is huge and I tried the CLEANSER, TONER, EYE GEL and BRIGHTENING OVERNIGHT CREAM which were all great but I think it was the REJUVENATING CREAM which really plumped my skin up in only 4 and a half weeks. Really good. (GLORIA, 62).
www.corinaskincare.com

THE DERMAHA SKINCARE RANGE - "I tried the DERMAHA CLEANSING OIL, FACE TONIC, MOISTURISING FACE CREME and VITAMIN OIL every day for 25 days and am still using them. They contain avocado, smell nice and my skin feels already smoother and softer. Very good." (JULIE, 36).
www.skinsecrets.co.uk

THALGO COLLAGEN CREAM - HYDRATION - FIRST WRINKLES - "I have had lines on my forehead since I was about 12 and this extraordinary cream is the only one to make them fainter. I used the product every day for one month and am very pleased with the results." (HEDDY, 26).


Daytime skin care is just as important as night time; I favour products which have a high SPF and so should you if you go anywhere near the sun (and you never know when it may creep up on you unexpectedly in the UK!):

PRIORI DAILY DEFENSE, SPF 30 - light and silky, in a bottle with strong packaging for carrying in your handbag.
www.prioriskincare.com
Celebs who use the famous PRIORI range allegedly include the stunning ROSIE HUNTINGDON-WHITELEY and heeeeeeeeeeeeere's ROSIE, sporting gorg ISHARYA Gypsy earrings and cool shades: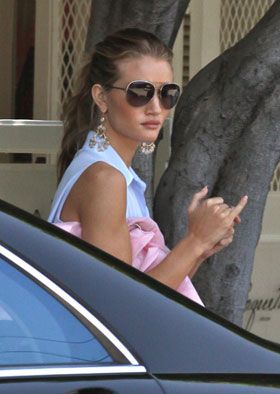 ROSIE HUNTINGDON-WHITELEY. cr: ISHARYA.



CORINA ACTIVE DAILY REPAIR SPF 30 - very creamy, in an attractive pot with a neat little applicator for hygiene.
www.corinaskincare.com


Still talking sun, the BEST SUNCARE PRODUCT I have found in ages is SUNSHOTS SPF 25 SUN PROTECTION POUCHES which are individual, pocket sized, lightweight, water resistant and come in boxes of 10 - ideal for beach, car or handbag. Very practical - more manufacturers should jump on this band wagon!
www.sunshots.co.uk
Fans of SUNSHOTS include hunky TV presenter ED GIDDINGS and here he is with JADE and moi at a recent AMANDA WAKELY fashion show: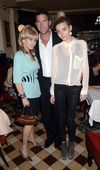 SAL, JADE, ED GIDDINGS / 337253f. cr: STEPHEN COKE.




HOME MICRODERMABRASION is all the rage nowadays and will save you loads of time and money at the beauty salon. There are lots of them out there but my personal fave is BEAUTY LAB's MICROPOLISH DERMABRASION featuring 'Glycopeel, Crushed Pearl and Rose Quartz' (mmmn!) This one takes just a few mins to rub in and wash off, can be used safely twice a week and gives your skin a fresh, polished, rosy apple look that also absorbs skin creams and make up more easily.
www.beautylab.co.uk

Gals who allegedly favour microbrading are the beautiful KATE BECKINSALE - check her out: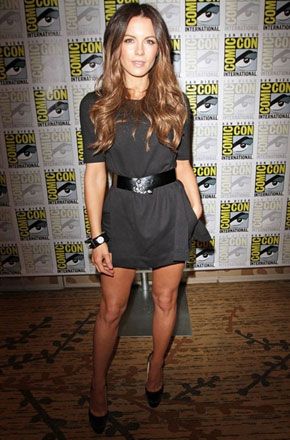 KATE BECKINSALE: cr: ISHARYA.




Don't forget to use a higher SPF if you microdermabrade - which is where the previously mentioned prods come in.


The BEST HEALING PRODUCT we have found this issue is SANTA VERDE's ALOE VERA CREME which got rid of guinea pig JULIE's red blotches in under a month.
www.santaverde.com


Talking cellulite - and who can blooming well forget it, according to you, dear readers! - this month's BEST CELLULITE PRODUCTS, as trialled by my gels, are:

DOVE SPA DE-DIMPLE MINIMISING SCULPTING SERUM - "This product promises results in a fortnight and my thigh and bum dimples really did feel and look less lumpy and bumpy in a fortnight. Each daily mini bottle actually lasts me 2 days so I am still at it. Smells of chestnuts." (JULIE).

THALGO THALGOMINCE LC24 CONCENTRATE - It's a spray so very easy to apply. The 100 ml. size lasted me 3 weeks and I noticed that my thighs and tummy felt very smooth and appeared firmer. I will buy some more." (MAY).


My BEST NAIL PRODUCTS this time around are/is the fab NAILTIQUE range, comprising CUTICLE GEL, OIL THERAPY, 3 different FORMULAS for different nail problems and PROTEIN NAIL LACQUERS in amazing colours, my fave being HAVANA = a deep maroony brown. Trialler MAY tried the formula and reported growth on her bitten nails after 2 weeks = hooray! Now she has enough nail length to wear the NAILTIQUE lacquers. I am wearing them too on my sculptured nails just for the great colours!
www.nailtiques.com


My BEST POWDER is LANCOME's POUDRE MAJEURE EXCELLENCE which, in colour 01 TRANSLUCENT, suits everybody I tried it on. This is a matt powder in a mirrored compact that goes on easily and gives a truly silky finish. Excellent coverage but undetectable. For various skin types and colouring.
www.lancome.com

My PERFUMES OF THE MONTH are LUSH GORILLA's fab MINI SET of 8 miniature handbag sized fragrances, including ORANGE BLOSSOM, LUST, VANILLARY and KARMA which everybody loves for ringing the changes and LUSH GORILLA's exciting new LOVE which is vampy, trampy and sooooooo potent!
"Let us spray!"
www.gorillaperfume.com

LUSH babes allegedly include the amazing SADIE FROST, seen here at KATE MOSS's wedding: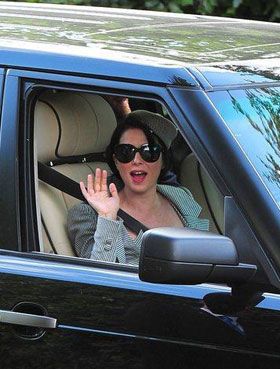 SADIE FROST. cr: DAILY EXPRESS.




This month's BEST HAIR PRODUCTS are CHARLES WORTHINGTON's new FRONT ROW 2011 COLLECTION, including a fab DRY CONDITIONER, a brill SHAMPOO AND CONDITIONER FOR COLOUR STRESSED HAIR and DRY SHAMPOO in BLONDE and BRUNETTE colours - the perfect limp hair pick me up in a handbag sized spray.
www.charlesworthington.com

Talking hair, if you like HAIRPIECES - or 'ferrets', as I call them - you have to try WONDERLAND WIGS' fab SLEEK CLIP IN BUN which will give you that demure but simmering JENNIFER LOPEZ in MAID IN MANHATTAN look. Just pop your hair up into an up ponytail and clip the bun on = easy peasy!
www.wonderlandwigs.co.uk


BEST 'FEMININE' PRODUCTS this month are LILETS' super repackaged TAMPONS IN A TUB which are very bathroom friendly and, in pastel shades, undetectable as you-know-whats when they are on the shelf. In fact my hubby who is a tampon o phobe thought the tub contained bath salts!
Well done, LILETS - please follow on, other sanitary manufacturers.
www.lil-lets.co.uk



Moving on to FASHION, I understand from the amount of hits that the BOUDOIR SWISH intro received that ladies and gents just lurrrrve corsets!

http://blip.tv/file/4384717

The purveyors of my fine outfit on that occasion were the totally fabulous KISS ME DEADLY. I wanted to wear a KISS ME DEADLY outfit in CARRY ON BRIGHTON but sadly had too much rushing about to do in that play. Next play, next play...................! In the meantime here's one of KMD's latest offerings to make you salivate, boys: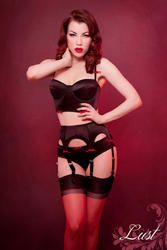 KISS ME DEADLY: Long Bra and Suspenders.





OUT AND ABOUT:

TULISA in a cute LIQUORISH dress: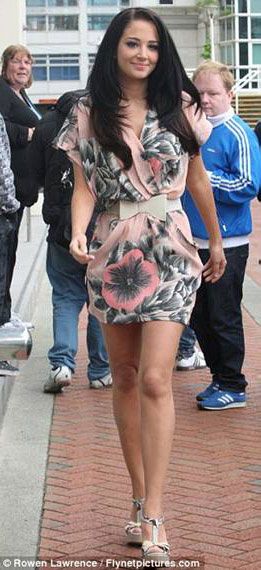 TULISA. cr: LIQUORISH.





CONGRATS to:

Supermodel CLAUDIA SCHIFFER for hitting 41 and still being the cream of the crop: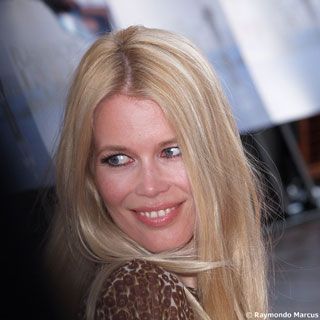 CLAUDIA SCHIFFER. cr: RAYMONDO MARCUS.



Actress AMANDA HOLDEN for her successful run in SHREK THE MUSICAL and her new pregnancy.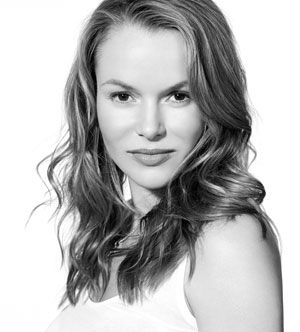 AMANDA HOLDEN. cr: SUNDAY EXPRESS.





On the BOOK front I have 2 very different faves for you this time, readers.

Firstly PUPPY TALES by JOANNE HULL (HEADLINE) brings us all sorts of woofy tales (excuse the pun!) With one of the canine stars being 'the gorgeous Sally', how could I resist? All the doggies in this little book - Cindy, Wesley, Zara - are heroes and heroines of enchanting, funny and moving canine stories and this book is the perfect presy for anyone who loves 'dawgies'.


Secondly, the naughty but nice ROBIN ANDERSON has brought out another of his dark and witty bonkbusters, PAUL DOT GO (NAZCA PLAINS CORPORATION).
Do they have 'Bonk Buster' Awards? if not, why not, as the suave ROBIN would surely win.
In this latest book the wicked characters, including WILLIAM WANDSWORTH and PRINCE ALBERT (yes, really!) all get their come-uppance, go-downance and whatever-unce and an extraordinary time is had by all. ROBIN hasn't lost his touch - can't wait for the next one...........
Here's ROBIN with one of his fave gals, the fabulous IVANA TRUMP: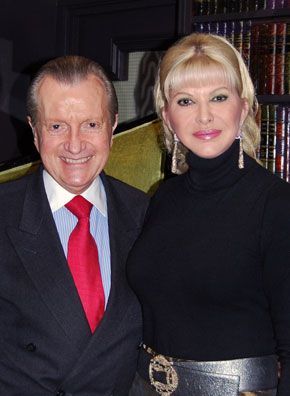 ROBIN ANDERSON and IVANA TRUMP. cr: LOUKAS KROULIK.



LATE ENTRY: J'ACCUSE! by MIKE LIDDEL-TAYLOR (TYZACK IMPRINT / self published.)
I wasn't sure if this book was suitable for my column as I only recommend products and services and the cover quotes the author as saying he 'wrote (it) to piss off as many people as possible!'
Flicking through, I noticed he'd spelled a lot of people's names wrong which will no doubt annoy them. However, turning to one of the bits about moi, I saw he described me as 'a top working model and author of several extremely well written books on fashion and beauty care' - no mention of my acting awards, nominations or credits then, but not rude.
So I decided to ask HOT GOSSIP's fave sponsor LORD WEST OF HOLLESLEY, a recipient of a complimentary copy according to the author, to review it and here is the review:
'MIKE FIDDLE-FAILURE's book? I wouldn't even read it.'
Or maybe not..................................



Thank you for your continuing emails about CHARLIE SHEEN and my fave TV show, TWO AND A HALF MEN.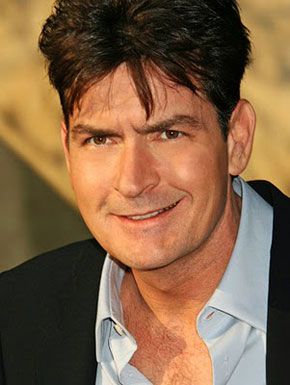 CHARLIE SHEEN. cr: CHRIS PIZELLO.



Of course we're all devastated at the loss of CHARLIE, who was - deservedly, in my humble opinion - the highest paid TV actor in the world at the time, but CHARLIE will continue to be everywhere and who knows what may happen to the show when DEMI MOORE's toyboy hubby ASHTON KUTCHER joins the rest of the cast who are all A-mazing??


Finally, thank you for your emails about the delightfully chipmunk-cheeked MADONNA.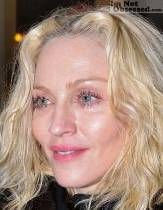 MADONNA. cr: STAR.



Here is what world famous cosmetic surgery guru CINDY JACKSON has to say about the singer's fresh new look:


"I am old enough to remember well when Madonna first burst onto the UK charts in the early 80s. Way before her current lean and muscular look, back then she had a higher fat to muscle ratio. Her face was rounder and fuller. Yet, after the dozens of chameleon-like changes of image she has gone through since then, her face now looks more like it did almost 30 years ago. Taking into consideration her weight loss and the passing of time, which causes the fat layers under the skin's surface to thin, Madonna's face technically should be getting thinner, not fuller.

So what might she have done to achieve such a youthful, plump countenance? Clearly she did not put the weight back on to pad out her dermal layers, nor does she own a time machine. (As the saying goes, after 40 you choose between your ass and your face, but that was before liposuction and injectable fillers.) As someone whose job it is, literally, to have the inside knowledge of how one can buy a younger or more beautiful appearance, I am in a good position to speculate. I have also tried all of the below myself. They all work in varying degrees.

Madonna could have got her age-defying skin from one or any combination of the following:
Injectable fillers to area that are beginning to sink or form folds. They can also be used to great effect in and around the cheeks when fat loss brings the cheek bones closer to the skin's surface.
Mesotherapy, which consists of hundreds of tiny injections of a vitamin and hydrating solution to the uppermost dermal layer.
An SMAS facelift, which involves tightening of the cheek muscles, resulting in a fuller lower third of the face combined with a cleaner jawline.
Regular Microdermabrasion to gradually thicken and plump up the skin surface. It also helps "polish" the face, leaving it glowing. (I have my own extremely effective brand, available from my web site.)
A toyboy in his twenties. I leave those particular benefits to your imagination..."

http://www.cindyjackson.com



Finally I would like to recommend PROFESSOR CHRIS HUTCHINGS of NEW HOLISTIC HEALINGS, who is a specialist in Chinese and Indian herbs and medicine and guarantees 'all cures for mental illness and cancer or your money back.'
Sounds too good to be true but the charming and brilliant PROFESSOR HUTCHINGS has had great success with his patients and his herbal cures are completely harmless to the body and psyche, unlike most traditional cancer and mental illness treatments.
PROFESSOR HUTCHINGS also uses hypnotherapy and Ayuverdic medicine, both of which I approve of most highly, as those of you who have read my 'extremely well written books' (thanks, MR LIDDEL-TAYLOR!) will know.
Highly recommended.
www.newholistichealings.com




Thank you for reading my page.
Please contact me at:


[email protected]


and check out my other sites:
www.sallyfarmiloe.com
www.kazzyandsallytv.com