Welcome to the latest round up of news and views on UFOs, alien abductions, crop circles, ghosts, the paranormal, the unexplained, the weird and the wonderful.


MoD UFO Files - New Release

The latest batch of Ministry of Defence UFO files was made available at the National Archives on 11th August. There are 34 files, comprising around 9000 pages of documents, covering the period 1985-2007. This is the eighth batch of files to be released and is part of a four year programme that began in 2008.

This latest batch of government UFO files makes fascinating reading. It's an interesting mix of sighting reports, photos, letters from the public and internal papers detailing what the MoD thinks of the subject.

The UFO reports are a mixed bag. Most had obvious explanations and turned out to be aircraft lights, meteors and - in recent years - Chinese lanterns. But in among these mundane cases are the sorts of cases that got us more excited: UFOs seen by police officers, pilots and military personnel. And cases where UFOs were tracked on radar, or where we received photos and videos that even our technical experts couldn't explain.

Sceptics will point out that there's nothing in these papers that proves UFOs are alien visitors. Believers will say the whole exercise is a smokescreen and that the really sensitive material is being held back. The fact that some files have been destroyed and some of these documents have been completely blacked out will fuel theories of cover-ups and conspiracies.

Even within MoD, there were believers and sceptics. These papers give an insight into some of the disagreements we had about the subject. They also reveal how we told the press and the public that UFOs were of no defence interest. But behind the scenes we were checking radar tapes, sending UFO photos off to intelligence experts and doing all the sorts of thing we told people we didn't do.

MoD axed the UFO project in 2009. Part of this was because we were being overwhelmed with hundreds of sighting reports and Freedom of Information Act requests. But there was embarrassment too. Something was in our airspace and on the occasions when jets were scrambled to take a closer look, we couldn't get close. People asked what these objects were and the answer was "we don't know". That made some of us uneasy.

The release of these files is particularly poignant because they contain material relating to Hot Gossip founder Georgina Bruni. Documents show that in the run-up to the publication of her book, defence ministers and other senior officials in the MoD went into a state of near panic over the information that she had managed to uncover as a result of her diligent research and close ties with various military and diplomatic personnel.

These fascinating documents tell the extraordinary story of how some of us in the Ministry of Defence struggled to make sense of the UFO mystery and argued about how to handle the issue.

Whatever your views on UFOs, these declassified real-life X-Files are really interesting and show how us real-life Mulders and Scullys struggled to make sense of the UFO mystery and argued about how to handle the subject.

As with all previous releases, I undertook an extensive series of TV, radio and newspaper interviews to publicise this story. Click on www.youtube.com to see me announce the release in an ITN News broadcast that was syndicated to the world's media.


UFOs - Leslie Kean

The paperback edition of investigative journalist Leslie Kean's groundbreaking book, UFOs - Generals, Pilots and Government Officials go on the Record, was published on 2nd August. It's no ordinary UFO book: the foreword is written by Bill Clinton's former Chief of Staff, John Podesta, who more recently co-chaired President Obama's transition team. Endorsements include one from physicist Michio Kaku and another from CNN's former space/science correspondent, Miles O'Brien. Around half the material consists of direct testimony from high-ranking individuals who have either seen a UFO or undertaken official investigations into UFO sightings. Her contributors include five generals and Fife Symington III, the former governor of Arizona. I also wrote a chapter. Unlike many books on UFOs, there are no anonymous whistleblowers or unsubstantiated accounts. All contributors had to be able to back up their accounts with official documents and must have verifiable backgrounds in government, the military or the aviation community. Another key difference from most other UFO books is that Leslie Kean and her contributors take no definitive view on the true nature of the UFO phenomenon. They say only that some UFO sightings cannot be explained as misidentifications and hoaxes and they therefore call for governments to take the subject seriously, not least because of the aviation safety implications of the phenomenon. If you only ever read one UFO book, read this one.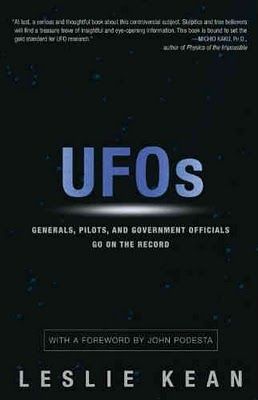 Secret Access: UFOs on the Record

Following directly from the above story, the History Channel (US) documentary based on Leslie Kean's book premiered on 25th August. Featuring many of the contributors to her book (including myself) this was an amazing show with generals, pilots and government officials going on the record about personal UFO sightings or about official investigations that they've undertaken. It's not clear when the show will air in the UK, but you can probably find it on YouTube, Google Video or elsewhere. For those who complain that you can never get a serious, positive show about UFOs onto mainstream TV, think again.


Super 8

I've now seen the new sci-fi blockbuster Super 8 twice. Written and directed by J.J. Abrams and produced by Steven Spielberg ... well, with that combination, you can't go wrong. Set in 1979 in a small town in Ohio, the movie tells the story of a group of children shooting a Super 8 film for a competition. They witness a catastrophic train crash (a truly brilliant scene), something escapes, and then strange things start to happen in the local area. If you haven't seen it yet, check it out.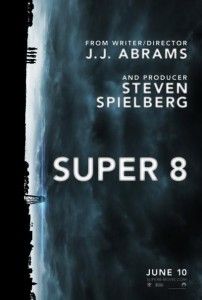 Weird 11

Look out for Weird 11, in Swindon, over the weekend of 17th and 18th September. Featuring speakers including Graham Hancock and Robert Bauval, Andrew Gough and many more, this promises to be a conference to remember if you're interested in the weird, the wonderful and the unexplained. I'm on the bill too, though there's a possibility that I won't be able to attend. Check out the official Weird 11 website at http://www.weirdwiltshire.co.uk/ for all the details.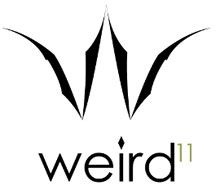 UFO Matrix

Volume 2, Issue 1 of UFO Matrix, Britain's only newsstand magazine entirely devoted to UFOs, is now on sale. I'm one of the regular columnists and have written a major feature on the relationship between UFOs, science fiction and the film industry. The magazine is now available in the UK, the US and a large number of other countries. Check out http://www.healingsofatlantis.com/ for details. Additionally, check out http://www.ufomatrix.com/ for their brand new website, which has links to various UFO/paranormal conferences and other items that may be of interest to regular readers of this column.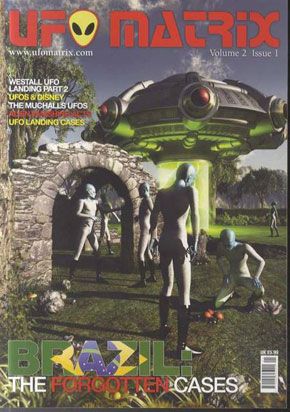 Biography:

Author, journalist and TV personality Nick Pope used to run the British Government's UFO Project and is now recognised as one of the world's leading experts on UFOs, the unexplained and conspiracy theories.

Check out www.nickpope.net for more information about Nick.