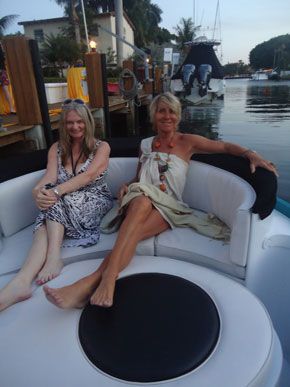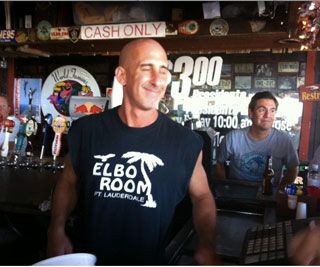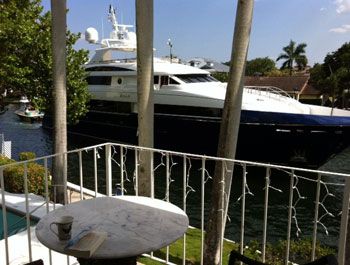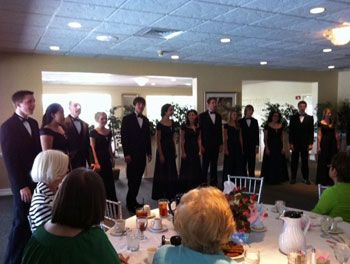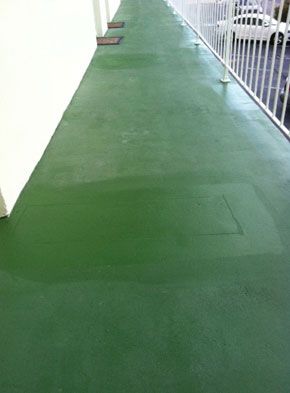 Pictures:
1. Having a beer at the famous Elbo Room on the sea front of Fort Lauderdale. Established in 1938 and is the local watering hole made famous for it's part in the 1960 movie 'Where the Boys Are'
2. A great private charity party invited by one of my friends Hope. We are sitting on a 42ft specially designed Art Deco style boat 'Lionheart Concerto'. An extraordinary vision of Yarkitecture. Everything is hand made and cost about $3 million to build. A complete work of art.
3. Great view from my balcony
4. Ladies 'Pen Cllub' lunch with a special treat of a very talented young opera group
5. This is the picture a high priced shocking work on our walkways at our building. We were told that was how it should be. Not all is good in paradise?
 

Paradise Found:

I have just realized that I have been out to parties most nights and tonight was a special one. A 'New Moon' party on the top of the Ritz Carlton Hotel. The breeze was perfect on a night that was 76 degrees and just milky warm to the skin.
 
Some friends and I were on the beach terrace looking out to sea with the strobe lighting and fairy lights in the pool giving it a magical touch. Last week was a charity Bollywood party with an elephant, a snake and a tiger to pet. The most extraordinary world-class performers, dancers, trapeze artists and specialty acts were performing on a placed over the huge swimming pool. The house was very large, and would have to be to hold the 1,500 guests, all dressed in exquisite Indian attire. I thought I was in a movie myself.
 
We are busy working on my full-length feature film of the short film "Condo Commando's - One vote away from Hell". This is about how you can buy a condo at a great (even inexpensive) price here yet lose everything with fraudulent concrete restoration that can cost buildings $millions. Each owner has had to pay a substantial sum and some owners have had to pay $175,000 in a year for this work that doesn't always need doing. Which could end up being worth more than their apartment. If you would like to see the trailer of my movie, which was incidentally chosen for last Years Cannes Film Festival, and is in competition in the Fort Lauderdale Film Festival this year here is the link gem-documentary-films.com.

It has been very interesting and at times distressing researching our film, hearing about the very sad cases of people who have lost everything and had to walk away from paradise with nothing left of their savings. My attorney Inger Garcia (co director and producer) has been magnificent and she had been able to provide the rich stories that make the film so extraordinary. In our condo/apartment we have had to pay out $25,000 in the last two years for this 'concrete restoration' issue and may have to do the same again this year, so it is very close to home. These surprisingly huge expenses have been incurred for our building, which was in excellent shape so it was really where the idea for the film originated. There are, however, some honest and good contractors and engineers here and they need this to be highlighted so they can do their honest day's work.
 
It is very exciting this year with the Queens Diamond Jubilee and the Olympics. I have been moaning recently about the inconvenience, for example the excessive mooring charges but it will be a tremendous boost to the UK travel industry. There will be lots of parties on my yacht so let me know if you want to be involved.

I'll soon be turning my attention to plans for the 2012 International Hypnotherapy Conference. Lots of happy attendees from last year have been asking me if there will be another conference this year and I'm pleased to announce that last year's event was such a success that we're holding another one in September. I'm putting together another distinguished group of international presenters who will be bringing their diverse range of hypnosis techniques to the event. This year's conference promises to be bigger and better so watch this space for further announcements or follow me on Facebook to get the latest news. If your are interested in hypnosis or writing about it contact me on

[email protected]

.

I have to say if you want to live in two countries I have tried all sorts of combinations but 6 months or so in each is by far the best. It is like having two lives and you can just slip into each one with ease.


Good News. TV chef and GP back New Health Awareness.
A simple, delicious, tempting healthy change for life is what is needed.

TV chef and nutritionist Dale Pinnock who is trained nutritionist, chef, author, columnist, and broadcaster. His mission is to combine the culinary arts with nutritional science, in order to give the public simple tools to start making sense of nutritional science and how to start making use of it in their daily lives. He is embarking on a national crusade in order to raise awareness of the vital importance of omega 3 in our diets. Omega 3 is a type of vital fat found in our food that has been at the centre of over 15,000 trials in recent years, and has been shown to be a vital ingredient in protecting us from high blood pressure, high cholesterol, depression, anxiety, obesity, and even neurodegenerative disorders such as Alzheimers disease, yet it is one of the most overlooked and deficient nutrients in the UK. It is found widely in fish, green vegetables, some seeds and fruits - often foods that are low down on the list for us Brits. With so many profound health implications, medical experts the World over are backing this awareness campaign, which has the potential to drastically improve the health of millions.  


Dale is on a crusade to show the public how quick, easy, affordable, and indeed delicious, improving our omega 3 intake can be, and how we can all easily begin making the change and improving our health today! He aims to familiarise the British public with the abundance of omega 3 rich foods, and how adding more of these into their daily regime can have life changing consequences. 


The other part of the picture in this campaign, is educating the public, health professionals, and caterers alike of the dangers of some of the widely used vegetable type oils, which were once deemed "heart healthy", and are now dominating our daily diets. These 'oils' can cancel out much of the benefit of Omega 3, and even cause many of the issues that the vital omega 3 solves. 


The level of data regarding correct Omega 3 intake in healthcare, is attracting the attention of medical professionals the World over. Glasgow GP, Dr Tom Gilhooly backs Dale's campaign. " Omega 3 is already available as a medication in the NHS but only for those who have had a heart attack. There may be an even greater role as a prevention of heart disease and if this can be obtained in the diet, it will potentially save millions of pounds for the NHS. Dale's approach gives the responsibility back to the individuals to take control of their diet and their lives to improve their health". 


This public awareness campaign directly links in to a newly designed wellness program called 'Enhanced Omega Wellness', developed by some of the key researchers and medical professionals in the field, including highly respected biochemist Professor Bill Lands. The program begins with a specially designed blood test that measures participants omega 3 and 6 levels. It then goes on to give specific steps for individuals to take on a weekly basis to bring their omega levels back to a healthy range.


Organic v. Monsanto

More than 270,000 organic farmers led by the organic Seed Growers and Trade Association are taking on corporate agriculture giant Monsanto in a lawsuit filed in March. The family farmers are fighting to keep a portion of the world food supply organic and from being accused of stealing genetically modified seeds that drift onto their land. Organic is now at risk with patented seeds infiltrating the environment. I think it needs for us to make sure that we help the farmers by supporting them or we may find it is too late and no 'real' food left to eat.


Arsenic pesticides

Juice and foods including chicken, rice, and even baby food have been found to contain arsenic—sometimes at higher levels than the amounts found in juice. Brian Jackson, Ph.D., an analytical chemist and research associate professor at Dartmouth College, presented his findings at a June 2011 scientific conference in Aberdeen, Scotland. So beware it seems that reading labels isn't enough with
Harmful chemicals found in household products, even ones that are marketed as a safer alternative.

Researchers found potentially harmful chemicals in 42 conventional product samples and in 32 of the 43 alternative product samples. They recorded the highest concentrations in vinyl products like pillow protectors and shower curtains, fragranced products like air fresheners and dryer sheets, and sunscreen.


Speech jamming Gun – what next!

There is now a gadget invented by the Japanese that fires a speaker's words back to them causing them to stutter and then stop talking. It literally freezes the brain. It is called 'Delayed Auditory Feedback' and works because the brain does not like hearing the echo of the human voice. The gun built by Kazutaka Kurihara and Koji Tsukada forces individuals into 'vocal submission' and can be accurately fired up to 30 metres. What can I say I'm speechless!

Check out Valerie's website on www.valerieaustin.com or email at

[email protected]




Eds Note: VALERIE AUSTIN is an author of six successful self-help books including SELF HYPNOSIS (Thorsons), journalist and trainer with an international reputation in the field of hypnosis. Her best-selling books and training help people achieve their full potential. She founded the Austin Corporate Stress Management Company focusing on reducing stress and anxiety amongst executives and CEO's. She is also founder of UKRAH (1992) The UK Register of Advanced Hypnotherapy. Valerie has also worked as a consultant in hypnosis at the Priory Hospital, the UK's equivalent to The Betty Ford Clinic, which specialises in food addiction and alcohol abuse. Her work in the film industry (Hollywood) interviewing movers and shakers, producing TV news segments and publishing celebrity magazines in London gave her invaluable experience for her current Harley Street practice.