I hope you like this month's cover boys, BERNARD THORP AND GREG KINSELLA, dear readers.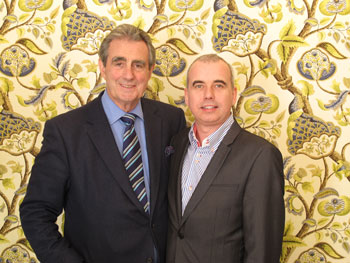 BERNARD THORP and GREG KINSELLA.



Spring is now officially here and you may feel like giving your homes and offices a makeover as well as your faces, figures and wardrobes! Well, BERNARD AND GREG are the gents to come to. This elegant and talented duo are arty Chelsea's premier suppliers to the interior design trade. Their Chelsea showroom (Bernard Thorp & Co, 53 Chelsea Manor Street, SW3 5RZ / 020 7352 5745), run by the delightful SARAH, is a real jewel, full of shimmering cloth with exotic patterns, plump cushions and silken cords - makes you want to redecorate immediately!
The company welcomes both designers and retail clients and specialise in custom coloured designs on various ground cloths such as silks, linens and velvets with an archive of over 800 designs. Fabrics and wallcoverings can be coloured to suit individual clients' requirements for a minimum of 5 metres.
I met BERNARD AND GREG through interior designer par excellence ROBIN ANDERSON who always favoured their beautiful fabrics and screen printing when creating his interior design masterpieces.
The team produced some stunning designs for various celeb clients including IVANA TRUMP and SALLY BURTON. In fact ROBIN recently showed me some of the materials he used for these 2 stunning ladies, including a jazzy leopard print for the guest cabins on IVANA's yacht, 'IVANA' and a sleek 'estancia' patterned white silk moiree used to cover SALLY's gilt-framed LOUIS XIV styled chairs (the mind boggles - but in a good way!)
Rumour has it that the suave ROBIN who is now a highly successful writer of erotic novels (see below) may be tempted out of interior design retirement to work with BERNARD AND GREG again - watch this space..............
Check out www.robin-anderson.com , particularly 'in conversation'.
BERNARD and GREG are currently working on their new and exciting Bernard Thorp website - news of that soon.

Talking of ROBIN ANDERSON, the best selling erotic author has done it again with his latest THIRTEEN TALES OF TEXTUAL AROUSAL (NAZCA PLAINS CORPORATION). Aroused? I guarantee you'll be having psychedelic nightmares after reading these gems from the Master of the Macabre. Think ROALD DAHL on speed - sex and drugs and depravity, not to mention Revenge is a Dish Best Eaten Cold! From gay gents with mousetraps up their jacksis to toothless crones entertaining the tourists in Thailand and producers with glass eyes who 'don't get no satisfaction', MR ANDERSON's tales are not for the fainthearted. Full of doubles entendres and witticisms to make you laugh and murder and mayhem to make your hairs stand on end...............congrats, ROBIN, for hitting the scary/sexual bullseye omce again!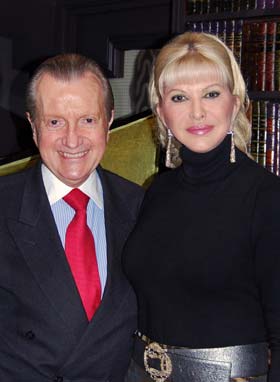 ROBIN ANDERSON and IVANA TRUMP.





And if you like art exhibitions, check out the latest DAMIEN HIRST 'oevres' at the TATE MODERN which are just as mind boggling as ever! Here's JANET STREET PORTER and pal and RONNIE WOOD and the 2 current Ladies in his Life at the recent Private View of the new exhibition. Images: GABOR SCOTT.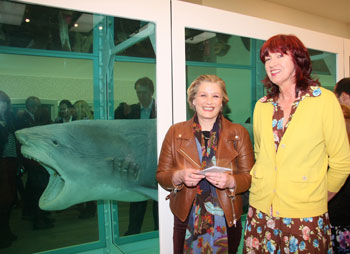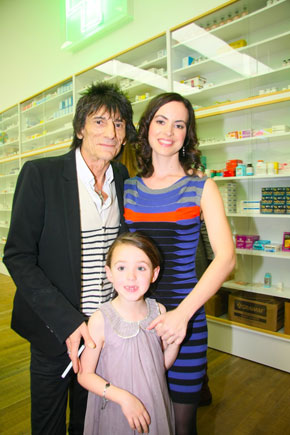 JANET STREET PORTER and RONNIE WOOD at the DAMIEN HIRST Private View.




On the personal front, many thanks for all your emails about my EYES, eagle eyed ones! Yes, after years of suffering from astigmatism I finally did something about it and trotted off to OPTICAL EXPRESS at WESTFIELDS (who allegedly operated on BRIGITTE NIELSON and DALEY THOMPSON successfully) to have Intra-Ocular Eye Implants (lens replacement surgery) with top surgeon PROFESSOR JAN VENTER. I was of course terrified but when I arrived at OP EX / WESTFIELDS and met the gorg Operating Theatre Manager RALPH who was wearing pink scrubs, I immediately relaxed. RALPH and all the OP EX team, including the brilliant PROF, the caring anaesthetists, nurse PAMELA, BARRY and VINNIE were so welcoming and friendly. I never had a moment's pain or had to take a single painkiller afterwards - now that's what I call a good op! Each eye only took 15 mins to implant and, when the bandage was removed from firstly the left and secondly the right eye (you have them done one at a time) the following mornings, I could see perfectly with each eye for the first time in my life. Indescribable joy! One of the best things I've ever done for my health. I totally bonded with the handsome RALPH and hope to play tennis with him at HURLINGHAM soon - now that I can see the ball!
To read all about this miraculous treatment, written by top health writer ADRIAN LEE in the super soaraway DAILY EXPRESS go to:
express.co.uk
And yes, I could at last see what GEORGE CLOONEY and BRAD PITT really look like at the BAFTAS this year!
Thank you, MIKE, MARY-FRANCES, SUSHI, SEJAL and all the theatre and clinic staff at OPTICAL EXPRESS - I love you all!
www.opticalexpress.com
Here's a pic of moi the day after my first op wearing the cool KAREN MILLEN Wraparound glasses my Step In Daughter KAT kindly got me especially for the occasion (your eyes are light sensitive for a few days) with lovely RALPH and charming OP EX Clinic Manager VINNY: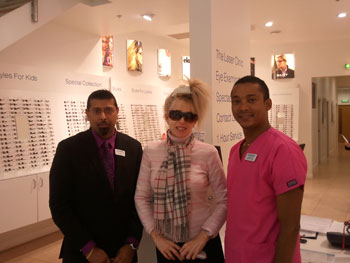 OPTICAL EXPRESS - RALPH, VINNY, SALLY.




Now that I can see so well I'm really enjoying parties and events 'up close and personal', as you can imagine...................



BEST EVENTS:

The FOOD RELIEF INTERNATIONAL fund raising cocktail party hosted by JADE and myself, organised by our lovely P.R. CHARLOTTE ELLIS and supported by CETUEM SKINCARE at the glam AVISTA BAR, MILLENNIUM MAYFAIR HOTEL, P.R.d by fabulous ANNIE MCKALE was a v glam affair this year. The charity's legendary founder MOTHER RYTASHA and handsome sponsor MICHAEL COOPER were present, the party was attended by their gorgeousnesses VICKI MICHELLE, ROSE-MARIE, JOHN ALTMAN and PRINCESS KATARINA OF YUGOSLAVIA and covered by the wonderful EDWARD LLOYD for OK! and we raised plenty of funds for our worthy cause.

Pix by gatecrashing snapper GABOR SCOTT: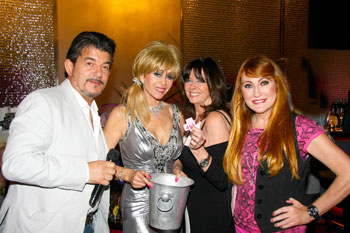 FRI AVISTA / JOHN, SAL, VICKI, ROSIE.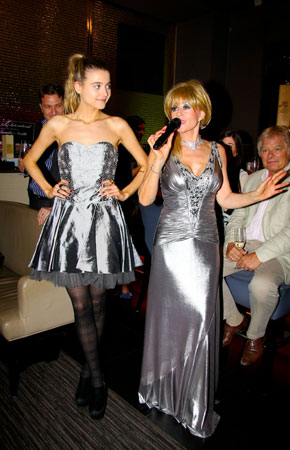 FRI AVISTA / SAL AND JADE doing auction.



Btw JADE's and my stunning sparkly silver frox are by my new fave label DYNASTY and their young label YASMIN, run by dynamic blonde bombshell VIVIEN. VIVIEN dresses the TOWIE stars regularly so you will have seen her slinky red carpet numbers around. I am totally hooked on all the DYNASTY designs and will be sporting them for the foreseeable future................and JADE will be modelling the beautiful new YASMIN collections - watch this space..........................
VIVIEN generously donated JADE's fab short prom dress for the auction and it was bought by celeb beauty guru JANET GINNINGS for her pal, glam events organiser TABITHA - thanks to you all for your generosity, laydeez!
www.dynastyuk.co.uk

Still talking 'charidee', as HEATHER MILLS would say, the adorable 'wiggling' WILLIE CARSON's FASHION ROCKS event in Cirencester last month organised by super-dynamic RUSSELL NURDING, co-compered by WILLIE, moi and celeb hair stylist STEVEN SMITH and attended by SHARON DAVIES and EVA GRAY, was also a blast. Well done, guys, for raising lotsa dosh for WILLIE's charity CLOUD 9.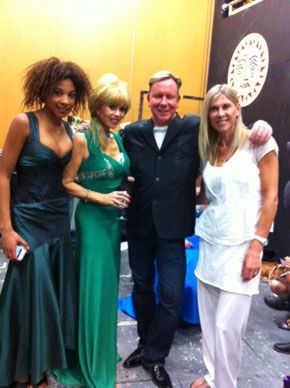 FASHION ROCKS - SAL, STEVEN, SHARON and her daughter GRACE who modelled in the show.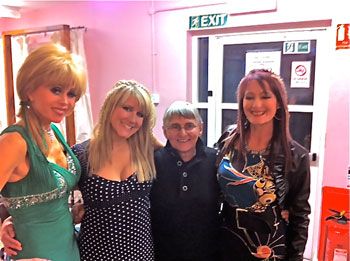 FASHION ROCKS - SAL, WILLIE and Fashion Rockers.



Btw my stunning emerald green jewel encrusted frock is also by the fab DYNASTY label - I really feel like a Green Goddess in that slinky number!

Congrats to brainy boys, chess mastermind RAYMOND KEENE and mindmapping guru TONY BUZAN for organising this year's excellent BRAINS TRUST dinner at the world famous SIMPSON'S IN THE STRAND. This year's BRAIN OF THE YEAR winner was the charming humanitarian PRINCE MOHSIN ALI KHAN and JADE and I were proud to be involved by displaying the auction lots, particularly the talented LORAINE GILL's amazing paintings.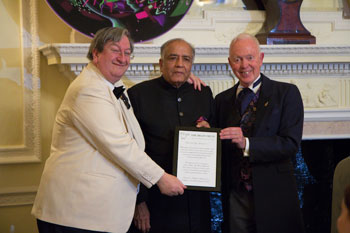 BRAINS TRUST - RAY, PRINCE MOHSIN, TONY.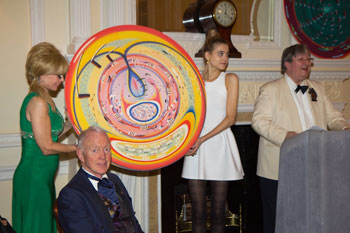 BRAINS TRUST - SAL, TONY, JADE, RAY.



And yes, i'm wearing THAT gorg emerald green number by DYNASTY again - you just won't get me out of it now! JADE's adorable swirly white mini is by CHANEL, a label some people may have heard of!

Congrats also to my gorg and talented actress pal WENDI MCARTHUR whose pilot TV show, THE MEL AND WENDI HOUSE with fellow comedienne MEL SCHROEDER, attended by the divine LORAINE CHASE was hilarious. You go, girls! You read it here first, Hot Gossipers...............


[email protected]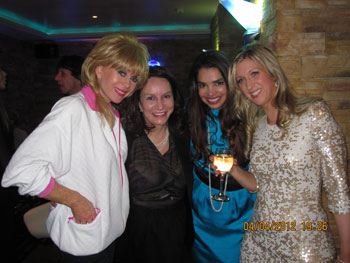 SAL with business woman VIRGINIA TOLOSA, WENDI and MEL.





BEST FASHION SHOWS:

Congrats also to gorg Russian babe, OLGA ROH whose recent LFW fashion show at THE V AND A, attended by the iconic ELIZABETH EMANUELLE was simply sensational. Check out fabulous OLGA on the cover of this issue's VV Luxury Magazine with snaps of some of her divine creations inside. A recently arrived fashion star who will burn oh so brightly. JADE is modelling for the beauteous OLGA next month so will get all the lowdown on her latest collections. In the meantime here's my fave ROHMIR evening gown from the LFW V AND A show: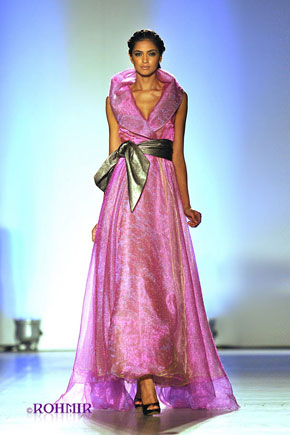 ROHMIR - mauve sparkly long evening dress.



www.rohmir.com

The RACHEL ELBAZ COUTURE shows are always fabulous and this season was no different. RACHEL's S/S 12 creations, shown in her chic Knighsbridge shop with discerning celebs such as LESLEY GARRETT in attendance, were colourful and feminine with lots of perfect outfits for HENLEY, WIMBLEDON, ASCOT and all the summer weddings and parties we socialites are just bound to be invited to!
RACHEL's current collection of evening and cocktail dresses is quite simply to die for and here is the lovely lady herself with all her gorg models from all over the world showing off some of th stunning evening frockettes.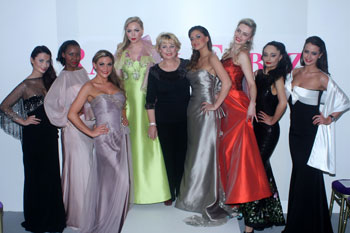 RACHEL with her S/S12 models.


www.rachelelbazcouture.com

Thank you for all your emails about this year's BAFTA fashions which were rather overlooked in all the excitement about ANGIE'S LEG at THE OSCARS. Check out the lovely BOLLY GOLIGHTLY's amazing and comprehensive column when you leave this one for her fab BAFTA pix.
JADE AND I copied THE DUCHESS OF CAMBRIDGE's flowing red carpet style and went with ISSA this year - floaty, feminine and easy to wear.

Talking ROYALTY, please also check out our excellent Psychic Ed VICTORIA BULLIS's totally amazing new column - VICTORIA has gone very ROYAL with some stunning images by BOLLY and co. Best congrats on the new look column, VICTORIA.
Don't forget to read all our other interesting HG cols when you've read mine, BOLLY's and VICTORIA's, HG fans - there's something for everyone in this mag.



FASHION ACCESSORY OF THE MONTH:

My latest handbag find is the amazing MIA TUI range. The whole collection is fab but my absolute fave is their AMELIE, a really capacious shoulder bag which can hold everything but the kitchen sink yet is still really light. AMELIE has loads of pockets and is ideal for mummys who want to look yummy, make-up artists, hairdressers, designers and anyone who needs to cart a lot of stuff around. It's also the perfect weekend bag. Trialler PHOEBE who leads a very active, sporty, bike-riding lifestyle was really tough on it and it still looked brand new. The perfect Bigger Bag.
AMELIE comes in pewter, red, black and mustard. PHOEBE's is mustard which is great for spring/summer and here it is in pewter.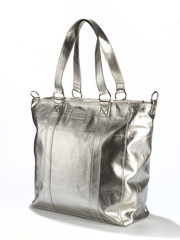 AMELIE bag by MIA TUI.



Have a look a the whole range:
miatui.myshopify.com


BEST TREATMENTS:

I was lucky to be available between productions of CARRY ON BRIGHTON, my current theatre job, to trial some great treatments this month.

Once I'd been beautified (priorities, girls!) it was time to think health and sort out my - sports and stress induced - aches and pains. The best doctor I have found for this arduous task is the totally brilliant DR WANG at KAMINI HOLISTIC BEAUTY, 14-16 Lancer Square, Kensington, W8 / 020 7937 2411 / www.kaminibeauty.com
The KAMINI SALON where I have my brows threaded regularly by KAMI herself, is very relaxing and comfortable and I happily dozed while DR WANG was massaging me even though the treatment needs to be quite firm.
DR WANG has been a Doctor of Chinese medecine for 25 years and she treats all sorts of health concerns apart from general aches and pains, including insomnia, allergies, PMS, headaches, IBS and skin disorders.
She uses the traditional Chinese techniques of massage, reflexology, acupuncture and cupping to get to the root of one's problems and restore a feeling of wellbeing and relaxation. For me she used mainly massage and acupuncture to relieve my aching back and at the same time help my dodgy digestion and mild insomnia. This was the second time I'd visited DR WANG for my aches and pains (I have a weak back after 2 accidents) and I must say I always feel marvellous after her treatments. The beneficial effects last for ages and her treatments are so much more pleasant and relaxing than going to a chiropractor, an osteo or a tougher sports masseur - she is a real miracle worker.


TEETH WHITENING and 'SMILE MAKEOVERS':

HOLLYWOOD white teeth are all the rage these days and many of you have emailed me to find out how to get this gorg film star look.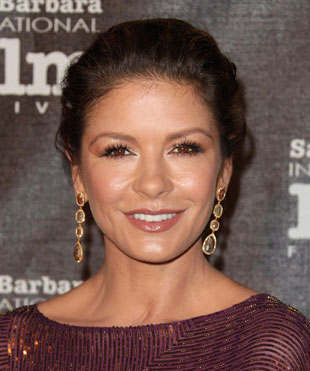 CATHERINE ZETA-JONES. cr: SUTRA JEWELLERY.



So I researched diligently...........If you can't go yourself, send your child.................thus it came to pass that JADE was the lucky recipient of teeth bleaching treatment with the latest dental star DR SURINDER HUNDLE, BDS LDS RCS at his smart Knightsbridge clinic, LUND OSLER, 56 Knightsbridge, SW1X 7JN / 020 7838 89 69 / www.lundosler.com

When it comes to teeth whitening and 'smile makeovers' , DR HUNDLE is one of the most highly respected experts in this and various other cosmetic and normal dental procedures. He examined JADE and also suggested a visit to the hygienist and a tooth filled, as well as home teeth bleaching. Apparently home teeth bleaching makes your teeth A Whiter Shade Of Pale than a one-off clinic treatment but you have to have the discipline to wear the tray every day for at least a couple of hours. DR HUNDLE is extremely thorough and will consult with his patients before making their individual tray and also consult with them after the home treatment.
He has a delightful tooth-side manner which inspires total confidence and I will report JADE's progress in the next issue, dear readers. Her fellow young model CHANTELLE has also signed up for the home treatment so I will be getting her feedback too. No doubt the girls will inform the other models at their respective agencies about DR HUNDLE / LUND OSLER so you'd better book up quickly, toothy ones!
LUND OSLER's other Knightsbridge clinic, just down the road at no 38 Knightsbridge, also specialises in Dermal Aesthetics offering Botox, fillers, permanent make-up, etc carried out by DR HUNDLE's highly trained team of experts = wow! I can't wait to try the lot - watch this space....................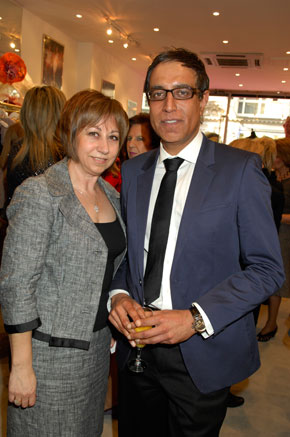 Dr. Surinder Hundle with Andria Vassiliou from Cetuem Cosmetics





HEALTH WARNING!

Thank you for your emails about Aspartane and other artificial sweeteners which have allegedly been giving poor little harmless rats cancer.
Here's a message from our Canadian corespondent, WILLIAM DRYSDALE:
"Just in case we needed a reminder. Nurse friends remind/needle me all the time if they see me with a diet drink. 'Stevia' is a safer sweetener as far as I know still."
Cheers
William Drysdale.
Thanks, WILLIAM. Personally I love sugar but try to stick to honey for my sweetening needs - far purer. If you're really hooked on those diet drinks (I could kill for a Cream Soda every now and then!), cut them down to one a week as a special treat - as with all 'bad for you' foods, drinks and activities, moderation is the key if you really are hooked. But much better to give them a complete miss.



BEST PRODUCTS:

PLANET SKINCARE's PLATINUM CREME EXCELLENCE WITH SYN-AKE AND PLATINUM COLLOID: " I was so lucky to try out the "Wrinkle Defence " daily moisturiser and nourishing cream with Syn-ake (the latest wonder ingredient which mimics the venom o the temple snake - Ed). From the first application my skin felt like it was saying "yummy" , the cream has a pretty smell, its very light and easily absorbed , and leaves no sticky residue.
I don't have many problems with my skin , but In a matter of days people started to compliment me , saying how gorgeous it looked and how smooth.One woman even said how jealous she was of my skin .
I definately felt and saw a difference in the texture of my skin whilst using this cream and can't recommend it highly enough." - trialler ADELE, 50s.
www.planetskincare.co.uk


KIMIA's EXQUISITE REJUVENATING FACIAL SYSTEM and PERFECTION NECK AND DECOLLETE SERUM:
"I used these Kimia products for a month and noticed an incredible difference. With the Facial System you put the Natural Face Oil on first and massage it in, then apply the Hydra-Activator and massage it in. You do this twice a day. I used the Neck and Decollete Serum in the evenings only. It doesn't smell horrid like some skin potions and is absorbed quickly. My skin is now softer and glowing and my complexion is a much better shade, much pinker and less sallow. A little goes a long way with these and I am still using them. I will continue to use them in the future, really great. - JULES, 47.
www.kimia.co.uk


IMAGE SKINCARE's 'I CONCEAL' FLAWLESS FOUNDATION, SPF 30:
"I Conceal" is the best foundation for spotty skin because it's medicated and heals at the same time as covering. Now I can wear foundation every day without worrying about clogging up my pores and making my spots worse. My skin has defo improved since I've been using it, a real lifesaver. I used the Neutral colour which I think would work for most people's colouring. Loved it." EMMY, 18.
www.imageskincare.com


THE HYG Space-age Ionic TOOTHBRUSH:
I tried this myself - it's brilliant for holidays and travel because it doesn't need water or toothpaste. It works through a negative charge through its bristles. Human teeth are negatively charged and plaque carries a positive charge. When the HYG comes into contact with the teeth, they become positively charged and repel the plaque, which is attracted to the bristles! Just activate the lithium power source in the handle by wetting your thumb and touching the metal plate in the handle and you're off! Extraordinary but true - your teeth feel clean and fresh, just as if they'd been traditionally brushed, but the HYG is much more effective at removing plaque than normal brushing alone. amazing, Grace!
www.pharmacy2u.co.uk, www.freshbreathonline.co.uk, www.natural-alternative-products.co.uk



MEN'S PRODUCTS OF THE MONTH:
THE HEATHCOTE AND IVORY / MEN Grooming Range:
"I really enjoyed trialling the HEATHCOTE AND IVORY range, especially the BODY WASH and SOAP ON A ROPE in Lime and Basil and the Citrus and Clove FACE WASH. My skin - facial and body - felt really clean and fresh afterwards and my girlfriend said I smelt great! Also my skin did not break out as with some less gentle men's cleansing products.. Very good." CHARLES, 35.
www.heathcote-ivory.com
Fans of HEATHCOTE AND IVORY are said to include world famous film director and restaurant critic MICHAEL WINNER and here he is with ANDREW DAVIES of VON ESSEN HOTELS' fame at THE BELVEDERE, snapped by OK! MAGAZINE's numero uno Party photographer EWARD LLOYD.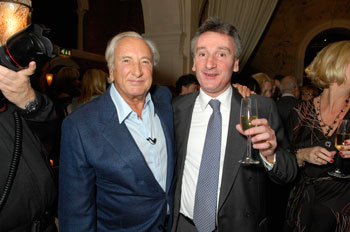 MICHAEL WINNER and ANDREW DAVIES. cr: EDWARD LLOYD.




BEST COSMETICS:

PER-FEKT BEAUTY BROW PERFECTION GEL:
Want super thick ANDIE MCDOWELL brows? Or slim n sleek DEMI MOORE ones?


DEMI MOORE. cr: MCL JEWELLERY.



Here's your answer. Just paint on the PER- FEKT BROW PERFECTION GEL which tames, colours and conditions brows into silky sleek submission in just one brushing. JADE and I like the 'Champagne ' shade for our dark blonde brows but 'Espresso' is great for brunettes. A real find.
Here's JADE after being PER-FEKTED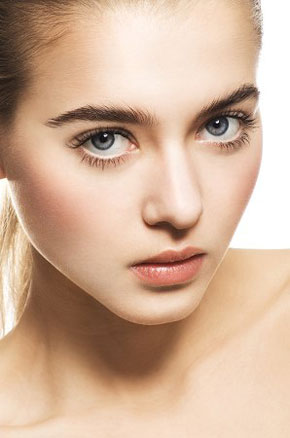 JADE with PER-FEKT brows. cr PROFILE / ESEE.



www.perfektbeauty.com




BOOKS:

2012 THRILLER OF THE YEAR: NOT DEAD YET by PETER JAMES (PAN MACMILLAN)

I'm writing this review now because I don't believe I'll find a better thriller this year. Quite simply nobody does it better than celeb author PETER JAMES. As a thriller afficionada I read them all - GRISHAM. CORNWALL, GERRITSON, SLAUGHTER, DEAVER but my absolute fave author of the genre is Brit PETER JAMES who lives in - and writes about with great fondness - BRIGHTON. The fact that the iconic PETER is a long time friend does not cloud my judgement and the fact that he is currently my daughter's all time favourite author means he appeals to new young teenage readers as well as to the older generations who were raised on books, not vids and DVDs.
PETER's latest D.S. Roy Grace / 'Dead' series novel, NOT DEAD YET is a terrific story about a MADONNA type superstar singer actress who comes to Brighton to play MARIA FITZHERBERT, the love of GEORGE IV in a feature film about that famous love story, set of course in glorious Brighton with various scenes in the world famous Royal Pavilion. The rockstar actress, 'Gaia' has a stalker - or maybe 2 - as does the film's hard bitten producer, although for different reasons. Gaia's stalker is totally obsessive and will do anything to get near her idol - even murder? The nail biting story zooms along at a terrific pace, with various subplots of Roy's Tale of Two Wives and A New Romance in the Office. ..............
PETER's research has as ever been meticulous from the juicy details of the Royal romance to the layout of Brighton's clammy and claustrophobic underground tunnels where some of the action takes place. And did you know that detectives can nowadays I.D. perps by their 'gait'? Apparently every person on the planet has their own individual walk - now that 's really scary!
The sad thing about PETER JAMES' novels, as with all great books, is that they have to end - but his plots are so good that you can read them again at a later date with equal enjoyment. If you haven't yet discovered PETER's 'DEAD' series, order the lot immediately - all cracking stories, especially this latest one, NOT DEAD YET.


PETER JAMES.



I was hoping to stay with PETER when I perform my current role of FENELLA in the Brighton based farce, CARRY ON BRIGHTON at THE BRIGHTON FESTIVAL but sadly he will be on a - no doubt very successful - book tour in OZ. However, after hearing a lot of good things about Brighton's beautiful GRAND HOTEL I may give that a whirl - watch this space...............
I will certainly be looking at Brighton with fresh (OPTICAL EXPRESS!) eyes during my sojourn for the play and checking out THE ROYAL PAVILION and other local landmarks (though maybe not the underground tunnels!) mentioned in NOT DEAD YET.

Before BRIGHTON I will be visiting PALM SPRINGS, another glamorous and slightly Hotter Spot - full report in the next issue.


Once again I would like to make an impassioned plea for the lovely JANIE MARTEL, a very brave lady who has suffered terribly - please read all about her and help if you can. Thank you.

Janie Martel, who has survived multiple challenges against all the odds over the last 20 years - bacterial meningitis, epilepsy, brain damage, seizures and multiple orthopaedic injuries from a boating accident - is currently undergoing advanced treatment for breast cancer at a specialised clinic in Germany, which is showing great promise. The difficulty she faces is that sophisticated treatments such as she needs are not available on our NHS, and therefore have to be paid for. She has used all her savings to get this far, but now urgently needs public support in continuing with her treatment plan. So the charity Yes to Life (www.yestolife.org.uk) has mounted an Appeal to help her.
Her full story is at www.yestolife.org.uk/JanieMartel/JanieMartel.htm. If you are able to help her, there is a link from there to the Appeal.


Finally, best congrats to ANN MATHER, RICHARD CURZON and all at FAMOUSLY FIT, the fab new celeb led, OK! owned online magazine for whom JADE AND I are now writing a column. Check out their New Look and articles by their regulars CAROLE CAPLIN, IAN CARMICHAEL, ALEX REID who 's running / run THE MARATHON and of course JADE AND MOI who have written about SKIING AND FITNESS this month.
www.famouslyfit.com

Thank you for reading my page.
Until the next issue stay Fashionable, Fit, Healthy and Beautiful, dear readers!
Please contact me at:


[email protected]



and please check out:
www.sallyfarmiloe.com
www.kazzyandsally.tv
www.famouslyfit.com
famouslyfit.com/celebrity-fitness/



PS:"Not a lotta people know this" (SIR MICHAEL CAINE) …………………

The Gaming Preferences of Hollywood Celebrities
 
Summer in full swing and entertainment central – a.k.a. Las Vegas – is reeling in the crowds. The world's premier adult entertainment resort is bubbling over with big-money gaming tournaments, spectacular shows and 5-star accommodation. And within each of these superb establishments lies a plethora of riveting casino games. In fact, many of Hollywood's A-list celebrities can be found enjoying blackjack games. It's nice to know that the folks we admire from the big screen and on network TV are also right there in the thick of it with us at the tables. And believe it or not, these guys are not immune to the house edge either. Just because they've got a little bit more cheese to play with doesn't mean that winning comes easily.
 
Imagine sitting at a blackjack table pondering whether you should split a pair of 8s, while Sean 'P. Diddy' Combs is dropping hundred dollar bills like they're going out of fashion? This rap music mogul is pretty skilled in the blackjack department. Harrah's of Atlantic City knows all too well of his card gaming prowess. But he's not the only celeb who loves to gamble at the blackjack tables. The world's most famous socialite – Paris Hilton – has made plenty of money playing her favourite card game – blackjack. When she celebrated her 31st birthday she made a cool $30,000 playing at the Wynn in Las Vegas. And even though she doesn't need the cash, it certainly made for some nice pocket change for her and her friends that evening.
 
Not many people know this, but British royalty has a particular penchant for blackjack too. That's right, Prince Harry may not have lost a lot of money playing the game ($300), but he had a terrific time in Las Vegas too. Erica Schoenberg, the wife of superstar poker player Erick Lindgren, is yet another celebrity who is pretty adept at playing blackjack. But all the accolades for blackjack prowess most certainly go to the one man who single-handedly won more money in blackjack in one year than anyone else – Don Johnson. It is estimated that this blackjack superstar raked in $15.1 million during the year. Lol, his appetite for booze is as big as it is for blackjack. Atlantic City casinos quickly learned this player's name and it cost them millions in the process. To find out more about celebrities and blackjack, take a look at 777.com!