Bel Canto Restaurant
1 Lancaster Gate W2 3LG 020 7262 1678 www.lebelcanto.com

London Paris

What a discovery. I joined friends for an opera dinner and I never expected the food to be any good. Instead it was excellent and matched the superb entertainment. 'Sing for your supper' describes perfectly how young professionals are given the chance to perform areas from Verdi, Puccini, Mozart and many more whilst interacting with the guests by moving between the tables.

The performances take place at regular intervals to a precise schedule allowing guests to enjoy the excellent food by French Executive Chef, Gilles Martin. On the night I went the young artists Christiana Petrona (Soprano), Camilla Bull (mezzo) Carlos Nogneira (tenor) and Tom Kennedy (baritone) accompanied by Emily Leather on the piano sang a selection that included 3 of my favourites: Io son ricco (L'elisir d'amore Donizetti), Toreador song (Carmen Bize)t,O soave fanciulla (La Boheme Puccini) as well as a lovely rendition of O sole mio.

Manager Chris Ivanov supported by two professional full time waiters, Antonio and pretty blond Magdalena, with the performers attend to every detail.

We chose from the Menu (2 courses £ 24 - 3 courses £ 31): Salmon gravadlax served with chicory, French dressing and peach sorbet; Crab and lobster Mille-Feuilles built with fresh crab meat and lobster, thin layered cucumber and chopped mango (supplement £ 3.95); Goat cheese served with wild mushrooms and tomato sauce on a bed of mixed leaf salad.

Highly recommended: Duck breast served with crushed potatoes, sweet and sour red summer fruits sauce; Pan fried beef fillet (8 oz) served with green beans and pommes Anna. The peppercorn sauce (£ 1.75) comes in a small glass (Supplement £ 4.95); Corn fed chicken breast with tarragon mustard on a nest of spaghetti and a light creamy truffle sauce. The vegetarian choice: pasta served with mozzarella, asparagus, sun dried tomato and pesto.

For dessert: Hot chocolate fondant served with salted caramel ice cream; Panna Cotta; After Eight: Praline and choc ice creams, mint ice sorbet, Chantilly and sparkles of chocolate. Wines: The Darkside Cabernet-Shiraz, Cloof Vineyards Darling, South Africa (£ 24) 2005 vintage followed by Roussanne Tradition Chateau Val Joanis, Luberon Rhone France 2008 ( £ 30).

The opera ticket (£ 15) added to the meal price includes a glass of proseco for everybody to toast and join in one of the songs.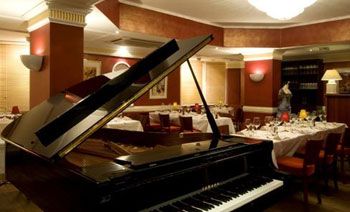 Ceviche
17 Frith Street, Soho, London W1D 4RG 020 72922040 www.cevicheuk.com

The new and only pisco bar in London CEVICHE offers Peruvian food with taste and presentation to please the European palate. Very well received already they are fully booked most nights and so it is recommended to make a reservation.

Its long bar leads to a lower dining area. I am partisan to sitting at the bar. Their speciality: the traditional pisco sour (pisco and lime juice - £5.50) heads several variations of cocktails based on pisco. They are the perfect companion to the food which is beautifully presented in medium size portions: A good way to sample and share several well known Peruvian dishes such as Causa (mashed potato with vegetables or seafood), Anticuchos (kebabs of meat , fish, shellfish or vegetarian: mushrooms and sweet potatoes) marinated in typical spices (£5.25 - £8.75), and the famous ceviche (fish/shellfish marinated in lime juice, chillies and onions). Heading this category is the traditional Don Ceviche (slices of fresh seabass £6.75).

Two of my favourites are lomo saltado (tender steak chunks sautéed with onions and served with potato chips), and arroz con mariscos (rice and seafood with a generous serving of large prawns (£9.25). What makes Peruvian food so delicious is its unique seasoning which can be made very or medium spicy.

For dessert the Encanelado de Pisco (cinnamon sponge soaked in pisco served with artisan dulce de leche and home made ice cream) is deliciously alcoholic unless you have one of their pisco infusions: cherries, dry apriocots, chillies individually preserved in large bottles and labelled with dates indicating when they would be ready for use. Frantic activity behind the bar: Charming Eline and Emanuel ensure that those special cocktails are prepared to perfection.

Owner Martin Morales and Manager Raquel de Oliveira offer customers the legendary Peruvian hospitality: mi casa es su casa which translates roughly as 'feel at home'. Personnel are eager to please and they are as the wine list: from a diversity of Latin American countries. Highly recommended.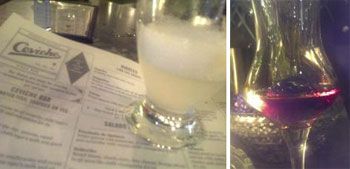 Traditional pisco sour and cherry infusion with purple maize in the background



Purple maize is used to make the refreshing drink 'Chicha Morada' (£3)