I have been doing readings for about 25 years. To find out more about me please visit my website www.victoriabullis.com. (You may also want to Google me - I've been involved in media for 22 years, and there is a lot of information available...)




• • • • • • • • • • • • • • • • • • • • •




My Hotgossip column has been revamped!

I will be featuring four sections: Fashion includes fashion events, new trends, bargains and giveaways. Spas features unique treatments (and ingredients), products, tips and recommendations re world class spas. Royals of the World reports on the goings and comings of members of royal families around the globe, perspectives on royalty from readers who live in countries without royal families, and much more. Inspiration is taken from a wide variety of topics I work with both on radio and with my clients, meant to uplift the reader; information includes seasonal tips, how to create more happiness or peace of mind, prosperity and relationship-improving tips.

My Words From The Wise will resume next issue; I receive so much positive feedback from readers that I wouldn't think of dropping it!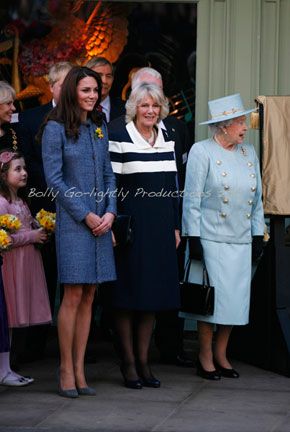 I could not begin the royalty-focused section of my column without including the UK's Royal Family!

BTW, I love this photo, taken by HG's columnist Bolly Go Lightly, as it showcases three generations of royal women--and three very different perspectives on life, marriage and service.

When Editor Sally and I began to discuss adding this feature to my column, she suggested my working from an interesting approach: how do people from countries that do not have monarchies, particularly in the West, feel in this day and age, about monarchies...are they still fascinated by them? Or, do they feel they are merely relics from the past? Do they care at all about what is happening in say England with the younger royals' escapades? Are they seen as celebrities, much as actors are?

I loved this approach; I am frequently asked on-air and from friends what is going on re the shenanigans of the younger royals, charity participations, foibles, special events they attend etc.

The answer is -- yes! Most Americans who travel to Great Britain do see members of the Royal Family as being also celebrities: the lines are blurred as American celebrities (such as Brad Pitt, George Clooney, Angelina Jolie, Leonardo DiCaprio and Cameron Diaz etc.) are considered something akin to American royalty.

Kate Middleton has further blurred the lines between royalty and celebrity. And I actually do see her transforming even more what Americans view as idols/ideals...to look up to, to emulate and in the tradition of a Cinderella-type story to fantasize about.

Much more on this...to come in future issues.






A longstanding American client of mine, Nanette Jodar, is the Royal Personal Assistant and Royal Spokeswoman of the newly crowned Queen Kanelechi Esther Kamah, Queen of Africa.
I have been following for more than two years the fascinating events leading up to and after her coronation. I see this as one of the current attempts along with many other types to unite Africans of all tribes and countries; to grow beyond deep tribal rivalries and unite in ways that have not been done previously to create peace, support and prosperity.
Queen Kamah is directly related, or through her in-laws, to most of the royal families of Africa. She divides her time between Milwaukee, Wisconsin in the US and her native Nigeria. The Queen is known internationally for her philanthropic work especially in education, as well as her efforts to create business opportunities to all of Africa, enhance tourism and improve how natural resources are managed.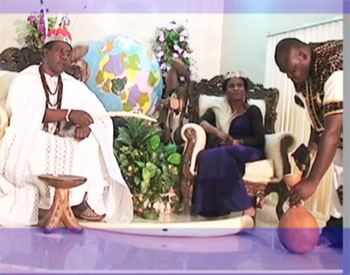 A coronation celebration is planned for May or June in Nigeria (the event was scheduled for April; however the Queen's father Chief Fidelis passed away shortly before it). A long, impressive list of confirmed attendees includes Nelson Mandela, President of South Africa Jacob Zuma, President of Nigeria Goodluck Jonathon and royal families from every country in Africa, many of whom will be bringing crowns to present to the Queen. Eddie and Verlene Thomas (Eddie is from Entertainment Tonight, and Verlene is Gayle King's sister, Oprah's best friend) will also be attending.
Her website, for much more information and related links is: royalqueenofafrica.org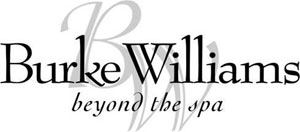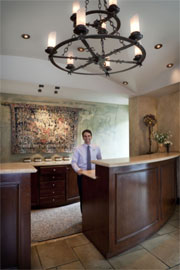 I have been going to spas since I was in my early twenties. An aunt who took me under her wing when I first went to England as a sixteen-year-old, brought me to Bath to see the Roman baths. Something clicked with me when we went on the tour; within six or seven years, I went for my first massage, at a gym I belonged to. I knew right then that treatments are not meant to be 'treats'---but something to incorporate into one's life for health, longevity and balance.

In most parts of the world regular visits to spas for body treatments and soaks have always been so much part of a regimen, even lifestyle, that they long preceded the baths at Bath--by centuries.

After all these years, countries and spas, I have become passionate about 'putting out the word' promoting how valuable spa treatments are with reducing/releasing toxins, stresses of life, chemicals in the environment and much, much more. I seek out unique places, special treatments and unusual ingredients in treatments that are not just spa-hype but truly do work--and very effectively.

I had been a few times to Burke Williams in the early 2000's. During the past few months, I had several signals to try them out again (...I can explain another time what a 'signal' means to me!). I finally decided to contact the spa again.

It was perfect; I called and the person I needed to speak with answered the phone (...more on this later). We booked the appointment; it went like clockwork and I was enthused.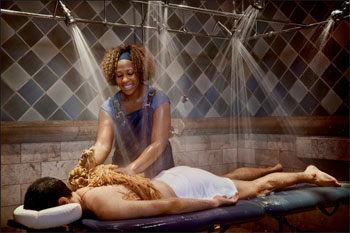 The woman giving me the signature treatment was lovely: the treatment incorporated a variety of nurturing /healing oils and unique powders from Chinese medicine, with a loofa glove to scrub the body to increase circulation, release from the lymph system and stimulate all around body renewal. I LOVED it!

Burke Williams has several spas in the Los Angeles area; I went to the facility in Santa Monica. And, I will definitely return...

One big downfall, though--is their phone system. All calls to the spa go through what the operators who answer keep saying is 'Corporate' ; hold times were up to 18 minutes, being passed around to up to five people--and no one at 'Corporate' knows who anyone is in the actual spa, including the PR /Marketing person! Once I did get to someone I needed, however; each person was very gracious and lovely.

Burke Williams is a family owned company; the founder actually coined the term 'day spa' in the late nineteen eighties. Whether living in the LA area, or visiting from the UK (etc), it is worth a visit. They even have a membership programme: for approx £45 per month, one can go often to the spa for any/all of their add-ons, AND have a one hour massage (the add-ons include a 'wet room' with unique--and I DO know my shower heads--shower heads that open up the lymphatic system and enhance any massage treatment. Plus wet and dry saunas, etc).

Burke Williams is currently offering specials for Mothers' Day and other events. They are high end, but not expensive even at their regular prices.



LA Fashion Week for Autumn 2012

I love fashion and have since I was a teen.

Now that I have another jewelry line (the first one was during the years I spent living in Hong Kong: I exported pearls to Saks Fifth Ave in NY, and also exported chunky necklaces I designed to London and San Francisco), I can once again attend fashion events.

I recently attended catwalks for the Autumn collections, at the stunning Vibiana in downtown LA. Fashion weeks are edgy, or 'indie' to use a Hollywood term. The designers are up and coming, on the forefront of what will be the next fashion waves.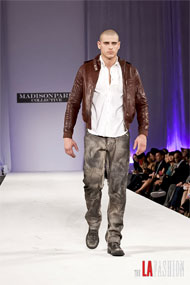 I have noticed when attending London Fashion Week events that attendees seem to have a bit more of an attitude, versus those in LA... Perhaps it is because LA is more casual, homogenous with fewer attendees from every part of the world, although there are many: ie, the 'vibe' seems more down to earth (believe it or not!) and congenial.

One of my favourite shows was a collection from Madisonpark Collective, which was making its debut on the runway. The brand was launched back in November 2010. Trey Alligood had a vision of bringing vintage American-inspired garments to the modern day world.

Of course, with the vintage handbag line I have in London and which was in Harvey Nichols Knightsbridge for four-and-one-half years, I related to it immediately!

Photography Provided By Kasey Hartman of Bubblefish Media
310.248.0350
Los Angeles / Miami / New York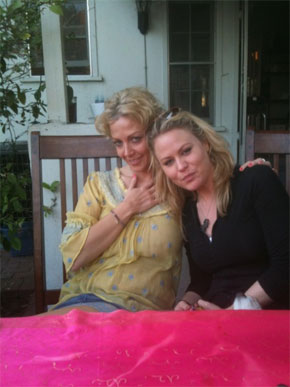 Liz Fuller, TV Presenter, former Miss Great Britain, actress: wearing one of my inspirational bracelets on Easter Sunday. The bracelet is composed of chunky ametrine semi precious stones with a vermeil "hand of God" charm. I had no idea that Liz knows an enormous amount about crystals and semi-precious stones...! She immediately knew the name of the stone and that it came from Boliva.

I have known Liz for approximately ten years, from London. Last year, she began to commute as I do between LA and London; when in LA, she is doing movies and reality TV. I attended a fabulous Easter Sunday lunch at her LA home (at a pre-Oscar event, she told me she wanted to acquire one of my inspirational bracelets. She said she would leave it up to me to have made whatever would be best for her for whatever is coming up.... She wore it on Easter and said that she never takes it off!)





Happiness





Most everyone wants to be happier. Worries about the economy, paying attention to news on the telly, listening to others' problems, lack of sleep, stress – and so many other factors play roles in bringing us down.

Billions of pounds are spent annually on attempts to become happier: therapy; spa treatments; even foods, entertainment such watching sports on television, and shopping for quick release.

Happiness has become something of a science these days. For more information on this, I recommend a book Happiness For No Reason by Marci Shimoff.

I believe and teach that happiness, an important emotion that plays a huge role in one's health, can be enhanced and constantly increased. A few of countless enhancers are:

1. Decide to make greater happiness more important to you. You actually begin the process by taking this first step.

2. Make a list of what makes you feel happier – and another list with what makes you feel less happy. List everything and anything: Having flowers in your home; watching chick flicks; meeting a friend for a coffee; walking in the country.

3. Commit to staying away from television shows, people in any situation that brings you down. It doesn't take long for this to make a difference in your life.

4. Add more and more of what pleases you until you have almost entirely happiness generating aspects of your life. Be disciplined about this.

5. Do affirmations. These work more quickly than ever as so many people incorporate these into their everyday spiritual practices; ie the energy is 'out there' that affirmations work – which makes them easier to have them work!
Here are two simple examples:
I love awakening each morning feeling happier than the day before.

I am so grateful that my life is becoming happier and happier.

Here is a link worth checking out, re happiness:

www.purposefairy.com

More on this topic in coming issues!!!




• • • • • • • • • • • • • • • • • • • • •




Look for my brand new Facebook Fan page coming in late spring.
Also, I have just created a new twitter account for the four topics in my column; Royals of the World, Spas, Fashion, and Inspiration.
https://twitter.com/#!/VBullisChic
www.victoriabullis.com
www.facebook.com/victoriabullis