Hi Readers,

Hope you are OK.
Boy what a busy time it has been since I last wrote my column.
As usual, here's a whistle stop tour through the hurly burly world of celebrity/cultural events in London over the last couple of months.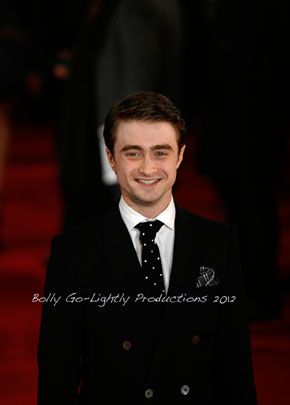 WOMAN IN BLACK PREMIERE - BFI SOUTH BANK

Talking of celluloid breakthroughs...none come more successful than journeys taken by the three leading stars of the acclaimed and financially successful HARRY POTTER franchise. EMMA, RUPERT and DANIEL have taken the world by storm. DANIEL RADCLIFFE has received praise for all his projects which have all been brave and cutting edge: nude scenes in EQUUS, singing and dancing on Broadway in HOW TO SUCCEED IN BUSINESS WITHOUT EVEN TRYING...and now, the first film in what will be a collection of British Hammer Horror film productions for a very long time.

I have a copy of the original Yorkshire Television version of this psychological horror story by SUSAN HILL. It was scarey!
Friends tell me that the stage version is brilliant...which must be the case, as it it is still packing in audiences several years on. I must go and see it.

DANIEL may cut a small physique, but he certainly packs a punch on the acting front.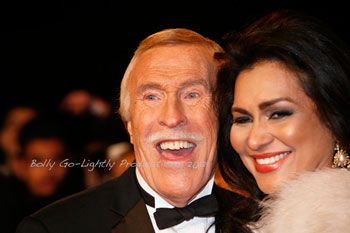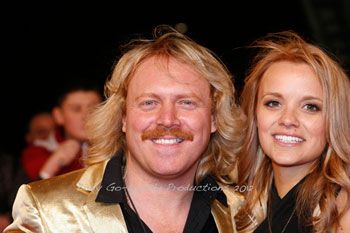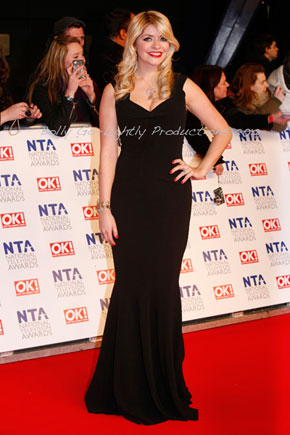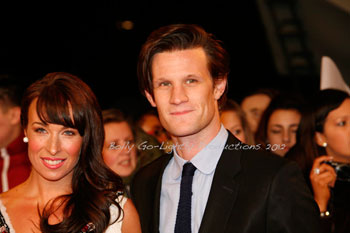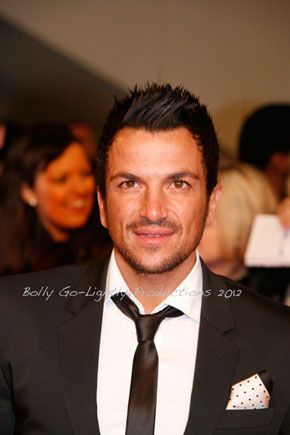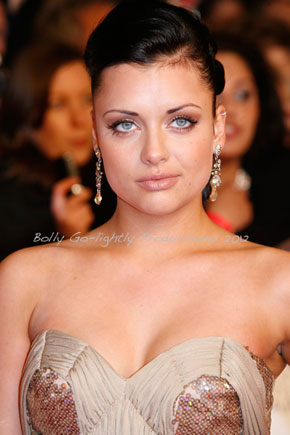 NATIONAL TELEVISION AWARDS - O2

All the stars came out to dazzle along the red carpet for this high profile event in the television award calendar.
Surprisingly, the only ones missing were BRITAIN'S GOT TALENT. With SIMON COWELL recently stepping back into the fold, I am sure this will not be the case for 2013.

This job, like the BAFTAs, is demanding on your shooting finger, your back and your eyes when you come to edit through the mass of images taken. A television fan's favourite night out if you want to try and press the flesh of familiar faces in our living rooms.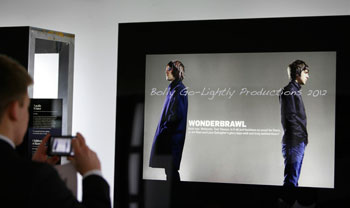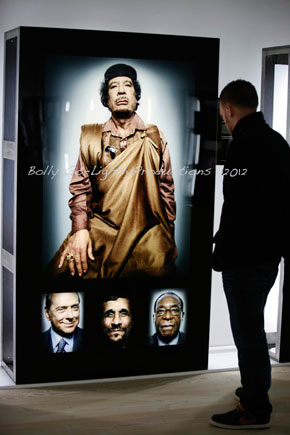 SUNDAY TIMES 50TH ANNIVERSARY - SAATCHI GALLERY CHELSEA BARRACKS

Iconic and historical portrayals of our society are essential. They facilitate discussion, educate and illuminate, and instill emotional memories in all of us.
THE SUNDAY TIMES MAGAZINE represents, quality and cutting edge media coverage. The photography in this exhibition was fascinating, memorable and sadly only scratched at the surface of the weight of work produced over the last half century. Picking the "best of" must have been a nightmare job for the curator. I look forward to the next retrospective from this Sunday magazine as I do think it should have been part of a series.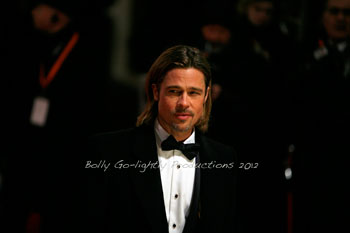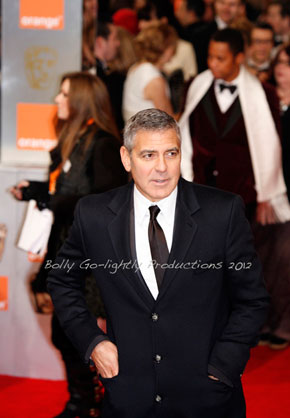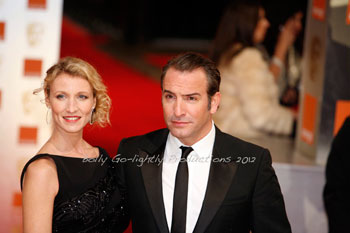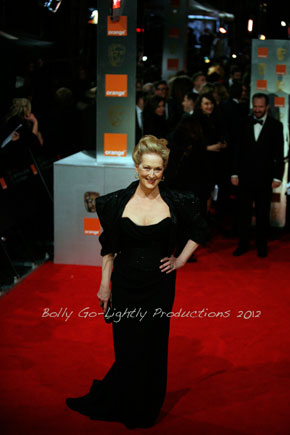 BAFTAS - ROYAL OPERA HOUSE

The climax to the British film season, and just before THE OSCARS ( rumour has it that it might be earlier in future ), our prestigious awards ceremony attracts international stars of the big screen. This year was no exception with the likes of GEORGE CLOONEY, BRAD PITT, PENELOPE CRUZ and the successful nominees: JEAN DUJARDIN AND MERYL STREEP. There were not really any shocks this year, apart from one of MERYL'S shoes falling off on the stairs on her way to give her acceptance speech. Just like Cinderella, it was retrieved by in this case, not a prince but a "King" in the form of last year's best actor: COLIN FIRTH.

The only film I saw this year at the cinema was THE ARTIST. I loved it. But then, I am a lover of old movies. I am glad it won, as it was brave to make, the costumes were fab, the storyline great, the dog was cute, and the leading man was as charming as his leading lady was beautiful.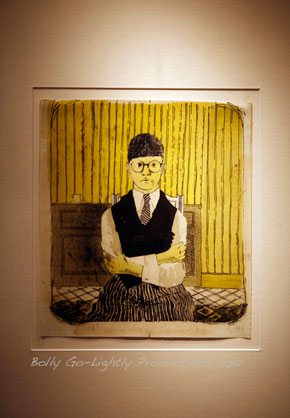 DAVID HOCKNEY EXHIBITION - CHRISTIES, OLD BROMPTON ROAD

I have always wanted to attend a high brow art auction with my hands securely tied behind my back!
This experience did not fail to satisfy. It was interesting to watch bidding on a diverse range of DAVID HOCKNEY's work. Anonymous bidders, catalogue followers, pencilling in the final sale prices for future reference, and the seated bidding room attendees ( whose walls were covered in lots ) flanked on both sides by a bank of staff fielding telephone bids. My favourite lots were the early self portrait, the fish and chip shop and the iconic swimming pool works.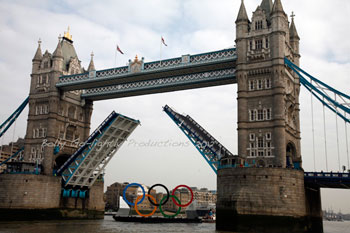 OLYMPIC RINGS ON THE THAMES

I never thought that I would spend a whole day sitting on a press boat upon The Thames photographing a set of giant Olympic Rings fixed to a barge. This job would have been considerably easier and quicker to do if the coloured rings were not painted on one side of their steel structure. Manoeuvring a large and heavy pontoon across a busy city river at high tide is not an easy thing to do at the best of times, but having to turn it to face one way made it a lot harder.

It was a one-off shoot and did help showcase some of our iconic skyline. But too long a job!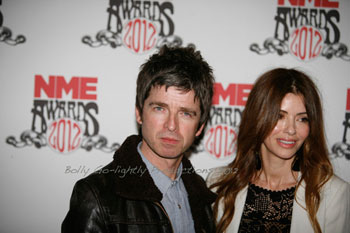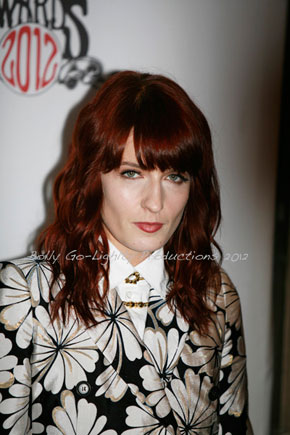 NME AWARDS - O2 BRIXTON ACADEMY

When I was a student, there was nothing cooler or edgier than a copy of the NME. With its dark grainy gig photos and reams of concert adverts.
Sadly, the passage of time has softened the musical tiger, and this award ceremony epitomised this. Maybe I am getting old and out of touch, but many of the attendees I didn't even know...( more an indication of my lack of musical knowledge ), but the groups did all start to look the same for me. Highlights were a quite tame LIAM GALLAGHER and a striking FLORENCE WELCH.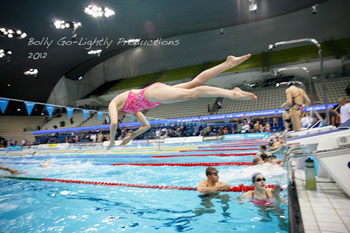 BRITISH GAS SWIMMING CHAMPIONSHIPS - OLYMPIC AQUATIC CENTRE

This was my first Olympic Testing event, but hopefully not my last. What an amazing venue and a treat to those who have tickets in the summer for the swimming or diving.

It is a truly stunning venue. It is also very hot. I did find it quite surreal and uncomfortable walking to work in flip flops and layers of thin clothing, just so that I could try to save myself melting when working poolside. I definitely looked a bit like a bag lady as I walked across STRATFORD and the OLYMPIC SITE whilst the gusty wind and cold rain lashed down on me for most of the week.

The week was very long, but fun. The staff were fab, and I really loved the fact that I could go into the basement to shoot the swimmers through viewing windows surrounding the finishing line. It was also fun to shoot the mass of swimmers during the afternoon warm up sessions from above the giant scoreboard down the length of the pool.

GETTY have invested highly for their coverage of The OLYMPICS. To cover the swimming they have an underwater camera ( £70,000 in value ) to cover the diving and the swimming. Two scuba divers were employed to move and rotate these cameras with others during the event. According to some of the photographers, many of the underwater stills couldn't be sent out of the diving for decency reasons. I will leave that to your imagination. Who said that photographers can't be discrete if they want to be.

What impressed me the most though was the camaraderie of the swimmers. Supporting their friends through the week long Team GB qualifying process and sharing their success. If Olympic medals were given out on friendship and team work alone for what is generally an individual sport, we would clean up this summer.

I wish the team the best of luck...especially my favourites of the week: REBECCA ADLINGTON, HANNAH MILEY and ELEANOR SIMMONDS ( who broke her own World Record that week ).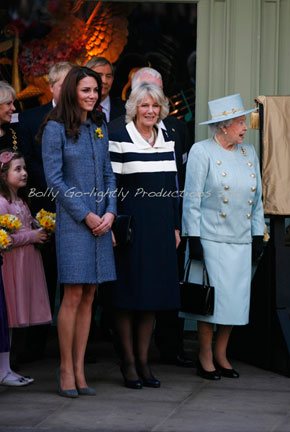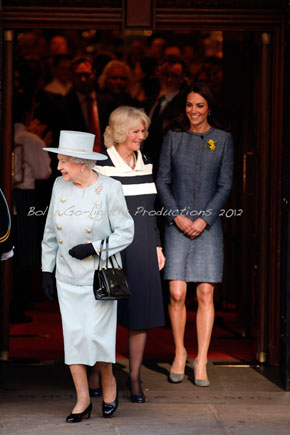 FORTNUM & MASON - ROYAL VISIT

I am not on the Royal Rota, but wish I was. It's always interesting to see the royal pomp and circumstance attached to visits by THE FIRM. This was no exception. As I have reported previously, the Royal grocer is celebrating THE QUEEN's Diamond Jubillee in style. To reflect this relationship with the royals, a special visit took place last month: THE QUEEN, THE DUCHESS OF CORNWALL and THE DUCHESS OF CAMBRIDGE arrived an unusual ten minutes late to visit the store. CATHERINE is clearly being publically taken under the wing to learn how to be a royal, learning from past mistakes. Unlike many royal visits, this provided a multitude of photo opportunities, even for the press ( myself included ) located outside the ROYAL ACADEMY.

I have never seen the top three women in this family together. Each stamped their own character on the event: THE QUEEN, regal and comfortable. I have never seen her smile so much in public. CAMILLA, smiling to the cameras and KATE spending time talking to the young bouquet presenters.

Great shoot and definitely worth getting out of bed early for to stake my position.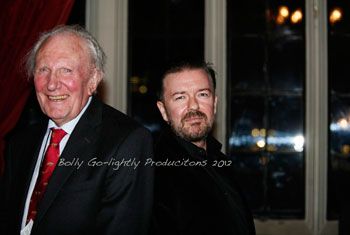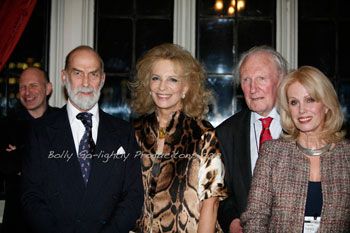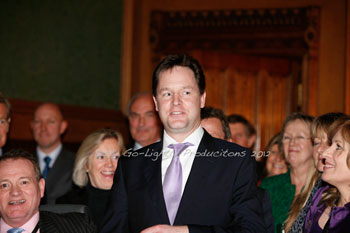 TIGERTIME - WESTMINSTER

I have been a fan of the artist DAVID SHEPHERD CBE since I was a little girl. His beautiful portrayal of tigers and elephants are so beautiful.

Through my job I have been fortunate to forge a link with his press officer VICKY FLYNN and following on from this I have covered several fund raising and global awareness events organised by DAVID SHEPHERD's office over the past few years.

The most important by far to-date though is TIGERTIME.
On the invitation of LORD BLENCATHRA two presentations were made in one evening at Westminster to explain the importance of this groundbreaking project to save the remaining 3,200 Tigers living wild in the world. Without political support, a change in views on ineffective medicines created from tiger bones, and the removal of illegal poaching, the Tiger will become extinct extremely quickly ( 4 tigers are killed every week that we know of, so do the maths! ).

TIGERTIME aims to change all this, but it can only do this with massive support, forging political and social allies and hard cash to pay for policing strategies to combat poaching NOW.

My signature is one of the then 102,000 on a petition handed in at the Chinese Embassy last month. The dynamic team that brought us Gherka justice: JOANNA LUMLEY and PETER CARROLL are fully committed to this amazing project, as are RICKY JERVAIS ( who with STEPHEN FRY, has tweeted a lot about this important project ), SIR PAUL MCCARTNEY, ROBERT LINDSAY to name but a few.

The evening was a great success as it facilitated open and constructive discussions from the world of politics, business, medicine and the arts.
Even NICK CLEGG briefly attended whilst DAVID CAMERON was on his US visit. Other famous attendees were: HRH THE PRINCE AND PRINCESS MICHAEL OF KENT, JOANNA LUMLEY, RICKY GERVAIS, ABI TITMUS, CLAIRE KING, WINCEY WILLIS, ROBERT LINDSAY AND SIMON EVANS.

As a pet owner, and lover of animals, I do think it is fundamental that we save our wildlife for future generations to see in their natural habitat instead of in zoos at best and cruel "Tiger Farms" at worst.

Please visit the TigerTime website and help in any way that you can: www.tigertime.info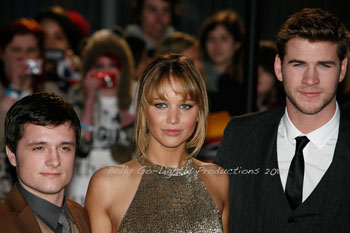 THE HUNGER GAMES PREMIERE - O2

This looks set to be the next big blockbuster film franchise. I haven't read the books by SUZANNE COLLINS, but based on the premiere and reviews, it looks certain. Leading cast actors were there: JENNIFER LAWRENCE, JOSH HUTCHERSON, LIAM HEMSWORTH and ELIZABETH BANKS.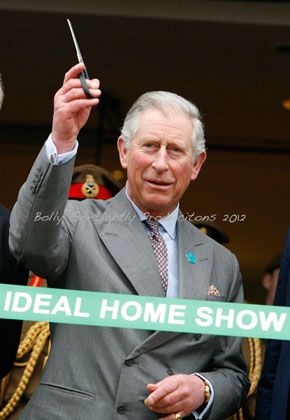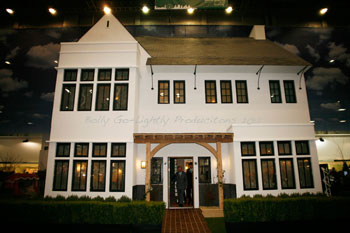 IDEAL HOME EXHIBITION - EARLS COURT

This is probably the biggest annual exhibition at this famous venue.

To reflect this HRH PRINCE CHARLES opened the event after a military brass band rendition. His highness visited the PRINCE'S HOUSE before a long meet and greet of the unsuspecting public on his way out. This is the place to buy anything for your home and garden. Having historically purchased blenders that I never use, I have now moved onto effective cleaning products and kitchen knives!

The most surreal sight though was the tooth whitening stand. Sitting with my mouth wide open for twenty minutes in public doesn't really appeal to me. From the constant fully booked seats, I do have a feeling that this trend is here to stay though. The stand visually demonstrated from the rows of gaping mouths that no gain without pain, discomfort and embarrassment is the mantra in the world of beauty.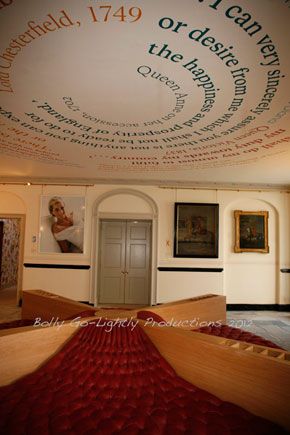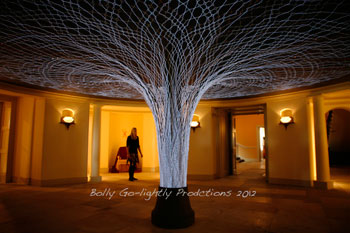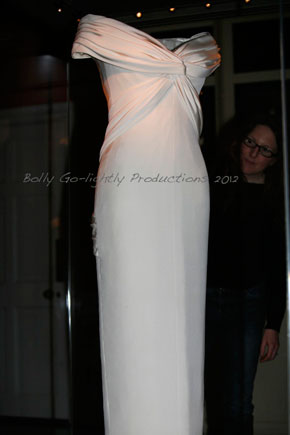 KENSINGTON PALACE REFURBISHMENT

I have always walked past this palace, but never ventured inside. It still conjures up images of Diana's infamous interview and the floral tributes after her untimely death to me. Recently THE DUKE AND DUCHESS OF CAMBRIDGE announced that this will become their London home. So, I was curious as to what £12 million in refurbishment looks like in preparation for the DIAMOND JUBILEE. Two hours later I was, like all the photographers, "photoed out".

It is an impressive visit: even the gift shop looks great. In a nutshell, it consists of 4 elements:
A beautiful SWAROVSKI lit start to your historical royal adventure. This leads to a viewing room with a funky red leather segmented sofa. Next to the Testino photograph of Diana is a DIANA wallpapered corridor that snakes round to a room displaying five of her famous outfits accompanied by designer sketches. My favourite was the cream dress worn in the TESTINO sitting and portrayed in the photo already mentioned. The most famous though is probably the purple and pink dress worn on the visit to Thailand.

After back tracking, the stone stairs lead to the first floor QUEEN VICTORIA exhibition. This extensive range of artifacts portrays her life at the palace, her wedding day and her life as the Queen of England. A strong family theme threads through this portrayal of a great queen, as well as her love for her dutiful consort.

Then, finally, upstairs again to the ROYAL STATE ROOMS which primarily cover the life of KING WILLIAM AND QUEEN MARY'S time at the palace. The WILLIAM KENT painted ceilings are impressive. However, my favourite was the long room with paper birds seemingly flying out of a musical cabinet which magically portrays the palace gardens that the room overlooks. The room aims to portray the two loves of QUEEN MARY which were kept in this room: birds in cages next to the windows, and Delft pottery. Story is that when QUEEN MARY died, the king got rid of the pottery...sounds like many a household, regardless of time, creed or social standing!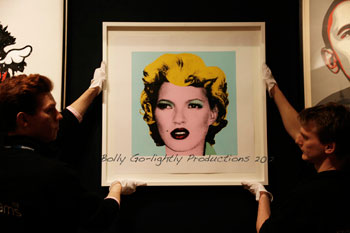 URBAN ART SALE -BONHAMS, NEW BOND STREET

Highly recognised Banksy lots dominated this sale. My favourites being the Disney characters with the napalm covered Vietnamese girl and also the girl in the coloured rain. However, the most striking has to be the ANDY WARHOL style portrait of KATE MOSS as MARILYN MUNROE.

In a recession, art, like gold, remains king. Regardless of reports that DAMIEN HIRST prints could soon become worthless, the cash registers of auction houses prove otherwise. DAMIEN's new exhibition at TATE MODERN will be covered in my next issue.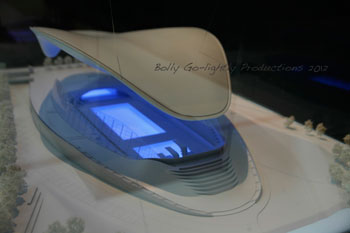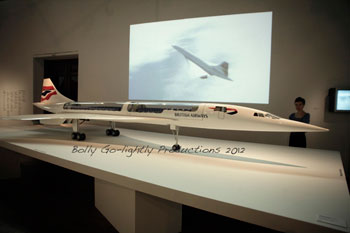 BRITISH DESIGN 1948-2012 - V & A

Talking of DAMIEN HIRST....The museum that has always conveyed the best of modern and historic has created a new exhibition of everything great about Britain. As with many exhibitions of this kind, disclaimers had to be signed before entering. Predominant on this piece of paper was the agreement not to photograph any of DAMIEN's exhibits. Makes me wonder what we can photograph at THE TATE next week. Would any of the now acclaimed great masters have been like this if they were famous during their lifetime?
After all, I am just a recorder, producing images for everyone to see, regardless of their feelings towards the subject matter. This is free publicity for anyone seeking it.

Anyhow, like the SUNDAY TIMES MAGAZINE exhibition, it was a mammoth task to whittle this one down. Overall, I would say that they got it right. My favourites were CONCORDE ( I so miss this plane flying over where I live. You could set your watch by this metal swan as it passed by with its distinctive sound. I had the honour of winning a competition to fly from Paris on one. An experience I will never forget. The smallest, most uncomfortable but glorious, fascinating experience on a plane that I have ever had. )

I also loved the model portrayal of THE AQUATIC CENTRE, whose dimensional form encapsulated how amazing this wave design is.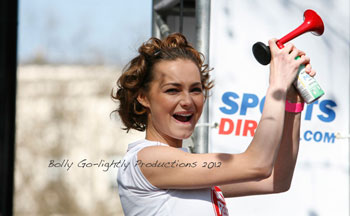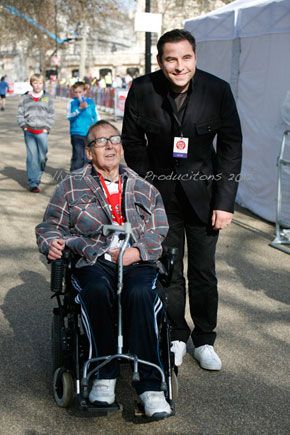 SPORT RELIEF MILE - THE MALL

After the annual television schedule, the nitty gritty task of raising money took to The Mall. The stars were out in force with the likes of DAVID WALLIAMS, ANNE WIDDECOMBE, JLS, KARA TOINTON and KIMBERLEY WALSH with the cast of SHREK to name but a few. It reminded me a lot of a LONDON MARATHON without the physical and mental torture.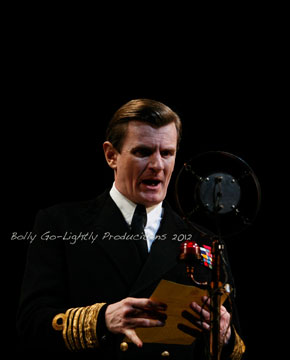 KING'S SPEECH - WYNDHAM'S THEATRE

Few will realise that the Oscar winning film was derived from the play by DAVID SEILDER. That play has now transferred to The West End. JOSS ACKLAND plays KING GEORGE V, the princes' frustrated father. This 84 year old actor although looking frail, commands his space in the scene I covered with his son BERTIE, played by CHARLES EDWARDS. The play provides greater depth to the characters than the film and the central moving set was impressive.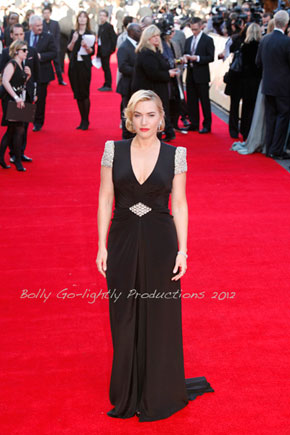 TITANIC 3D WORLD PREMIERE - ROYAL ALBERT HALL

After his journey to the bottom of the sea and his record breaking tweet, JAMES CAMERON flew to the capital to attend the world premiere of this famous film to celebrate its 15th anniversary. Many of the cast were at this fantastic premiere location: KATE WINSLET, BILLY ZANE and obviously Cameron's second wife: Suzy AMIS CAMERON.

No doubt this film will become a money spinner all over again. I still don't understand how you can make a 2D shot film into 3D though...is it just CGI?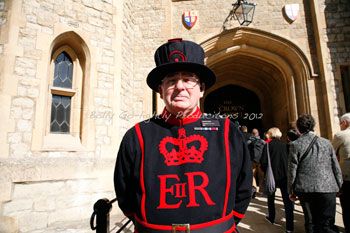 CROWN JEWELS REFURBISHMENT - TOWER OF LONDON

Last but not least, the second palace visit in a week took place. This is part of the Royal Palaces preparation for the DIAMOND JUBILLEE. Again, a palace that I have gone past and viewed from a far, and always planned to visit...but never quite got there. Unlike 80% of the annual visitors who come from overseas! Shame on me.

It was such a treat to get to see the CROWN JEWELS for over an hour, moving in and out of rooms with plenty of space to enjoy their splendour, pomp and circumstance. I never realised that the crown stones get recycled over time, or that they had been totally destroyed ( apart from the anointment spoon ) during The Civil War. The YEOMAN OF THE GUARD were so helpful and friendly. I stayed to visit the towers and walk along the walls. Apart from the JEWEL HOUSE, everything is a lot more stripped back than at KENSINGTON PALACE. Which is what you would expect for what was mainly a fortification, a place for the incarceration, torture and beheading of enemies of the State...and a zoo.

Have a fab Easter and see you soon.