Hi, I'm Valerie Austin and I am a nutritionist and hypnotherapist. I am delighted to have this opportunity to write a column for you and I hope you will find it lively, entertaining and useful.

My subject for this month is WHERE HAS ALL THE 'REAL' FOOD GONE? IT IS NOT BEING SERVED IN RESTAURANTS; PEOPLE ARE IN IGNORANT BLISS!

Those of you who know HOT GOSSIP'S amazing and dynamic Ed in Chief Georgina Bruni may remember me. Some of you either came to my Charity Ball at the Grosvenor House Hotel in 2002 or to the pre-parties on my yacht in St Katharine's Dock. Even then, without the knowledge I now have of the full extent of the chemical dangers in food, I felt that I couldn't serve anything other than organic food to my friends. I had arranged with the hotel chef who was in charge of my event that everything on the menu should be organic, and he managed to produce it for the same price as a non-organic meal. I was pleasantly surprised as most caterers will surcharge you because sourcing organic food can be difficult. Maybe I was the only one to make such a request 4 years ago! I can only hope that the other charity events I attend will make the effort and do the same. It didn't seem so important at the time to go 'totally organic' when attending events as I was, like many people, eating 'as much organic as possible' the rest of the time. However, when you really start to analyse it, it actually meant not very much at all if one was eating out a lot.

Since then, as a nutritional therapist, I have noticed a difference in the problems that my clients come to see me about. Many have illnesses brought on by what they eat. When I was asked to write a monthly column reviewing organic food and restaurants in Florida, I was shocked at the extent of how much our non-organic food is being tampered with. I just wanted to persuade some of the restaurants to serve at least one organic meal on the menu so that I could eat out with friends, but I was disappointed by the reluctance of restaurants to co-operate. With a bit of determination, and the backing of my publishers, I did have some success and I hope that I can do the same here in the UK.

I am on a nutritional crusade!

If you would like to help perhaps each of you could ask if there is organic food on the menu when you visit a restaurant. This would be a tremendous help and I would be delighted if you could give me some feedback or recommendations about your favourite organic meal or restaurant.

Why is it so important?

Quite simply, conventional food is killing us! I have just returned from my winter home in Florida and my mission was to be able to eat 'real' food. Generally, all non-organic food is old food that is either picked too soon, or adjusted with taste enhancers and colouring or both. It is very important to know exactly what is in your food. Unfortunately, you must look at all the labels on food (even organic food) such as bread, tinned products, etc. as the challenge to maintain a longer shelf life has a higher priority than keeping people healthy. Many of the food manufacturers are cheating and packing the food with extra salt, sugar, vegetable oil and other cheap oils. Try to find an organic bread that doesn't have a cheap or plastic oil and it's almost impossible. All this extra salt is causing an epidemic of heart disease - and sugar is likely to be responsible for diabetes and numerous other illnesses. So read your labels, even in up-market supermarkets where the service is excellent. Alas, it can be like salt city for 'organics' such as myself, but persevere and you will find some 'real' food. Otherwise you may find that you could be one of the growing number of people who have allergies to chemical additives. See the information on my website: www.organicfoodforhealth.com

To get more insight into the extent of the problems with our food, including when 'eating out,' I recently interviewed celebrity chef Shawn Eric Fralin in the US.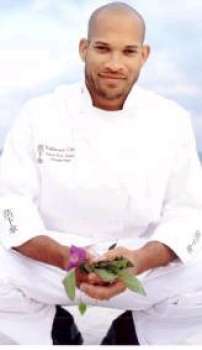 Shawn Eric Fralin



Ex-paratrooper Shawn designs menus, consults, lectures, and caters for many of the rich and famous. His celeb clients include Janet Jackson, Paris Hilton, Demi Moore, Bruce Willis and Quincy Jones. His mission in life is to feed the body healthily and organically. When I interviewed him he told me he never uses processed food, butter, cream or processed sugar. He was very enthusiastic when talking about 'real food' (organic) which doesn't contain any additives or pesticides. Asking him what he believed was the most important thing in life, he answered: "eat, breath and drink water; everything else is a luxury." Like me, Shawn eats only organic food but he too has problems when dining out with friends. Where can you go for an organic meal? "People are in ignorant bliss," he explained. "When they eat out they have no idea what chemicals they are eating." I told him how I had walked up and down Las Olas, a fashionable street in the Miami area, visiting every restaurant to ask if they would add just one organic dish to their menus so that I could eat out with my husband. I was looked upon as an eccentric and they dismissed me with excuses such as "our customers don't want it." "Why should they?" Shawn said quite simply. "That's business." He explained that for every person who wants to look after their health there is a queue of hundreds behind them who don't really care about (or bother to question) what they eat. So why should the restaurants want to change? "The chefs have everything pre-prepared," he told me "it arrives full of pesticides and chemicals to enhance the taste and colour and to make it last for long periods of time."

"I don't think many of the chefs would know how to cook 'real' food. They are so used to everything being already prepared, including their sauces and dressings", he reported. I remarked that the food in all the restaurants tended to taste the same. "That's because they all use the same suppliers," Shawn explained. He recommended "starting to understand your food." "Ask questions wherever you eat. Is the salmon farmed or from Alaska? Is your Tuna sushi grade 1, 2 or 3. A, B or C? It should be grade 1 but that will be very hard to find, even in the most expensive restaurants although they will be charging customers for it with a 300% mark up. Is your Scampi from Key West or from a poor country where, because of a lack of equipment, it is more likely to be contaminated so that you are more likely to get food poisoning? Get to know the ingredients in the food you eat. Monitor precisely what you are eating."

Below with HGUK's esteemed Dep Ed in Chief Sally Farmiloe-Neville at the recent book signing at Harrods of her wonderful new health and beauty book Sensual Pleasures And The Art Of Morphing Into A Health Goddess, to which I contributed.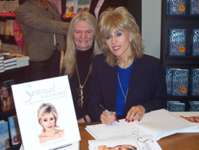 VALERIE with SALLY FARMILOE-NEVILLE at HARRODS.



Thank you for reading my page. You can e-mail me at:

[email protected]



Valerie




Eds Note: VALERIE AUSTIN is an author of six successful self-help books including SELF HYPNOSIS (Thorsons), journalist and trainer with an international reputation in the field of hypnosis. Her best-selling books and training help people achieve their full potential. She founded the Austin Corporate Stress Management Company focusing on reducing stress and anxiety amongst executives and CEO's. She is also founder of UKRAH (1992) The UK Register of Advanced Hypnotherapy. Valerie has also worked as a consultant in hypnosis at the Priory Hospital, the UK's equivalent to The Betty Ford Clinic, which specialises in food addiction and alcohol abuse. Her work in the film industry (Hollywood) interviewing movers and shakers, producing TV news segments and publishing celebrity magazines in London gave her invaluable experience for her current Harley Street practice.