Thank you for your emails about facials, laydeez. You are never too young to start looking after your skin and I recommend a monthly facial if you have the time and money. I recently took my daughter JADE, aged 14, to BEAUTY SECRETS, a fab new salon at 110-112, King's Road, Chelsea (020 7581 0455) to have a GATINEAU PRESCRIPTIVE 60 minute facial and her skin has been absolutely perfect ever since. BEAUTY SECRETS' dynamic owner TRISH INGLEY oversaw friendly and efficient therapist ALEKSANDRA while she gently deep cleansed, exfoliated, masked and, yes, even extracted Jade's teenage skin, getting rid of any blemishes, milia, etc and bringing out the true glowing beauty of her fresh, young complexion. A wonderful treatment for all ages actually!

BEAUTY SECRETS offer all the usual treatments at their light, airy salon plus CACI, an IONOTHERMIE Anti Cellulite "Cheek Lift" for one's, er, lower cheeks, Airbrush Tanning and the brand new JINNYLASH individual fake lash treatment which I will be reviewing soon once all my mates have stopped fighting over who is going to try it first!

Summer is here at last and this season's strappy sandals and toeless wedges mean our tootsies, and especially toenails, are on show big time. I recently enjoyed my best ever pedicure with lovely MARICELLA at the brand new OPI (by LENA WHITE) SPA on the ground floor of SELFRIDGES (020 7318 3401). The OPI SPA is pink, private and very relaxing and I was delighted with the way MARICELLA buffed, exfoliated and nail lacquered my feet to absolute perfection. The OPI polishes are possibly the best in the world, being long lasting and extremely quick drying, an absolute boon in today's high speed world, so I was able to don stockings and shoes after just a few minutes. My feet felt like new and the polish absolutely did not chip = a big deal! MARICELLA and I had a look through the huge selection of mouthwatering OPI colours and chose a fresh, vibrant corally red called Redipus Oedipus which is perfect for summer. OPI has hundreds of celeb supporters world wide including the divine MISCHA BARTON who sported OPI's Romantic Retreat lacquer for her recent cover shoot for USA mag, NYLON and here she is, OC fans.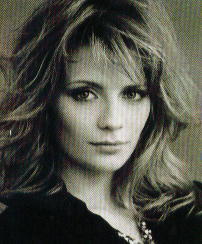 MISCHA BARTON.



Don't forget to get your fingernails painted too: your hands are on display all the time, not just in summer. Check out that other brill US manufacturer DR DENESE: 0870 1900 003 / www.drdenese.co.uk
for their marvellous Home Microdermabrasion Kit and Hand And Decollete Serum to smooth and soften the delicate skin on your hands before your OPI manicure and then you will be ready for flashing this season's gorg summer rings and bracelets.
The ELEMA jewellery line is fab (020 7495 3390 for stockists) and here is MISS WORLD herself, Japan's stunning ERINA SHINOHARA wearing a beautiful ELEMA bracelet.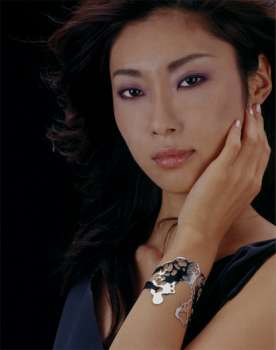 MISS WORLD, ERINA SHINOHARA wearing ELEMA bracelet.



J AND T JEWELLERY also have a truly scrumptious range of rings and bracelets at the moment: their coloured "tennis" bracelets are simply delicious. Check them out at:
www.jandtjewellery.com


More than just your hands will be on show this summer what with shorts being so popular. If you are worried about cellulite and do not have time to go to a salon such as BEAUTY SECRETS for IONOTHERMIE treatment, make sure you use a good anti-cellulite cream every day at home. LANCOME'S Slim Success has a really long lasting effect on those dreaded dimples, as does DR PATRICK BOWLER's VITAGE Body Refining Gel, both of which have been tried and tested by our stalwart HGUK guinea pigs recently. Likewise BEAUTY SECRETS' Toning Body Scrub with marine salt crystals, combined with their Body Brush Roller which looks a bit kinky but really gives the old orange peel a nasty shock and improves the circulation as well as smoothing the surface of the skin.


Once your legs and bum are nice and smooth, get busy with the fake tan before donning your shorts. SALLY HANSEN's new Airbrush Sun Range is fantastic. Our guinea pig DEBBIE, who is whiter than white usually, now looks like a sun goddess after using the SALLY HANSEN Airbrush Sun Face and Body sprays. DEBBIE reports that the products are really easy to apply and she only needed 2 coats, not her usual 5, to achieve the Just Back From The CANNES FILM FESTIVAL look!
Fans of the SALLY HANSEN range include HOLLY VALANCE, KIM CATTRALL and our very own TARA P-T.


You won't need to wear so much mascara once your face is tanned but if, like me, you really love the flirty, butterfly look, try COSMECEUTICALS' Bare Escentuals Big Tease Mascara. This is the one, girls, if you want to wow the guys and make your rivals green with envy. Peeps will even ask you if you are wearing false lashes! Phone 0870 850 66 55 for stockists.


I recently attended the launch of THE NERVOUS GIRL'S GUIDE TO NIP AND TUCK (handbag sized paperback published by THORSONS, an imprint of HARPER COLLINS, at just £7.99) by 10 YEARS YOUNGER star, DR PATRICK BOWLER. The party was great and the book is even better. Respected cosmetic doctor, Chairman of The British Association of Cosmetic Doctors and valued contributor to my own latest book, SENSUAL PLEASURES AND THE ART OF MORPHING INTO A HEALTH GODDESS (see below), DR PATRICK is the leader in his field and he talks us through all the sensible, non surgical alternatives to the dreaded knife. The book is really well laid out and easy to understand and includes those all-important issues "how much pain will I feel?" and "how much pain will my wallet feel?" The launch party at THE ASTOR CLUB, previously THE ATLANTIC BAR in Soho was awash with press, celebs and well preserved DR PATRICK fans and here is the man himself, avec moi naturellement and delectable TV star, LIZ FULLER.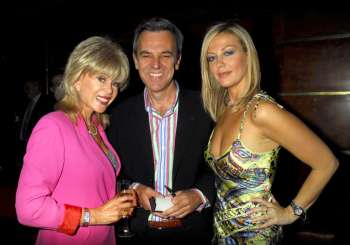 SALLY with DR PATRICK BOWLER and LIZ FULLER at the launch of THE NERVOUS GIRL'S GUIDE TO NIP AND TUCK.




DR BOWLER's COURT HOUSE CLINICS go from strength to strength and his VITAGE range of skin care products are superb. Our tester SAMMI recently tried the VITAGE Clear Complexion Serum and Clear Complexion Mask used in conjunction with the VITAGE Facial Cleanser for Oily and Problem Skin over a period of a month and happily reports a 90% improvement in her previously troubled young skin with no new breakouts.


Getting back to the NERVOUS GIRL'S launch party, it was great to see former MISS GREAT BRITAIN, LIZ FULLER on such fine form. Gorg Welsh beauty and TV presenter extraordinaire LIZ is now hosting QUIZ CALL for C5 on Saturday nights and, with her luscious self at the helm, it's riveting! There is nothing else worth watching on telly on Sat. nights and, if you are an insomniac, QUIZ CALL will be your salvation. I always thought I was dead smart but I just couldn't work out one of the puzzles, it drove me mad! Check out QUIZ CALL or tape it: you will love it!


If reading is your thing, I enjoyed a cute little book called LOVING DANNY, A Cosmo Girl / Piccadilly Love Story by HILARY FREEMAN (Piccadilly paperback: £5.99) which I read last month. This is that unusual phenomenon, a modern romantic novel without sex in it! Yes, it can be achieved and HILARY FREEMAN has done a terrific job. There is a bit of violence but basically it's a morality story and perfect for teenagers and even pre teens, as well as we bigger girls!


And if you like music, well, sort of, check out THE HAMILTONS' fun World Cup song, ENGLAND ARE JOLLY DEE CD and DVD at:
www.audioville.co.uk
It's a lorra, lorra laffs, sports fans!
Whatever will NEIL AND CHRISTINE do next? They are amazing. The lovely CHRISTINE is, of course, a former HGUK cover girl and let's take another look at her now.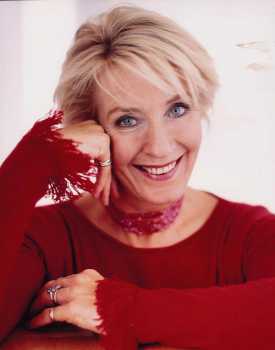 CHRISTINE HAMILTON.



Or do you like listening to the radio? Since I went on the gorg SADIE NINE's show on BBC RADIO LONDON a couple of times recently, I have started listening to the (mainly talk) station on 94.9 (or somewhere round there!) and it is fascinating with some great presenters like VANESSA and DANNY BAKER. In fact BBC LONDON has really helped me out since the CD player in my car went on the blink! Tune in if you are in the area.


And now for something completely different............. thank you for all your letters about nutritional supplements. There are some great ones out there and the best I have found for women recently is EVELLE, which really makes your skin glow and your hair and nails grow. EVELLE contains the important nutrients we all need for cell renewal: you just take 2 a day with water and you will see a result within weeks. I tried this supplement myself and have been really pleased with the results; most of them take a good 3 months to work but I reckon my hair and nails are sprouting like mad after just 6 weeks! For further info and stockists call 0800 591 756.


For the keen shoppers amongst you, dear readers, my fave new London shop is POTASSIUM, a fab fashion, health and "elements for living" emporium at 2 Seymour Place, W1 (020 7723 7800) where you can buy everything from low sugar chocolate to GARY RHODES kitchenwear to floaty, feminine scarves and blouses. I was introduced to the divine owner, KARIM by one of my most popular book contributors CARINA COEN from the beautiful MERCARINA salon (020 724 0514) just around the corner and I have to say that you will lose yourself in this little gem of a shop: give yourself a treat. POTASSIUM also stock some lovely coffee table books, including mine!


To those readers who enquired about DR DENESE's amazing new product, the GROWTH FACTOR SERUM, I can report that our HGUK tester PATRICIA is doing well on it and has already seen an improvement. This exciting and totally innovative new product promises great things: watch this space!


Finally, may I recommend a new fragrance for summer 2006: MARY KAY's TRIBUTE, a perfume which was created in honour of the founder of the line, MARY KAY ASH herself. It's a light, floral scent based on the pink rose of Texas and will make you feel feminine and flirtatious when you wear it. For TRIBUTE and all the other fantastic MARY KAY cosmetics and skincare products, contact top MARY KAY distributor, the delightful MARIANNE at:


[email protected]



Lots of American Beauties favour MARY KAY products including, allegedly, featherweight telly dolly NICOLE RITCHIE and here she is, looking FOXY!


NICOLE RITCHIE.




thank you for reading my page: you can write to me at:


[email protected]


should you feel like it.
My new personal website is currently under construction at:
www.sallyfarmiloe.com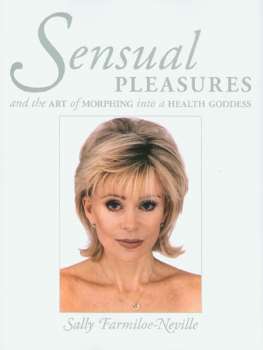 SENSUAL PLEASURES AND THE ART OF MORPHING INTO A HEALTH GODDESS (£16.99) is available from the following outlets:

Delancey Press -

[email protected]

or 0845 4589911
ISBN: 0780953911998

LOO TIME VIDEO available from:

[email protected] and:

http://www.121music.com/pages/video_01/home.html