Having survived one of the wettest and windiest Junes on record, we poor Brits can only hope that this month will be better. There certainly wasn't much chance of getting anything even vaguely resembling a tan last month (not that you should, beauty fans, tanning is just too, too bad for your health and skins.) So what to do if you want to look like a sun god or goddess? The answer is to get a fab AIRBRUSH TAN once a week from lovely LAURA FERRALL-PEEVEY (that really is her name, she assures me!) Young, energetic LAURA will come dashing round to your home with her wonderful TOTALLY TAN (new from the States) airbrush tanning kit and spray you golden brown from top to toe in just 30 minutes. Then all you have to do is wait a few minutes for your new tan to dry and you can don the slinkiest of summer frox or bikinis and really look the business. The major advantage of being sprayed at home is that LAURA can put the tan exactly where you want it; for example you may need 2 or 3 layers on your decollete but only one very light one on your footsies. I was most impressed with my airbrush tan and have booked LAURA every week for the summer.
If you want to book her, phone: 07867 610 045
or e-mail her at: [email protected]

LAURA charges just £30 for the whole body and £15 for half bod; these prices are really exceptional so get yourself a TOTALLY TAN soon!

LAURA is tight-lipped about her celeb clientele but one has heard that brilliant actress EMMA THOMPSON may allegedly have used her services. Take a look at this pic, tan afficionados, and I think you will agree that glamorous EMMA looks just like a greek goddess even in a black and white (and green!) photo taken at the BAFTA Film Awards in the dead of Feb. I rest my case.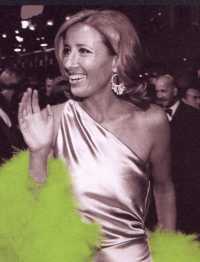 EMMA THOMPSON. C.r.: BAFTA.



The TOTALLY TAN effect will last several days but if you are holidaying for longer than that and can't take LAURA and her kit with you (shame!) you will need to pack a good spray tan for topping up. The best one I have found is KAMOUFLAGE COSMETICS' brilliant new JUNGLE BRONZE TANNING SPRAY, distributed by respected Brit company SKIN DOCTORS. This spray is really quick and easy to use, doesn't streak or splodge and has a nice smell; the colour also comes up quite quickly which is handy.

However if you are caught out between exfoliating (=essential before fake tanning: BODY SCRUB from THE SANCTUARY, Floral St., Covent Garden is the best) and tanning, JUNGLE BRONZE also do a fab BRONZING SKIN GLOSS cream which you can quickly rub in to give a temporary golden glow or to enhance a dying natural or fake tan. This light, caramel coloured cream has saved me many times when I've been invited out at the last minute and didn't want to frighten the horses with my natural pallor! It blends in beautifully and will even out a patchy tan, natural or otherwise; in fact I think I will have to name JUNGLE BRONZE BRONZING SKIN GLOSS my Product Of The Month for July.

You can buy both the fab JUNGLE BRONZE prod.s from major stores, salons and pharmacies or phone: 0800 298 9600
or go to: www.kamouflagecosmetics.co.uk
to order them. Prices are reasonable: £17.95 for the spray and £24.95 for the gloss.

There were a lot of gorgeous bronzed beauties in THE ROYAL ENCLOSURE at ASCOT this year and some of them even had real tans! It was a trifle cool, shall we say, so some ladies such as the intrepid I'M A CELEBRITY star JENNIE BOND resorted to wool CHANEL suits and pashminas (more on these later) saved many shivering shoulders. The Enclosure was awash with stunning outfits by my new fave designer ROUBI L'ROUBI paired with outrageous hats by top milliner DEIDA ACEIRO. One of the most beauteous gals on the racecourse was gorgeous WILNELIA FORSYTH who sparkled in a tangerine dream ROUBI dress with a matching DEIDA titfer. Voluptuous WINNIE would look wonderful dressed in just a sack but here she is in her ROUBI and DEIDA outfit with her elegant TV hero hubby BRUCIE.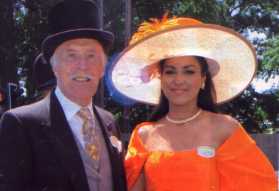 WILNELIA AND BRUCE FORSYTH. C.r.: OK.



ROUBI L'ROUBI's fame has spread like wildfire and, after my description of him at his recent sell-out fashion show at the exclusive QUEEN'S CLUB, many of you have requested a photo. I am more than happy to oblige and here is a pic of the elegant and exotic ROUBI stunning the punters in the Royal Enclosure in a beautifully tailored morning suit from the ROUBI L'ROUBI MENSWEAR COLLECTION with my divine hubby JEREMY favouring the FAVOURBROOK waistcoat look for Ascot.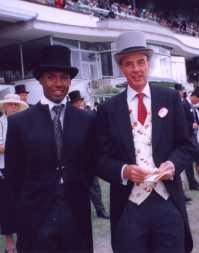 ROUBI L'ROUBI at ASCOT with JEREMY NEVILLE..



Getting back to pashminas, these wonderfully warm and elegant garments are absolute must-haves for the vagaries of the Brit climate. If, as was the case with me, you can only afford one to start with, make it a black one which will go with everything. Believe me, you will soon build an entire pashmina wardrobe in all the colours of the rainbow!

The best pashmina designer in London and indeed the lady who started the whole trend is the delightful SOPHIA SWIRE and you can now find her beautiful Autumn-Winter 2004 collection at BEYOND, a fab new shop at 285 Fulham Rd., SW10. (020 7351 21 21.) BEYOND's handsome and dynamic owner ESSAM GUENEDY recently moved his popular operation from Connaught Village and we South Of The Parkies are delighted to have him in beautiful downtown Chelsea. Other famous designers represented at BEYOND include GIANFRANCO FERRE, MISSONI, MOSCHINO, ALBERTO FERRETI and JEAN PAUL GAULTIER and the shop stocks simply the best accessories in the biz including great jelly bags, cool belts and unusual jewellery by sweet young designer MONA MAREI.

Another great multi-designer shop which opened recently in Chelsea is ELIVAL, 579 - 581, King's Rd., SW10, owned and managed respectively by 2 stunning ladies VALENTINA and SHEILA. ELIVAL specialises in funky new young designers including STEPHANIE RAPP, GOZI and ZI (who will also give you fab braids or corn-rows, should you be so inclined: 07932 843 782) as well as purveyors of classic elegance such as ADE BAKARE.

Both of these cool new shops are well worth a visit if you are in the area and cater for all ages and sizes.

And if you want to buy designer clothes at wholesale prices, check out the ADELE label at: 07976 72 88 80

The designer, dynamic ADELE BLOOM, specialises in suede, leather, shearling and chiffon; her colours are stunning and prices range from £60 to £700. ADELE's whole collection is stunning but I particularly favour her brightly coloured suede bell-sleeved shrugs which are a good alternative to pashminas on cooler evenings. ADELE's wonderfully feminine swirly silk skirts are also extremely practical for those lunch into cocktails into dinner type days that we keen socialites have to endure every now and then!

ADELE has lots of sales all year round, as does her colleague, lovely SHEILA WARREN-HILL (020 8348 82 82) who specialises in new and nearly new celebrity designer wear, particularly new CHANEL at knock down prices. When THE STAR branded me "a CHANEL girl" in 1997, I was actually being dressed by lovely SHEILA at the time. I also picked up a beautiful skirt for JADE to wear at Ascot from SHEILA which had allegedly belonged to a certain well-known pop queen (size 6: can you guess?)

On the beauty front, thank you for your interest in my new semi-permanent make-up by the brill WENDY PETERS at CREATIVE CONTOURS (01189 34 24 25). My newly defined lips and eyes are looking great and I now save so much time every day not having to outline them "the old fashioned way" (as my childhood hero CHARLES AZNAVOUR would say), I just can't believe it! I would recommend the light "tattooing" procedure to anyone, especially as it's practically painless. Celebs who are rumoured to have had semi-permanent make-up on their eyes, lips and brows include (allegedly!) CAMERON DIAZ and here she is, up close and personal, so let me know what you think, dear readers.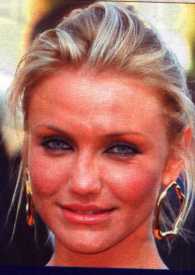 CAMERON DIAZ. C.r.: OK.



Finally here is some health news from our Canadian consultant (who is also our esteemed Ed In Chief GEORGINA's and my long time friend) WILLIAM DRYSDALE. WILLIAM is a distributor for the world famous GARY YOUNG LIVING ESSENTIAL OILS company

www.youngliving.us

in Canada and the company has reported some interesting findings about "what to eat to rid your body of free radicals." Free radicals, you may remember, are those naughty little things which attack our cells and exacerbate the ageing process. To combat free radicals and keep ourselves healthy, youthful and cancer-free we apparently need to eat loads of berries, particularly chinese wolfberries. If, like me, you've never encountered a chinese wolfberry in your life and wouldn't recognise one if it leapt off your plate and knocked you on the head, stick with common or garden strawbs, raspberries and blueberries. Beetroot and oranges are also good foods to combat free radicals and all fruit is good for skin, digestion and to aid the fight against cancer. So, the message is clear, ladies and gents: we must all get out to the shops and buy more Berries and less Booze!

Thank you for reading my page; you can e-mail me at:


[email protected]



and do check out my personal website:
www.sallyfarmiloe.co.uk

LOO TIME VIDEO available from:

[email protected] and:

http://www.121music.com/pages/video_01/home.html