THE SWAN at STREATLEY-on-THAMES, BERKSHIRE, RGS 9HR.
Tel: 01491 878800, Email: [email protected]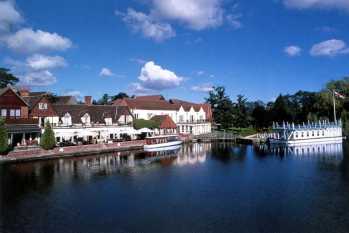 As you can see from the picture this luxurious 4-star Hotel sits on the banks of the River Thames. The views are idyllic, many of the 46 bedrooms have balconies overlooking the River. You are in the heart of the countryside yet only an hour's drive from London.

A Coaching Inn in the l7th Century, it then became a hotel, and in 1901 J.D. Ellis wrote, "What you require is perfect rest, desist from work completely, and of all spots for you the best, will be, The Swan at Streatley." This poetic sentiment summed up m y feelings completely.

I arrived mid-morning, and was warmly greeted by Jeffrey Ward, General Manager, and his welcoming Staff, who led me to the CYGNET Bar, and The Terrace. The views were breath taking, a tree lined Island opposite and the sun shimmering on the River reflecting dimpled dancing diamonds – at that moment, the Champagne arrived. Lost in bubbles and reverie I was delighted when 3 white Swans and 5 Cygnets cruised over and elegantly bowed their necks and flapped their wings.

Then the courteous Waiter from 2-Star Rosette Restaurant – CYGNETURES – handed me a Menu of Gourmet Delights.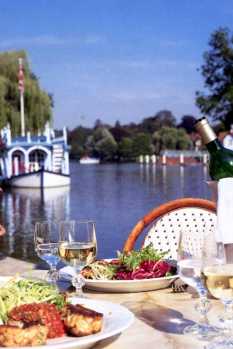 The Swan Caesar Salad is remarkable for its quality Cos Lettuce – so fresh, crisp and tasty, enhanced with garlic croutons, smoked bacon and marinated anchovies. The poached fillet of Salmon on apple, peach and oranges was SG healthy – I do like protein served with fruits and fruit juices.

I snoozed in the afternoon, a beatific smile on my face. For the more energetic, there are lots of options, Palladian Mansions, the closest being Basildon Park, or you can chat up the wild birds, which include, Peacocks, Flamingos and Parrots at Beale Park, 400 acres of Parkland and Water Meadows.

For the less energetic – why not put your feet up and watch life on the river banks softly pass by as you loll, or recline in one of the electric 8-seater Motor Launches. You can even take an afternoon Tea Hamper with strawberries and cream. But whatever happens leave room for Dinner in the charming Riverfront Restaurant.

From a choice of 8 starters the pan-fried Diver caught Scallops were succulent and juicy with added fruits. (Minus the Diver). For the main course, Gressingham Duck Breast with braised lentils, Spring vegetables and duck juice. Spoil yourself, with a Rhubarb and custard Soufflé.

At 10 pm I retired to the Terrace, where I sipped coffee and a Grand Armagnac . If like me, you live to eat, do stay overnight in one of their luxurious bedrooms and dream of your next indulgence, which might be: GETTING MARRIED.

The Magdalen College Barge – a unique venue where you can have a Wedding Ceremony and Reception, which can include a Bucks Fizz Breakfast in bed the next morning. Or SWAN IT at a THEMED WEEKEND, Music at Leisure, Wine Dinners, Racing at Newbury Racecourse. Take your pick.

HEADLINES for SMOKERS

A Television Company is reported to be making a film called The Smoking Room. After Dinner, gentlemen retired to the Smoking Room whilst their ladies retired to loosen their corsets. Cigars, cigarettes and trolleys of drinks aided and abetted masculine style chatter and quips.

In this health conscious Society, how about a film called Exercises for Smokers. My last book was Champagne Exercises – how to eat it on and exercise it off.

If you want to interview me about this original, exercise concept, and report it for your national newspaper or magazine, contact me:

[email protected]




Happy Bubbles

Joan