Glas-ton-buryyyy!! As people seem to say a lot at the Glastonbury festival when they've had too much drink - drugs - other! This year again, there where quite a lot good bands - Oasis, Paul McCartney, Muse, Franz Ferdinand, Joss Stone, Nelly Furtado, etc. In the line up forthree days of music mayhem. Though as always the main action for us is what's going on backstage in the 'VIP' enclosure. OK the bands are nice to shoot but there's little money in it. Though I got a picture of Paul McCartney performing - sadly not on Heather! in OK! magazine from the festival it is a rarerity. So I concentrated in snapping the guests/celebs who made the trek.

Celebs spotted backstage included SIENNA MILLER, KATE MOSS, EDITH BOWMAN, CAT DEELEY, SADIE FROST, JENNY FROST, RHYS IFANS, NICK MORAN, Travis's FRAN HEALY and ESTHER RANTZEN! This year's 'must get pic' was starlet/tartlet SIENNA MILLER who rose to fame by being associated with JUDE LAW and actor NICK MORAN - wasn't going to get her ANYWHERE lets face it! I've had as much film work offered to me in the past few years - none - than him. Though amazingly they are still together - her and Jude - and its been a few months!!! In showbiz terms they are essentially married. Pretty Sienna has ousted KATE MOSS as the new glamour girl. Yes, I took lots of pics of KATE MOSS but thanks to JUDE LAW - who wasn't there - SIENNA MILLER was the hot ticket. Yes, the celebs were hardly big names - apart from 'oh I'm soooo famous' Kate who, would you believe, stared at the ground all the time she was being photographed at the festival so as not to give us a good usable frame. Remember Kate, WE gave you the fame and thus squillions, be grateful you prat - but who else would go to a stench ridden festival? - Alright you try and cater for a town with the population the size of Bristol with no underground sewage system plus lots of rain.. Don't weep for me dear readers I stayed in a hotel nearby - Funny how SIENNA MILLER grabbed the headlines - thanks to us - and the next day SADIE FROST suddenly appeared and was showing off her new toy boy JACKSON SCOTT. Sadie, having been dumped by JUDE LAW for a far prettier woman well over ten years younger than her, - who allegedly moans far less than her, and perhaps groans more? - was determined to pretend that she was over Jude. Yes, like that was going to work. In the end 'I'm not bitter' - yeah right - Sadie and Sienna hugged each other in the VIP tent to bury the hatchet in a wonderful act of sisterhood........ahhh. I nearly didn't spill my beer.

In this week's ES magazine front cover there is SADIE FROST with JACKSON SCOTT with the headline: 'What Sadie did next' Who gives a XXXX!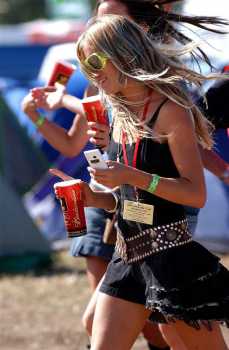 Sienna Miller (Copyright Joe Alvarez)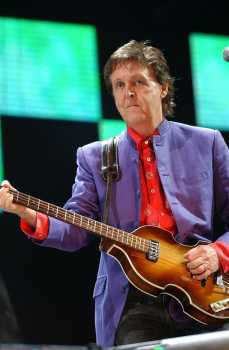 Paul McCartney Copyright Joe Alvarez




This month was full of premieres and in one week we had three. Spiderman 2 was THE premier of this month. It had the best line up of celebs such as: KIRSTEN DUNST, TOBEY MAGUIRE, LENNY KRAVITZ, CLAUDIA SCHIFFER with hubby MATTHEW VAUGHN, JENSON BUTTON with girlfriend LOUISE GRIFFITHS, RACHEL STEVENS, ZOË LUCKER, ISABELLA HERVEY, news reader NATASHA KAPLINSKI, Queen's BRIAN MAY with squeeze ANITA DOBSON and SAMANTHA MUMBA -amongst others- with a £5 million diamond encrusted dress in the shape of a spider's web. This dress grabbed the attention of the press at the expense of the 'proper' actors who did so well in the film. That's why there are no pics of Samantha here. She's had far too much exposure considering she had NOTHING to do with the film.

KIRSTEN DUNST looked great in a white Chanel dress. Tobey looked a bit boring in a suit as do most blokes in them. LENNY KRAVITZ however, just looked pure rock all in denim with a studded jacket, hat and shades. Not bad. For those who had not been entertained by the sight of SAMANTHA MUMBA's diamond dress -complimented by the cellulite on her thighs- there was a further treat; lunatic unfunny comedy 'terrorist' AARON BARSCHAK trying to climb up the balcony of the Odeon cinema. He failed to break in and spoil proceedings and was marched off in handcuffs. The film itself was great fun though Tobey's acting seemed 'wooden' at times. Well worth the visit though.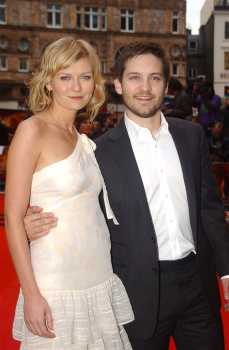 Kirsten Dunst and Tobey Maguire (Copyright Joe Alvarez)




Also just enough space for a quick mention of the KING ARTHUR premiere held at the Empire Leicester Square in London.Lots of celeby types turned up which included star of the film KEIRA KNIGHTLY, PRINCESS MICHAEL of KENT, RAY WINSTONE, SOPHIE ANDERTON and ABI TITMUSS. THUNDERBIRDS premiere was colourful with Penelope - SOPHIA MYLES - turning up in the actual pink limo though no big celebs bothered to attend.......

Over and out. See ya next month.

JOE ALVAREZ


[email protected]