It's the season to be jolly, party and chill.

I have no idea where this year has gone. But I am thankful for it being an improvement on some of the others that we have had recently.

I do feel that this country may be economically turning a corner for the good....fingers crossed, as I do know that people have and are continuing to struggle to carry on their daily lives.

I wish everyone a fantastic festive season shared with their loved ones.

Here's what I have been up to since my last column. Hopefully. it's diversity provides everyone with something of personal interest.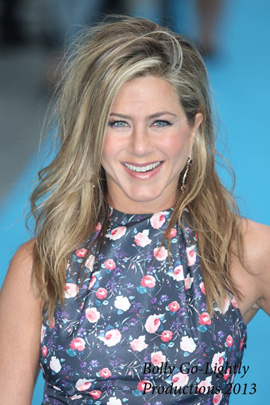 We Are The Millers - European premiere - Odeon West End

It's been a while since everyone's friend, JENNIFER ANISTON graced the red carpet in Leicester Square.

This quirky film entailed Jen portraying a stripper. I am sure this helped secure maximum box office ticket sales, and was a brave thing for her to do, assuming that she had no statutory "body double" in place.

Although MISS ANISTON's timing makes her a great comedy actress, it would be great to see her act in something serious and challenging again.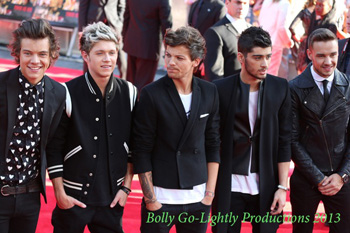 One Direction. This is Us World Premiere - Leicester Square

I don't get it, but clearly millions around the world do. ONE DIRECTION have become extremely sizzling hot property in the music business. Who would ever have predicted that a band formed from X-Factor boot camp rejected soloists would have such a meteoric rise to global domination. Anyone with a marketing muscle in their body knows, this creates an endless multitude of opportunities to print money...and why not. The longevity of boy bands tends to be rare, so maximising the moment is essential.

I only have to go back to THE OSMONDS to know that when they all get engaged and married or have artistic differences, they will probably bcome a distant memory stored as a "growing up experience" for all those adoring adolescent girls who camped out for days to see them.

Good luck to LIAM, HARRY, NIALL, ZAYNE and LOUIS, as they pay the price for their success both through a lack of privacy and lack of welcome spaces in their diaries.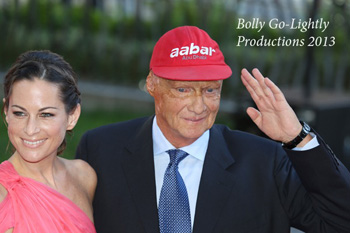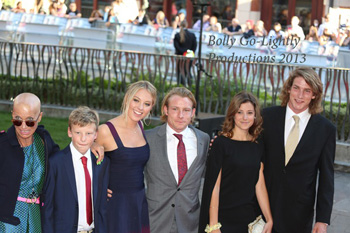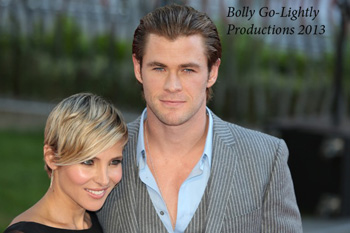 Rush World premiere - Leicester Square

Whatever anyone says, however consistently talented a driver SEBASTIEN VETTEL is, he has killed my enjoyment of watching F1 for the last couple of seasons.

I always loved the drivers' emotional knuckle ride journey through the season in order to secure the world title in the last race. Everyone remembers LEWIS HAMILTON winning his on the uphill last corner of The Brazilian Grand Prix in 2008.

But, however significant this turned out to be for the Brit, the greatest adrenaline duels were when cars and the circuits they raced on were more considerably more dangerous. Obviously, safety is paramount, but technology does seem to have neutralised the competition.

This film goes back to 1976 when another Brit successfully achieved immortal greatness. This season had everything in it: amazing driving, a life threatening fire engulfing crash, a comeback, the loss of nerve in adverse driving conditions vs serial womanising and heady nights of excessive drinking. A season when a friendship between two of the sports then diverse characters was built on a foundation of mutual respect. You couldn't have a better script to work with if you had written it from scratch.

The premiere sadly reminded me that we don't look after our heroes, for whilst NIKKI LAUDA attended, JAMES HUNT's absence sadly rekindled memories of a dashing world title driver who sadly died aged 45 penniless and homeless.

RON HOWARD has a knack of creating a celluloid tour de force from unusual significant stories. I haven't seen the film, but if it is as good as the award winning "Senna", it will be a tour de force.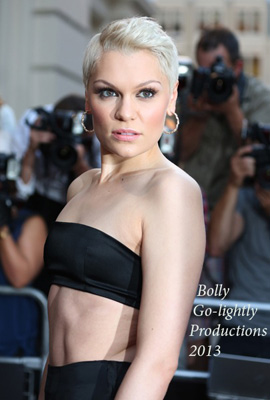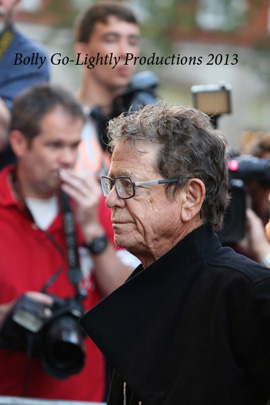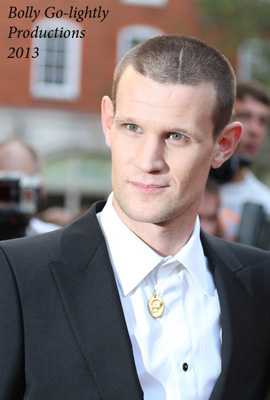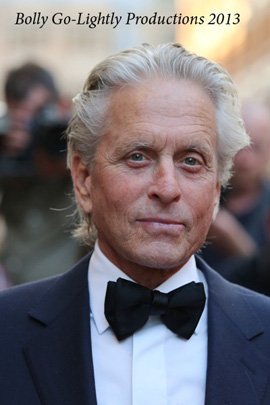 GQ Awards - The Royal Opera House

It's always a lottery as a press photographer to cover this event.
The list of attendees remains a secret until you are in position alongside the red carpet.
It is an "edgy and highly fashionable" award ceremony. This was easily demonstrated this year by the fact that both MICHAEL DOUGLAS and JUSTIN TIMBERLAKE attended. How surreal is that. It was also one of the last public attendances of LOU REED before he passed away.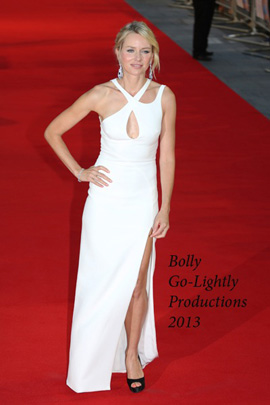 Diana world premiere The Odeon Leicester Square

I started my photography career at the pinnacle of PRINCESS DIANA's life. I am not on the Royal Rota, so my opportunity to photograph this royal icon was limited. My most memorable time of photographing the princess was on her last birthday at Tate Britain and sadly, the sea of floral tributes outside both London Palaces in the days after her death just a couple of months later.

Although the Royal family have successfully dealt with the collateral damage from her divorce from PRINCE CHARLES and her shocking early demise, I still don't think the British public are ready for a film concerning The Peoples' Princess. Including artistic licence of facts is a risky path to tread, especially about someone that we all think that we knew something about.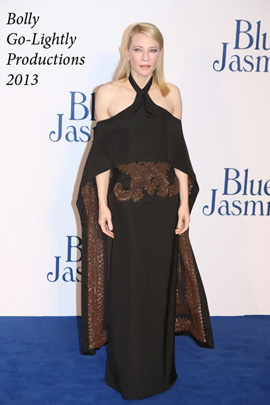 Blue Jasmine European premiere - Odeon West End

WOODY ALLEN continues to create interesting stories around day-to-day human relationships and the intricate webs that they weave. Ensuing critical reviews indicate that CATE BLANCHETT has mastered yet another memorable role of Oscar nomination quality. This talented style icon is always both a joy to photograph as well as to watch at work on the big screen.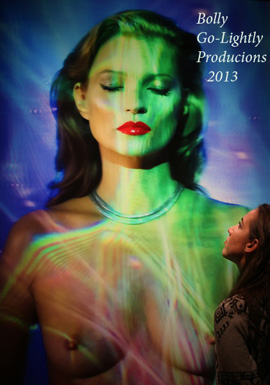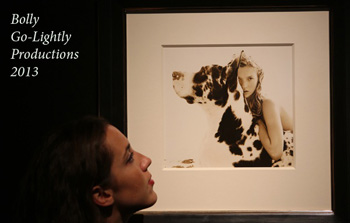 Kate Moss collection by Gurt Elfering- Christies, King Street

I got permission to photograph this large and eclectic collection of portrayals of probably our country's most famous model, before they went under the hammer.

I have never photographed her in person, but many of the pieces that I saw at the show rooms have become as famous as the fashionista from Croydon herself.

If I were KATE MOSS, I would be very proud to have had my image recorded forever by these talented and imaginative artists. The career of KATE MOSS looks to be never ending, so no doubt this volume of creative representation will continue to increase.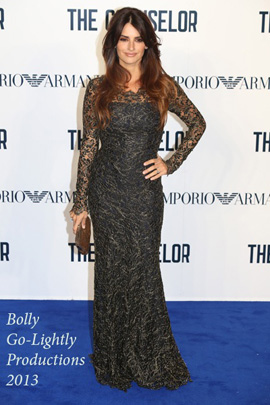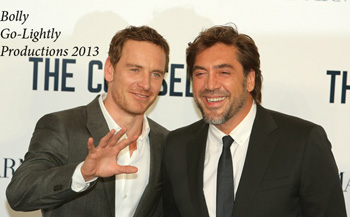 The Counsellor - UK premiere - Odeon West End

What a cast of A-listers this film has: FASSBENDER, PITT, BARDEM, DIAZ and CRUZ..... A casting team's dream would be an understatement. Shame that Spanish spouses JAVIER BARDEM and PENELOPE CRUZ arrived separately. It would be nice to think that the reason for this was breastfeeding LUNA ENCINAS took priority.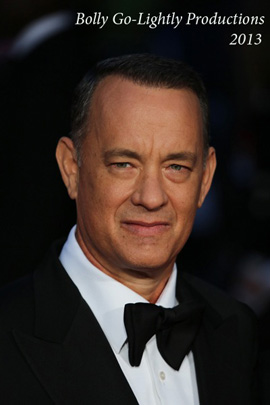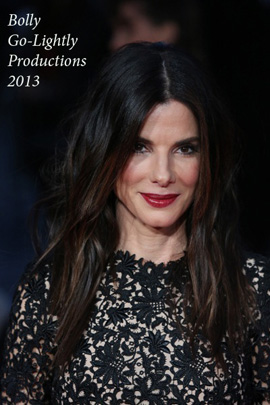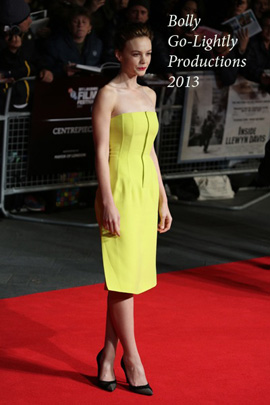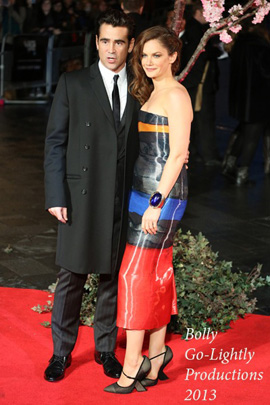 BFI London Film Festival - Leicester Square.

For a change London's awful seasonal weather held off in the main for this event.
The number of modern day galactic movie star attendees was limited though. TOM HANKS ( who took the BFI baton from GEORGE CLOONEY by opening and closing the festival ) could be back to winning ways in 2014 for his role as CAPTAIN RICHARD PHILLPS.
I wouldn't be surprised if he leaves with a clutch of awards and an OSCAR.

Other stars of significance were SANDRA BULLOCK in the sci-fi film "Gravity", who arrived in a stunning STELLA MCCARTNEY lace dress. I have seen the trailer and my heart was in mouth. The prospect of floating helplessly in space confined in a space suit would be a nightmare. The stunning backdrop of Earth just highlight's SANDRA BULLOCK'S miserably frightening plight. Claustrophobia and vertigo sufferers beware.

My other favourite best dressed actresses during the festival were CAREY MULLIGAN in a structured yellow DIOR dress worn to the premiere for the COEN BROTHERS new film "Inside Llewyn Davis" and RUTH WILSON for wearing a controversial CHRISTIAN DIOR dress to the premiere of "Saving Mr Banks" whilst giggling with an unusually suave COLIN FARRELL.

The biggest enthusiastic crowd support award went to DANIEL RADCLIFFE for "Kill Your Darlings" and the runner up was DAME JUDI DENCH for "Philomena"

A low profile attendance of "Drinking Buddies" by the talented ANNA KENDRICK is also worth a mention.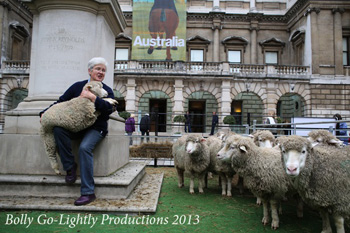 Sheep at The Royal Academy

Australia week takes many forms of celebration, usually at a popular watering hole crammed to the rafters with Antipodeans.

However, when it comes to art, The Royal Academy went one further by letting a herd of sheep live in the courtyard, a mere stone's throw from the central London traffic artery called Piccadilly. Very surreal but cute bit of living art.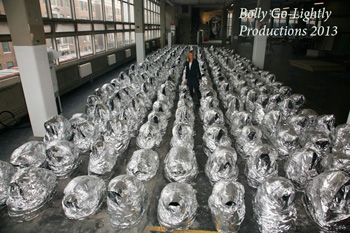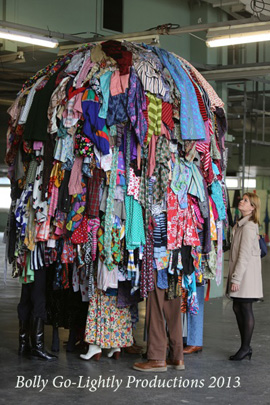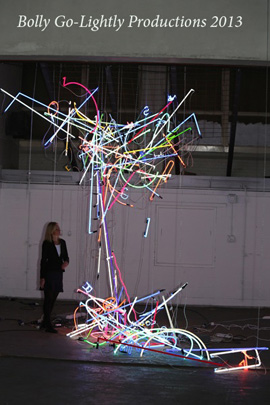 Thinking Big - Christies, King Street

Normally a fine art preview of auction lots takes place in a highly secure, well lit showroom. Not this one. CHARLES SAATCHI' s collection of art is so big that it would be impossible to show these groundbreaking modern urban art installations in this way...so Christies "went urban" by hiring a multi storey warehouse space ( The Sorting Office ) near Tottenham Court Rd, donning their "hoodies" over their suits in order to keep warm in this concrete sheath.

My favourite's were KADER ATTIA's "Ghost", ANSELM REYLE's "untitled" neon light installation and GUERRA DE LA PAZ's "Nine"...the ultimate pile of vibrant clothes.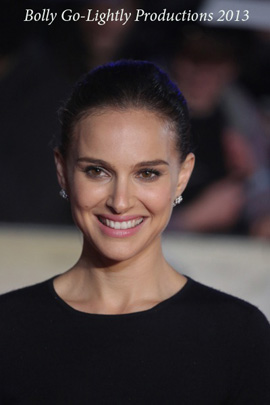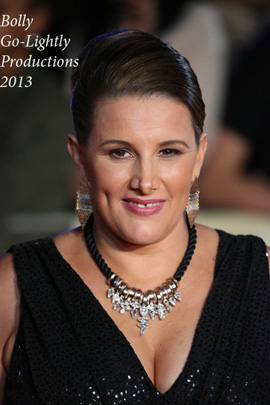 Thor. The Dark World premiere - Leicester Square

Everyone knew that it was going to rain...so why let an arriving NATALIE PORTMAN walk away from her photo opportunity to perambulate around Leicester Square for an hour, to return for her photos in a downpour? Frustrating. In fact the whole event was this for the photographers.

Who thinks it's a good idea to have a car turning circle which traverses the area in front of the press pen. Nothing worse than getting stars and guests to have to wait for cars to pass by before posing up. Not sure what the X-FACTOR finalists thought of this drawn out and unsafe procedure.

A shame as this is a huge film with an interesting cast of "in" movie stars such as CHRIS HEMSWORTH, TOM HIDDLESTON and IDRIS ELBA who acted out a large amount of this film in London locations.

All proves that it is always important to plan wisely and think the logistics through to their inevitable conclusion.

I am sure that there was an interesting PR meeting after this event to ensure that neither of these things would happen again.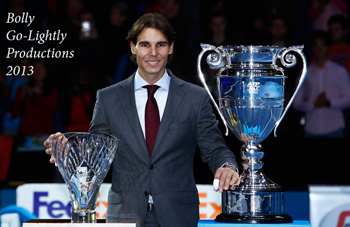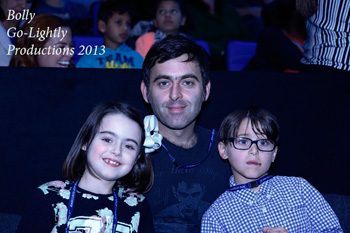 Barclays ATP World Tour Finals - O2

The ultimate ATP annual grand slam took place at the beginning of November, watched by the regular clutch of sportsmen. Great to see RONNIE O'SULLIVAN there. I am a great admirer of the genius of the green baize.

All my friends know that I am a massive RAFAEL NADAL fan, I nervously crossed off the two matches that he needed to win during the week in order to secure the World No 1 slot.
What a year for him. Coming back from a career threatening injury to take the top spot.

The Spaniard's least favourite surface seems to be the indoor court so it was no done deal that he would win these two crucial matches. He has never won this tournament and sadly, I think he ran out of gas for the final ( bit like me ). This meant NOVAK DJOKOVIC steam rollered over him and another opportunity to win this elusive title disappeared into the arena ether.

This amazing comeback from a career threatening injury means that he get my vote for BBC Overseas sports Personality of the Year award. Get voting everyone.

The other question consolidated at the event has to be.... what will become of ROGER FEDERER in 2014?
Wlll he bounce back or finally hang up his tennis apparel to call time on an illustrious career to spend more time with CHARLENE RIVA and MYLA ROSE, dusting his 17 major titles won-to-date?

Who knows what 2014 has in store for ROGER and RAFA, as it does for each and everyone one of us.

Fingers crossed it is good things regrading your health, wealth and mental state.

Take care and see you soon