In October we launched my book, MY LEFT BOOB: A CANCER.DIARY . It sold out on the night, we were on THE WRIGHT STUFF and LIZZIE CUNDY'S OK report, not to mention all the diaries and a 5 star review in THE DAILY EXPRESS. So we were thrilled.
The magnificent PETER STRINGFELLOW generously donated his beautiful club ANGELS where the champagne flowed and the delicious canapes were to die for.





We hope you like this issue's cover of DAVID CAMERON and our own lovely columnist VALERIE AUSTIN author and hypnotherapist. We think it adds a certain Je ne sais quoi, especially after our recent Baroness Thatcher cover.


It's always good to have an autumn break and this year my family and I went ISTANBUL where we had a fab time visiting all the mosques and the bazaars.
We stayed at the beautiful ERESIN CROWN Hotel on the old side of Istanbul - +90 212.638 4428 -

THE ERESIN is a lovely old family run hotel with a nice shaded terrace where I was able to sit when it got too hot. Here is a picture of Jade and I admiring our own jewellery by LOVE & LILLY which we decided was far superior to that we found in the Grand Bazaar, as exciting as that was! Naturally we are perched on the shady ERISON Terrace with a hot and cold runninng drinks service.............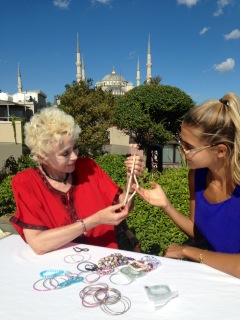 They are making a film of the thrilling INFERNO,DAN BROWN'S latest hit novel and the crew were staying at the ERESIN. Can't wait for it to come out!


When we returned from the fabulous ERESIN we decided it was time to keep up the pampering having had such a lovely time in Turkey. So I tottered off to THE VILLAGE OF BEAUTY, 'the best beauty salon in the west! Bang bang!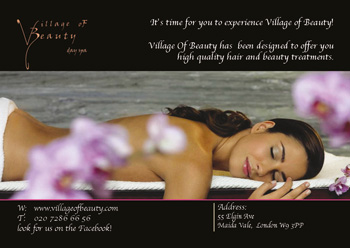 INDIVIDUAL EYELASHES / VILLAGE OF BEAUTY:
"Knightsbridge's loss is Maida Vale's gain," says my good friend fashion Guru Vivien King-Lawless. She highly recommends Kamilla co owner of Village of Beauty and former Harrods beautician. Vivien said "I swim under water most days, and am amazed that the individual lashes applied by the beautiful Kamilla at Village of Beauty stay on and still look fabulous. Many people have commented on them and my friends at the Aqua class where I swim are now all converts.".

10% DISCOUNT FROM VILLAGE OF BEAUTY IF YOU MENTION HOT GOSSIP


I also had a soothing facial and excellent manicure with Maria, the girl with great hands from, CETUEM, the luxury skincare collection for which JADE and I endorse the Mother And Daughter range.

JADE and I, at our respective ages both use the CETUEM Gold Serum, the Gold Toner and the Gold Illuminating Liquid to give our skins a glow. We are avid fans and our skin is better than ever before.
CETUEM.COM


Medically I am extremely lucky that my own hypno, VAL AUSTIN of the world famous VALERIE AUSTIN TECHNIQUE has been in the UK recently and available to me. I think she nearly had a fit when she saw me in the hospital, white as a sheet at practically at death's door..! but VAL looked after my sleep which has made all the difference.

VAL has been focusing on cancer help with hypnosis and what part diets play and I am so pleased to say that I have seen excellent results with the simple work . As VAL is a nutritionist as well as a hypnotherapist, I have also followed her cancer eating advice which really works well.

She has just helped me with my sleeping as I was in great pain and having trouble sleeping. This is what VAL has to say about my case:

"I am especially proud of my work with Sally Farmiloe, who has been exceptionally brave with the return of her cancer. However, the good news is that she has been able to pull through some very aggressive medical procedures proving the point that determination and a will to live is paramount. We (Sally and I) worked with helping her to sleep as this was very important for her and of course the healing and she was able to fall asleep with the hypnosis either via phone or one-to-one at the hospital. That is the beauty of hypnosis you can create a trigger so you can work via phone or Skype. Sometimes patients are just too ill to Skype so the old fashioned phone works well. I have just come off the phone to Sally and she sounds so much better and she is now up and editing the next Hot Gossip.com proving how much better she feels."


Congrats to my fun mate STEVEN SMITH who has added another string to his bow. Successful author and celebrity hair stylist STEPHEN (who attends to my locks in their new shortened form) has also gone into modelling.

Here's what STEPHEN has to say:
"Two years ago I was doing what I do best - judging Brighton's next top model. That sort of role always seemed to come naturally to me and the event was organised by a striking lady called Angel Sinclair, a former model and director of Models of Diversity.

Models of Diversity campaigns for more diversity in fashion and beauty and wants the industry to recognise the beauty in women and men of all races, ages, sizes, shapes and abilities. Their mission is to change the face of fashion and modelling. When I met Angel it was love at first sight and we worked well together.

Two days later she phoned me. "I meant to say that you're gorgeous and want you on my books in the mature models section I'm launching," she said.

I just laughed and politely declined but Angel has the tenacity of a Rottweiler with a bone, she just wouldn't give up. So a few months later I was suited and booted and standing before the legendary photographer James Lyons. Even then I feared I would be handed a hefty bill but Angel told me that good agents never charge for pictures and I was really chuffed with the results."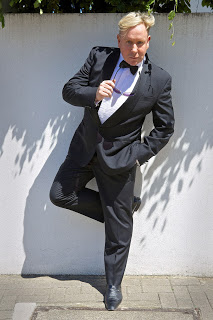 http://www.lyonphotography.co.uk



www.sonicpond.co.uk/clients/stevensmith.html
asksteve2cu.blogspot.co.uk
www.stevenswords.co.uk
amzn.to/10ng3IU
twitter.com/asksteve2c
on.fb.me/10EUtg

STEPHEN asked me to give him 5 tips for his blog about keeping well while ill in bed, poss 'home alone' much of the time.

1. you can use olive oil on the face and hair to moisturise and condition. (Some people fancy coconut oil but it is much less likely to be found in the kitchen cupboard!)

2. keep as fit as poss by climbing the stairs if you have a house or walking around a flat.

3. keep muscle tone up by using baked bean - or whatever - tins to work out with.

4. eat and drink well to keep up your strength

5. if you find it hard to have a bath or shower, strip wash - it is worth avoiding a (another) accident.



JADE'S RESTAURANT OF THE MONTH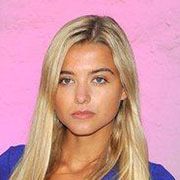 BODOS SCHLOSS

Winter is here and the snow is looming, so tis the season to get down to Kensington's Bodo's Schloss. Best known as the latest hangout for clubbing (opening just over a year ago) Bodo's is an alpine inspired cub, bar and restaurant. I went down with three girlfriends to check out the food. You feel like you're walking into a beautiful ski hotel, everything made out of wood, low lighting, skis and other such skiing attire fixed on the walls, fire places and even a ski bubble designed as a personal DJ booth! The menu is German, offering things such as schnitzels and sauerkraut; the latter being translated as 'sour cabbage' which was a surprisingly nice side to our main courses. For starters we tried a few things, the stand out dish being the mussels. They were perfectly meaty and the sauce was rich and creamy; very moorish!

For main courses we opted for some traditional German dishes, a traditional American dish; burger in a sweet brioche bun (the meat was cooked as asked) and the sea bass. The sea bass came with savoy cabbage and a lovely artichoke puree; which I wish there was more of! The house dumpling with sausage was tender and tasty and thoroughly enjoyed, as was the classic veal schnitzel, which was rustically presented in a steel pan. Bodo's Schloss certainly excels with their German dishes, making the experience that much more authentic! There are some fabulous cocktails on offer as well. If you're looking for a vodka-champagne based drink with plenty of sweetness from fruit purees; 'Corbet's Couloir' is the one. For more of a spicy and unusual choice; 'A.C.T. the fool' is your go to!



Thank you for reading my column.

Please write to me at:

[email protected]



and check out my other websites:

www.sallyfarmiloe.com

www.kazzyandsally.tv