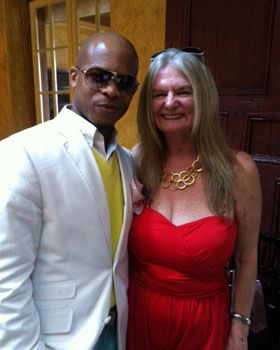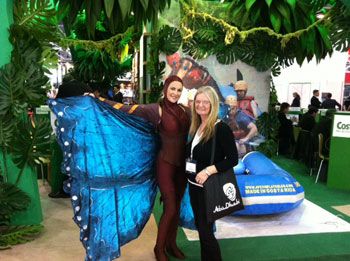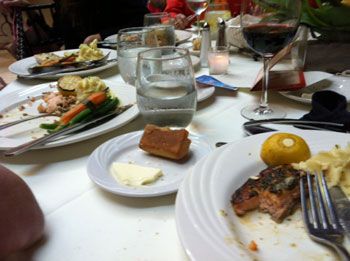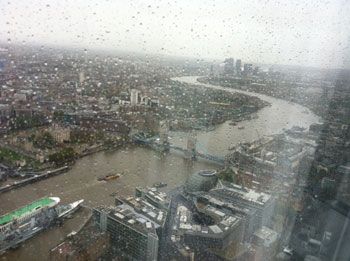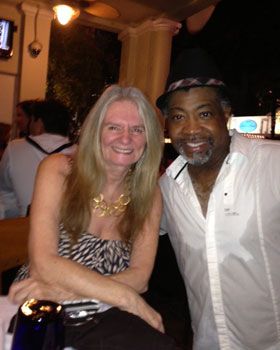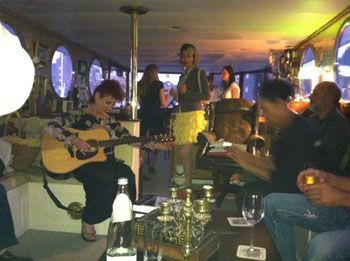 Picture Credits:

1. Valerie Austin with Xavier Lewis singer from 'Americas got Talent'
2. At one of the exotic stands at the Press day at the World Travel Market in London where I have been invited back to my favorite Island in Malaysia, Langkawie where I wrote my fist book 'Self Hypnosis'.
3. Demonstrating the food left on 'all' the tables in this very expensive elegant restaurant. I believe it was a combination of the ladies taking care of themselves and the portions were enormous chief take note.
4. The famous Shard at a pre-press breakfast pre-opening showing how beautiful the view from the top is even in the rain- very worthwhile experience.
5. Wesley and Valerie Austin. Wesley played the trumpet for Michael Jackson for 6 years and is a great singer and entertainer. He has lots of great stories about Michael Jackson.
6. A summer party in London with a wonderful singer of Edith Piaf songs. Since Edith Piaf is linked to my yacht and considered her 'love boat' it was certainly a trip down memory lane.


Parties Galore:

Well, the party season is really upon us now and I had the pleasure of attending two fun parties yesterday. One was the annual pledging luncheon for the Unicorn Children's Foundation, the other in the same evening which was a very original charity party held at Macy's department store.

The Unicorn Children's Foundation is run by a small number of incredible women who work tirelessly to raise money. They have so far raised in excess of $3,000,000. Part of these funds have been used to open a small wing at The Nova University of South Florida for Autism and children with learning disabilities. At one of their magnificent gala events alone they raised $1,000,000.a truly impressive sum. Of course it was at Donald Trumps Mar-a-Lago in Palm Beach. The next major fundraiser will once again be held at Mar-a-Lago on March 16th the Buddha Ball, I can't wait! At an earlier ball auction Unicorn had two new BMW's donated along with numerous other incredible auction prizes, all this through the hard work, dedication and contacts of the committee members. It is my favorite charity as it is not only glamorous, but the people are really terrific.

They also had the amazing 'America's Got Talent' singer Xavier Lewis who announced he was giving 70% of the 'total' sales of his record 'Give Back' to Unicorn. You can listen to the song on the link https://plus.google.com/114447671366269128560/posts/6gfSUf8Krm1
Or google Unicorn Give Back song.

The song is great and upbeat and free to listen to just after the few seconds introduction. You can also download the song to support the charity for 99c. It is wexoorth watching as everyone is chipping in to help.

Xavier is true philanthropist; he estimates if they make a million sales (which is possible) the charity will get $750,000. He also added it is a gift for the life of the song. Great innovative ideas where everyone wins.

He was introduced by the new Chairperson for the Buddha Ball, Max Tucci, another young philanthropist, radio disc Jockey and a highly successful businessman with his own restaurants, fashion label, TV show etc etc... He is also recognized as one of Gotham Magazine's "100 Most Eligible Bachelors." His life is amazing you can Google him to see his incredible achievements.


Great PR idea:

The second party in the same evening was at the elegant Galleria held by Macy's. It attracted around 600 people and all the ticket money at $50 (VIP $75) apiece went directly to the charity of your choice. Each charity had booths at the entrance where you paid and the restaurants and wine bars in the Galleria Mall had stands supplying the food and drink in the large event room. There was plenty for everyone and the catering was of exceptionally high quality.

But what created such a crowd and cheers was the runway with successful local gentlemen who had volunteered to take to the catwalk and strut their stuff among the well-heeled cheering women. They started rather shyly but it didn't take long for them to warm up. In the end they only wore robes and boxer shorts; the crowd was going wild. All great fun and a really good time was had by all. If you visit my facebook there is a video of the party. The very elegant anchor from channel 10 was a good sport who set the pace.

Linking food with longevity.
World's foremost experts discuss aging

In the US depression of 1929 it was observed that people lived longer by 6 years.

It is only just now being taken seriously, say the experts. Restricting food was first proven to work with rats, demonstrating that if you severely restrict rats on what they eat they live much longer and healthier. Now it is very different. "Even dogs are dying sooner" expressed one of the experts. This is likely to be because of the changes in our food, which is now much more chemically adjusted to extend shelf life, not to mention the stronger pesticides, hormone enhancements in beef or the excess use of antibioses in chickens.

In a very interesting documentary, which included several professors from Universities including Cornell University, it showed the extensive research carried out with harshly restricting the food intake of people. It explained how amazing it was how something so simple can have such an impact. It documented people on a 1900 calorie-a-day diet eating just healthy food with lots of fruit and vegetables, in fact a mountain of fruit. Since 95% of the nutrition is in the skin this diet was rich in nutrition and low in calories.

Prof Louigy went so far as to say: "These people look like a different species." And I had to admit they did look healthy and well and certainly not anorexic or too thin, just slim and fit. In fact like the average person used to look up to around 2000.

And furthermore it was said that it is 'impossible' to develop stroke or heart failure with this type of diet. It was pointed out that a change of diet could prevent a large portion of deaths in the UK.


TIPS:

Cruise to Lose:

I have been asked to organize a five day 'Weight Loss' cruise in February from Miami to the Caribbean. It is for both the hypnotherapist that would like to learn my technique and also for those of you who want to learn how to stay trim or get in shape using hypnosis. If you want to stay trim, lose some or a lot of weight, this would be a wonderful opportunity to have daily hour-long seminars and the opportunity to have professional hypnotherapists for a one-to-one therapy on one of the fantastic ships that sail from Miami. The hypnotherapist will have a two day workshop semina where I teach my highly successful weight loss technique. The price for the hypnotherapy training will added to the price of the cruise but for the want-to-be slimmer who gets the complimentary therapy will have this inclusive of the cruise. Email me on

[email protected]

for more information.

What's going on in fasting?

When scientists examined the brains when fasting they discovered that the new brain cells trigger the growth of new nerve cells. Fasting stresses your brain matter in a positive way like exercise stresses the muscles. But fasting should be done with expert advice and then it can be so very healthy.

If you haven't heard yet the simple way to lower your blood pressure, if you are only sleeping 7 hours or less, go to bed an hour earlier is a the advice from a study by Harvard Medical School in Boston.

If you are interested in keeping up with the harm pesticides do here is a link: http://writemark.blogspot.co.uk/2012/10/masking-truth-are-residents-of-billinge.html?spref=fb


Learn Self-Hypnosis with my apps on the iPhone APP store.

I have all my books, even with audio, selling as apps for the iPhone so just type in my name in the iTunes store and you should find around 18 to choose from ranging from 'Hypnotize your Bank Manager' (which is one of the free apps). Right after the software developer designed the software (and of course having to listen to the hypnotic recording several times) he got the backing for his company to go public so it worked for him. Also available are 'Grief', 'Fear of Flying', 'Attracting the Right partner' and 'Stop Drinking' which had a good review in the iPad Apps Directory.

You can check about my training on a new career in hypnosis on http://www.austinhypnotherapytraining.com/
Or email me at

[email protected]




Eds Note: VALERIE AUSTIN is an author of six successful self-help books including SELF HYPNOSIS (Thorsons), journalist and trainer with an international reputation in the field of hypnosis. Her best-selling books and training help people achieve their full potential. She founded the Austin Corporate Stress Management Company focusing on reducing stress and anxiety amongst executives and CEO's. She is also founder of UKRAH (1992) The UK Register of Advanced Hypnotherapy. Valerie has also worked as a consultant in hypnosis at the Priory Hospital, the UK's equivalent to The Betty Ford Clinic, which specialises in food addiction and alcohol abuse. Her work in the film industry (Hollywood) interviewing movers and shakers, producing TV news segments and publishing celebrity magazines in London gave her invaluable experience for her current Harley Street practice.