Hello Everyone.

This was an eclectic autumnal run up to the festive period of homely comfort.
After an unusually busy monumental Olympic summer, this has been the normal tiring season of long, damp and chilly hours as the dark nights close in and wintry sniffles collectively tap press photographers on the shoulder.

I thought that I would try to cover at least 2 things that I have never done before. Events that were completely outside the box and not really part of my daily world.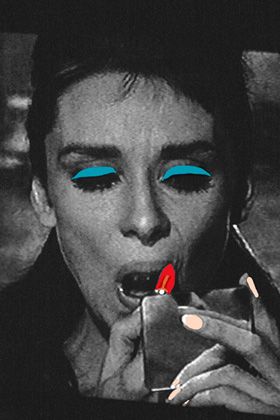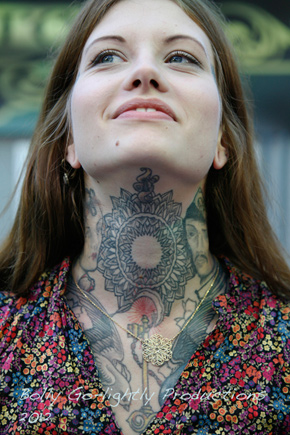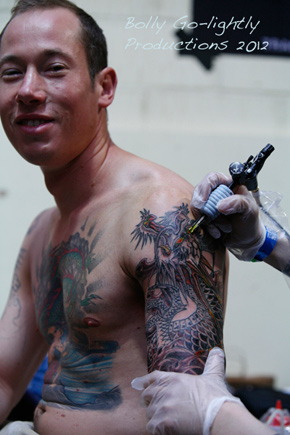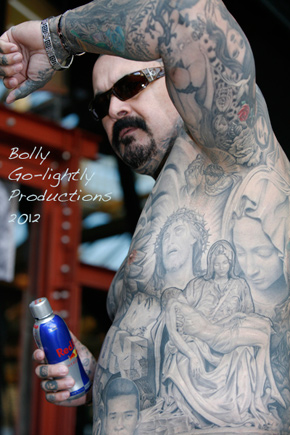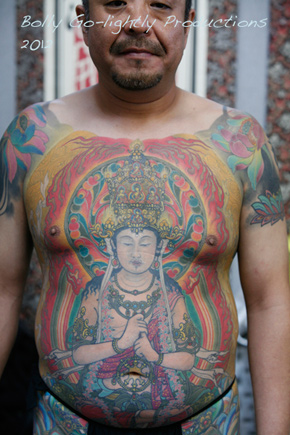 LONDON TATTOO CONVENTION - TOBACCO DOCK
Both my photographic adventures were triggered by colleague conversations.
The first was in direct conflict to my persona. Not only is my body absent of any tattoos, but it took an ex flat-mate to escort me to a salon to get my ears pierced a few years ago.

An ex-boyfriend was a walking piece of art which grew as time passed in our relationship. It became his personal addiction and a sense of pride every time he added to it.
I liked some elements of his personal imagery, but others I found an acquired taste, not of my liking.

This cavernous location was packed with all walks of life with one thing in common, their love of body art. In this "other world" it was fascinating to see lifelong completed creations on show or being inked from cerebral thought processes before my eyes. I still think, regardless of how amazing some of these tattoos were, that they will not be a good look on a wrinkly OAP...I am going to stick to rub on transfers.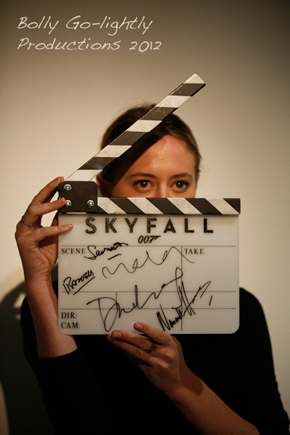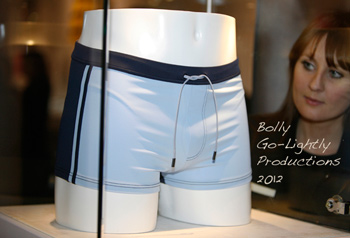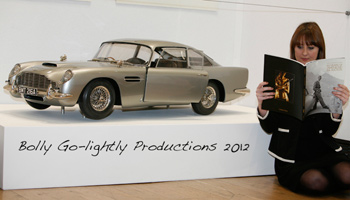 CHRISTIES CHARITY BOND AUCTION - 85 OLD BROMPTON ROAD
In 1962 Doctor No and Sean Connery started the global love affair we have with a certain British agent called 007.
Over the last fifty years the anticipation to see the latest celluloid chapter has not waned. Leading up to the world premiere of Skyfall many Bond events took place. My favourite was to photograph the lots in this amazing auction. I knew the Daniel Craig La Perla swimming trunks would attract a lot of attention ( sold for £44,450 ), regardless of the fact that they were dry and being worn by a mannequin. But my favourite car was not the Quantum of Solace Aston Martin DBS ( even though it is a fab car and sold for £241,250 ). It was outclassed by the amazing large model of the hotly anticipated return of the classic 1965 silver Aston Martin DB5 ( sold for £61,250 ). If I ever won the lottery, a real version of this car would be high on my wish list.

Fab auction which raised £889,000 for great charitable causes.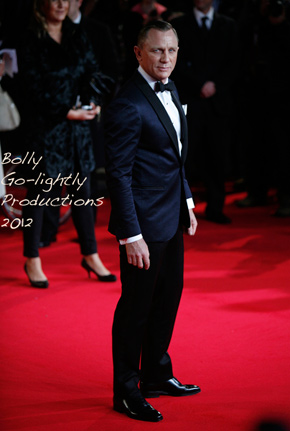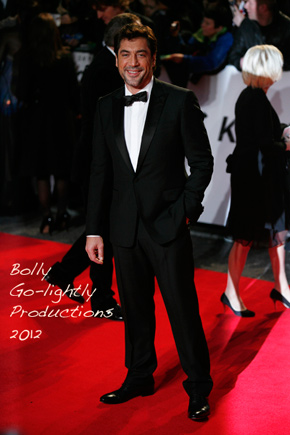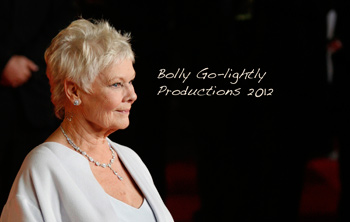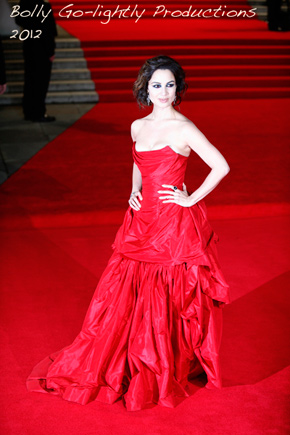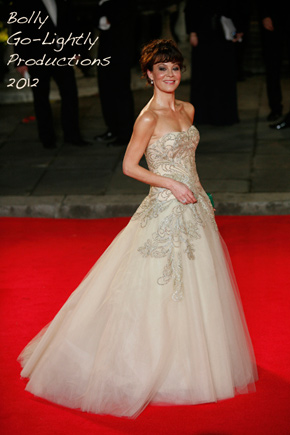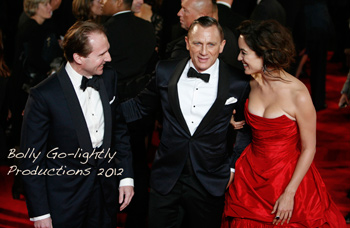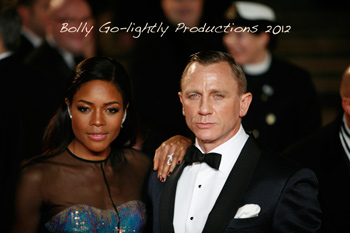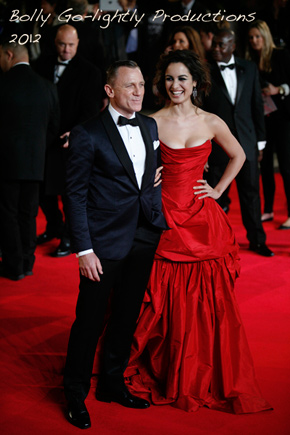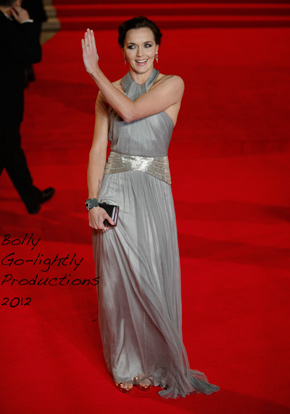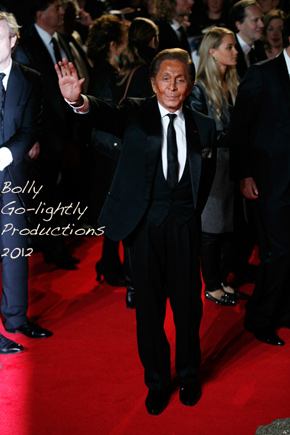 SKYFALL WORLD PREMIERE - ROYAL ALBERT HALL
Talking of which...what a fab long evening of style and nostalgia ( shame about the editing time afterwards! ). Like all bond premieres, A list stars were in abundance on ( DANIEL CRAIG, DAME JUDI DENCH, JAVIER BARDEM, NAOMIE HARRIS, BERENICE MARLOHE, NAOMI CAMPBELL AND HELEN MCCRORY, the long red carpet leading up the impressive steps into this iconic homage to The Royal Consort. Everyone loves a bond film regardless of who they are and what they do. I was a bit disappointed that RACHEL WEISZ chose to hide in the ROYAL ALBERT HALL instead of accompanying her husband on the red carpet.

This is my favourite venue for film premieres as it is beautiful and lends itself so well to large premieres. I find Leicester Square bland, too busy and lacking in glamour for Hollywood icons to visit. Although the recent revamp is nice, I find it disappointing that the cinemas did not get financially involved enough to then completely metamorphose the square into a purpose built film premiere area for the capital.

I love the bond films and have been looking forward to seeing this latest adventure as DANIEL CRAIG is a great Bond, and JAVIER BARDEM is a superb actor. I was not disappointed, the chase scene in Morocco was great, DAME JUDI DENCH was fantastic, BARDEM is one of the best Bond villains that I have ever seen....and the return of the DB5 and the ensuing Scottish photography was superb. Highly recommended.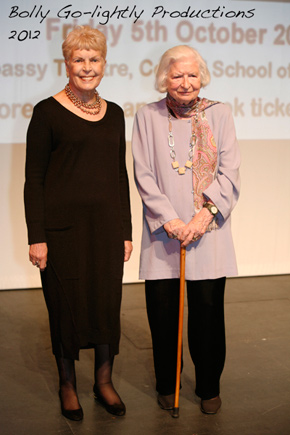 RUTH RENDELL CBE and PD JAMES OBE - HAMPSTEAD
As a massive crime thriller fan and more specifically a huge fan of both PATRICIA CORNWALL and PD JAMES, there was no way that I was going to miss this one.
The rain didn't dampen my spirits as I left SWISS COTTAGE tube and walked the short distance to THE CENTRAL SCHOOL OF SPEECH AND DRAMA. RUTH RENDELL and PHYLLIS JAMES have been great friends for years, so it was no surprise that PD JAMES would support her friend's charity "LITTLE HEART MATTERS", for children with severe heart matters.

Sadly I didn't stay for the talk, as I had cat duties, but I did leave with edited images sent and a signed PD JAMES' novel in my bag.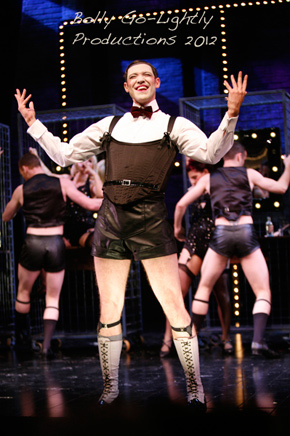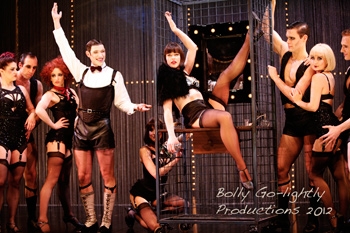 CABARET - THE SAVOY THEATRE
I love this theatre as it is an amazing example of art deco at its best. You can imagine HERCULE POIROT sitting in a quiet corner of the bar area, closely observing fellow theatre goers.

This production has a great cast in the form of WILL YOUNG and MICHELLE RYAN.
The photo call was packed with photographers, so I had to stand on a chair in my bare feet, and to the amusement of others, I slowly slid into the gap of the folded chair, to be literally eaten by a cushion!

The production looks great with amazing costumes and choreography. I did get to talk about it with WILL YOUNG when he came to watch the tennis and he confirmed my opinion, that this is a must see. I am aiming to go and watch it over the Christmas period.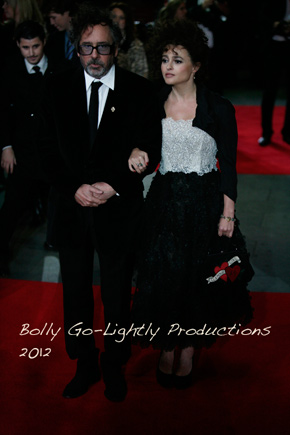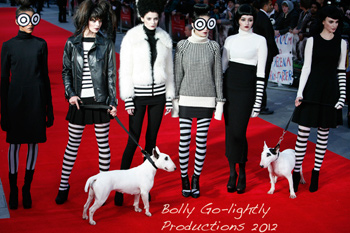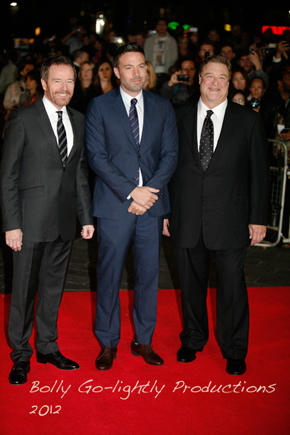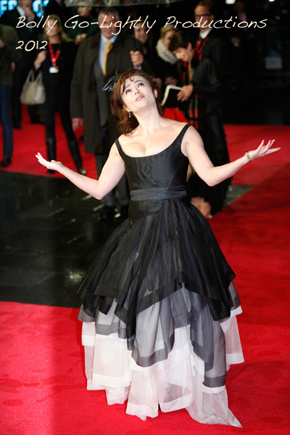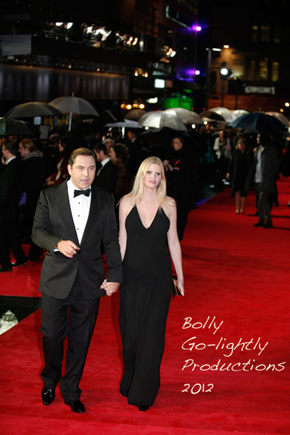 BFI LONDON FILM FESTIVAL - LEICESTER SQUARE
October is always a very long month as there are back to premieres every evening after early morning photo calls for over a week.
It's a bit like Marmite to a press photographer as it involves long nights out in the autumnal night air working at an average of 3 premieres a night.
In the past the big movie stars have attended. Sadly, GEORGE CLOONEY decided two on the trot was enough, leaving us with 4 big premieres over the festival period. One of these was, and probably the largest, was not part of the festival calendar, and the other three were the opening and closing night films, and also a strong contender for the OSCARS next year.

FRANKENWEENIE opened the festival. TIM BURTON's new animated film has received good reviews, and began a week of honours galore for him and his long term partner HELENA BONHAM CARTER. GREAT EXPECTATIONS closed the festival. The latest remake of this CHARLES DICKENS classic looks great, and I am sure that HELENA BONHAM CARTER makes a great MISS HAVERSHAM.

ARGO is the film that the US is talking about. I am interested in seeing this film at some point, as this true story sounds curious. I am not a great BEN AFFLECK fan....but the plot line should surpass this stumbling block.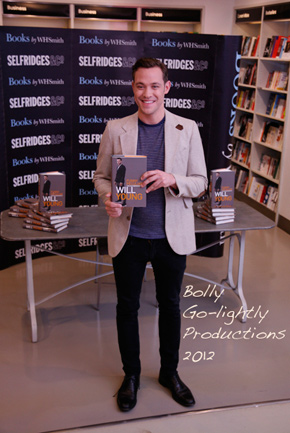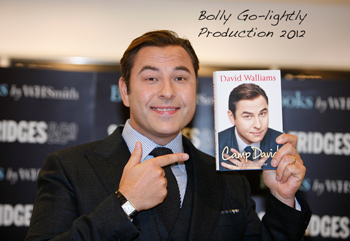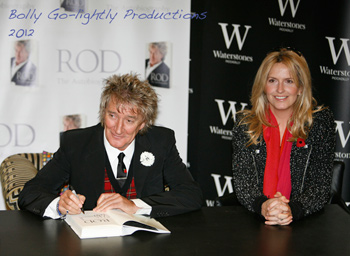 WILL YOUNG, DAVID WALLIAMS AND ROD STEWART - WATERSTONES AND SELFRIDGES
It's the time to be jolly and sign books for Christmas sales!

As you can expect, there are loads of these at this time of the year. The best 3 for me were these as they epitomised what I know about these individuals.
WILL YOUNG's was very controlled and quick, just like the photo opportunities offered at his gigs. Some celebrities control their media contact to the point that images get checked before they can be sent to agencies as a pre-cursor to the final journal printing process. WILL is one of these.

In contrast, others work the camera to maximise results. DAVID WALLIAMS definitely falls into this category.He is an endearing entertainer at all times, regardless of what he is doing.

Then we have the veteran entertainer with his horde of dedicated fans who follow him everywhere. ROD STEWART is an effortless promoter of his work. With his glamorous statuesque blonde wife ( PENNY LANCASTER ) in tow all bases were effortlessly covered.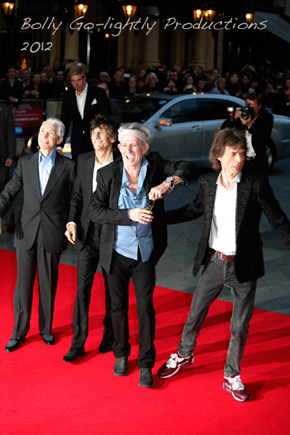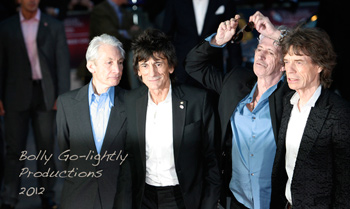 CROSSFIRE HURRICANE PREMIERE - ODEON LEICESTER SQUARE
Another iconic institution celebrated its 50th birthday this year: THE ROLLING STONES.
Sadly I missed the recent TV transmissions of this documentary.
Currently one of our greatest rock exports are playing at THE O2. This rolling cash machine continues to rock in its twilight years as MICK JAGGER struts his stuff in some of their more intimate gigs in years.

I have seen THE ROLLING STONES in the past and enjoyed seeing my favourites played, especially "PAINT IT BLACK", "EMOTIONAL RESCUE" and my all time favourite " GIMMEE SHELTER". For me, MICK JAGGER's athleticism has ensured that this show will continue performing on the global tour road that curves into rock heaven.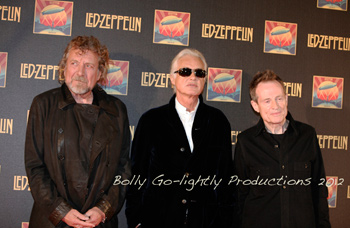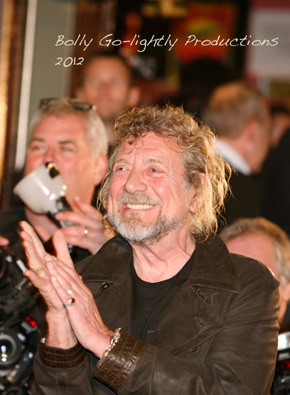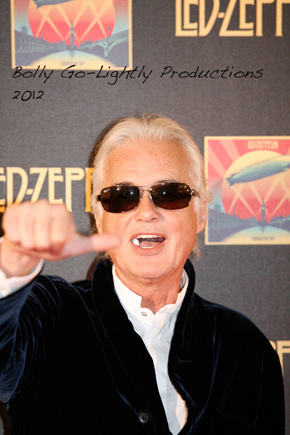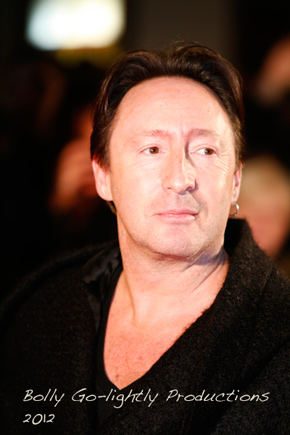 CELEBRATION DAY UK PREMIERE - HAMMERSMITH APOLLO
Another iconic veteran rock band have followed up their monumental one off 2007 gig at the O2 with a recording of this amazing event. I clearly recall that gig tickets were gold dust, and a lucky friend of mine said it was the best gig that he had ever seen.

Sadly, it looks like this band will not re-emerge as a unified unit from the flames of a Phoenix. Shame, as they are on my list of musical acts to see that I missed first time round. Looks like this is the closest I will get to "Stairway to heaven" and "Whole lotta love". Oh well...born in the wrong era.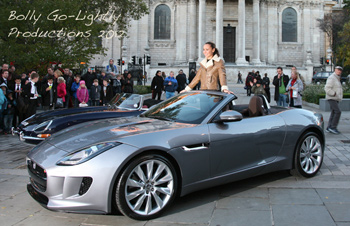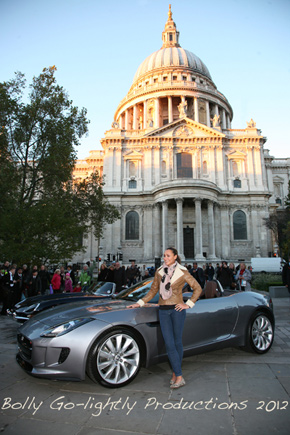 JESSICA ENNIS F-TYPE JAGUAR LAUNCH - ST PAUL'S CATHEDRAL
The 2012 Olympic darling is the Jaguar Academy Sports Ambassador so it makes sense that she would launch it prior to driving the car in THE LORD MAYOR'S PARADE.

It's a nice car, but my penchant for classic cars means that I personally prefer the E-TYPE.

Based on this press conference and TV show appearances since Super Saturday, I predict JESSICA ENNIS will have a long and interesting career in TV once she hangs up her athletic trainers. She has the looks and is thoroughly engaging and comfortable presenting to the press.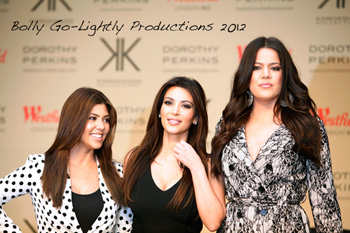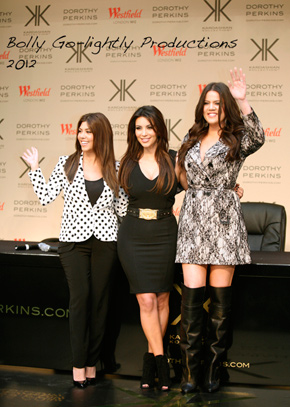 KARDASHIAN COLLECTION LAUNCH - WESTFIELD, WHITE CITY
As I have already mentioned in a previous column, I don't understand the appeal of THE KARDASHIANS. Yes, they are classic American beauties, but what happened to fame not for fame's sake?

SIR PHILLIP is a shrewd and astute businessman. In getting THE KARDASHIANS to design a collection, er I mean KOLLECTION for DEBENHAMs, he seems to have got a "retail banker" in a retail recession. In many ways this is a more lucrative deal than his relationship with KATE MOSS at TOP SHOP.

This early morning shoot was bigger than JUSTIN BIEBER when he came to turn the Christmas lights on a year ago. The shopping centre atrium was literally packed to the rafters with young screaming girls. Some had even camped overnight in the underground car park to see/meet the three sisters. On my arrival there were a lot of Metropolitan Police in deep discussion and an hour later it became increasingly clear that they were deeply concerned about one solid pen in which fans were being held.
It is very clear that this event only went ahead due to the negotiation skills of SIR PHILLIP GREEN who was on site. Security pulled girls out when needed and public announcements were made to try and instill calm.

Having historically worked as security at football matches and other public events, it is very apparent that this was probably the wrong type of pen for this type of event and that someone should have counted how many girls were being allowed access to this pen, as it probably was greater than it should have been. We all know the horrors of crowd dynamics in "locked areas". So soon after the recent news of THE HILLSBOROUGH findings, I can see why the police were concerned for the safety of these girls.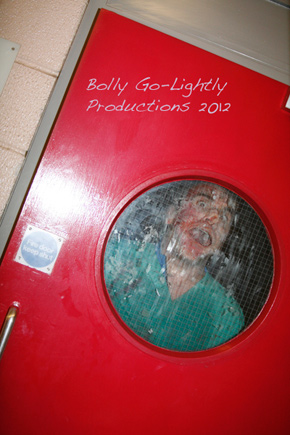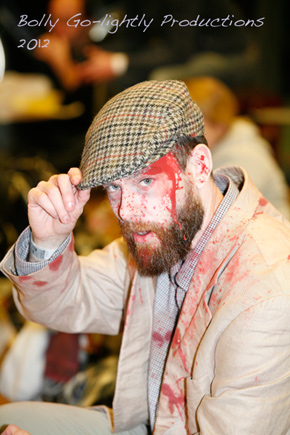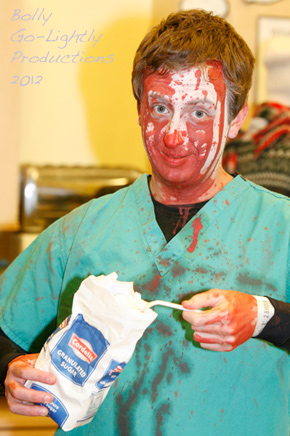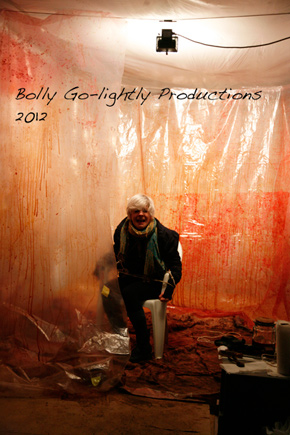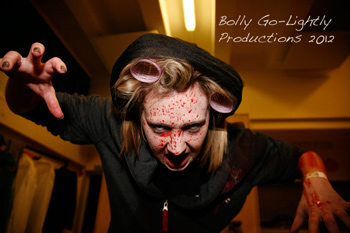 2.8 HOURS - ISLE OF DOGS
My second out of the box experience was a longer than 2.8 hours. This phenomenon has taken off in quite a big way, and the fact that it had been staged throughout several UK cities and was now doing 10 back to back nights in the capital speaks for itself. This is a real-life zombie game running parallel to daily city night life.

I had permission to take photos of the zombies being made up at a school close by to the start of this zonal game. It was great to see these larger than life horrific characters being created in a place of innocence. Quite surreal. Having done this, me and my ruck sack of photographic gear made my way to the start, near The Blackwall tunnel, with money and a mobile, just in case I got lost or missed the last tube back across London.

Paying members of the public had even dressed up to take part in this game of clues which wove around THE ISLE OF DOGS, laced with zombies en route to the finishing line of a sanctuary called The Zombie Disco. It was made very clear that this was a game in a public space and therefore "Buses were real buses not to be argued with", and that the Zombies were actors not to be attacked. I can see why this briefing was important, as emotionally you do go through the ringer in this game as you encounter these ghoulish characters, especially when you are chased by them in a multi storey car park, or in a dark field where they can chase you at full pelt.

The team of people I latched onto were great...helping each other at all times...especially me as I carried what seemed like an increasingly heavy bag around a freight container yard with a "murderer" in it, through a park, subway etc as the night wore on.

It was a great fun event which was clearly well organised, with security teams visible along large parts of the route. The only dampener was some stupid member of the public who decided it was a good idea to throw fireworks at some of the zombies standing at a bus stop. I challenged them and soon after this, fireworks were thrown at game participants by this nutter and his mates. Hopefully the police dealt with this, as they swiftly arrived at the scene. Quite ironic after the briefing that the real world negatively influenced the game, rather than the other way round.

Having shot images at the zombie disco, it was time to creep out early to catch the tube. with pretend blood on my face. No-one said anything to me until I made the change to the Piccadilly line at Green Park. It was nice to be asked if I was alright, shame no-one said it from Canary Wharf. I am sure the lack of reactions I received on this long journey home would not be repeated in any other part of the country. Is this endemic of a lack of consideration in the City, or more likely the fact that commuters see so many weird things on a daily basis that very little turns our heads?

I would love to see 2.8 hours stepping out of the urban jungle and into rural landscapes as I think a late night journey along bending country lanes, moonlit pathways and through dark woodland would be amazing. I remember making it down Helvellyn in the torchlit dark ( not recommended for obvious reasons ) with an ex boyfriend at Glenridding. He hid round a bend in the road and switched on a face up lighting torch with an accompanying " Boo" to scare the living daylights out of some unsuspecting tourists walking home from an evening meal and drink in the village. Simple but effective.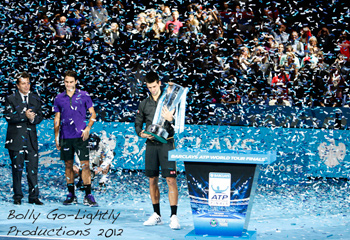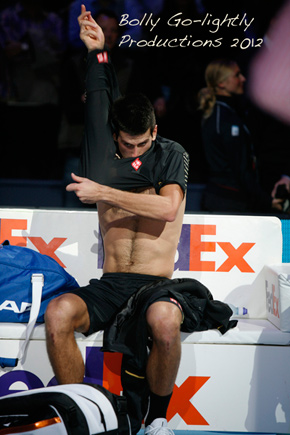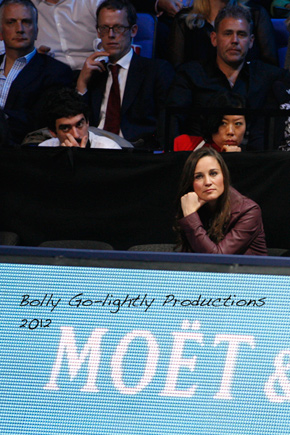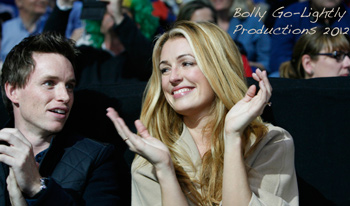 THE BARCLAYS ATP WORLD TOUR FINALS - THE O2 ARENA
A long 10 days took place, which caused me logistical problems on getting the cat out in the evenings. Luckily I have a great new flatmate and good friend who lives next door. The hours everyone covering this event clocks up is enormous, but then it is a global event and ultimately is the grand slam of all grand slams during the ATP singles and doubles annual calendar.

I love this event, even though I am trapped at this venue due to its location. ( I did get time to climb over the O2 during the week...which was a great experience. )
Sadly there was no RAFA this year as he is still injured after Wimbledon in the summer. But the final was a real humdinger of a match, with the right man winning I think. NOVAK DJOKOVIC was the only player not to have lost a match, whilst ROGER FEDERER as defending champion, had lost to JUAN MARTIN DEL POTRO before the final.

It's amazing to see how strong the Swiss fans presence was at this event throughout the week. Apparently they find it hard to buy tickets to see their hero in Switzerland and therefore block book here instead. You would think that for the ANDY MURRAY v ROGER FEDERER match that at least half the crowd in London would be partisan. Not so, ROGER won hands down...literally.

Sadly, I do feel that FEDERER fans, through their passion, consider that it is ROGER's destiny to win everything. They also applaud opponent mistakes, which is in my view, unsporting behaviour. So with a silent smile, I am afraid I willed NOVAK to win the ultimate prize on what will continue to be a BARCLAYS blue tennis court until at least 2014. As usual there were several premiere league footballers watching matches and "HRH" PIPPA MIDDLETON at the final. I do feel that has become more precious since I last saw her, being the only celebrity guest all week to refuse to have her photo taken, and ensuring that a steward stood in front of her at court changes.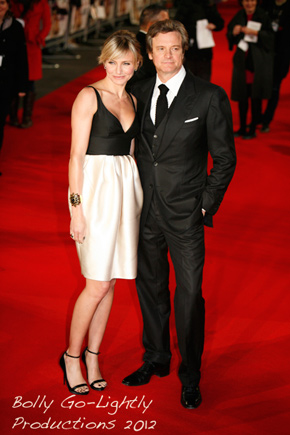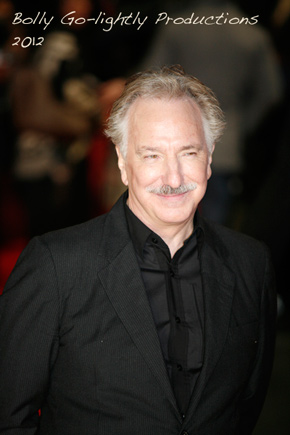 GAMBIT PREMIERE - THE EMPIRE
I haven't seen the original MICHAEL CAINE and Shirley MACLAINE original of this film so I can't comment on whether this is yet another remake that would find it impossible to top a great first attempt.

In this COEN BROTHERS written production an interesting group of actors are brought together. I would never have put a trouser less COLIN FIRTH and CAMERON DIAZ together as sparring buddies. We all know from BRIDGET JONES' DIARY that COLIN FIRTH is good at comedy, but I am not totally convinced in the chemistry on this one, especially after seeing the reviews.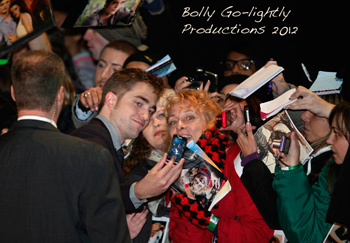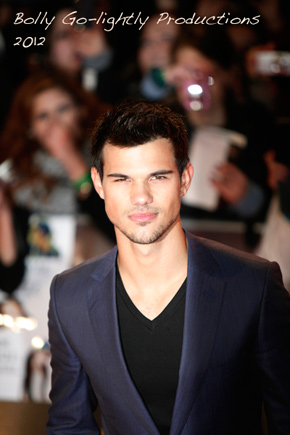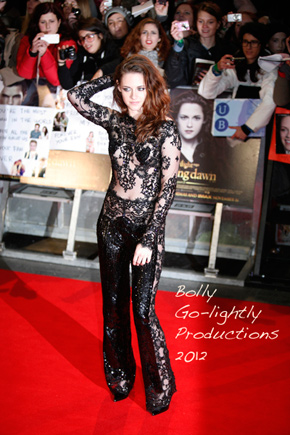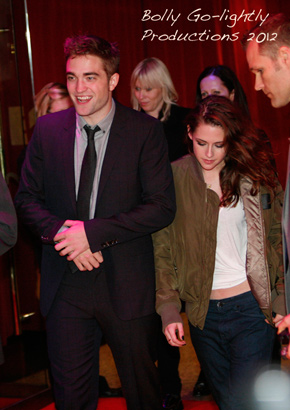 TWILIGHT BREAKING DAWN PT 2 - LEICESTER SQUARE
Well, like HARRY POTTER in 2011, another major clutch of films came to an end. As you can imagine, like all fans of sorcery, vampire and werewolf fans came from over the world and camped out in Leicester Square for this premiere.

Rumour has it that KRISTEN STEWART and ROBERT PATTINSON ( ex HARRY POTTER actor ), only got back together in order to promote this film after the break up of their relationship as a result of the "Trampire" ( See WILL FERRELL chat show rant ) incident of the summer. Watch this space to see how this pans out.

I have to say that I haven't actually seen any of these films, but clearly the multitude of female fans are going to miss beautiful vampires and werewolves fighting each other. Author STEPHENIE MEYER has a new film coming out soon about an alien, titled like her book: THE HOST. It will be interesting to see if it attracts the same level of attention as this massive celluloid franchise has.

Although this was a huge premiere, it's guest list was totally eclipsed ( pardon the pun ) by SKYFALL.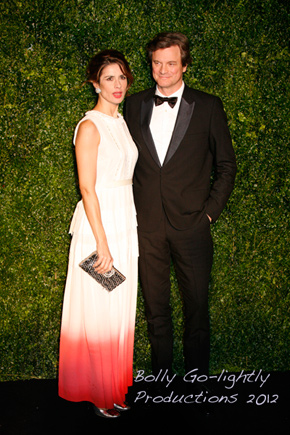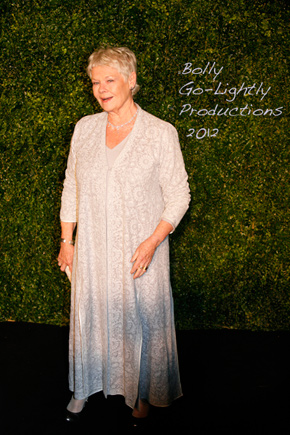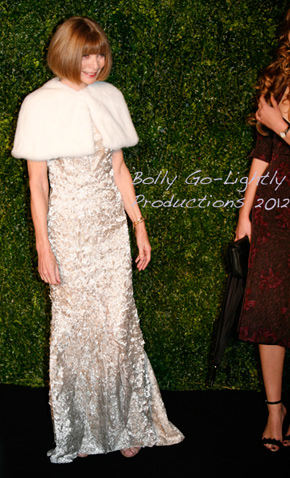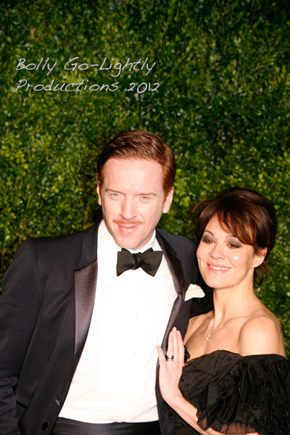 EVENING STANDARD THEATRE AWARDS - SAVOY HOTEL
Last year this event turned into a photographer bun-fight due to the lack of red carpet. There is nothing like the chaos that ensues when press photographers meet paparazzi. Which is why I get annoyed when press photographers get called 'paparrazi". For the LEVENSON record, we get invited and we don't stalk.

Thankfully this problem didn't happen this time as there were only a handful of press photographers at the end of a red carpet area, well away from the paparazzi who covered the car drop off area.

There was a good turn out for this BURBERRY sponsored event. COLIN FIRTH, DAME JUDI DENCH, ANNA WINTOUR, DAMIAN LEWIS, RUTH WILSON, MICHELLE RYAN and GEMMA ARTERTON to name but a few.
We missed the opportunity to take THOMAS HEATHERWICK's photo as he snuck in ( designer of the OLYMPIC CAULDRON ), but did catch DANNY BOYLE as he attended to receive a justifiable award for his opening Olympic show in the summer.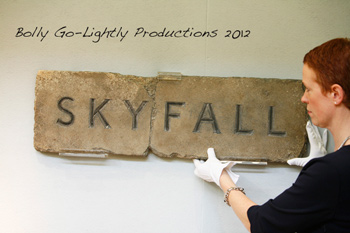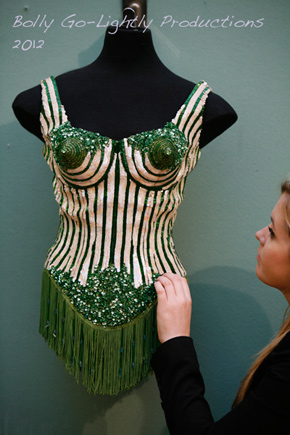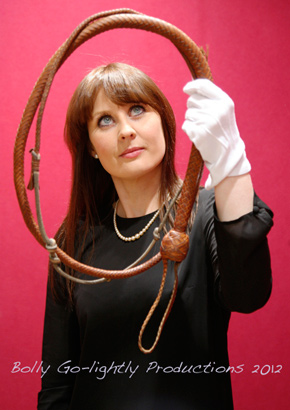 POP CULTURE AUCTION - CHRISTIES 85 OLD BROMPTON ROAD
This may turn out to be the final auction photography that I take for this year. It was an interesting one, with lots of entertainment significance. INDIANA JONES, THE BEATLES, WALT DISNEY, BOND, JIMI HENDRIX, ELVIS, BRITTANY SPEARS to name a few were represented by interesting lots such as ELVIS' final Christmas present before his death, and the famous bull whip from RAIDERS OF THE LOST ARK and a coffee shop found ANDY WARHOL signed dollar bill. My favourite lot is the MADONNA green and white beaded/sequinned JEAN PAUL GAULTIER bustier with the conical iconic look. Shame it is not my size as I fancy wearing this when popping out for a carton of skimmed milk!

It just leaves me to wish everyone a fantastic Christmas and New Year. Clearly the end of the recession is not nigh, but hopefully everyone can still celebrate all the seasonal festivities.

Take care.