The French Horn, Restaurant and Hotel
Sonning-on-Thamers, Berkshire, RG4 6TN
0118 969 2204 www.thefrenchhorn.co.uk

Tom Parker Bowles whose food/wine reviews I enjoy reading had a headline: Sublime and richly scented... it's time to stand up for duck. And I could not put it better.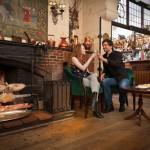 Where to find the best duck? The French Horn. They are spit roasted daily in front of the fireplace. Their Aylesbury Roast Duck is juicy, tasty and simply delicious. Classic dishes executed to perfection by Chef Josiane Diaga. The fresh ingredients speak for themselves too. Some of the Starters: Orkney scallops, asparagus, spiced Cornish Crab fishcake, homemade soup. A lot to choose from Dover sole, sea bass, lobster, steak, lamb, quail and of course the duck and much more. Their Crepes Suzette – another classic not often seen dessert – is highly recommended and flambéed at your table. Excellent wine selection as is to be expected.

The restaurant overlooks the terrace with its stunning views of the manicured gardens and the fast running waters of what I once heard a diner say: lovely creek only to be corrected by his host: that is the river Thames!





Run by brother and sister team the Emmanuels corroborate that family run establishments offer the best service, food and hospitality.

I strongly recommend you make it a two night stay. It is so beautiful and relaxing. The rooms are lovely, the breakfast superb, the staff professional and welcoming and the setting is unique. I hope to film here the scene of my next film SUMMER NIGHT, WINTER MOON, where our Editor in Chief, Sally Farmiloe-Neville and Sir Roger Moore will be sipping martinis in a tense but amusing scene.

Across the bridge from The French Horn is The Mill at Sonning (Theatre) Ltd.


The Mill
Sonning Eye, Reading RG4 0TY Ph 0118 969 8000

On week-ends, they offer good theatrical productions with dinner included. Extremely well organised and always full it is recommended to book. At £ 47 per person it is good value. A large buffet of good quality main dishes and lots of vegetables to choose from. Guests are ushered to their allocated tables where they find their theatre seat tickets. Pudding is brought to the table by young girls that look like aspiring actresses in the role of waitresses. Worth a visit.


St. Paul's Crypt, St Paul's Cathedral
St. Paul's Churchyard, London EC4M 8AD Ph 020 7248 2469 www.restaurantatstpauls.co.uk

Seldom one mentions a restaurant and everybody knows its location. But what not everybody knows is how good it is and indeed that it even exists. Fellow Stationers liverymen and I booked for lunch and took the area that can be seen in the picture. Whilst the service was slow the food made up for it. Head Chef Jamie Cairns offers innovative lunch and tea menus with a delightful range of dishes. (2 courses: £ 21.95 – 3: £ 25.95)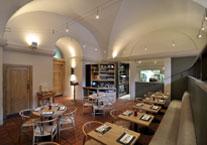 Interesting cocktails such as 'Britain in a glass' – Apple & Raspberry juice with English sparkling wine (£6.50) and English Apple Martini (£6.25) and to share: Homemade bread & pink peppercorn butter(£2.00), Pork crackling soldiers & Russet apple puree (£3.85).

I had: Potted pork shoulder, piccalilli & bloomer wafers, Haddock & smoked salmon sausage, baby spinach, hash brown & pink peppercorn hollandaise, Dark chocolate Trinity cream, clementine salad & pistachio wafers. Superb quality and beautifully presented. Wine: 2010 Leval Pinot Noir, Lanquedoc-Roussillon £23.50.


COTE Bistro
7-10 Sloane Square, London SW1W 8EG Ph 020 78815999 www.sloanesquarehotel.co.uk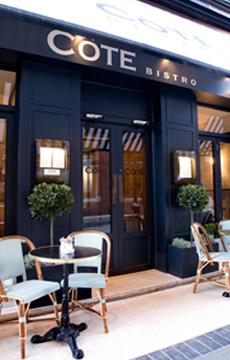 Prominently positioned in fashionable Sloane Square COTE acts as the restaurant for the boutique hotel next door: The Sloane Square. In fact guests of the hotel can charge their meals to their room.

COTE is part of a chain and obviously they have perfected their formula. Typical Parisian in atmosphere: informal, busy, the buzz is everywhere whether you are there for breakfast, lunch or dinner. Recommended: Mushroom Feuillete (£4.95), Cod Goujons (£10.95) -- the slices of cod were succulent and golden and the frites delicious. Tarte Fine aux Pommes (£5.25). Extensive wine and food menus just as you would find in a true French bistro.