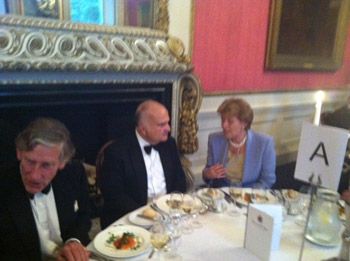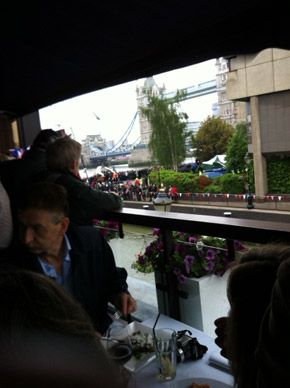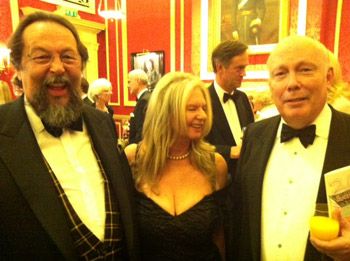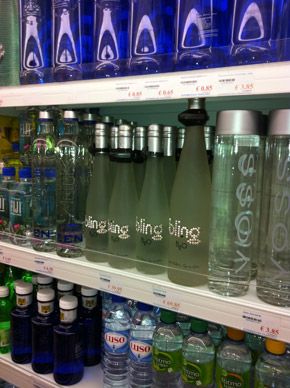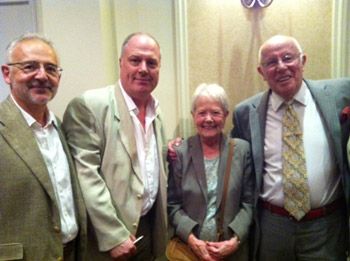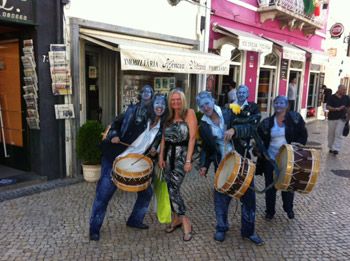 Pictures:

1. Price El Hassan bin Talal of Jordan sitting next to Lady Olga Maitland at the Navel and Military club dinner.
2. Lunch at the Yacht Club terrace watching the Royal Jubilee Parade
3. The Earl of Stockton, Valerie Austin and Julian Fellowes creator of Downton Abbey series
4. 'Bling' water £65 a bottle for someone that has everything
5. Can you spot these well know figures in the entertainment industry pictured at The Heritage lunch at the Marriot Hotel.
6. Valerie Austin with Portugal street drummers who just play free for their enjoyment.



As usual this year has been full of social events and parties. From the Royal Jubilee, Ascot and Henley Regatta to the many charities that thankfully don't seem to be too affected by the economic downturn.

The Defense and Security Forum held a wonderful dinner at The Naval & Military Club, and Lady Olga Maitland, the President of the DSF, was thrilled to have H.R.H. Prince El Hassan bin Talal of Jordan as our guest speaker. The Prince, a leading authority on all matters pertaining to the Middle East, is a highly sought after speaker, and after listening to him I know why. He is very well-informed, articulate and witty, and he had a captive audience with his insights on Jordan. My good friend Valerie Blondeau and I then headed to our favourite "watering hole" The Ritz Club where we enjoyed catching up on news from both sides of the pond over a glass of Ritz champagne!

Since my yacht is moored by Tower Bridge which was the starting point of the London Jubilee Parade I was able to take advantage of having lunch with a few friends at my local yacht club overlooking the Thames. It was a spectacular event but we were very glad to be undercover on the balcony as it pored with rain. I felt very proud to be a part of it.

Ascot was great this year but there weren't too many spectacular hats which was unusual. The weather was much better than previous years where it has been somewhat cold on the days I was there. This year I thought I would be away but at the last minute was able to go both days. Wednesday was ladies day, at the Royal enclosure with Sally Farmiloe, her lovely daughter who is also a model and family and friends,Thursday I party hopped to Parking Lot 1 where Champagne was flowing and the food was terrific. Special dishes included pheasant dip from my hosts' private estates and other delicious delights.

A very elegant annual event is Lady Torphichen of St John of Torphichen's Jubilee Gala Dinner held at the famous and elegant R.A.C club in London. Among the many elegant and influential guests was the Earl of Stockton and Julian Fellowes, The Lord Fellowes of West Stafford,DL and creator of the Downton Abbey series. I was in good company with MPs and actors on my table.

If you haven't guest who is in the picture, Richard Wilson is a much loved actor who is brilliant not only in comedy but serious drama. He is famous for 'One foot in the grave' with Annette Crosby, well known for his portrayal of the bad tempered Victor Meldrew and has also been in many other TV comedy series including 'A sharp Intake of Breath and 'Only when I laugh'. Currently working on fifth series of 'Merlin'. The Heritage lunch at the Marriot Hotel was to reminisce about the work of a truly remarkable actor. Vicky Michelle interviewed Richard Wilson on the stage after the lunch and many famous actors and celebrities attended the lunch to commemorate his work. To commemorating the unveiling of the memorial by the Queen for 55,00 Bomber Command it paid tribute to the soldiers who risked their lives in the last war. Robin Gibb founded the charity and died just before the unveiling. His son RJ attended the summer ball and spoke of the loss of his father and what the Bomber Command meant to him.


Portugal - Where you can be seriously Healthy

This summer I made my home in Portugal to get away from the crowds in London for the Olympics. I was able to stay with my husband at a friend's apartment for six weeks and found a lovely town Cascias that, for me, even rivalled the French Riviera. The area was a royal playground and you can find many Palaces and stately homes scattered around the area.

Whilst walking around the small town we saw a band of drummers. They were so unusually dressed and yet played so well. You can see by the picture above how strange they looked, notice the yellow rubber glove stuck on one of their shoulders. They just went round the streets playing and letting people take photos of them. They were not trying to collect money and I asked them why they were doing it. They replied, "We just like to play." You can watch a video I took of them on my Facebook page.


Exotic and Healthy Eating

I visited a fabulous 5 star Tivoli Palacio De Seteais hotel in the lovely town of Sintra, Portugal, a special spiritual place high up in the hills. It's one of the most elegant hotels I have ever been to and I have been to quite a few. It is known for hosting Royalty, but it keeps a low profile, and so we decided to treat ourselves to dinner.

I was amazed to see that they had a special on for a week of all organic (Bio as it is called in Europe) food. Everything on the menu was organic. The prices were no more expensive than eating at many of the up market restaurants around Portugal. We finished off with a Port the country is famous for. The wine waiter told us that 2005 is the best year for port or wine and everyone is waiting for it to be released as it is thought to be a perfect year something to look forward to for wine lovers.

When I enquired about this promotion we were told that their produce was from my favorite bio supermarket that we buy from. This chain of stores, which has opened up several branches in and around Lisbon, are elegant and everything in the store is organic. It is a wonderful experience to not have to worry if the food or produce is full of chemicals.

Upon enquiring how this promotion came about I was told that the hotel hired the best chef in Portugal to organise the menu and train their own well-known chef for this particular week's special promotion which I thought was pretty cool. The results were amazing. The food was terrific and healthy; just a great experience.


Healthy Fashionable Exercise

I have been going to a fabulous health club while on holiday called, 'Holmes Place' it was taken over by Virgin and it is their premier health club I was told. In my opinion it is only second to the Monte Carlo health club (in the Hotel de Paris, Monaco). If I were to design a health club I could not do it better.
It is amazing how exercise can help damaged knees and legs. I could hardly walk down stairs before I came and now I am doing it easily.
If you have damaged knees do try to find expert help in exercising before you go for surgery. It takes effort but it is worth it.

I couldn't believe the difference in my body and health with just under 3 weeks of going to the health club and exercising for an hour and a half three times a week. Being in Cascais, Portugal means I can also eat 100% organic food, even in restaurants. I am lucky that my husband has been exercising 2-3 times a week for most of his life so he can instruct me. I have decided to keep it up now and my attitude has certainly improved from a total dislike of exercising to 'not' disliking it. I would actually like to get to liking it in time. I really don't have a choice as my knee was damaged in several accidents and I have the choice of walking badly with pain or to strengthen my legs with exercise and walking normally without pain.

I noticed that there were a lot of very attractive people, both men and women, seriously working out in attractive exercise gear. I found out it's the fashion to be fit here, and it reminded me of a modern version of the 80's fitness fad and the song, "Physical" by Olivia Newton John. It certainly made exercising more interesting.

I enjoy this particular health club so much as it has an extra service. It has about six professional helpers that check up on you and make sure you have all the coaching you need at no extra cost. This constant help is unusual because normally you have to pay for personal trainers. They have those as well but this way you are always sure of help. This is a great service that I have not seen in either the US or the UK.

I noticed in the news there is a new pill that they say can save thousands of lives from stokes and heart attacks, generally caused by an unhealthy life style and chemicals in the food. However, the British Heart Foundation gives words of caution, "This research only studies a small amount of people so we need to see more large scale trials" so don't get too excited there still isn't a miracle pill out there.


Water medicine

Did you know that in France different types of water were prescribed for different types of medical conditions and the mineral content of the various natural spring waters varied? For example someone with a gall bladder condition was recommended Vichy water. At the turn of the century it was normal for people to visit selected spas for their illnesses and would also drink the water.

I just came across the high-end quality water bottle in one of our favorite stores in Portugal. The water was created by Hollywood writer-producer Kevin G. Boyd and given to actors and selected sports celebrities. It costs £65 here which is certainly a 'bling' price. Since the bottles are decorated with Swarovski crystals maybe it's a present for someone who has everything. See tips at the end of the article for best times to drink water that maximizes its effectiveness.


Tips:

Drinking water at a certain time maximizes its effectiveness on the body:
2 glasses of water after waking up - helps activate internal organs
1 glass of water 30 minutes before a meal - helps digestion
1 glass of water before taking a bath - helps lower blood pressure
1 glass of water before going to bed - avoids stroke or

If you are planning some aesthetic treatment or cosmetic surgery there is a site that helps people to make the right choices and as a platform for men and women to share their experiences and recommendations: www.TreatmentAdviser.com

Finally:
I do hope you will link to my website for my September 8-9th conference (www.austinhypnotherapyconference.com). If you have any interest in hypnosis it's a must. Even if you are not a hypnosis professional or hypnotherapist you'll find something interesting to learn. The speakers are first rate with a wealth of experience and knowledge to impart. Some of last year's attendees came along as an introduction to hypnosis and came away very well informed with knowledge and techniques they could apply in their own lives.
Check out Valerie's website on www.valerieaustin.com or email at

[email protected]




Eds Note: VALERIE AUSTIN is an author of six successful self-help books including SELF HYPNOSIS (Thorsons), journalist and trainer with an international reputation in the field of hypnosis. Her best-selling books and training help people achieve their full potential. She founded the Austin Corporate Stress Management Company focusing on reducing stress and anxiety amongst executives and CEO's. She is also founder of UKRAH (1992) The UK Register of Advanced Hypnotherapy. Valerie has also worked as a consultant in hypnosis at the Priory Hospital, the UK's equivalent to The Betty Ford Clinic, which specialises in food addiction and alcohol abuse. Her work in the film industry (Hollywood) interviewing movers and shakers, producing TV news segments and publishing celebrity magazines in London gave her invaluable experience for her current Harley Street practice.