Hi Everybody,

As you can see from my column this issue things have been a bit hectic.
Hope you have been keeping dry in this wet summer of ours.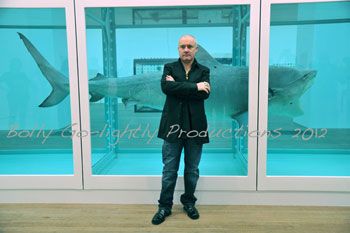 DAMIEN HIRST EXHIBITION- TATE MODERN

According to the critics, DAMIEN HIRST is the great pretender selling art at hyper-inflated prices around the globe. But like all controversial figures, there is a flip side to criticism, as the public love him, flocking in their droves to patiently queue at The Tate Modern to view the first major retrospective of his work.

I have always been fascinated by his ideas, and I did like most of the exhibition...especially the butterfly room. Having a walk-in installation of wall to wall evolution was fascinating. But looking back, this was probably because I love colourful butterflies. But what had I seen...was it really art?

What confirmed this niggling doubt was the contents of the accompanying TV programme with NOEL FIELDING. Now I feel robbed.

Call me old fashioned, but a great master is the person who creates the art from concept to the painstakingly final tangible immortalisation of its perfect portrayal. Would we revere Picasso so highly if we knew that he was the concept man who then employed others to create the finished piece?
I had no idea that DAMIEN cannot paint a spot and only oversees the installation of the shark.

It looks like DAMIEN HIRST has found a smart way to make serious money from art by just being the ideas man. Hats off to him. I have always believed that a good idea only becomes a great idea when it is put into practice. Procrastination has been the killer of all good ideas, so I embrace commitment to the thought. However, in the field of art I do feel that the same brain should be attached to a pair of artistically talented hands to follow through.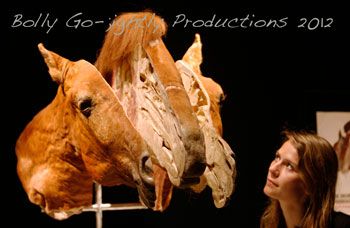 ANIMAL INSIDE OUT - THE NATURAL HISTORY MUSEUM

My courting of controversy continued with the photographing of the latest work by GUNTHER VON HAGENS.

I have never seen his plastination work up close. It's delicacy is amazing to see and from a scientific perspective it is highly informative. As art, it is paradoxically tasteless and macabre. With this in consideration, The Natural History Museum seems like an appropriate temporary caretaker.

Again an accompanying television programme has instilled some unpleasant images of an old man's donated body in an acid tank. A good example of ignorance being bliss.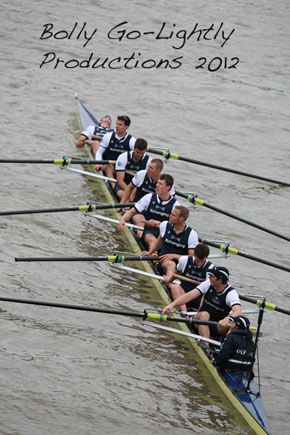 UNIVERSITY BOAT RACE - THE THAMES

Last year the boat race held a first for me. The chance to follow the race from one of the press boats. Sadly, this year I didn't make the boats, so ended up missing the start and committing to cover the finish at Barnes instead.
Several of us decided to cluster on Barnes Bridge just before the clubhouse.
We looked like we were playing a grown up version of "Pooh sticks", hanging over the bridge waiting for the crews to come through. Did we wait, and wait and wait! Time for technology to come in to play and call someone fortunate to be on the press boat.

We had missed the swimmer, but our source told us that the race would be restarting shortly. This confirmed our worst fears...that we were really wasting our time, as "the shot" had already been taken by the fortunate few. So we waited, and waited and played mobile phone app games which virtually blew up the bridge we were standing on...and then the call came...a collision had meant the Oxford team were a paddle down. So hanging over the bridge we waited to take a photo of the missing paddle from above. What we didn't realise until later was that the real shot was at the stern where the oarsman had collapsed. We sprinted back to the boathouse to photograph the Cambridge celebrations, missing the start of the medical drama. We shot the unfolding medical situation, but celebrations were cancelled. In all, I think this was a job that sank along with the Oxford paddle. A classic example of being in the wrong place at the wrong time!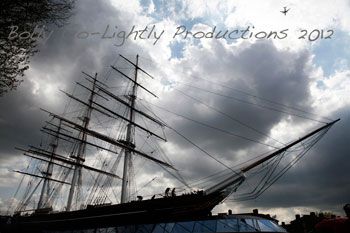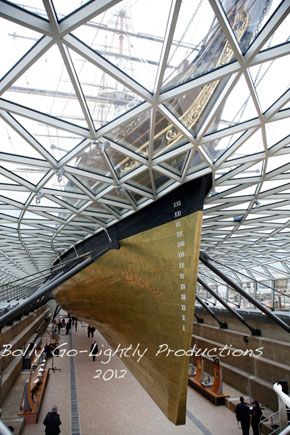 THE CUTTY SARK PRESS VIEW - GREENWICH

I have never seen this historic tea clipper before so I had no modern day comparison to make with it's historic form, pre-destructive fire in May 2007. However, I must say that the last few years of restoration has created an amazing new iconic Thames structure. My favourite experiences on this ship were the tea storage area...sometimes an image can't encapsulate the experience, as what made it great was the aroma of tea in this historic storage area. An installation touch of brilliance, and a stroke of artistic genius.

The smell of tea though could not top the sight of the majestic copper hull of the CUTTY SARK and the glass "sea" it now sits on. What an amazing concept. I would love to see it when it is illuminated at night as it is supposed to be amazing. Maybe I can do this after watching the OLYMPIC EQUESTRIAN event.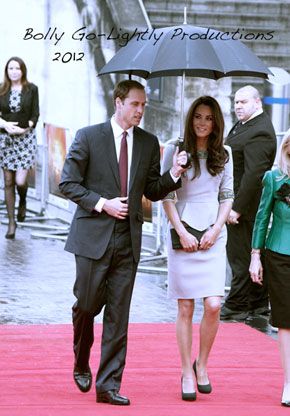 AFRICAN CATS PREMIERE - BFI SOUTHBANK

This premiere was never sadly going to be about the content of the film, but who was attending it. THE DUKE AND DUCHESS OF CAMBRIDGE seem to create a euphoric stir wherever they go. It reminds me of the public adoration of PRINCESS DIANA. Currently this is seen as a good thing for the monarchy as it has immediately modernised the nation's number one family.

Surprisingly, the former KATE MIDDLETON seems to have not put a foot wrong in her new public role. She seems different from the person that I photographed at Hurlingham during her split from PRINCE WILLIAM.

During their break, she did show signs of what is now though. She never spoke in public and was never seen doing anything controversial. In fact, I never knew what she sounded like until the ITN Engagement interview. She sounded a lot posher than I had imagined.

Like DIANA, her fashion sense is impeccable, turning her into one of the most photographed women in the world. It will be interesting to see how THE DUCHESS OF CAMBRIDGE feels about royal life once they both permanently move to KENSINGTON PALACE at the end of PRINCE WILLIAM'S search and rescue contract. Rumour has it that they have turned into a middle aged couple, embracing their private time together.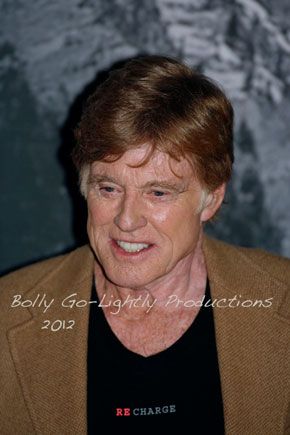 THE SUNDANCE FESTIVAL - O2

This is the first time that this famous film festival has come to Britain.
The festival evolved after ROBERT REDFORD bought some amazing mountainous land that he had fallen in love with as he drove through it in 1970's Utah.

After planning consent was obtained, he gathered a group of friends and colleagues there in 1981 to create an environment for an American Independent film making institute, which became the Sundance of today.

ROBERT REDFORD seems like a very private person, who begrudgingly has his photo taken in public. Last time he came to London for his film premiere, he went in the back door!

This photocall was not much better. Not only was he an hour late, but what we had been promised by PR didn't really materialise. Fortunately, I was ready. Unlike some of my friends, I started with the close head shots before attempting to take anything else. Which is just as well, as the photoshoot took all of 15 seconds. One full length and enough good head shots in the can for me. Others were not so lucky, cropping in to full lengths for less detailed head shots. For the MARTHA AND RUFUS WAINWRIGHT film a few days later, we were not allowed in the area until he had gone through prior to the arrival of the WAINWRIGHTS.

It's very frustrating to photograph icons like this. But when you get your shots, they do become more precious than others I guess.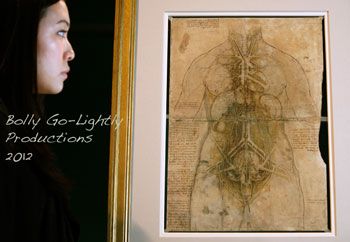 LEONARDO DA VINCI: ANATOMIST ROYAL COLLECTION - BUCKINGHAM PALACE

LEONARDO DA VINCI is revered not just because of his paintings but because he was a genius way ahead of his time. Apart from being an amazing inventor, he was an anatomist, undertaking post mortems to try and find out more about the structure of the body and the circulation system.

His painstakingly accurate drawings and sketches from these operations make up this exhibition. The book containing many of his studies remained unpublished. If it had been it would have been the earliest of its kind.

DA VINCI is one of a few who can accurately paint hands. Having looked at his sketches, it is easy to recognise that his anatomical studies helped him achieve this skill.


THE SKY SOUTHBANK AWARDS - GROSVENOR HOTEL

LORD MELVYN BRAGG has been the face of this cutting edge arts programme since 1978. This year a jovial SIR TOM JONES presented the Pop category award to my favourite female soloist, the reclusive and shy KATE BUSH for her album "50 Words for Snow". Sadly KATE went in the back door and did not attend the award winners photocall afterwards.

It's such a shame that KATE did so little touring and has continued to write and create her music with low key publicity. I think she is a talented musician who has delivered top class work since the 1970's. She has proven that you don't need an expensive big publicity machine to sell records. Albeit I am sure that this is purely because her reputation and the quality of her work prevails.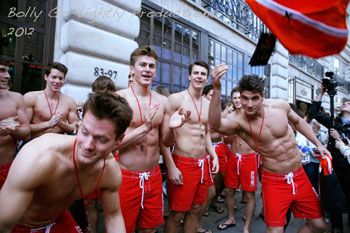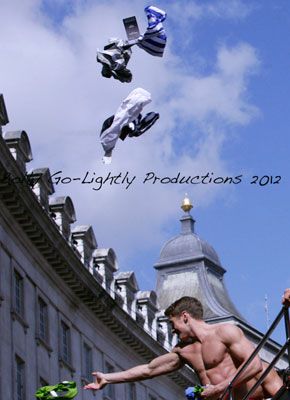 ABERCROMBIE & FITCH - REGENTS STREET

This trendy and expensive retailer knows how to make a splash in the publicity arena. They take marketing back to the basic mantra that "sex sells". Their stunning red clad hyperactive lifeguards whoop up the hysteria in young impressionable female shoppers. It's a bit of harmless fun and it makes great pictures. The knicker throwing event reminded me of an open air January Sale with women grabbing free knickers from the sky as fast as they could muster, by any means legally possible.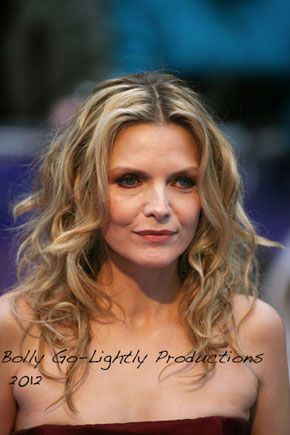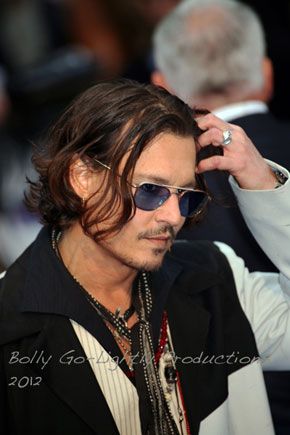 DARK SHADOWS PREMIERE - EMPIRE, LEICESTER SQUARE

Here's Johnny again...with TIM BURTON. The film is a remake of an American cult TV programme that looks like it sadly passed me by. I will have to try to find time to dig out some archive episodes, if it is half as good as this film version looks. TIM BURTON's cast pulling power excelled with the inclusion of MICHELLE PFEIFFER and EVA GREEN. All adorned the red carpet to our glee. JOHNNY did a great TOM CRUISE impersonation of meeting the fans after the premiere until light stopped play.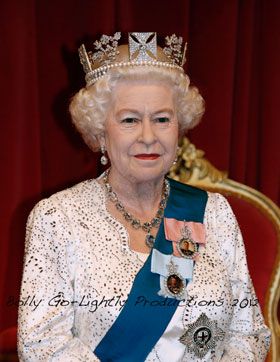 NEW QUEEN WAXWORK - MADAM TUSSAUDS

You can see why this venue consistently remains to be one of the most visited London tourist attractions. They know what the people want, and consistently deliver by bringing in new characters, removing outdated/unpopular ones and upgrading the classics.

Costing £150,000 to make, this is the 23rd version of her majesty, created to celebrate her diamond jubilee year.

It is a fantastic statue, standing next to PRINCE PHILLIP and the recent additions of the DUKE AND DUCHESS OF CAMBRIDGE. Sadly, I think the lifelike representation of PRINCE PHILLIP is not so good, and weakens what is an impressive display of the royal family. Hopefully this will be redressed to celebrate the Royal consort's 92nd birthday next year.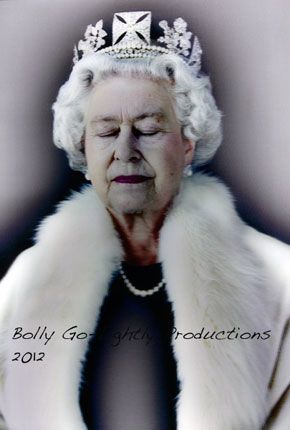 THE QUEEN: ART AND IMAGE - NATIONAL PORTRAIT GALLERY

This may only be a relatively small exhibition, but it is about quality, not quantity. Every iconic image you can think of is included. Apart from the beautifully majestic CECIL BEATON painting, my favourites were DOROTHY WILDING'S 1952 painting and the amazing pair of holograms by CHRIS LEVINE. Definitely worth a look on one of our rainy Sunday afternoons from now until October.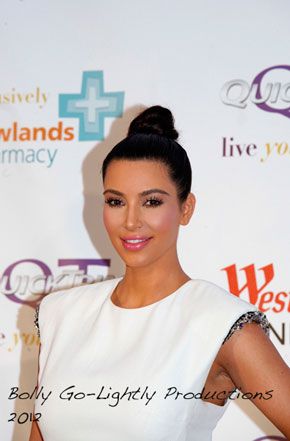 KIM KARDASHIAN QUICKTRIM PROMOTION - WESTFIELD WHITE CITY

The power of reality TV to make stars from socialites is impressive. I have never really get these fly on the wall programmes built solely around the minutia of people's daily lives. The novelty of BIG BROTHER has worn off for all of us now.

It was great conceptual TV when it started, but the housemates got weirder in order to keep the ratings high. I loved the NASTY NICK vote rigging incident and the fall out from it. Funnily enough the girl fight which led to the police being called to the house was interesting. After all, some girl fights are funny, unlike the famous JADE GOODY bullying SHILPA SHETTY, which was again fascinating but an example of what is bad in a multi-racial society.

I cringed over BRIAN DOWLING's uncomfortable date with JOSH and I laughed at the chocolate raid by the "prisoners". Why did these incidents fascinate me?
They all involved normal people in relatively normal situations invoking different emotions in the viewer.

The only bit of I'M A CELEBRITY that is a must see is the final challenge, which I find hilariously cruel fun.
Personally, there is some better TV to watch than the mundane "what colour shoes" should I buy in the Mall? ".

Although I photograph celebrities, I really don't understand the continual fascination where no talent but endorsements reign. Surely our own lives are not so lacking in content that we have to "top up" from elsewhere?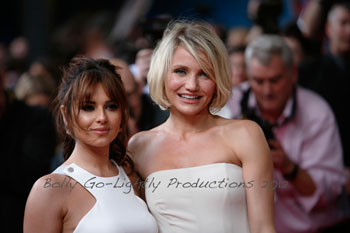 WHAT TO EXPECT WHEN YOU'RE EXPECTING PREMIERE - BFI IMAX

Another chick flick rolls off the cutting room floor to be savoured over a jumbo tub of sweet popcorn. I rarely like this genre, my friends will tell you that I am more into films with a twist at the end, or the less violent action movies. So, they won't ask me to join them if they want a good cry over a RomCom.

From a photographer's perspective it was a must do though. CAMERON DIAZ and ANNA KENDRICK always make good pictures and sell. But added into the mix was the attendance of a cameo role participant: CHERYL COLE.

CHERYL is a bit like Marmite at the moment, her shining star sadly tarnished by the debacle of AMERICAN IDOL. It was always an ambitiously risky move to take on the U.S with a broad scouse accent. I think she should have stayed with a winning formula in the UK. Maybe her star is back in ascendancy as the crowds cheered more for CHERYL than CAMERON. Watch this space.

( DameKellyHolmes01 image,, WilloughbyLemonCotton01 image, RolfHarris01 image, Ricky Gervais01 image KellyBrook01 image and WilliamRoache01 image )
TV BAFTAs - ROYAL FESTIVAL HALL
Our illustrious editor attended this event with her daughter JADE.
Like all BAFTA events, the red carpet is always crammed with stars: an editing nightmare, but worthwhile in retrospect.

BAFTA continues to be seen as a prestigious event in the awards calendar.
The comperes are second to none and the presentation formula, although long, still makes good TV.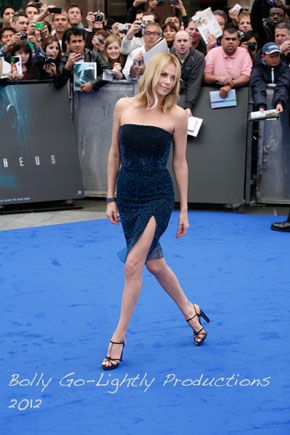 PROMETHEUS PREMIERE - EMPIRE, LEICESTER SQUARE

RIDLEY SCOTT's new film goes back to the winning formula of the first ALIEN with a modern day twist. I haven't seen it, so can't comment on whether this stellar cast film works or not. I am sure money has been no object, and so the photography and sets will be sublime. All I do know is that Madagascar 3 has done better across the US. Childrens' buying power rules at the box office.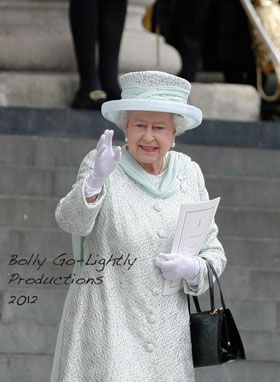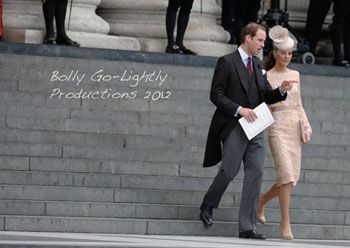 DIAMOND JUBILEE WEEKEND - VARIOUS

What a weekend for "The Firm". It was packed to the rafters with events. My only criticism to the diary was putting on the RIVER PAGEANT the same day as holding street parties across the country. I am sure many more would love to have visited The Thames to see this once in a lifetime event and still have been able to also celebrate THE QUEEN's 60 year's of loyal duty to her subjects with their neighbours and friends on the Monday instead.

The amazing street parties in 1977 were the only thing that stick in my memory apart from the QUEEN wearing a pink outfit with a matching hat with marshmallows hanging off it.

I covered two and a half of the events diamond jubilee weekend: THE RIVER PAGEANT, the remnants of a soggy PICCADILLY STREET PARTY, THE SERVICE AT ST.PAUL'S CATHEDRAL and an impossible shoot at WHITEHALL for the procession.

Getting up to cover THE QUEEN, PRINCE PHILLIP, THE DUKE AND DUCHESS OF CORNWALL AND THE DUKE AND DUCHESS OF CAMBRIDGE was done to military precision. I needed a front position before the crowds packed in. I didn't want to wait a few hours for the flotilla to reach Tower Bridge as I had already committed to covering the street party.

Like all English crowds waiting for the event to happen, there is great camaraderie. This was no exception. It's great to meet new people to share the experience with, even though you are probably never going to see them again.

I wasn't too impressed with THE SPIRIT OF CHARTWELL. It was just an ornate big barge. The most majestic barge on the river that day was the GLORIANA which SIR STEVE REDGRAVE and SIR MATTHEW PINSENT.
It was regal, beautiful and reminded me of the painting by CANALETTO currently in the ROYAL RIVER EXHIBITION at THE NATIONAL MARITIME MUSEUM.

When I left Cadogan Pier for the long hike up to South Kensington tube, it was starting to rain. Little did I know that it would be pouring down by the time I reached Green Park tube. The street party was literally a wash out with sodden union jack paper table covers, empty long tables with the odd couple sat under large umbrellas sharing a bottle of champagne in the typically English weather deluge.

More significantly, the rain dampened the spirits of THE QUEEN that weekend as we all discovered at the Monday evening's palace concert, when it was announced that PRINCE PHILLIP had been hospitalised. But the party resolutely went on, with the QUEEN striking a lonely pose as she entered and left ST PAUL'S CATHEDRAL on the Tuesday morning.

Tuesday was another early rise for me to seal a third row position at 8am for a 10.30am service. Luckily I had a ladder and a large lens with me to give me my best shots of the bank holiday.

Then I got ambitious, trying to get to a decent position in The Mall or Whitehall for the carriage procession afterwards. I had always know it was going to be an either or scenario...but I had to try. The Mall was totally shut off due to the crowds, and Whitehall was pretty dangerous as the majority of the crowd were on on one side of the street. I cannot understand why this happened and also why there was not an area cordoned off for people to pass through to get to places. It was a nightmare and a disaster waiting to happen. I saw people being carried out that clearly had medical issues. Not a place to bring the elderly, sick or the very young. Disappointingly, the procession consisted of two carriages...so all that aggravation for very little reward.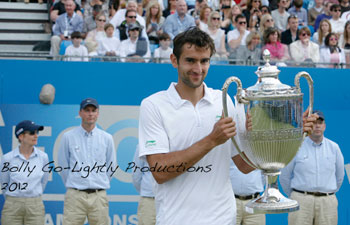 AEGON GRASS CHAMPIONSHIPS - THE QUEENS CLUB

I love doing this tournament every year as the people working there are great, it's next to where I live and usually the draw is top notch. Sadly there was no RAFA NADAL this year for tax reasons, and the top seeds went out very early in the tournament. Still, like the BOAT RACE, it culminated in controversy. I had backed DAVID NALBANDIAN to win after he won back to back matches on the Friday. He was one set up to the good against MARIAN CILIC in the final, but then the Argentinian red mist seeped onto the grass court. He should have been pulled up for racquet abuse, but this didn't happen and after CILIC broke him in the second set, NALBANDIAN lashed out. Out of all the boards he could have kicked, the one he did vent his spleen on was the worst option. The result was the creation of the YOUTUBE sensation of the summer as he kicked the signage into the shin of a Scottish line judge. Goodbye points, goodbye to over £40,000 and hello to an increasingly bad reputation in unsportsmanlike behaviour.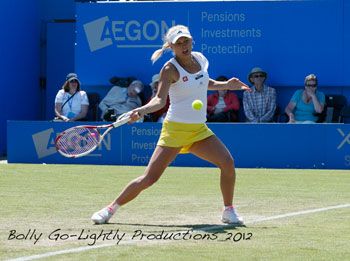 AEGON INTERNATIONAL - EASTBOURNE

This is another great tournament...it's just a shame that it becomes a long day when you bolt on the travel time to and from Victoria station. The weather was great, and I was determined this time that before I travelled back to the smoke that I would walk along the beach and paddle in the cold sea.

Luckily for covering this tournament, I had chosen the right day to visit, as the seeds again dropped like flies. AGNIESZKA RADAWANSKA, CAROLINE WOZNIACKI, RICHARD GASQUET and reigning Wimbledon champion PETRA KVITOVA. Bizarrely, it was rule Britannia, with both LAURA ROBSON and HEATHER WATSON winning their matches that day.

Images taken, edited and sent, camera gear packed and left in the press room, it was time for that promised stroll along a then mainly deserted beach, crossing over the groins and down to the pier and back. It is only on days like this that I regret the commitment to pets. Without them, I definitely would have stayed over, got up early, gone down the beach and done it all over again the next day. But I love the cat except when he is not swinging off my leg by his teeth, and the fish are characters, even though they are high maintenance.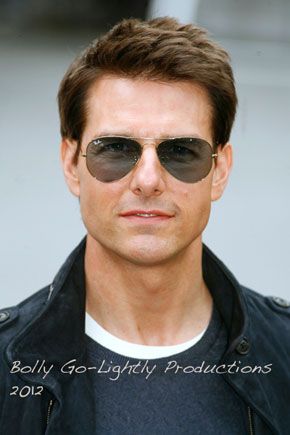 ROCK OF AGES PREMIERE - ODEON, LEICESTER SQUARE

Being a TOM CRUISE film, I was dreading the traditional walk around the crowds that would keep me waiting around for hours. Fortunately, it didn't come as he spent only a normal star's time on the red carpet. TOM looked leaner than I remember him being. Now retrospectively, there may have been a good reason for this. Nobody questioned the lack of KATIE HOLMES on his arm, after all she hasn't always attended events with him.

You can read too much into things sometimes, maybe my physical observation of him was just coincidental, or required for his current filming of OBLIVIAN in Iceland. Someone told me the other day that all three of his wives have been aged 33 when they called it a day on being Mrs Cruise. A spooky coincidence?

I do think this will be an extremely messy public divorce, unlike NICOLE KIDMAN's dignified one with the exception of the celebration when the decree nisi was granted and the high shoes returned to her wardrobe. It is already heating up with accusations of TOM being controlling and worries over the raising of SURI according to the beliefs of THE CHURCH OF SCIENTOLOGY. Hopefully SURI will come out the winner. I am sure the pre-nup will have some influence. Either way, TOM CRUISE will be looking for damage limitation for his career after it took a hit at the beginning of this relationship when he jumped up and down on OPRAH WINFREY's sofa professing undying love for KATIE HOLMES. I don't think this relationship ever quelled the rumour's about TOM's possible sexuality. Personally, I think Hollywood should never select macho action roles just for macho actors. They are actors, and a brilliant actor can convincingly portray anyone.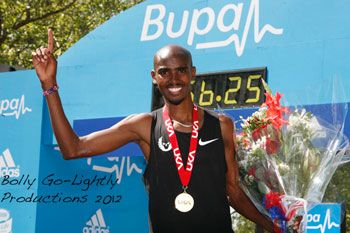 THE BUPA 10K RUN - LONDON

With the OLYMPICS only 21 days away, all eyes turn to the present form of our OLYMPIC hopefuls. One of them is MO FARAH who will be running for gold in both the 5K and 10K events.

If he runs like he did at this event, he will be coasting to victory.
I have to say that this slight framed man possesses one of the nicest smiles and no autograph request was refused...even mine. I don't normally ask for them, but this was an opportunity I couldn't pass by as the victorious runner ended his day.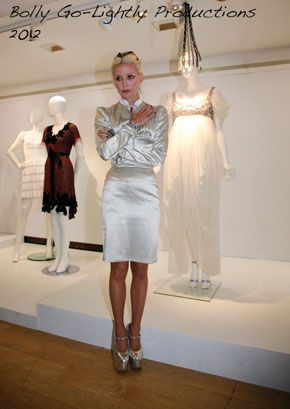 DAPHNE GUINNESS AUCTION - CHRISTIES

A generous fashion muse made a personal appearance to promote the sale of 100 of her clothes, shoes and photos, with the proceeds to benefit THE ISABELLA BLOW FOUNDATION. In a recession, philanthropic acts are to be applauded. DAPHNE GUINNESS is tall, beautiful and cutting edge in her fashion taste. Such taste attracted even LADY GAGA mid tour to make a phone bid to purchase one of the ALEXANDER MCQUEEN dresses for $133,075. In total $725,000 was raised, which was way above the pre-auction expectation of $160,000.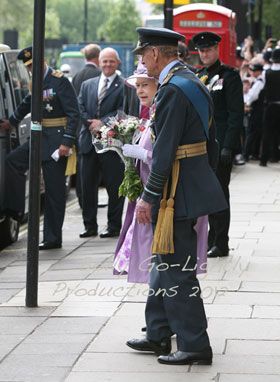 RAF MEMORIAL UNVEILING - GREEN PARK

What a long day this was. I had to get up early to walk the cat before visiting BUCKINGHAM PALACE to shoot the new impressive DIAMONDS A JUBILEE CELEBRATION. Normally I have to walk through the back passages to shoot exhibitions here, but not today. A brilliant first, a walk through the back courtyard, up the GRAND STAIRCASE and along the famous coral carpet that we see so often on the television. The last time was when THE DUKE AND DUCHESS OF CAMBRIDGE arrived at the palace for their balcony kiss.

Many of you would think that this alone is a reason for buying a ticket, but believe me, the diamonds are stunning, they are a lesson in purity. Not as colourful as THE CROWN JEWELLS at THE TOWER OF LONDON, but impressive none the less, and highly appropriate in DIAMOND JUBILEE year.

I then had to race over to Knightsbridge with loads of photographer baggage to cover the BONHAM's ROCK AND FILM MEMORABILIA AUCTION which included FREDDIE MERCURY's harlequin leotard and ballet pumps. It was on my way there that I madly decided to try and cram in the opportunity to try and keep the QUEEN theme running, and photograph THE QUEEN opening the new RAF BOMBER MEMORIAL.

Not only was I now worn out as I had rushed in the sun with no access to public transport between BUCKINGHAM PALACE and Montpelier Street, but a bus ride to Hyde Park Corner allowed me to recuperate to shoot long distance across six lanes of traffic on a 70-200m!

But this job is a bit like fishing, so I patiently waited afterwards outside THE RAF CLUB for the royal party to leave after lunch. I am sure that THE QUEEN appreciated her cut price flowers that she was presented with on her departure.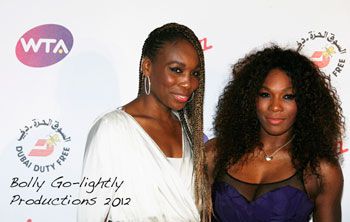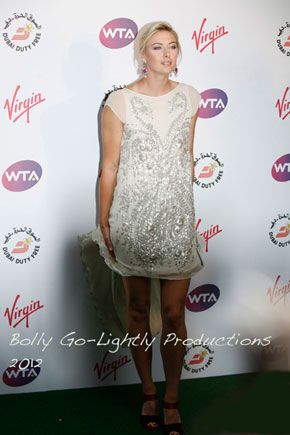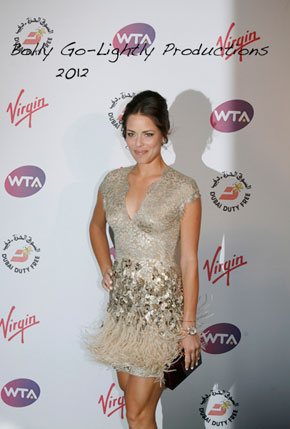 WTA PRE-WIMBLEDON PARTY - THE ROOF GARDENS, KENSINGTON

This is the glamour event of the London tennis calendar. I stupidly wore just a tennis dress and cardigan to this outside shoot. This was fine at a sunny 5pm but not at 9pm in the rain.

By then though SERENA and VENUS WILLIAMS, ANNA IVANOVIC, PETRA KOVITOVA, CAROLINE WOZNIACKI, VIKTORIA AZARENKA AND MARIA SHARAPOVA had arrived, as had ASHELIGH AND PUDSEY. I am so glad that they won BRITAIN'S GOT TALENT, the dog is both adorable and so clever. Although I did feel a bit uncomfortable about him walking on 2 legs for so long.

At the time of writing this, my hero RAFAEL NADAL has been sent packing very early, SERENA WILLIAMS looks like she is going to win tomorrow, 10 years from her first Wimbledon title, and ROGER FEDERER has made the final for Sunday along with...ANDY MURRAY. I am not patriotic where ANDY is concerned I am afraid, although I am sure the hype over the next couple of days is going to be massive, as it is 79 years since a Brit made the men's finals. My prediction is that ROGER FEDERER will win in four sets unless ANDY breaks him early, in which case it could turn into an epic 5 setter with the same outcome, but with British fans emotionally going through the usual wringer.

See you in the autumn

Best

Bolly xx