Benihana
37 Sackville Street, Piccadilly, London W1S 3DQ Phone 020 7494 2525
77 King's Road, Chelsea, London SW3 4NX Phone 020 7376 7799 www.benihana.co.uk

The charming Rocky Aoki expanded his father's coffee shop and started a new style of dining. Chefs cook in front of the guests who sit around the Teppan table. So it is entertaining but most importantly the food is excellent.

The Piccadilly location is modern in décor with large paintings and windows that makes it cosy wherever you are sitting -- a fun place to go to.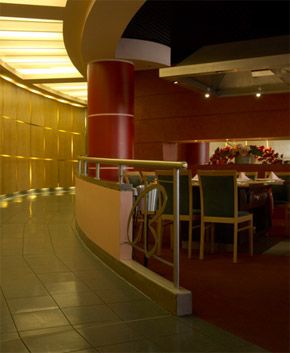 The Traditional Hibachi Dinner, in my opinion, is the best to have. It includes an onion soup a la Japanese and the Benihana salad with fresh ginger dressing which are brought to you from the kitchen. Meanwhile, the gas jets are turned on in preparation for the chef's arrival. Depending on which Dinner you order (from £ 23.75), your main meal will consist of any of the following: Teriyaki Chicken, Filet Mignon, Chateaubriand, Hibachi Salmon, Hibachi Prawns, Tuna Filet Steak or Sea bass. They are all accompanied, as starters, by Hibachi prawns, onions, a large mushroom, and an asparagus prepared at the table and served with a ginger sauce for the prawns and vegetables and a mustard sauce for the meat. Steamed rice is offered but it is worth paying an extra £3.90 to have the special fried rice.

Then the show starts: the Chef trims the prawns, chops the onions and vegetables, stir fries them and serves them on the large plate in front of you. Whilst you eat this he prepares your main meal, the special fried rice, mushrooms, bean sprouts and vegetables. He juggles the salt and pepper shakers and even the knives find themselves flying through the air. Luckily for us the Chefs train hard in the kitchen before they are allowed to perform for the public. They are very friendly and professional. He even took the trouble to give us a piece of steak to ensure that it was cooked to our liking.

Benihana seems to have shed their original name 'of Tokyo'. When I visited Tokyo everyone there was quick to inform us that Benihana was an American invention – with 90 restaurants around the world – it certainly has proven that their formula works. They offer a Membership Card that seems good value: The initial fee of £ 20.00 gives you a £25 Gift Voucher and future l5% discount off the bill for up to 4 people.


Pied-A-Terre
34 Charlotte Street, London W1T 2NH Phone 020 76361178 www.pied-a-terre.co.uk

This is one of the best restaurants in London located in Charlotte Street, renowned for its abundance of restaurants.

There are places where dining becomes a gastronomic experience – and Pied-A-Terre is one of those. David Moore and Marcus Eaves form a winning partnership. Whilst David supervises front of house, Michelin star Chef Marcus's genius in the kitchen ensures that presentation and quality match the delicious taste of the dishes.

Pied-a-Terre was completely refurbished following a fire. Though the main structure of the restaurant remained the same, the changes include a private room and a first floor intimate bar with comfortable armchairs and impressive artwork on the walls. Nowadays they also support an eight-month residency programme for one emerging artist that culminates with the artist's work exhibited in the restaurant.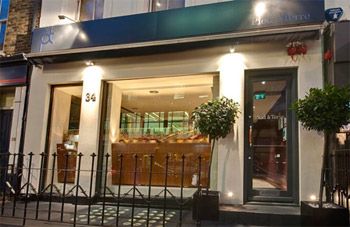 The small townhouse in Charlotte Street has a basement kitchen. On arrival at ground floor level you face the reception with sitting areas on the left and right. The one on the front which seats twelve is cosy and full of light overlooking the street through large windows decorated with stained glass by George Papadopoulos. The larger room on the back which seats 28 features an attractive skylight, a booth, banquettes and round tables. One of those, table 3 is my favourite. The tables are handsomely set with crystal glasses and a beautiful presentation plate.

At lunch they offer a starter and main course menu at £ 27.50 which becomes more expensive in the evenings.

We chose from the a-la-carte menu at £60 per person: Starters: Roasted Breasts and Confit Leg of Quail, and the Marinated Scottish Scallops with Toasted Hazelnuts, Main Course: Pyrenées Lamb Shoulder with Glazed Anjou Shallot, Peas, Sweetbreads and a Lightly Smoked Sabayon and Poached and Roasted Sea Trout with Watercress Purée, Desserts: Wild Strawberries, White Chocolate and Vanilla Creme Brulée with Spring Raspberries and Lemon and Poppy Seed Drizzle Cake with Blood Orange Gel and Lemon Curd Ice Cream

An excellent 1999 bottle of Nuits-Saint-Georges worth every drop at £113 the bottle.

The exquisite food, attentive service, lovely cutlery, glasses and plates together with the warm ambience contributed to make our evening a most enjoyable one.