Welcome to the latest round up of news and views on UFOs, alien abductions, crop circles, ghosts, the paranormal, the unexplained, the weird and the wonderful.


UFOs at Number 10

Bonnybridge councillor Billy Buchanan and UFO researcher Malcolm Robinson handed in a letter at Downing Street on 5th July, calling for David Cameron to honour his pre-election promise to release all the government's UFO files. Strictly speaking, Cameron made no such promise. He was asked about UFOs at a public meeting last year and said he was generally in favour of open government and saw no reason for UFO files not to be released. MoD is releasing its UFO files anyway and this process will continue under the new government, so I doubt this latest move will have any real effect, but it certainly raised the profile of the controversy about UFOs.


Paul Inglesby

Paul Inglesby, one of the more colourful characters in the bizarre world of ufology, has died, aged 94. Inglesby was a priest who took the view that UFOs were satanic in nature. He set out his views on this in a 1978 book entitled UFOs and the Christian. One of his various initiatives in relation to UFOs was his involvement with former Chief of the Defence Staff Lord Hill-Norton, which led to a project called 'UFO Concern', which was an attempt to record the views of Establishment figures and lobby for some action. I briefed Lord Hill-Norton on UFOs on several occasions and was involved in this initiative myself. I confess to having being somewhat wary of Paul Inglesby's involvement and influence, as I felt his view that UFOs were satanic was unhelpful, given the wider aim of getting some political action. I felt that the religious angle would deter decision-makers from getting involved. But while I disagreed with Paul Inglesby on these issues, I greatly admired his dedication and drive. Ufology has lost another big personality.


Dr David Kelly

I sometimes commentate in the media on defence and intelligence related issues and was recently interviewed on talkSPORT in a debate on the sensitive issue of the tragic death of UK weapons expert Dr David Kelly. His death became inextricably linked with the controversy over the so-called dodgy dossier and the decision to go to war in Iraq. Despite the various conspiracy theories, my view is that this was suicide. That said, if the family are content, I support the early release of the post-mortem documentation, as opposed to their being kept secret for 70 years, as recommended by Lord Hutton. And if the Attorney General looks at this tragic case again, perhaps agreeing to the recent request for an independent review, I would support this. Charles Haddon-Cave QC - who chaired the Nimrod inquiry - might be a figure with sufficient credibility to conduct a review that both the family and the MoD would be comfortable with.


UFO Matrix

As mentioned in my previous column, a new UFO magazine is being launched this summer, attempting to fill the gap left by the sad demise of titles such as UFO Data, Alien Worlds and of course UFO Magazine, edited by the late Graham Birdsall. UFO Matrix has a provisional launch date of 29th July and is part of a stable of titles run by Atlantis Healings. The editors are two stalwarts of British ufology - Philip Mantle and Malcolm Robinson. The international panel of regular columnists include Peter Robbins, Scott Corrales and Clas Svahn. I'll be writing a regular column and contributing occasional ad hoc features. This will be a newsstand magazine - always a courageous venture in the internet age - but this looks like being an exciting new project and I wish it every success. Check out http://www.healingsofatlantis.com/ for details.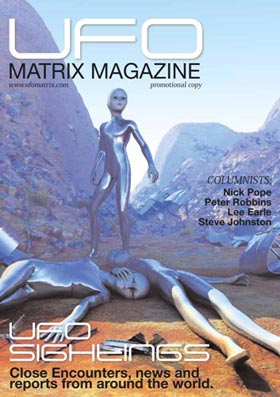 UFO Matrix Magazine




Exopolitics Leeds

One of two big UK summer conferences coming up is being organised by Exopolitics UK and will take place in Leeds on 7th and 8th August. Speakers will include Stephen Bassett - co-ordinator of a loose and growing network of Exopolitics organisations that now cover numerous parts of the globe, Richard Dolan and Gary Heseltine and me. Former Edge Media/ Controversial TV presenter Franky Ma will MC the event. Check out http://exopolitics-leeds.co.uk/ for details.


Weird 10

The second big UK summer conference is Weird 10, being held in Warminster on 21st and 22nd August. I'll be speaking, as will people such as Malcolm Robinson, Philip Mantle, Andrew Collins and Ciarán O'Keeffe. Check out http://www.mystical-county.org.uk/w10-home.htm for details.


Larry King Live

Larry King has announced that he is to retire from his record breaking CNN chatshow this autumn, after a 25 year run. The reason I mention this is because Larry King has featured the UFO mystery on his show on several occasions, showing a genuine interest and open-mindedness about the phenomenon which few if any other celebrity chat show hosts have matched. I have been on the show two or three times and have welcomed the chance to appear on one of America's best-known TV shows. Enjoy your retirement, Larry!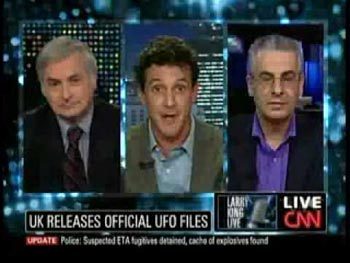 UFOs on Larry King Live
Biography:

Author, journalist and TV personality Nick Pope used to run the British Government's UFO Project and is now recognised as one of the world's leading experts on UFOs, the unexplained and conspiracy theories.

Check out www.nickpope.net for more information about Nick.