The People's Book Prize, TATIANA VON SAXE WILSON, the organiser of the PBP, plus all we authors who have reached the finals (including lovely laydee boy DAVID WALLIAMS and THE DAILY MAIL's acerbic political and theatre critic QUENTIN LETTS) have been deeply saddened by the tragic death of the redoubtable DAME BERYL BAINBRIDGE, patron of the PBP, who was to have presented the Awards on the night. However the annual PBP will now be in her memory and I am sure she will be up there watching us all and very much with us in spirit. DAME BERYL was herself an award winning author and was nominated 4 times for THE BOOKER PRIZE. A delightful, kind and charming lady, she will be sorely missed by all the literary world as well as her family and firends.Here she is with PR guru MAX CLIFFORD and thriller writer/playwright JANE HUXLEY who wrote the brilliant West End play I recently appeared in, WHEN THE LILAC BLOOMS, MY LOVE .


DAME BERYL with MAX CLIFFORD and JANE HUXLEY. C.r.: EDWARD LLOYD / OK! MAGAZINE.





Thanks also for all your continuing emails about HAIR. It is particularly important to look after your crowning glory in the summer when the killer sun is out big time and we are swimming, sweating and swishing (www.bigwardrobe.com). We all want to have silken tresses, not rats' tails!
For all of you Uptown Girls and Boys, I am delighted to report that I have just found the most amazing new West End hair and beauty salon, via BEAUTY REPORTS = tx, guys.
It's called LETICIA HAUTE COIFFEUR (61, Chiltern Street, W.1. 6NG / 020 7935 1770 / www.leticiahautecoiffure.com
and it's owned and run by gorgeous and dynamic French gal, LAETITIA, Managing Director and Fashion Stylist Extraordinaire with the help of her Creative Director, award winning hair stylist PIERRE and make-up artiste MELODIE.
LETICIA HAUTE COIFFEUR opened last month with great fanfare and loads of celebs and is really going places. The initial reports were so great that I decided to toddle along myself and check it out = sooo glad I did. The LETICIA Experience is quite something! I spent 3 blissful hours at the beautifully designed and decorated salon, being made up and eyelashed by MELODIE and massaged and hair do'd by PIERRE. Yes, the handsome PIERRE is also a trained masseur and I walked out of the salon feeling beutifully relaxed - which is not always the case in some salons where stress is in the air! LETICIA HC doesn't do stress - they get rid of it. And they make you seriously beautiful.
Firstly the lovely MELODIE washed my sweaty, disgusting, post tennis locks, then PIERRE gave me a fantastic head, neck and back massage with his Healing Hands and applied his very own personally concocted treatment to my sun, sea and highlight - damaged locks. Then, while my stressed hair was cooking gently in its nice warm treatment wrap, MELODIE applied eye-widening individual eyelashes and a brilliant young and dewy looking make-up which even my super - fussy daughter later admired!
Then it was back to PIERRE for more blissful massage and a fabulous hairdo in just 20 minutes = I tell you, that guy is not just a magician but a fast working one! He blow dried my hair and gave me a gorgeously sleek JERRY HALL over-to-the-side do with my clip on extensions and a rather dodgy decorative hair comb the kids had given me and I had promised to wear. It was quite a test but the divine PIERRE sailed thru it with flying colours. And my previously straw like hair felt like silk when I emerged from the salon.That man is amazing!
The LETICIA team also fed and watered me on really decent coffee and delish Lebanese sweetmeats and sent me home with a goody bag of wonderful products, including WELLA SP Refresh Shampoo, KEUNE Shampoo , Conditioner and Treatment for coloured hair (yes, people, highlighting is still colouring of sorts!), various masks and conditioners to rebuild my knackered barnet and a handbag sized spray of L'OREAL TEC AIR FIX which will keep even the most wayward of hair perfect for hours.
I really enjoyed my time at the salon and only left because they had a shedload of gorg young 'modules' arriving to be made up and hair do'd for a fantastic fashion show at the one and only STUDIO VAlBONNE later the same night.
Here are some pix of LAETITIA, MELODIE and moi with my fab PIERRE hairdo, PIERRE and MELODIE in action beautifying the models for the show in the salon and the principals with 2 of the salon's fave celeb clients, gorgeous BIG BROTHER twins SAMANDA who are or were managed by the divine JONATHAN SHALIT (congrats on your impending nuptials, JONATHAN!)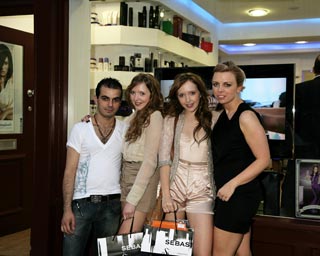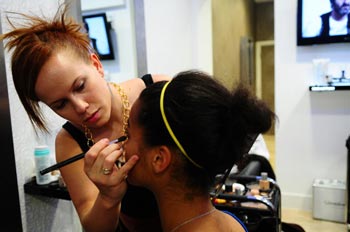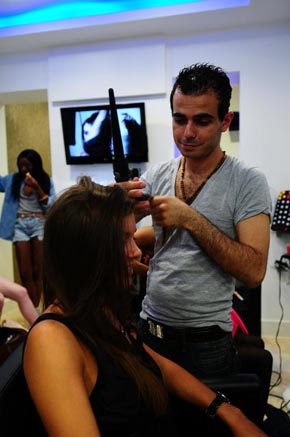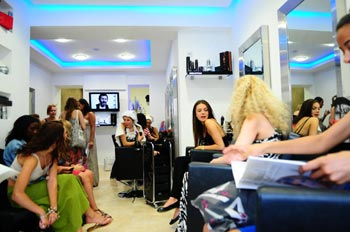 LETICIA HAUTE COIFFURE.




BTW, talking of BIG BROTHER, best congrats to my pal and presenting colleague BEN DUNCAN for his splendid performance as the first posh Tory boy in THE HOUSE!
My pic shows BEN getting in touch with his feminine side, ie. getting his eyebrows threaded, in THE KAMINI BEAUTY VIDEO which I presented and he modelled in, with 'EYEBROW QUEEN' KAMINI and myself.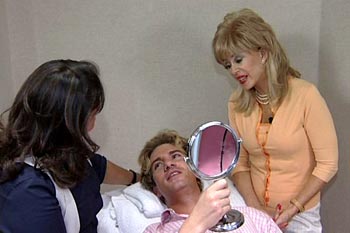 BEN DUNCAN admires his KAMINI brows. C.r.: KAZZY AND SALLY TV.



BTW, if you want to see this illuminating vid, go to:
www.kazzyandsally.tv
and you will spot THE KAMINI BEAUTY VIDEO = one of our star 'filmettes'.

The suave BEN popped in to KAMI's chic Kensington salon a couple of days before going into THE HOUSE to get his brows threaded so he could look super smooth in there - well, it certainly worked on MARIO! I was also getting KAMINI'd and BEN was very reticent about revealing exactly where he might be going with his newly sleek brows but we all guessed!

Here's BEN again in social mode with myself and Royal author LADY COLIN 'GEORGIE' CAMPBELL at a Conservative Party event I chaired (and he was on my committee so he really is a Tory Boy, dark blue fans!)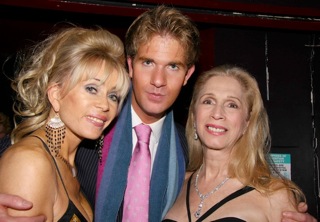 SALLY, BEN, GEORGIE. C.r.: GABOR SCOTT.





One of the best things about the afore mentioned and totally fabulous LETICIA HAUTE COIFFURE salon is its great position in Chiltern Street, near Baker Street = just next door to one of my fave designer's PARVEEN's fab treasure trove of a shop at 48, Dorset Street. So I am able to pop in there after my hairdo to check out PARVEEN's latest gorg frox and accessories.
Now here is a pic of one of PARVEEN very fave clients, who is just slightly more famous than moi! = the one and only KING OF POP, MICHAEL JACKSON.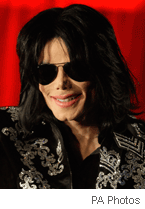 M.J. C.r.: PAPHOTOS.



Amazing to think that the late, great superstar's royalties have gone up by 70% in the year since his tragic passing. We will miss you forever, M.J.!



My fave new SPA is the divinely tranquil and relaxing BAGLIONI SPA (020 7368 5923 / www.spc.co.uk) at the elegant BAGLIONI HOTEL at 60 Hyde Park Gate, SW7 5BB in the heart of Kensington.
Delightful Spa Director CATHY MCCONNELL recently fixed me up with a deep tissue massage there with a wonderful Ozzi masseuse called COURTNEY who, like PIERRE, has truly healing hands. It was 55 minutes of pure bliss and I came out of the spa feeling as if I was walking on air, with all of my stress knots a thing of the past.
The BAGLIONI SPA do all the usual massages, facials for ladies and gents, manis, pedis, etc and the atmosphere is so calm and relaxed in there, you could stay all day - I can't wait to return.




My BEST PRODUCTS this month are:

ALVA COLEUR's great LIQUID EYE SHADOW in BRONZED HAZEL, the first ever organic liquid eye shadow range. The BRONZED HAZEL was voted 'Best Newcomer' in the NATURAL HEALTH BEAUTY AWARDS in 2010 and it glides on in seconds, looks wonderfully dewy and youthful and lasts for hours.
Plus it looked good on all my HG colleagues as well as on moi - and we all have very different colouring.
www.alva.co.uk


MAGIC LIPS's stunning new ILLUSION lip colours which change to your individual PH, so look different on everyone. The gals and I had great fun trying these and particularly liked shade 51, SOFT AMBER which suits - but looks different on - everyone.
Great idea - loads of colours including sexy metallics.
www.magiclips.com / www.ultraglowshop.co.uk / 01473 271 500.


MUM TO BE ORGANICS' gorg PAMPER ME GIFT SET, designed to make any future mummy feel and smell totally yummy. The set comprises a scented candle in a glass jar, luxury bath salts and rich tummy cream = really important for keeping the stretched skin round your bump soft and smooth. Our trialler, mum to be SANTA said "this is the perfect present for mums to be. I love using the rosehip, vanilla and grapefruit scented products and having the vanilla scented candle burning while I had my bath and applied the cream was a lovely touch."
www.littlemebabyorganics.co.uk / 0800 028 7321.
MUM TO BE ORGANICS' biggest fan is allegedly the stunning DENISE VAN OUTTEN and her she is at THE ACEA AWARDS, where I anchored and she guest presented, with my daughter and myself.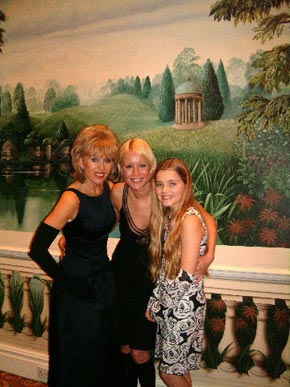 DENISE V O with SALLY and daughter. C.r.: ACEA AWARDS.




Talking babies and kiddies in general, thank you for all your emails on that subject, dear readers - I had no idea so many of you were yummy mummys! In answer to your questions about kiddy wear, the best label I have found to grace this issue is the delightful AND SUCH LIKE, whose clothes are totally adorable and different. Your children will love the funny logos, just as our resident toddlers FREDDIE 1 and FREDDIE 2, did. THE FREDDIES' mums both said the fun tees were really good quality, felt really soft on the toddlers' skins and washed easily and well.
Personally I think the AND SUCH LIKE tees are delightfully witty and quite wasted on the kidz - we should all be wearing them - especially the piggy one which says 'cluck' and the hen one which says 'oink' = luvvit!
www.notonthehighstreet.com
Cop a pic: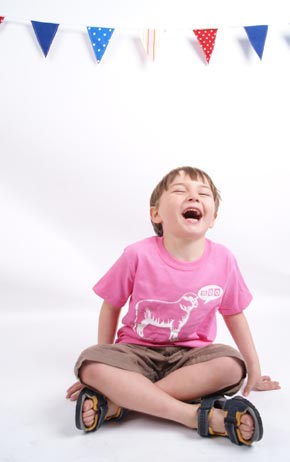 AND SUCH LIKE.






On the 'sweet scents' front, my PERFUME OF THE MONTH for July/August is the iconic THIERRY MUGLER's sensational new WOMANITY, a totally sensual, sexy and sophisticated fragrance. My triallers and I had a great time spraying this one on and it defo smells slightly different on different skins. A huge fight broke out over who was to keep the WOMANITY products and in the end we decided to time share!
www.womanity.com / good department stores and chemists.
Fans of WOMANITY are said to include VICTORIA BECKHAM and here she is, laydeez and gents, sporting cool DIOR GLOSSY shades: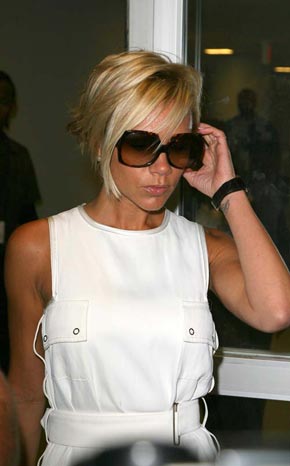 VICTORIA BECKHAM. C.r.: DIOR



and PAULA ABDUL and here SHE is at this year's TONY AWARDS, sporting a sexissima frock by 'TONY WARD' (a wind-up, right?!) and jewellery by BRUMANI.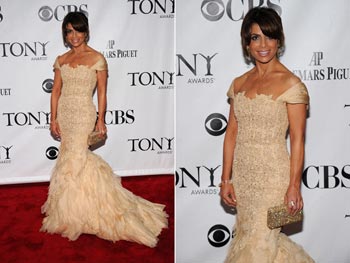 PAULA ABDUL. C.r.: STARPIX.





My BOOK OF THE MONTH for this issue is Royal author KATIE NICHOLL's brilliant WILLIAM AND HARRY (PREFACE PUBLISHING) which gives the reader a fascinating insight into the lives of the 2 young Princes who are 2nd and 3rd in line respectively to the throne.
The lovely KATIE who writes the riveting social diary in the MAIL ON SUNDAY and does lots of tellies, wrote this dual biography whilst holding down 'the day job' and her colleagues at the MOS are full of admiration for her for achieving this - no mean feat.
KATIE is totally up to her task and WILLIAM AND HARRY is a great read, never dull and boring like some more staid biographies. It's a big book with lots of excellent photos and covers the Princes' lives in great detail - their schooling, careers, girlfriends, the Great Wedding Debate and anything else you might care to know. These modern young Royals are dynamic and fun loving and I found that WILLIAM AND HARRY perfectly captures their independent spirits.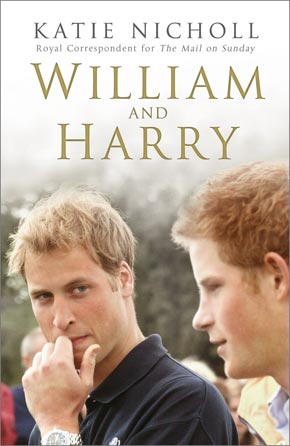 WILLIAM AND HARRY. C.r.: GETTY IMAGES.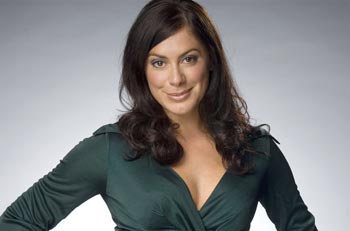 KATIE NICHOLL. C.r. : NICK WAINWRIGHT.





Best congrats to all who received Honours in the last Honours List. Showbiz recipients included the gorg CATHERINE ZETA-JONES, the ever popular JOHN NETTLES and my dear, dear friend VICKI MICHELLE, who got an MBE. I am so pleased for lovely VICKI who is one of the hardest working, most professional and talented actresses in the biz - you go, girl!
.


Talking of parties, there were some great ones last month, including:

DAVID BAILEY's exhibition at HAMILTON'S GALLERY where their gorgeousnesses CATHERINE BAILEY, HEATHER KERZNER and KOO STARK joined the crowd celebrating the great man's work. I met an interesting new chap called SERGEI ABRAMOV (no 'IC' , sadly!), seen here avec moi.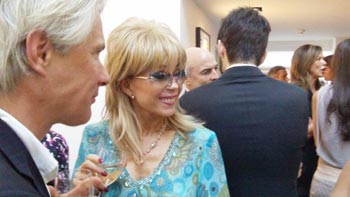 SAL and SERGEI. C.r. : SIR HUGHIE.



The PATRICK LUDDE salon's fun frolic to welcome lovely celeb nail technician to the stars LIZA SMITH to their chic West End salon at 22 Maddox Street ((020 7495 90 40). The salon is owned by my charming long time pal NEIL WARD, the party was organised by fab PR TABITHA PHILLIPS and guests included LIZZIE CUNDY, NICK EADE, NIKKI GRAHAME and the hilarious 'NADIA OFF BIG BRUVVER'! The wonderful LIZA's clientele include NAOMI CAMPBELL, SJP, JENNIFER LOPEZ, CLAUDIA SCHIFFER and KYLIE MINOGUE and I will be reviewing her extraordinary technique in the next issue, dear readers. Watch this space...............

My own family birthday party at the beautiful HURLINGHAM CLUB (this year I am older and wiser than ever before, I feel sure!) Here's the beautiful JADE presenting me with THE CAKE (very fitness, health and beauty conscious!)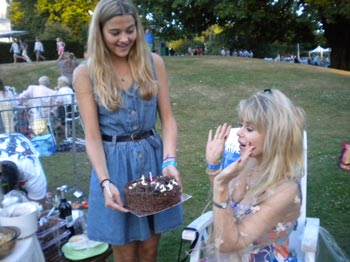 SAL and JADE. C.r.: JOHNNY BRUCE.





Of course you have to work at maintaining your looks from an early age if you want to look as good as the above mentioned 'grandes dames' when you are mature. So keep exercising, eating - and drinking! - sensibly and using all the right anti-ageing products. ELIZABETH ARDEN's new 8 HOUR CREAM with an SPF of 50, which I reviewed last month, is ideal for protecting the face in this hot weather.
Lots more anti-ageing tips next month, dear readers.



Thanks for reading my page. You can contact me at:


[email protected]



and do check out my personal and studio websites:
www.sallyfarmiloe.com
www.kazzyandsally.tv