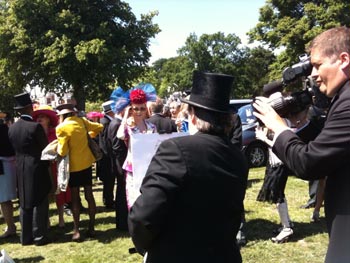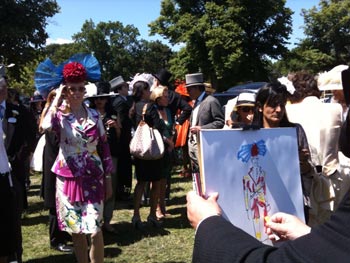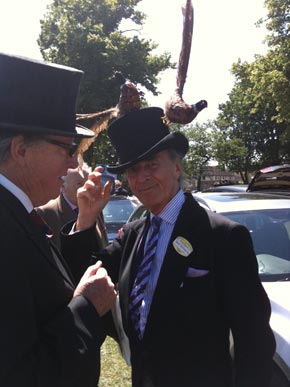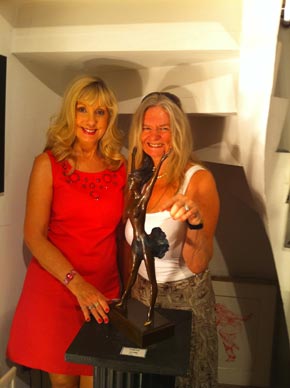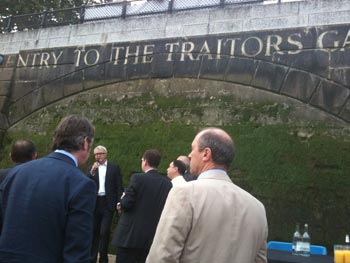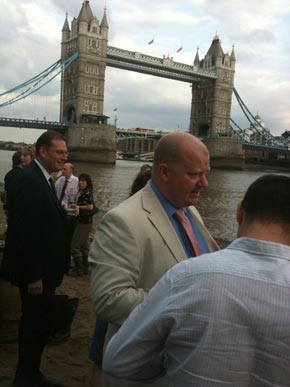 1. Valerie Blondeau being filmed with full attention on her
2. The lovely drawing show on the BBC coverage of Ascot
3. Shilling David's with his amazing hat
4. Susie and me showing the wonderful sculpture that Tom Merrifield sculpted of her, what an honour.
5. Party set and the rarely used Traitors gate lots of fun and worth the muddy sand.
6. Thames21 party in the mud which was very creative


What fabulous weather we have had for the beginning of the summer, making London one of the best cities in the world to live in, in my opinion and that of many of my friends.

I realized how lucky I am to live here after a cold spell in Florida that lasted almost two months. Normally it is only a week and after one month it was being hailed as the worst in 30 years and as it went on to become the first on record for such a lengthy cold spell. We even had to have the heating on for the whole time. It actually did me good as I realized how little there is to do when the weather is cold. It is a state of cafés and restaurants and yachts and beaches galore, all geared for the hot weather but when the weather is cold for so long the only thing to do is to stay inside as everywhere is cold. It wasn't even tempting to go out for the evening as the venues were so cold.

This made me appreciate London, as whatever the weather you just dress up accordingly and you have everything you can imagine and generally warm.
The social scene is extraordinary with a never-ending stream of events with parties ranging from the glamorous to the artful in equally enchanting venues.

I went to Ascot this year on the Wednesday and met a new set of friends at one of the elegant parties in Car Park 1. I saw this man with two birds on his head at one of our parties and it was none other than David Shilling the self-taught milliner and hat genius. His hats are said to bristle with ingenuity and lie somewhere between fashion design and art. He certainly follows in his mother's footsteps, the famous Gertrude Shilling who annually wore a succession of outrageous and daring hats on Opening Day that guaranteed her as a feature on the TV coverage.


Car Park 1 the place to be seen

Car park 1 is of course the only place to start the day at wonderful Royal Ascot and the weather was fabulous for the entire event. I attended this year with stylish PR guru Valerie Blondeau and Yvonne Sherrington. Bryan Lincoln and his wife Jolanta were the perfect hosts, and their picnic was superb. Famed artist Julian Seaman was covering Royal Ascot week for the BBC by doing daily sketches of the best ladies' outfits. There was much excitement when he singled out Valerie Blondeau as his best choice of the day. There was no question that she looked absolutely stunning in her Nina Ricci silk French suit and unique hat consisting of a beautiful silk flower surrounded by a royal blue fan. It was deservedly given a full feature of the day on BBC. The sketches will be auctioned off to aid the injured jockey's charity. What a pity we have to wait another year for one of the best events of the season.

Tom has his private exhibition twice a year only at his home and garden. He is an ex ballerina and it shows in his work with his beautifully executed male and female bronze sculptures where you can see every muscle and contour of the body perfectly outlined. He has just sold a dragonfly sculpture for £95,000 to an American novelist as a feature for her garden. He has many famous people who collect his work and he has life size statues in Monte Carlo and Malta. He also did a sculpture of Princess Diana for the Red Cross. His paintings and prints are legendary and people come from all over the world to his exhibitions every year and to buy his work. Susie Silvey has been collecting his work for years and has modelled for him.


Thames 21 'Party on the Flood'

The charity Thames21 held a unique summer party on the beaches of the Thames at the Tower of London last week to raise funds for its work of reviving London's waterways. The party was sponsored by hedge fund group Thames River Capital (they share the River's name after all!), and CEO Charlie Porter was there in person supporting the event. Professionals from the industry attended, from brokerage houses to hedge funds and among them was Howard Flight, the former Conservative politician.

Guests were treated to summer drinks and delicious canapés on the shore, with an amazing view of the Thames, accompanied by music from a saxophone quartet.

Thames21 gave a short speech to inform people of who they are and of the good work that they do in an effort to educate and raise awareness.

As an environmental charity working with communities to bring London's waterways to life, Thames21 mobilizes thousands of volunteers every year to clean up waterside grot-spots, remove graffiti and create new habitats for wildlife. http://www.thames21.org.uk/. They have agreed to have talks about coming to Chiswick where my boats are moored for a clean up.


If the facts don't fit the theory, change the facts
Albert Einstein (1879 - 1955)

Unfortunately, this is what many researches do - they simply massage the figures. In my column I try to give you the research that sounds to have some merit and you can decide for yourself its value to you.

The front pages have recently been full of the £1.2 billion wasted on the Swine Flu jab and questions are being asked about the contracts. An independent review by Dame Deirdre Hine (previously chief medical officer for Wales) was "highly critical of the way the contracts were negotiated", the Evening Standard reported, questioning the contracts signed by the Government for vaccines against HINI virus. It seems there were most of the 90 million doses were not needed, meaning most of them when the pandemic failed to materialize. The reality is that in fact only 5.1 million doses were used. Since the deaths were not that abnormal for a bad type of flu in the past the 457 deaths that were quoted was minimal so it seemed questionable that 90 million doses were ordered without a "get-out clause". Since GSK reported revenue of nearly a billion pounds (£883 million was quoted) from vaccine sales last year it's not surprising that the drug companies will find it more difficult in the future to secure contracts...or I suppose it depends on who is giving out the contracts. Looking how the Thames is in jeopardy from tardy deals it is wise to look at who stands to gain. With my personal fight our moorings I am uncovering so much shenanigan that it is hard to believe that it has been allowed.


Minister of Sport - A Spoil Sport

David Mellor was, I believe, the Chairman of the Government Football Task Force from 1997 to 1999. He is our neighbour and been all over the news by trying to close down our favorite eating and drinking spot - a lovely building with wonderful views and terraces looking over the lock and Tower Bridge. It used to be our Yacht Club and then a very personable fellow bought it and has been working hard to keep it as a good venue. We have had some great times there and they were certainly not rowdy. The excuse from Mellor was it was too noisy but in reality he has chosen to live opposite a very busy lock which is certainly not quiet. Four hours a day boats are going in and out and St Katharine's Marina has never been considered quiet. His other reason was that the beautiful terrace, with one of the most impressive views of the Tower of London, was overlooking his garden yet the gigantic Tower Hotel (I still call it that) also overlooks his garden yet he didn't try to close them down. The restaurant didn't lose their license but they are so restricted that we cannot pop in for a drink or a snack and no one (not even staff) can set foot on the terrace. What power some people must yield!


Why Won't Jeffrey Moyer Eat Non-organic Potatoes?

Jeffrey Moyer is the chair of the National Organic Standards Board.

Root vegetables absorb herbicides, pesticides, and fungicides that wind up in soil. In the case of potatoes -- the nation's most popular vegetable -- they're treated with fungicides during the growing season, and then sprayed with herbicides to kill off the fibrous vines before harvesting. After they're dug up, the potatoes are treated yet again to prevent them from sprouting.

"Try this experiment: Buy a conventional potato in a store, and try to get it to sprout. It won't," says Moyer, who is also farm director of the Rodale Institute (also owned by Rodale Inc., the publisher of Prevention). "I've talked with potato growers who say point-blank they would never eat the potatoes they sell. They have separate plots where they grow potatoes for themselves without all the chemicals."

The solution: Buy organic potatoes. Washing isn't good enough if you're trying to remove chemicals that have been absorbed into the flesh.


It's all in the MIND

Latest studies show that you can exercise without actually exercising, just imagine you are doing it. This is really all in the mind. They're telling us something we hypnotherapists have known for years – the mind can't distinguish between reality and imagination. Sportsmen "rehearse" and perfect their skills in their mind before taking part in their chosen sport and it has been proven to improve performance. What a shame the Fabio Capello didn't get the England team a dose of hypnosis – we just might have fared better in the World Cup...Maybe next time!

In my next article I will be writing about the incredible ability of dogs and whey they are not used to diagnose cancer and its stages. Even epileptics can have carer dogs that will give an indication by getting very excited when a seizure is about to come on so the appropriate medicine can be taken. Nothing to do with drugs so I supposed no one is putting up the money for research?

I have all my books selling on the iphone now so just type in my name and I have around 12 to choose from ranging from 'Hypnotize your Bank Manager' to my 5 books both in print and audio form. Adding more each week.




Eds Note: VALERIE AUSTIN is an author of six successful self-help books including SELF HYPNOSIS (Thorsons), journalist and trainer with an international reputation in the field of hypnosis. Her best-selling books and training help people achieve their full potential. She founded the Austin Corporate Stress Management Company focusing on reducing stress and anxiety amongst executives and CEO's. She is also founder of UKRAH (1992) The UK Register of Advanced Hypnotherapy. Valerie has also worked as a consultant in hypnosis at the Priory Hospital, the UK's equivalent to The Betty Ford Clinic, which specialises in food addiction and alcohol abuse. Her work in the film industry (Hollywood) interviewing movers and shakers, producing TV news segments and publishing celebrity magazines in London gave her invaluable experience for her current Harley Street practice.