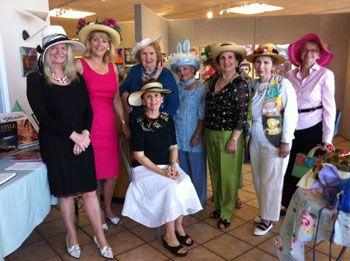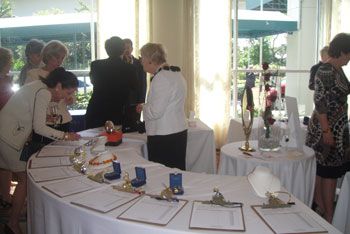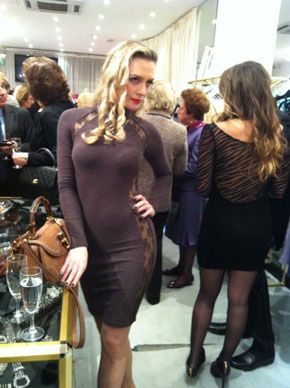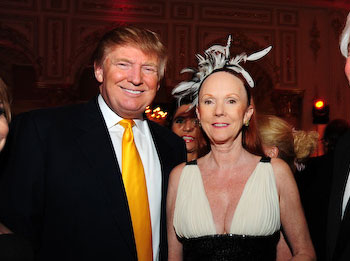 Picture Credits:

1. Pen Ladies Luncheon and hat competition
2. Valerie Blondeau on worth avenue with gentleman going in to buy some jewellery with his designer Burberry walker.
3. Cocktail hour at Knightsbridge Rachel Couture fashion show
4. Jewellery Auction, a great way to get bargain jewels
5. Donald Trump And Valerie Blondeau At The Unicorn Ball


When the Rich and Famous Spend

I could only spend one day in fabulous Palm Beach with my good friend, PR guru Valerie Blondeau. She is also an image consultant to the seriously rich and kindly helps me with my wardrobe when I need to look the part at the various functions.

As you may remember I had my handbag stolen in December at the Hilton Hotel Edgware Road right under the nose of their security! I had to return to the UK in the middle of my US trip to renew my US visa which was in my handbag together with my iphone, money and credit cards. I seriously wouldn't wish this on my worst enemy. It completely changed my life, creating a catalogue of catastrophes and even illnesses which ended up with me having an MRI in the hospital. 40 minutes is an eternity when you have to keep still inside a metal tube.

Valerie Blondeau and I were having a weekend together, a much deserved break, and wondering why we were being kept waiting so long at the VIP check in while the receptionist would literally disappear in the back while we chatted. Then it happened. I went for my bag and it was gone, a professional thief had bent down, put his hand round my legs and got my bag and all caught on the security camera. The shock of losing my passport a few days before I was to fly to the US was incredible. Instead of enjoying the weekend I was having to go out at 7.a.m in the snow trying to find someone official to sign my passport picture. Both Valerie B and I caught the worst flu and I ended up passing out on the plane, have to say British Airway staff were fantastic. The domino effect is too awful to write about but all I can say is that the hotel didn't take any responsibility, with no reduction of room price, not even some complimentary flowers in the room, if something goes wrong you are on your own. As a friend said, "That is reason enough not to stay at a Hilton hotel". My parents were hoteliers and we always felt responsibility for our guests and helped where ever we could.

Unfortunately I was unable to attend the always fabulous Unicorn Children's Foundation ball at my favourite Mar-a-Lago club, Donald Trump's private playground (see Donald Trump with Valerie B pictured above). I gather it was a sensational event themed on The Orient Express. Valerie B kindly secured a fabulous auction prize of a trip on the Orient Express from Venice to London and it was snapped up with the evening making over $500.000 for a worthy cause.

Still, we enjoyed a day strolling down Worth Avenue taking in all the wonderful shops including gorgeous Tiffany. The famous road always has surprises and an old gentleman had a walker with the and stopping at Taboo for dinner - always a great place for people watching. We ended up at the Colony Hotel, where over our Veuve Clicquot I asked Valerie B how she was so fresh after just arriving from a long transatlantic flight.

Valerie swears by Virgin Atlantic Upper Class. As she says, from Virgin's great Heathrow VIP lounge you are whisked through a special short cut security and warmly welcomed to your upper class sleeper seat. What other airline has a great bar on board where you can meet your fellow passengers over chilled bubbly, then have a little nap on your personal extended bed? She assured me that the fares are still great for the upper class passenger.

As we left the Colony we stopped to admire the façade outside Saks Fifth Avenue where the whole wall has been carpeted with a plant palette of various hues, popularized in Paris (see picture above). I am told it will be in full bloom this spring; it is controlled by a series of metal boxes, each one holding the plant's roots, computer chips and irrigation sensors. So much more beautiful than a plain wall, I hope it catches on!

If you are in Florida do visit Palm Beach - still an old bastion of high class living.

I attended the Pen women's tea. It is strictly for authors and artists. The club is over a hundred years old and has a building donated to it so you can stay in the centre of Washington reasonably. There is always a book reading and this month it was 'The Guernsey Literary and Potato Peel Pie Society' by Annie Barrows. It is set in both London and Guernsey Island and the novel follows author Juliet as she becomes friends with the inhabitants of the island shortly after the end of World War 2.
As she writes, she becomes more and more intrigued with the stories of the people who survived the hard times, and she decides to create a book based on their experiences. I was delighted to be asked to talk at one of their meetings next year. Most clubs like this close for the summer when people leave Florida for their other homes.

I had a fun time at one of Sally Farmiloe's fashion cocktails at Rachel Couture, Knighstbridge where Sally's talented daughter was on the catwalk modelling some lovely clothes, one of which I saw was perfect for Ascot. Talking of Ascot, Adrian Goldsmith is inviting guests to the Prestigic Holdings and The Button Club on 12th June at Ascot Park Polo Club. It's a charity Polo Day in aid of Prostate Action, The Liberty Foundation and The Place to Be. Lunch is hog roast and salads with drinks from noon. Dress code is per Gold Cup Guards Polo. Tickets are and you can get more information via email to:

[email protected]




Bottled water in your car is very dangerous!

Sheryl Crow said on the Ellen show that this is what caused her breast cancer. It has been identified as the most common cause of the high levels of dioxin in breast cancer tissue. She said her oncologist told her, "Women should not drink bottled water that has been left in a car. The heat reacts with the chemicals in the plastic of the bottle which releases dioxin into the water. Dioxin is a toxin increasingly found in breast cancer tissue. So please be careful and do not drink bottled water that has been left in a car." I have been asked to pass this on to as many women as possible. Use a stainless steel canteen or a glass bottle instead of plastic! This information is also being circulated at Walter Reed Army Medical Centre where it recommends no plastic containers in microwave. No water bottles in the freezer and no plastic wrap in the microwave.
In the US people are starting to be very wary about plastics in wraps, containers and anything. My doctor friends won't even cover their furniture with plastic covers when they go away for the season. A dioxin chemical causes cancer, especially breast cancer. Dioxins are highly poisonous to the cells of our bodies. Don't freeze your plastic bottles with water in them as this releases dioxins from the plastic. Recently, Edward Fujimoto, Wellness Program Manager at Castle Hospital explained this health hazard on a recent TV programme. He talked about how bad dioxins are for us and that we should not be heating our food in the microwave using plastic containers. This especially applies to foods that contain fat. The combination of fat, high heat and plastic releases dioxin into the food and ultimately into the cells of the body. Instead, he recommends we should use glass, such as Corning Ware, Pyrex or ceramic containers for heating food. You get the same results, only without the dioxin. So, such things as TV dinners, instant soups, etc., should be removed from the container and heated in something else. Paper isn't bad but you don't know what is in the paper. It's just safer to use tempered glass. He also talked about plastic wrap, such as Saran wrap or cling film, is just as dangerous when placed over foods to be cooked in the microwave. As the food is nuked, the high heat causes poisonous toxins to actually melt out of the plastic wrap and drip into the food. Cover food with a paper towel instead.


Keep Toxins Out of Your House

The easiest and cheapest way to keep toxins out of your home is to take your shoes off before stepping inside, as we track so much dirt and toxins in with our feet. When you get inside, steam the floors with hot water rather than cleaning the hard floors with toxic cleaners. Steam away the dirt and scuff marks with a mop that requires only water. There some good things on the market such as the Bissell Steam Mop. These sort of mops are chemical free and eco-friendly. Chose water based paints and you can wash clothes with salt or herbal based soaps. You may want to use a natural cleaner made from a salt compound such as Borax.

It is quite amazing how drugs can turn your mind to wanting to kill yourself or wanting to kill others. But this case is very bizarre and I wonder if we will ever hear the outcome. A married father of two who took medication to treat his Parkinson's disease is taking the pharmaceutical giant GlaxoSmithKline to court because he claims one of their products turned him into a gay gambling addict. He claims his behaviour changed beyond recognition leading to eight suicide attempts and gambling problems that saw him steal and lose his family's savings. Wonder if we will ever find out what the outcome is?


Tips:

Toothbrushes can be so very useful for clearing dust from pleats in lamp shades, sink drains, stove and dishwasher knobs and toilet-seat hinges - they get in there without mess. For microwave oven vents just get an old rag or T-shirt, put some water and cleaner on and then place over the toothbrush. It's safer than spraying a cleaner there as it will burn out the fan.


My New Website and Apps Launch:

I am launching my two new sites on the internet www.austinhypnotherapytraining.com has a free report on hypnosis training and www.relationshipmagnets.com shows you how to find your perfect partner, or for the unhappy, how to have a "Happy Divorce". Check it out - it could change your life!


Self-Help books and iPhone APPS

I have all my books, even with audio, selling as apps for the iPhone so just type in my name in the iTunes store and you should find around 18 to choose from ranging from 'Hypnotize your Bank Manager'. Right after the software developer designed the software (and of course having to listen to the hypnotic recording several times) he got the backing for his company to go public so it worked for him. Also available are 'Grief', 'Fear of Flying', 'Attracting the Right partner' and 'Stop Drinking' which had a good review in the iPad Apps Directory.