I have specific views on the role and responsibilities of a restaurant critic: for me it is the independence of the reader that is at stake and not the fame of the writer. When I review a restaurant, I am representing the public. I write for the readers to be able to make up their own mind.

What do I look for when I visit a restaurant? Delicious food (presentation, quality and freshness) and good service in a pleasant atmosphere.


The customer should always come first. Cover charges should be removed, bread should be complimentary (further portions charged for), tap water offered freely and service charge, if included, clearly shown to avoid double tipping. And of course service charge then passed on to the staff equally divided between kitchen and floor.

Radical? Perhaps but it would be for the better.

April is in celebratory mode with the forthcoming royal wedding. So for this my first column I have chosen three of my favourite restaurants fit for royalty and us all!

I would welcome readers' suggestions and feedback.


FENG SHANG PRINCESS Floating Chinese Restaurant, Cumberland Basin, Prince Albert Road, Regent's Park London NW1 7SS 020 7485 8137 www.chineseboat.co.uk

Feng Shang Princess is so properly named. The place looks royal and one is made to feel royal.

This is the floating Chinese restaurant in Regent's Park. Owner, Karen Chua, had a vision when she took over this purposely built boat some time ago. She redecorated it and brought a team of Chinese chefs who created an exciting menu with unique dishes not usually featured in Chinese Restaurants – delicacies from Singapore, Japan, China, Thailand and Malaysia. To name a few: Singapore Laksa Soup (rice vermicelli, bean sprouts & prawns with shrimp paste, coconut milk & curry base £6), Stir fried sea bass fillet in Thai style (£22), Stir fried Tiger prawns with Japanese Yakiniku Sauce (£12.50), Malaysian Grilled chicken satay (£7), Grilled lamb chop in Teriyaki Sauce (£15). For a more adventurous meal you can try stir fried ostrich (£17.50), Mongolian style sliced venison (£15) or Grilled black cod with Taiwanese Sha Cha BBQ sauce (£35).

I love Chinese food and have tasted it around the world. Whilst the food is quite different in each country the unique flavours remain basically the same. My favourites at Feng Chang Princess are the salt & pepper prawns (£9), the crispy seaweed with grated scallop (£6) the Thai Tom Yum Seafood Soup (£6) and stir fried sirloin beef with French beans in spicy chilli sauce (£12.90). They have two excellent 3 course menus priced at £28.80 and £38.80 per person and dishes include stir friend prawns, sliced rib eye in black pepper and red wine sauce and stir fried sea bass with sugar snap peas.

Glancing through the wine list I spotted a Chassagne Montrachet 2005 at £85 and a Volnay 1er Cru 2005 at £105 but settled for their excellent house Rose wine: Pinot Grigio Via Nova at £5.80 (glass) £20.50 (bottle).

The restaurant is beautifully located with striking views of Regent's canal. You will have a commanding view of the cruising boats, the ducks making ripples in the water and the houseboats along the waterway. This is a perfect venue for large celebratory lunches or dinners (sits 60 in each floor) as well as an intimate meal for two – especially if you book table One.

Karen's dedication translates itself into a winning formula: excellent food and service – a family business with her son Roy and Jimmy looking after the patrons with charm and a big smile.



MARCUS WAREING At The Berkeley, Wilton Place, Knightsbridge, London SW1X 7RL 020 7235 1200 www.marcus-wareing.com

"It is my life. I always explore to reach a level of perfection," tells me Marcus Wareing. Dining at his restaurant is a gourmet experience. Austere in décor but yet it has a welcome feeling to it. Large tables arranged around the room give a sense of space or you can reserve the unique Chef's Table (facing the kitchen) which sits up to 8 guests.

On arrival the most impressive trolley with several bottles of Champagne is wheeled to your table. You can choose from an array of menus ranging from £38 for a 3 course lunch to the Gourmand menu at £120 for 9 courses featuring Scottish lobster, beetroot, ricotta, watercress; Quail, smoked goats' cheese, shallot, potato bread; Cornish sea bass; suckling pig, chorizo, dead nettle, fennel, artichoke, almonds or Cornish lamb, falafel, cornichon, carrot, pink peppercorn yogurt.

Apart from being artistic the food is of excellent quality and very tasty. Surprises such as petit four that melt in the mouth, a little glass with chilled gazpacho and sorbet with tiny pieces of melon are brought in-between the courses.

The Bon Bon Trolley matched the opulence of the Champagne one – rose Turkish delight, chocolate Champagne truffle with caramel inside, tiny éclairs light as clouds. With these choices who can resist and choose instead the shiny cherries on offer?

House wines Rudera Chenin Blanc (South Africa £35) and Montescondo (Italy £35) just two of a very impressive wine list.

Manager Dimitri Bellos heads an attentive and communicative team. Marcus Wareing's drive and ultimate experience in hospitality are present in his very professional team.

Marcus would like more English people to come into the industry. His new restaurant called The Gilbert Scott opens on 5th May: A British Brasserie at the newly refurbished St. Pancras Hotel which is being hailed as the city's most romantic building. Watch this space.



WILTONS "Since 1742"

55 Jermyn Street, London SW1Y 6LX 020 7629 9955 www.wiltons.co.uk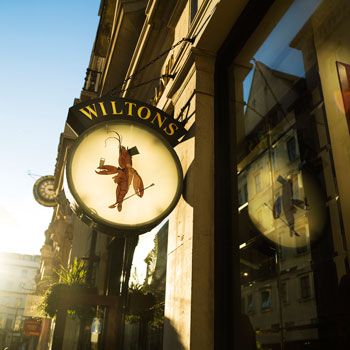 I always sit at a corner table in the bar area – where you can watch the beautiful people arrive -- like reading a page from Debrett's -- being greeted, seated and never disturbed. Everybody is very professional and attentive and the service impeccable.

Wiltons -- situated in one of the cosiest streets in London and central to shopping and a short walk from theatre land -- is a true English institution. Patrick is and has been a very important part of that institution for the past 40 years. The bar area is Patrick's domain aided by Sam 'the oyster man'. They make a wonderful team remembering what you drink and what you like. Regulars like to come for a quick lunch and sit at the bar. It is great especially if you are alone. The bar is sumptuous with large silver champagne and wine coolers. This is in contrast to the elegant dining room areas with booths that give privacy and intimacy.

Wiltons' traditional food is always tasty, fresh and beautifully presented. You go there with the knowledge that whatever you order is going to be good. When in season, their langoustine and crab are simply exquisite. Oysters are their speciality shucked at the bar (by Sam) and served with chopped marinated red onions.

And now they have The £forty Five lunch menu: Butter squash soup, ½ doz WILTONS selected rock oysters or Terrine of duck; WILTONS cod and chips, Rump of English lamb with artichokes and truffle sauce, or Carving trolley of the day (Salmon coulibiac); Vanilla Cambridge cream with mango and strawberry, Apple and calvados marinated raisin crumble, or selection of British and French farmhouse cheeses; 1 glass of excellent Sancerre Dezat or Bourgone Pinot Noir (first course); 1 glass of Chateau De Francs or Chateau La Bastide Blanc (2nd course); coffee, tea or infusions plus Sweetmeat. Thin brown bread and butter or choice of various breads.

I can recommend the Dover Sole Meunieure (Market price) and fresh spinach (£ 5.00). I always order fish 'on the bone'. To me it tastes so much better that way and I feel I am earning the right to eat it.

Depending on your credit card balance, you may wish to put Wiltons in your list where you would rather be a guest than a host. But a visit is a must. Savour the time you are there including a visit to their elegant rest rooms (as the Americans call them). The feeling is more like dining at home with your personal butler looking after you than eating at a restaurant. Simply wonderful!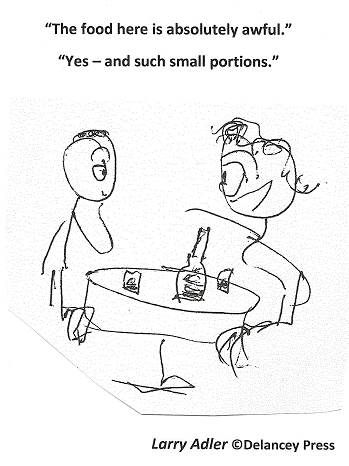 Thank you for reading my page. Please write to me at:



[email protected]