Best congratulations from all at HG to HRH PRINCE WILLIAM and his beautiful new Princess, KATE.
We hope you like our fun cover photo of the Royal couple.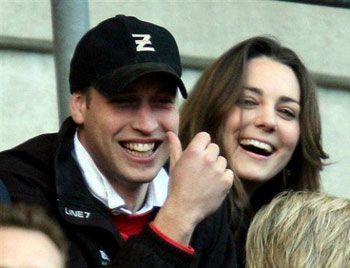 PRINCE WILLIAM AND PRINCESS KATHERINE. Image: GABOR SCOTT.



And if you want to see a fab photo of THAT dress of KATE's, please visit our new social snapper BOLLY GOLIGHTLY's brill page when you finish reading this one.
A warm welcome to BOLLY and her amazing new column, BOLLY'S CELEBRITY GOSSIP JOURNAL, chock full of A LIST snaps n stories. You will love it, dear readers.
A very warm welcome too to our wonderful new restaurant reviewer TATIANA VON SAXE, whose RESTAURANT REVIEWS column will really get you salivating! TATIANA's pedigree is first class, having reviewed for all sorts of publications including the HERALD TRIBUNE.
We are honoured to have both lovely ladies / excellent writers on board with us.

STOP PRESS: and talking of the Royal wedding, if you've been invited to that one (I'm sure you have!) or any posh wedding and don't have an outfit, nip off to designer PARVEEN's West End shop - she stocks all sorts of suitable wedding guest outfits and is having a massive MOVING SALE at the moment - please see the bottom of this page.

Thank you for all your emails re my recent theatre role, playing ODILE (A NUN) in rehearsed readings of THE DEAL, a brill new play by HELENE PASCAL at PENTAMETERS and THE INTERCHANGE THEATRE. I was thrilled to receive such praise - one reviewer called me 'terrifying' = not quite sure how to take that!
The director KENTEAS BRINE was divine to work with and I will be working for her again shortly, playing a gangster's moll = watch this space.............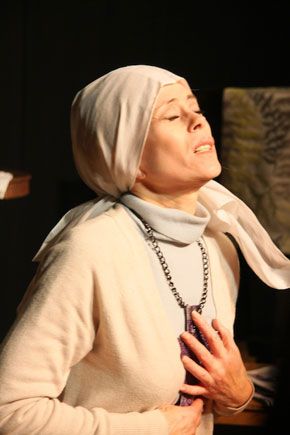 SALLY as ODILE in THE DEAL. Image: GABOR SCOTT.




Thank you also for your emails re WHITE VAN MAN (BBC) - apparently the trailer / commercial with moi in the tiny leather 'yummy mummy' skirt has gone into the Top 100 Commercials = more money for us actors, I wonder? My agent is trying to get a nice still for the column: 'From The Convent To Black Leather'!


On the 'mode-lling' front, I am still endorsing BAGS OF DREAMS and now, also, their latest product, a fab 'skull phone' called SKULL DUGGERY which is a land line phone made with SWAROVSKI crystals which lights up with blue crystals when it rings = great fun. You can buy one from:
07956 86 98 08
They come in silver, pewter or black - I've ordered one in pewter.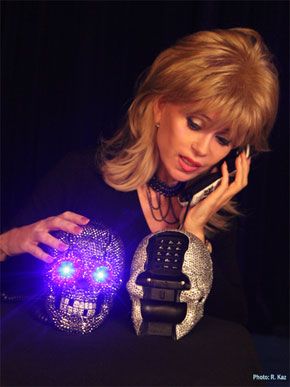 SKULL DUGGERY. Image: R. KAZ.




Talking FASHION, we hear that 'grey is the new black' for A/W 11. But I'm not so sure ("I used to be indecisive but now I'm not so sure"!)
There was the usual huge amount of black on the catwalks this season and, quite frankly, the LBD is irreplaceable with any other colour.
The best LBD I've seen recently was at the RACHEL COUTURE SS 11 show at Parisian RACHEL's gorg shop on Knightsbridge (020 7235 39 79) and here it is, modelled by teenage fashion model JADE F, a 'new face' at PROFILE MODEL MANAGEMENT who has been described as 'the new VERUSHKA' :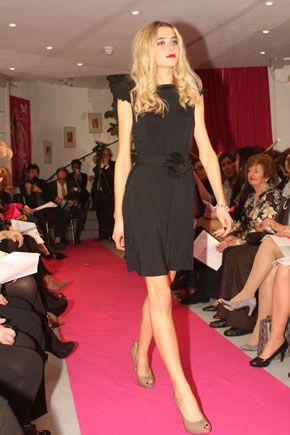 JADE F / LBD / RACHEL COUTURE. Image: GABOR SCOTT.



RACHEL's other gorg models at this fab socialite filled show included former MISS GREAT BRITAIN, TV presenter LIZ FULLER and film actress LANA HOLLOWAY and the styles included CHANEL chic, sexy evening dresses and MY FAIR LADY extravaganza gowns, accessorised with lush DEIDA ACERO titfers: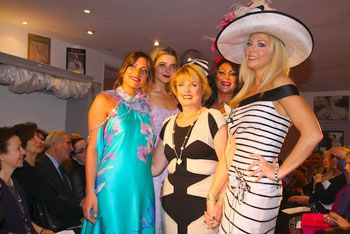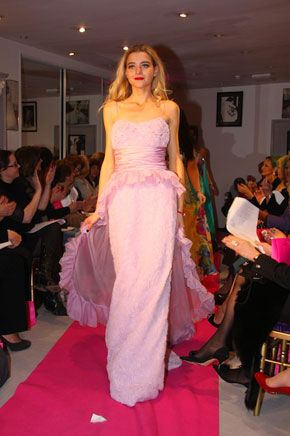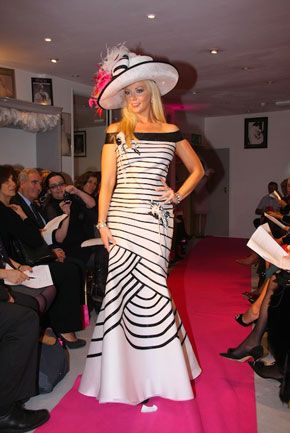 RACHEL ELBAZ and her models. Images: PAUL CAROLL and GABOR SCOTT.




Talking 'Spring/Summer', spring has at last sprung and we need to be ready for it. Don't just spring clean your exteriors, have a go at your interiors as well, health fans! A COLONIC's the thing to make you feel super clean and sparkling inside and ready to buy up all the designer frox you can wear.
Firstly the world found out that the one and only PRINCESS DIANA was hooked on Colonic Irrigation.
Then SOPHIE ANDERTON announced on I'M A CELEBRITY.... that "you can have 20 year old faeces in your gut" and the dye was cast............we all had to try the 'bum wash'.
But where to go for this thrilling experience? The best place is the world famous HALE CLINIC in Park Crescent, W.1. (020 7631 0156) where colonic therapist KAORI will give you the treatment as well as diagnose your gut problems and suggest suitable supplements to keep you healthy.
Our guinea pig JANE said " it wasn't painful at all, not even embarrassing, you're covered with towels and it's quite relaxing really. KAORI was really nice. I lost several pounds in weight, felt really fresh afterwards and it seems to have cured my constipation problem as well, which is a bonus. KAORI suggested some supplements and my digestion has behaved much better since the treatment. I intend to have one every few months to keep healthy and clean inside now. I have had much more energy since the colonic. I was very impressed by the clinic, the therapist and the treatment."


Thank you for all your emails about BOTOX. The 'magic' paralysing treatment which gets rid of wrinkles has been much in the news recently as it is now, at last, illegal for anyone other than a doctor or nurse to administer it - and about time!
Even so, you should choose your Botox doctor with care and the treatment with huge respect. My Botox doctor is the highly respected MR EDWIN ANTHONY (he is actually a surgeon which is why his title is MR, not DR = a strange but true fact in the medical profession) of BELGRAVIA AESTHETICS.
MR ANTHONY suggests "a little at a time and build up gently" with both Botox and dermal 'fillers'. Thus, he explains, you can minimise the possibility of ptoses (drooping), the 'plastic' look or bruising.
MR ANTHONY also advises the use of EMLA or a similar numbing cream for 45 minutes before treatment and maybe even a dental block before lip enhancement = right on, MR A, who needs to feel a thing where needles are concerned?!
I have been thrilled with my Botox at BELGRAVIA AESTHETICS - I only need to have it about once a year now and believe that, with MR ANTHONY maintaining my looks, I'll be working in front of the cameras till I'm 85!!
The handsome and delightful MR ANTHONY, who is himself 38 but looks 28, offers all sorts of interesting treatments at BELGRAVIA AESTHETICS besides Botox and dermal fillers, including lip enhancement, chemi peels, the mini 'nose job', mole removal and laser liposculpture.
My pal CASSIE had Sculptra, the 'volumising for faces' treatment, with EDWIN recently and looks totally amazing now.
Don't worry, dear readers, I will be working my way through lots of MR ANTHONY's fantastic rejuvenating treatments in the fullness of time - watch this space - but I trust his judgement and will only try a little at a time.
BELGRAVIA AESTHETICS is at:
Harley Street
Chelsea Bridge
Canary Wharf
and THE JANET GINNINGS SALON, Curzon Street.
Main booking number: 0845 366 8511.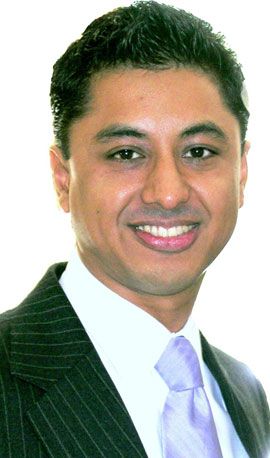 MR EDWIN ANTHONY.





BEST PRODUCTS:

The most innovative product I have come across in years is the fabulous new PEEK-RET, a pretty fluffy or sparkly decoration which you attach with - safe - glue to your nether regions = yes, really!
The designer of these sexy little, er, 'garments' is talented make-up artist JEN SEIFERT, whose mum FIO was a LAS VEGAS showgirl who designed gorg showgirl dolls so I guess it's in the blood.
The PEEK-RETS, in all sorts of different feminine designs, come beautifully presented in pretty pastel boxes, complete with the glue, which is easy to remove.
I can see this new trend catching on with everyone from sexy socialites who want to enliven their love lives to Burlesque dancers, ladies of the night and CHARLIE SHEEN's girlfriends!
So what are you waiting for, girls? Get a Brazilian - or maybe a Full Monty - downstairs and stick on a PEEK-RET - you can use them again and again if looked after carefully.
If you chicken out you can always wear your PEEK-RETS as claspless chokers / necklaces.
In this case a picture really is worth a thousand words and here's one of JEN's gorg PEEK-RETS - control yourselves, gentlemen readers!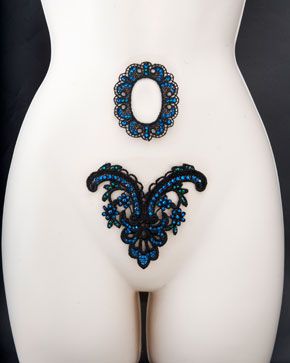 PEEK-RETS by JEN SEIFERT.

http://peek-ret.webeden.co.uk




Once you have groomed your PEEK-RET area, you may think about improving your bust - where you can also stick your PEEK-RETS should you be so inclined!
ST HERB have just brought out the new and exciting NANO BREAST CREAM, made - purely - with herbs, Vitamin B3 and Witch Hazel Extract.
Our trialler SANDY said " you apply the NANO cream morning and night with gentle massage for a few mins. It's easy and you feel a slight tingling sensation. My boobs have definitely started feeling and looking firmer after just a couple of weeks - it's amazing!"
Ah, the magic of these oriental products (NANO is manufactured in Bangkok) - and entirely safe too, being herbal.
www.stherb.com



The latest and greatest SKINCARE product from respected Icelandic company, BIO EFFECT is their EGF CELLULAR ACTIVATING SERUM which promises to 'Restore, Rehydrate and Rejuvenate'.
Our trialler TERI said "the EGF Serum contains glycerine and feels really smooth when you apply it. I used it on my face and neck every night and it made my skin really glowy with a much better colour, rosier."
www.bioeffect.co.uk
www.sifcosmetics.com


Another nice skincare product I tried myself is ANTIPODES' AVOCADO PEAR NOURISHING NIGHT CREAM.
My pal actress DONNA READING advised me of the wonders of slathering avocado pear into your skin during her picnic in Car Park One at ROYAL ASCOT around 17 years ago so I was already convinced!
This cream smells lovely, as you would expect, and defo stimulated my skin instantly = good stuff from Down Under!
www.antipodesnature.com

LUSH's bath products are legendary but I also love their new GORILLA PERFUME AT LUSH / DIRTY HAIR STYLING CREAM = perfect for this season's big hair and their DIRTY TOOTHY TABS, a new and fun way of cleaning your teeth without messy old paste = just the job for those hot dates................
www.gorillaperfume.com

Celeb fans of LUSH products allegedly include the gorg SARAH HARDING who looks just as beautiful brunette as blonde, btw, and here she is with her handsome fiance, TOM CRANE: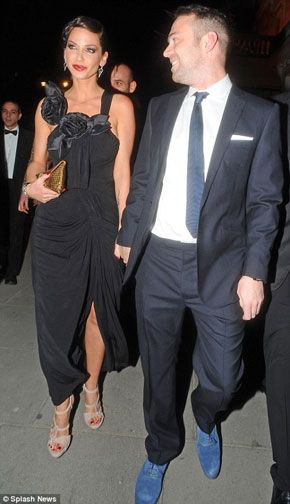 SARAH HARDING and TOM CRANE. Image: SPLASH NEWS.




My fave SUNCARE prods at the moment are TESCO's very reasonable SOLEIL range, especially:
their 50 SPF SENSITIVE SUN LOTION, a nice thick covering cream which I used - totally successfully, not a hint of sunburn even at the highest altitude - on my face for my recent skiing trip.
and their SPF 50 SUN SPRAY which is really useful for the whole body as well as the face as it's so easy to apply and rub in and it smells totally divine.
Good old TESCO!



BEST BOOKS:

Yippee! Summer's almost here which means a fantastic new novel by top UK thriller writer PETER JAMES. The Great Peter's DETECTIVE SUPERINTENDANT ROY GRACE 'DEAD' series novels are always Number One Bestsellers and his latest, DEAD MAN'S GRIP will defo follow the tradition.
DEAD MAN'S GRIP (MACMILLAN) is better than ever, absolutely gripping if you'll excuse the pun! Not to mention chilling, tantalising and blooming scary! If only the supremely talented MR JAMES could write as fast as I can read.....................
DEAD MAN'S GRIP is the terrifying tale of revenge, NEW YORK MAFIA style. A MAFIA boss's grandson is killed in a road traffic accident in Brighton, Grace's patch and a brutal and sadistic hitman is hired to torture to death the drivers of the other 3 vehicles involved in increasingly gruesome and macabre ways. I promise you, dear readers, your hair will stand on end!
The sub plot about Grace's former and future wives is also intriguing ............ what will happen in the end?..................and DEAD MAN'S GRIP is the ultimate page turner. Enjoy, PJ fans = unputdownable.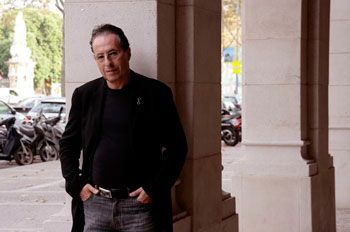 PETER JAMES.




And now for something completely different but also pretty darn scary = BonkBuster Master Extraordinaire ROBIN ANDERSON has 2 naughty new novels out (published by NAZCA PLAINS CORP / USA) in his inimitable sexy style and I don't know which one is the more outrageous!
BRUISED FRUIT is the cautionary tale of the sophisticated but sadistic socialite Jeremy and his arty set of painters, critics and a cross dressing uncle. Jeremy glides effortlessly through the art world but will his sordid past catch up with him?.........................
DEFUNCT GRISTLE, as the title suggests, is even more imaginative in its crimes and cavortings and sports odious anti-heroes, Anthony and Hamish. One presumes that their ends, like their lives will be, er, sticky but the ingenious ANDERSON likes to keeps his readers on their toes, so to speak, and provides a neat twist to the tale which will surprise you, ANDERSON fans.
Not to be read on a full stomach!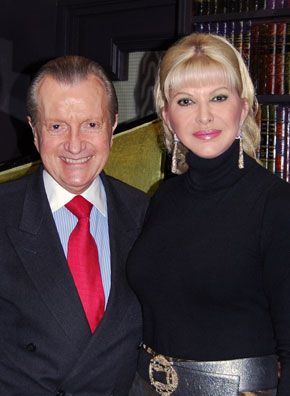 ROBIN ANDERSON and IVANA TRUMP.




Talking of naughty boys, thank you for all your emails about CHARLIE SHEEN, the highest paid and most volatile TV actor in the world.............who knows whether TWO AND A HALF MEN will ever have him back after biting the hand that feeds? But at least he made 177 episodes for me to watch back to back while I am doing my workouts! And what about that Viking cozzie?!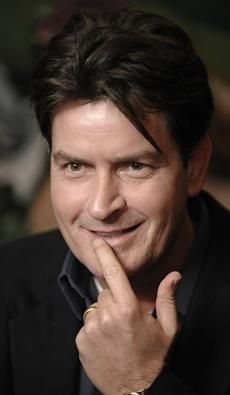 CHARLIE SHEEN. Image: CHRIS PIZZELLO.





The world mourns that most legendary of film stars, the extraordinary (DAME) ELIZABETH TAYLOR.
Who could ever forget her in films such as CLEOPATRA and WHO'S AFRAID OF VIRGINIA WOOLF?
Such a combination of acting talent and lush beauty - and those stunning violet eyes.
Here is one of my favourite images of the great LIZ as she appeared in CLEOPATRA: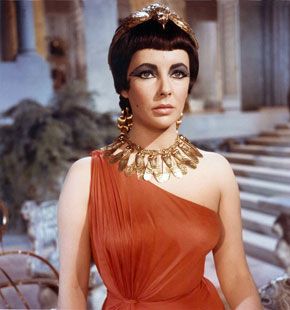 ELIZABETH TAYLOR in CLEOPATRA. Image: MYJESTIK.




I like to think that she is up there in Showbiz Heaven enjoying a glass of champagne with her dear friend MICHAEL JACKSON, whom she must have missed terribly.
MOHAMMED AL FAYED recently unveiled a beautiful statue of MJ in London but here is one of MY fave images of him with his pet Brit designer PARVEEN: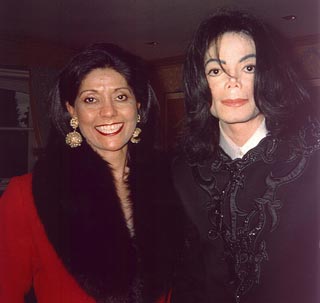 MICHAEL JACKSON and PARVEEN.



BEST SALE: RED ALERT, FASHION HOUNDS!

BTW, the talented PARVEEN is having the most fantastic, best ever prices, MOVING SALE at her current treasure trove of a shop at 48 Dorset Street, W.1. (020 7486 84 80).
You will be able to pick up her beautiful designer dresses and suits, stunning evening gowns as worn by NAOMI AND VALERIE CAMPBELL, HEATHER MILLS, WINNIE FORSYTH, MRS URI GELLER, etc and fabulous accessories, including leather handbags, SWAROVSKI crystal hairbands and gorg jewellery for - literally - a song. Perfect for presies, perfect for YOU!
Get along there asap - EVERYTHING MUST GO, she says! Her lease has run out, poor thing and she has nowhere to go at the mo but I will of course inform you, dear readers, as soon as she finds new premises.
In the meantime I'm hotfooting my way to her shop with bells on as soon as I've filed this copy - see you there!
www.parveencouture.co.uk



Another place I'd love to see you, dear readers, is at my next charity fashion show compering gig at LESLEY ASH and LEE CHAPMAN's fab club JUJU'S on the King's Road on Thursday 28th April.
Please join all sorts of lovely celibutts and myself to raise money for THE TREE OF HOPE CHILDREN'S CHARITY.
The designers who are showing include GET WAISTED who make the gorg CHELSEY BAKER's fab corsets and I will myself be sporting a stunning GET WAISTED evening outfit on the nite.
Tickets are just £20 so what are you waiting for, fashion fans?
http://styledandfrockedjuju.eventbrite.com



Thank you for reading my page.
Please email me at:


[email protected]


and check out my other websites at:
www.sallyfarmiloe.com
www.kazzyandsally.tv