It's the start of the film festival season and what better festival to start with than the gloriously hot Venice Film Festival? Now in its 64th year - it did start 75 years ago but it went through a sabbatical due to the war years- I was looking forward to it as always. Exiting the plane at Marco Polo airport and being hit by the intense heat is always a nice welcome. By the time I was dropped off at the Lido of Venice by the water taxi around midday, I was sweating quite a bit. At my hotel, once showered, I headed to the Casino - where the festival is based- to collect my accreditation. I then went to the 'festival warm up' drinks reception at Nikki Beach. Good to be back at work in Venice. The festival itself kicked off in fine style with the premiere of Atonement starring KEIRA KNIGHTLEY and JAMES McAVOY. Keira looked fabulous -as long as she didn't laugh- as she has got a terrible laugh/smile. She looks superb as long as she stays serious, otherwise she transforms into a bit of a demented looking minger (allegedly - Editor)!! Sadly, this year again, we didn't have the wonderful Beck's - freebie- bar. This bar used to be opposite the red carpet and that's where I used to hang out pretty much everyday before the premieres. Ah well, maybe next year. I have to say, the main celebs we were all waiting for were BRAD PITT and ANGELINA JOLIE. Brad was due in Venice to promote his new flick The Assassination of Jessie James, but we were not sure whether Angelina and the kids would come. For picture sales we needed the whole entourage. Not much fun on the red carpet if it's just Brad. Even in a frock.We needed a stunning long dress -covering Angie's knees preferably - they're the weirdest- and Angie doesn't usually disappoint. Thankfully, my spies told me that Brad was indeed with wife and kids, and had just landed at Marco Polo airport. Great, we were in for a serious premiere. On the night itself we were not let down. Brad wore a tuxedo but with a white jacket, which was a nice change as men normally all wear black or grey suits. Angelina wore a glitzy silvery/ black dress which looked perfect on the red carpet. This is the glamour I am after. The cameras went nuts with those two.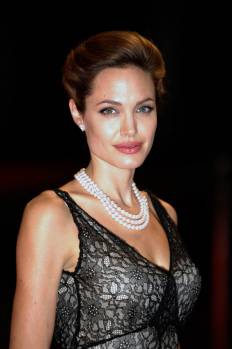 ANGELINA JOLIE.



After the premiere, it was the customary rush to the press centre to file pictures, praying that the WI-FI wasn't down. In the red carpet stakes, although Angelina's dress was excellent, my 'award' for the real show stopper dress went to the gorgeous CHARLIZE THERON. Her outfit was simply stunning. She looked incredible. Charlize was in Venice to plug one of her new films In The Valley of Elah.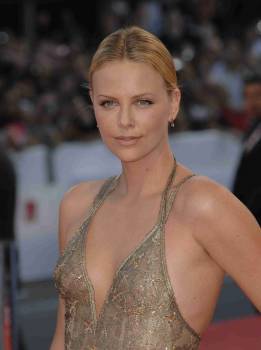 CHARLIZE THERON.



However,the big Copa Volpi winners in Venice were: CATE BLANCHETT -Best Actress- for her role in I'm Not There -Bob Dylan film- and Best Actor went to BRAD PITT for his role in The Assassination of Jessie James. Other celebs in Venice included: GEORGE CLOONEY, JUDE LAW, COLIN FARRELL, EWAN MCGREGOR, MICHAEL CANE, VANESSA REDGRAVE, JOELY RICHARDSON, ADRIEN BRODY, JOHNNY DEPP, KENNETH BRANAGH and WOODY ALLEN.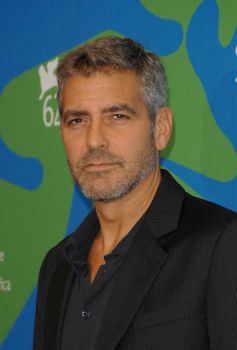 George Clooney.



The biggest problem and pain in the a-se at the film festival was the WI-FI. For Heaven's sake, can't they sort this out? Every year the internet wireless connection is slow or faulty. I don't have any problems anywhere else, only Venice. The end result is the stress of having great pictures ready to go to the papers and no connection to send them. Eventually the work load piles up and there are lots of pics stacked up ready to go but no internet. Even when it was working, it was a closed network so we couldn't send emails!!!! In a press centre!!! Pathetic.

The Toronto film festival on the other hand suffered no such problems. The WI-FI was perfect and was not restricted in any way AND it was the most relaxed and easy festival I've covered in years. It's the only festival I know where photographers are not required to wear tuxedos for the premieres! OK, so we do look a lot smarter with suits, but it saves such a lot of hassle. I normally have to dash from the festival photocalls to my hotel and then shower, change into my suit and rush back to the red carpet often in temperatures in excess of 35 degrees C. Not so in Toronto.

The city itself is like an archetypal American city. The currency though, has OUR Queen on it, and there's an Anglo/American flavour. Skyscrapers everywhere but very relaxed and clean with wide roads. There's NO jaywalking, and the traffic is sooo docile compared to London's. In many other ways it's very American. The diners, 24 hour restaurants, supermarkets and delis are very much like their U.S. counterparts. The restaurants were very good, a lot of them with TV screens everywhere, even on each table. It meant that -for us blokes- we could keep tabs on ALL the baseball matches at the same time. It was very cheap to eat out with the average restaurant bill resembling a cafe one in the UK. Even in HOOTERS!

For names Toronto film festival was pretty good too.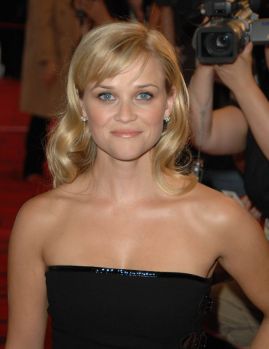 REESE WITHERSPOON.



We had REESE WITHERSPOON, CHARLIZE THERON, NAOMI WATTS, JUDE LAW, COLIN FARRELL, EWAN MCGREGOR, WOODY ALLEN and his very ugly wife/ daughter, KEVIN BACON, BRAD PITT, ANGELINA JOLIE, CATE BLANCHETT, GEORGE CLOONEY, JESSICA ALBA, PARIS HILTON, WOODY HARRELSON, MARCIA GAY HARDEN, ALISON EASTWOOD -Clint Eastwood's daughter- and others. The biggest premiere in Toronto was the Assassination Of Jessie James, with BRAD PITT at the Elgin Theatre. Most of Yonge Street was closed for the prem. When the golden couple arrived -Brad and Angie- the crowd went wild and as Angie approached the fans by the front of the theatre, the barrier holding them back almost collapsed!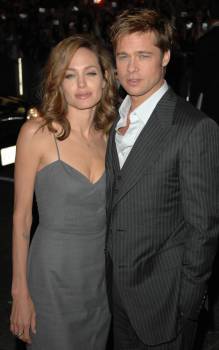 Brad Pitt and Angelina Jolie



Angelina had been standing in front of it and instinctively tried to stop it falling, not realizing she would've been crushed had it done so. Ok, so in the end thankfully -for Angie- it didn't happen, but what news it would've been! Ahem, biggest disappointment of the night? Angelina's dress! It was the plainest grey dress ever! No features and totally boring - she looked like a social worker with dodgy knees. Terrible. But her face...I love Angelina's face. She is sooo sexy. I had so much eye line from her it made my work easy. Blonde bombshell NAOMI WATTS was in town to promote Eastern Promises and she was absolutely sparkling. At the press conference she was relaxed and looked good. At the premiere she looked stunning, but, disappointingly -for the photographers- she wore a black dress! Women look great in black but the newspapers and magazines prefer colour, so they stand out from the black/grey look of newsprint. In black you also lose a lot of the definition when published in a newspaper. Celebs should know this by now. I tell them often enough. No matter.The great CATE BLANCHETT -easily one of the greatest actors of our time- was in Toronto promoting Elizabeth: The Golden Age where she stars with CLIVE OWEN. She had the right idea with her frock and wore a black and pink number which stood out nicely.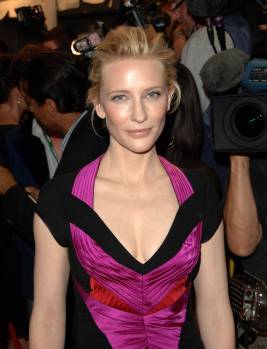 CATE BLANCHETT.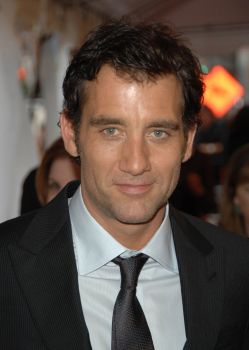 CLIVE OWEN.



CHARLIZE THERON, attending the premiere of her other new flick Battle in Seattle, was under dressed in a simple black dress compared to Venice. Then again, Toronto is a lot more casual and her premiere was in the middle of the afternoon. Thus, I let her off. In all, I loved Toronto. I will be back there again next year. The closing film festival gala party was well located by the harbour. It was very picturesque with colour lit swimming pools of every shape and size with choreographed swimmer/ dancers? in them. Food and drink was free of course but the queues to obtain these were unforgivable! The food was served -rationed more like- on tiny plastic plates. I got fed up with the queues as I don't do them and left for the nearest bar to meet up with the rest of my colleagues and friends who were not 'lucky' enough to be invited to the party.

Funnily enough, one of the highlights of my trip was going to see the New York Yankees play the Toronto Blue Jays at the Rogers stadium. Fantastic, highly recommended and a great social event whether you like baseball or not.

Peeps, There's sooooo much more I could tell you, but I don't have the space in this hallowed column and I may be sued.

So, over and out. See ya next month.

JOE ALVAREZ


[email protected]



Visit my website: www.myspace.com/redcarpetspecialist

WORDS AND ALL PICTURES COPYRIGHT JOE ALVAREZ 2007.