REVIEWS

BUTLER'S RESTAURANT, The Chesterfield Hotel, 35 Charles St., Mayfair. Tel: 020 7514 5706.

Come and relax in the cosy, yet sophisticated Butler's Restaurant which can be found in The Chesterfield Hotel.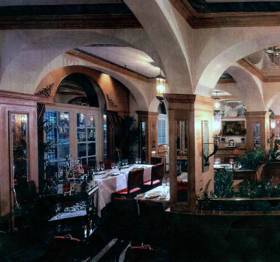 I go to BUTLER'S frequently, especially on Thursday evenings when the Carving Trolley offers Roast Ribs of Beef with Yorkshire Pudding. Each evening highlights a different Roast. Apart from the Carving Trolley, Head Chef Andrew Fraser prepares an imaginative choice of starters, salads and mains.

On my most recent visit seared hand dived Scallops awakened my taste buds for the main of Gressingham Duck Breast with crushed potatoes, onions and Cumberland sauce.

Restaurant Manager Loris Lucchini and his charming Team provide quality service and will help you to create a delicious Menu providing an evening's gastronomic entertainment. This is what I go for – a 3 hour Dinner. Especially when aided and abetted by, according to the Wine List, a WINE FLIGHT. Would it be a Flight of Fancy or Flying to the Moon? But no, as Robert Louis Stevenson said, "Wine is Bottled Poetry". That is what Sommelier Tara O'Leary has created. His FLIGHT of WINE consists of 3 50m glasses of carefully selected Wines from specific regions.

A white Bodacious and Bubbly gives your palate the chance to compare 2 white and one Rose from Champagne.

Wines from France are Fresh and Lively.

World wide White Wines are Round and Mellow, Bright and Beguiling.

Then on to 4 types of Red Wine: Soft and Elegant, Sophisticated and Spicy, Big and Bold and Naughty and Nice. Naughty and Nice could be a Tokaji Red Wine from Hungary, for instance ....... or I leave the non - Wine alternatives to your fertile imaginations!

All the Wines are presented in a picturesque Stand, topped with a red Carnation.

Restaurants are Theatre – I love them. I am a devoted audience.



JOAN exercising!



EAT IT ON - EXERCISE IT OFF: the healthy happy way with CHAMPAGNE EXERCISES. Ask Loris, or one of his charming Team, to show you my book, appropriately called CHAMPAGNE EXERCISES, while at BUTLER'S.


GOURMET TRAVEL?

CUBA could be my next destination. I have heard so much about the music, dance and festivities in Havana – that is where I would like to go.

But in the meantime – how about Havana in London? Here goes - a drive to 47 Kensington Court, W.8. brought me to LA BODEGUITA DEL MEDIO.

The concept of LA BODEGUITA was inspired by the legendary bar of the same name in Old Havana, famous as the birthplace of the Mojito cocktail. During the 1940s LA BODEGUITA DEL MEDIO was the home of Havana's Bohemian society and international glitterati as well as one of the world's hottest venues. Ernest Hemingway enjoyed many a cocktail there in the company of Frank Sinatra, Spencer Tracy, Sophia Loren, and many iconic personalities of the era.

My MOJITO MOMENT at £14.50 was full of magical moments! Do try the classic Mojitos and the Havana Lunch.

Available from midday until 6 pm.



HAPPY BUBBLES – Laugh and be merry – JOAN

LADY JOAN OLIPHANT – FRASER.


[email protected]