I would like to pay tribute to my dear friend, fashion expert SHEILA WARREN-HILL who sadly died last month, appropriately during London Fashion Week. SHEILA was only 56 and had fought a long and brave battle against cancer. She was a beautiful and fun lady who never said a bad word about anybody and was a wonderful friend and hostess, famous for her Sunday lunches at her beautiful home in Highgate. She specialised in selling beautiful clothes to beautiful people, with all sorts of fashionable celeb clients including LULU, ROSE-MARIE , JILLY JOHNSON and SALLY BURTON. Whenever you bought something from SHEILA, she would always throw in another item for free - she was so generous.
Lovely singing star ROSE-MARIE and I visited SHEILA in hospital shortly before she passed away and, although frail, she had bothered to apply full make-up for us with her nails and toenails expertly painted by her sister. That was our SHEILA, looking her beautiful best till the end; we, her friends and clients, will all miss her terribly and I will think of her whenever JADE and I wear our various 'SHEILA' outfits.
All at HGUK send sincere condolences to all her family, especially her son STUART, sisters LINDA, VERA, PAM and SYLVIA, stepbrother ROBERT, ex husband and best friend BILL and current partner CRAIG.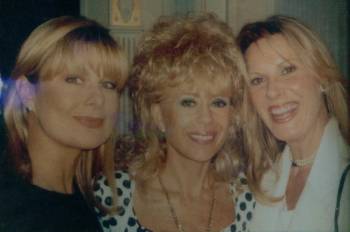 SHEILA WARREN-HILL (right) with SALLY and JILLY JOHNSON. C.r.: GABOR SCOTT.




LONDON FASHION WEEK was humming this season, awash with celebs and with more parties than ever. I myself gave a party for my pal, jewellery expert ADELE BLOOM (079767 28880) who buys and sells fab costume jewellery from all over the world (go to VALERIE AUSTIN's MODERN NUTRITION column to read more about it.)
Plus glamour girls LIZ FULLER, DENISE PIDGLEY and I played Cinderella for a divine new range of upmarket Swiss shoes and boots called NICOLINA which will shortly be coming to these shores. Watch this space...........and if you can't wait, contact NICOLINA director, the charming JEREMY at: (0041) 21 944 0157.
Here's lovely DENISE with LFW visitors RICARDO and JODIE MARSH.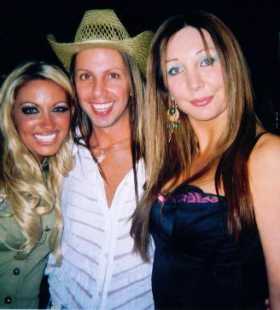 DENISE PIDGLEY (right), RICARDO and JODIE MARSH. C.r.: CHARLOTTE ELLIS.




Thank goodness smoking has now been banned indoors in public places – it made one's hair smell soooooooooo foul, darlings! But if you want your hair to smell truly divine, you must try SUPERSOFT's amazing new SMOOTHIES, the first hair care range to combine yoghourt protein with natural fruit extracts for ultra smooth and silky hair that smells delish! Our HGUK staff have tried all the SMOOTHIE shampoos and conditioners and particularly favour the Yoghourt and Coconut for dry, damaged hair, the Yoghourt and Lime for fine, lifeless hair and the Yoghourt and Red Berries for coloured hair. Hair washing nights have never been such fun!
Available nationwide.
Celebs who are said to favour the new SMOOTHIE range allegedly include the ever beauteous GOLDIE HAWN and here she is.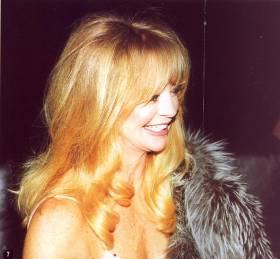 GOLDIE HAWN. C.r.: BAFTA.




If your hair still looks less than shiny even after using SMOOTHIES or you just don't have time to wash it as often as you'd like, you must try GOLDWELL's amazing DIAMOND GLOSS which will give instant sheen to even the most lifeless hair. It's also fab if you use hairspray, which always has a slightly dulling effect. If you can't find DIAMOND GLOSS (one of my all time fave prods, btw) in chemists, try hair salons. Then you too will have a shine to die for like the lovely HELENA CHRISTENSEN.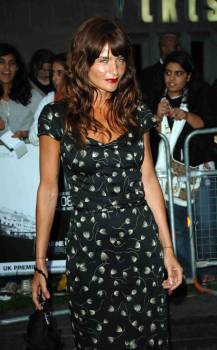 HELENA CHRISTENSEN. C. R.: JOE ALVAREZ.




If, however, you really can't handle your hair or it is very thin and fine, it may be time to discover HOT HAIR, my Products of the Month for October. You could pop on a Curly Palm hairpiece for an instant glam 'up do', add JESSICA SIMPSON's new Hairdo 23" Clip-in Extensions for full on sex appeal or just cover your whole head with a sassy Hazel wig (VICTORIA BECHKAM's new cropped style). My assistant AMANDA and I have had great fun with these fab instant hair looks and they're really easy to care for, being synthetic. There is a large range of HOT HAIR colours and prices are excellent too, all under £100. Available from: Selfridges, Top Shop (Oxford Circus), The Wig Studio (House of Fraser, Oxford Street), Debenhams, Accessorise, etc and:
www.hothair.co.uk / 020 7403 2440.
Now here's JESSICA SIMPSON herself.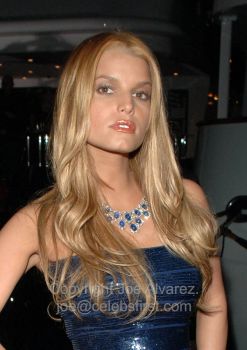 JESSICA SIMPSON. C.r.: JOE ALVAREZ.




CLARINS products are always excellent. I recently had a fab CLARINS facial and 2 relaxing body treatments at Selfridges which made me feel amazing. Their latest product, Generation 6 Double Serum, a vitamin packed treatment for firming, getting rid of wrinkles and adding radiance to the skin is another winner. Our 40 something guinea pig BASIA said "I noticed my skin looked younger and felt softer after just 3 weeks' use. Plus the packaging is beautiful: I keep the elegant, classy looking bottle on my dressing table."


DR DENESE is another brilliant skin care company. Their latest product, RestorEyes Night/Day Eye Cream is great because it's completely non-shiny so you can wear it in the daytime without it showing and thus give your delicate eye area 24 hour protection instead of just overnight. I tried this prod myself and it feels very light with a pleasant smell. And yes, my eye 'winkles' do seem to have been reduced – it's a miracle!


RISQE, Brazil's No. 1 nail polish brand, now available in the UK, have some truly yummy colours that last and last and the bottles cost under £3. My girlfriends and I have tried all the colours and particularly like Cintillante, a sparkly colour which is great by itself or over other colours. Party season here we come!
www.cocota.co.uk


The latest idea on the fragrance front is perfume to match your star sign. FRAGRANCE FOR YOU have developed 12 delish Zodiac Perfumes to suit each astrological sign. What a brill idea – can't think why nobody's thought of it before. My Cancer fragrance is divine with my fave flowers jasmine and rose blended with spices, patchouli and vanilla – light enough for summer and sophisticated enough for winter. It really suits me and I am now wearing it all the time.
Contact: 01536 526410 / www.fragranceforyou.com
to see which flowers, fruits and spices make up your particular Zodiac Perfume and to order.


There is a huge emphasis on keeping fit these days and walking is a great and safe way to do it. GAIAM have brought out a Walking Fit Kit Audio CD with Beginner, Intermediate and Advanced Levels, a calorie burning walking workout and a pedometer, complete with instructions. The pedometer features include a step counter, calorie counter, pulse rate, clock, stopwatch and backlight. Our guinea pig, MARIA tried the Advanced CD and said " the CD is fun and easy to follow and I loved the pedometer. The Kit would make a good present too." So get going, fitness fans – and that includes you too, guys, if you want to look like a Hollywood Hunk in double quick time!
And talking of Hollywood Hunks, here's our former HGUK cover boy BRAD PITT for your delectation, gels, since all my other pix this month have featured females or female impersonators!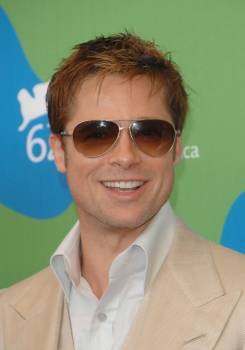 BRAD PITT. C.r.: JOE ALVAREZ.





The amazing JANE HUXLEY's latest novel SUMMER NIGHT, WINTER MOON (DELANCEY PRESS / £14.99) is every bit as good as her 2 previous best sellers, MORGAN'S CASTLE and FOR THE LOVE OF PENNY WHISTLER. ('PENNY' is about to be made into a major U.S. feature film under the title DAFINA and I understand the producers are interested in our very own JUDE LAW for the male lead.)
Anyway, back to SUMMER NIGHT, WINTER MOON............ the story is an extraordinary feat of construction inasmuch as it reads from end to beginning rather than beginning to end (with an 'epilogue' to tie up the loose ends in a most satisfactory manner.) The publisher, the legendary TATIANA VON SAXE WILSON assured me that MS. HUXLEY did indeed write the book from end to beginning - clever lady. Anyway SUMMER NIGHT, WINTER MOON is a fab read and I devoured it in just 2 nights: literally unputdownable. If you believe what you read, you will never again put your faith in the competence of London's Police Force ...............................!


Thank you for reading my page. Please write to me at:


[email protected]


and do check out my personal website at:
www.sallyfarmiloe.com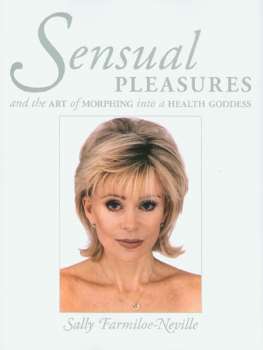 SENSUAL PLEASURES AND THE ART OF MORPHING INTO A HEALTH GODDESS (£16.99) is available from the following outlets:

Delancey Press -

[email protected]

or 0845 4589911
ISBN: 0780953911998

LOO TIME VIDEO available from:

[email protected] and:

http://www.121music.com/pages/video_01/home.html