I have just returned from GOZO, The Island Of Lurrrve, where I stayed at the luxurious but reasonable 5 star KEMPINSKI RESORT AND SPA in San Lawrenz (00356 22 11 00 00.) with JADE and her lovely friend SAVANNAH. The San Lawrenz KEMPINSKI is quite simply one of the best hotels in the world and the only one that Jade and I have stayed at more than once and intend to visit on a regular basis.

The KEMPINSKI, SL is the perfect resort hotel for all of us fitness and beauty fanatics because it comprises not just the obligatory 4 swimming pools, restaurants, tennis courts, etc, but also a wonderful spa including a hair and beauty salon. How great it is to have a relaxing massage and get your nails and tresses attended to after a gruelling day breaking them waterskiing or scuba diving before treating yourself to a gourmet meal overlooking the crystal clear lagoon-style pool to watch the spectacular gozoan sunset.

The KEMPINSKI's spa also offers a variety of the world famous AYUVERDA treatments including one where you have your body realigned by a gentleman on a rope who "aligns" you with his (squeaky clean) feet! I must admit I left this particular treatment to some of the more adventurous guests but I loved all the rest of the pampering and came back from holiday fit and rested, a rare and precious combination.

A hotel is only as good as its manager and staff of course; happily the KEMPINSKI's RUPERT SIMONER is exceptional and his team are all the essence of helpfulness and "politesse". A truly 5 star experience and highly recommended; I am only sorry we weren't staying at the hotel at the same time as their previous guests, the cast of TROY (including BRAD PITT.) GOZO is a very popular film location; last year they were filming SEAN CONNERY's LEAGUE OF EXTRAORDINARY GENTLEMEN on the island, an unusual tale which will be hitting our screens shortly.Who knows what might be on the filming agenda for our stay next summer?

The best way to see the sights of Gozo is in the comfort of VICTOR MUSCAT's horsedrawn carriage courtesy of the horsepower of Victor's 2 beautiful matched greys, SILVER and RENAUT. The charming Victor, his lovely wife MARIA and their delightful family are always a joy to visit and, if you are thinking of getting married abroad, there is nothing more romantic than tying the knot on the Island Of Lurrrve and riding through the streets in Victor's famous wedding carriage drawn by Silver and Renaut. (VICTOR MUSCAT's Horse Drawn Carriage Service: 00356 21 559 229.)

There are quite a few trendy boutiques in Victoria, Gozo's capital, the best one being No 13, Oriental Arcade, run by a delightful lady called ANTHESE (00356 21 56 0183); most of the Gozoans are really friendly, by the way, as are the neighbouring Maltesers (sic!). Here are those pre-teen cuties JADE and SAVANNAH (both professional models at ages 11 and 12 respectively!) outside the KEMPINSKI showing off their Gozoan buys along with KANGOL berets and handbags by BEYOND (Connaught Village,W.2., a new and fashionable enclave of cool shops outside KEN's dreaded Congestion Zone including ADEBAYO JONES, FARMILO-FIUMANO and THE DRESSER, a really neat 2nd hander where you can pick up a pair of ERIC CLAPTON's boots, should you be so inclined.)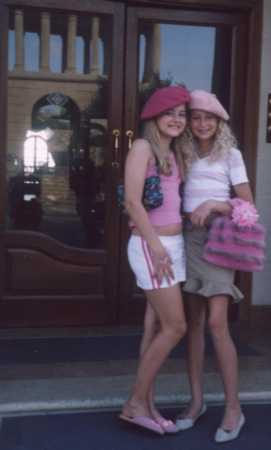 The hottest young couture designer in town is currently the divine ERIC WAY(020 7706 4709) who dresses many of London's female movers and shakers, including SHIRLEY BASSEY, IVANA TRUMP, GLYNIS BARBER, LIZ BREWER and HEATHER BIRD to name but 5. ERIC, you may remember, became famous for creating the world's first and only Million Dollar denim jacket, not to mention GERRY HALLIWELL's exclusive dog coat (for the woofie, not for her!). Now he has really gone ballistic after designing a suitably demure little pink with black bow number for "CHARLOTTE" in "SEX AND THE CITY" which can be seen in the 12th episode of the new series. Far be it from me to give you a sneak preview, although I have a pic lying on my desk; you'll just have to see the show. And which of us gels WON'T be watching this, sadly last, series? Instead I'd like to show you something pink but a little more CARRIE or SAMANTHA from ERIC's new collection. What red-blooded male could possibly resist a lady wearing this frothy little creation?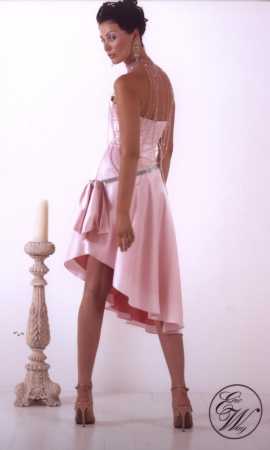 I recently got to see Eric's spring/summer 2004 collection at a very glam VARIETY CLUB lunch at THE DORCHESTER. All the frox were to die for, particularly his cerise evening gown which I will be featuring in a future issue and I was pleased to see that pooch-lover Eric had got together with WARNER BROS to present a SCOOBIE DOO collection: watch this space. The event organiser SUZANNE was looking divine in a floaty ERIC WAY creation and all the celebs present looked equally gorg, especially ANITA HARRIS, JULIE ROGERS, MAGGIE WEEDON and the always effervescent CLAIRE SWEENEY.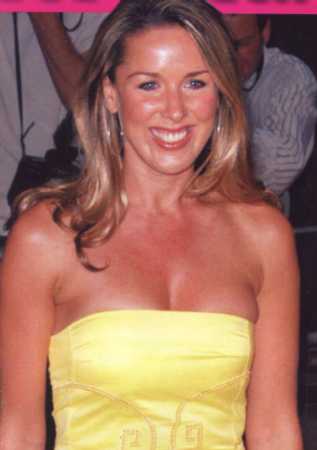 Thank you for all your letters about MYSTIC TAN, my spray tanning treatment of choice which takes precisely 50 sec.s to bronze me all over in a booth at THE TANNING SHOP, Camden High St., just off High St Ken to be precise. The phone no. is: 020 7938 1932 and yes, lots of other celebs go there apart from ROBBIE WILLIAMS. Lovely LARA and all the staff at THE TANNING SHOP are zippo lippo'd about their starry clientele but I hear on the grapevine that ULRIKA, SADIE and the CHARLIE'S ANGELS gals are all aficionados of this brill technique. I can't believe any of us ever bothered with that boring, dangerous, ageing , old sun!

There are a couple of great books out this month. The first is THE AFFAIR OF THE POISONS by ANNE SOMERSET (Weidenfeld And Nicolson, £20) on the totally thrilling subjects of "murder, infanticide and satanism at the court of Louis 14th". If, like me, you were brought up on a diet of ANGELIQUE books and have always been fascinated by The Sun King, his reign, his mistresses, the court at Versailles "et tout," this book is for you and a real page-turner to boot.

Secondly, the really, really good news on the publishing front is that the great FREDERICK FORSYTH is back with a vengeance with a totally breath-taking new book called AVENGER (Bantam Press, £17.99). MR FORSYTH has always been known as a master storyteller and he is on top form with this masterpiece of suspense; it's a rollicking good story set in the frightening world of terrorism, political chicanery and brutal murder. AVENGER is tragic, violent, shocking and, again, an absolute page-turner. Plan to be in for a few nights on the trot to savour this one.

Now here's the marvellous FREDERICK, a true gentleman whom I originally met on some ghastly chat show and was kind enough to be most understanding when we next met and I just happened to be kicking a Pay And Display box rather viciously!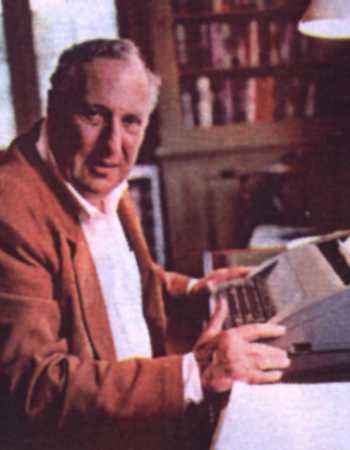 Thank you for reading my page; do visit my personal website:

www.sallyfarmiloe.co.uk

and don't forget to buy my LOO TIME video you never know when it may come in handy!