Party time is here and there are some gorg frox around. Many of this season's dresses have halter necks and low backs, which look fab and goddessy but what to wear underneath if you still want a cleavage? Luckily WONDERBRA, the first and best of the push up bra manufacturers, are on hand – or under boob! – to help. The WONDERBRA MultiPlunge has halter neck straps as well as conventional shoulder straps and a cunning low back converter which wraps round you whilst still giving you sufficient squeezing and plumping to make any bust look full and feminine. Absolutely brill!

But a pic's worth a thousand words so here I am sporting top designer CHARLES SVINGHOLM's divine plunging halter neck without my (totally different coloured!) WONDERBRA showing.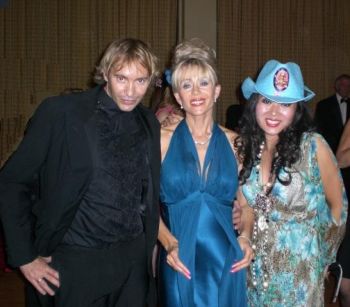 SAL with CHARLES SVINGHOLM and CHING. C.r.: LORD BRIAN ROBERTS-DAVIDSON.



My companions are the gorgeous and pouting CHARLES himself and the equally gorgeous and pouting CHING, classical violinist extraordinaire who is also wearing a CHARLES SVINGHOLM dress and hat, photographed at THE CELEBRITIES GUILD OF GREAT BRITAIN's UNSUNG HEROES AWARDS at CLARIDGES.


Of course if you are planning on wearing revealing dresses you can't have an ounce of spare flesh. Dieting has always been a pain but it's just become much easier with the invention of CALORIE SMART, a small but perfectly formed little gadget which you can carry around with you to check out the calorific value of all your fave foods. Our HGUK guinea pig LAURA said, "CALORIE SMART is really easy to use and has so much useful info. Every single type of food or drink I wanted to know about is included. I had no idea flavoured water had calories or that cheese was so fattening. I've lost half a stone in 3 weeks and am very happy!"
Stockists: www.becaloriesmart.com


Talking of what to eat and what not to eat, if you have an intolerance to gluten, you may have Coeliac's Disease and will need to monitor yourself carefully. One and a half million people in the UK alone have been diagnosed as having the disease but there are many more who have it without knowing it. Now there is an easy way to find out by taking the cheap and quick BIOCARD COELIAC TEST, which produces a positive or negative result in just 10 minutes. Our HG guinea pig KATY said "I just had to prick my finger and the BIOCARD analysed my blood immediately. It didn't hurt and now I know what I've long suspected: that I do have Coeliac's Disease and now I understand why I was feeling tired and irritable and sick the whole time. My doctor and I are going to fight this together."
Stockists: www.adastramedical.co.uk


My TREATMENT OF THE YEAR for 2007:
Getting away from health and on to beauty........... it's official: laser hair removal really works, permanently and even on blonde hair, which was previously harder to treat as it blended into the skin more and fooled the laser! The latest and greatest laser for hair removal is the SOPRANO XL SYSTEM, available from 10 YEARS YOUNGER's highly respected DR PATRICK BOWLER's famous COURT HOUSE CLINICS. I decided to check out this magic treatment myself and have been having regular 6 - weekly sessions at the West End COURT HOUSE CLINIC (0845 555 5050). After just 4 sessions the hair under my arms has completely stopped growing and the bikini line and legs are mere bum fluff! The delightful ELYSA who has been treating me reckons it takes most peeps between 6 to 10 sessions to completely get rid of unwanted hair growth for good. The treatment is painless and quick and is revolutionary. I can't believe I will never again have to spend all that time, trouble and money on waxing, cut myself shaving or get caught out with hairy legs! I can't recommend this treatment too highly and will report back to you again after my last SOPRANO when my legs are as smooth as my underarms!


Talking of treatments, I recently had the most fantastic relaxing Full Body Massage with lovely CAIRAN at THE EAST RIVER SPA (020 8820 8123) in the fab new RADISSON EDWARDIAN HOTEL in Canary Wharf (020 7769 4046). Docklands is currently the most up and coming area in London and this brand new hotel is elegant and comfortable with superb views over the Dome (or whatever it's called now!) and the Thames. The spa itself is an oasis of luxurious tranquillity, beautifully appointed with little touches like heated chaises in the relaxation room. You will just want to stay there all day, working out in the gym, taking a bit of steam or a sauna and experiencing all the amazing different treatments – I will be trying the Cleopatra Bathing Experience next time, I think! Or maybe the Hot Stone Massage, previously only available at health farms. The spa is only 15 minutes from the stressful West End of London and it's like another world out there, so much more peaceful: well worth a little pampering trip.


My PRODUCT OF THE MONTH for November is NURESS's totally amazing new Home Spray Tanning System, Spray And Glow, with Aloe Vera. Now you can get yourself a glorious golden winter tan in the comfort of your own home without having to spend a fortune in tanning booths, not to mention the aggro of travelling to them in the cold! Our HG triallist SERENA said, " my sister and I sprayed each other. You get everything in the kit – the actual tanning solution, exfoliant, moisturising lotion, a DVD with instructions, goggles and even nose plugs! We did it in the kitchen where there's more room. It was easy to use and our tans look really pro. I tried the light shade and Moira, my sis, tried the medium. Next time we're going to be brave and go for the deep shade, because it was so easy to use and came out so smoothly. You can just order more solution and stuff when you need it." Brill idea: I don't know why no-one's brought this out before. None of us needs an ageing real tan and the NURESS HSPT is the ultimate answer . "Let us spray" ,guys n gals!



Thank you for all your letters about Botox. Singer and reality prog specialist PETE BURNS was recently mentioned in THE EXPRESS's fab DAY AND NIGHT column as having had £3,500 worth of Botox with a certain practitioner to whom he only gave a bunch of flowers as payment. The saucepot!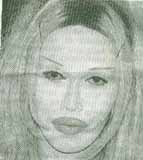 PETE BURNS. C.r.: REX FEATURES.



I can only say that PETE must have had an awful lot of Botox in that case – it should only cost £200 to £250 a session and the effect should last anything from 3 months to a year, depending on how many treatments you have had (it builds up). The best Botox practitioner in London is DR ELISABETH DANCEY (28, Winchester Street, Pimlico, SW1 – 020 7821 8257). DR DANCEY is the lady I go to myself and she is super fast, efficient and relatively painless with the needle! Plus she looks absolutely stunning herself at a reasonably mature age which always makes patients feel secure.


Hair has never had it so good! International beauties ERIN O'CONNOR, HELENA CHRISTENSEN and JAMELIA have got together with TONI & GUY to produce some really superior hair care products called MODEL ME which will keep your tresses looking healthy and shiny day in, day out. My HGUK staff and I have had great fun trying out all of these fab new products in the office – hairwashing night has never been such fun! Our fave JAMELIA prods are the High Gloss Blow Dry Liquid which is self explanatory and the Affinity Serum which makes black hair look super shiny. HELENA's Movement Balm will give your hair more body than your body (!) and ERIN's Matt Styling Paste really does the business for short sharp styles like hers. Being super lazy with my hair myself, my fave MODEL ME product is ERIN's Quick Fix Dry Shampoo which works for all hair colours, smells great like that delicious men's fragrance, Habit Rouge by GUERLAIN and refreshes dank, smokey, less than fresh locks in 10 mins. Great stuff, all of it.
Available now from TONI & GUY.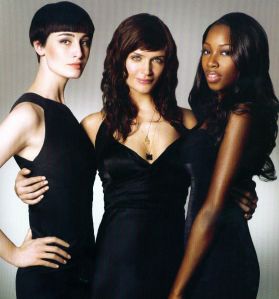 ERIN, HELENA AND JAMELIA. C.r.: MODEL ME.




Those IMPULSE prods just get better and better. Many ladies (and gents, I promise you!) now use IMPULSE several times a day. And why not? IMPULSE have launched 3 new fragrances for the party season: New York, London and Paris and they are all fab. My girls and I have been fighting over them and I lost! Oh well, I will just have to wait for Rome!


Best congrats to lovely SHABNAM, the first of the recent BB contestants to land a recording contract. SHABS has made a cover version of the iconic LULU's 70s hit, SHOUT and it's amazing. Here's the Bollywood princess herself, the next SHILPA SHETTY, wearing MAYBELLINE mascara around her mesmorising eyes and a ROUBI L'ROUBI (07788 921607) basque around other parts!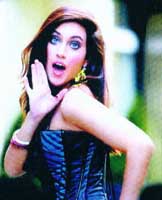 SHABNAM. C.r.: GALAXY RECORDS.




On the social scene it's great to see HIS SERENE HIGHNESS PRINCE ALBERT OF MONACO out and about in London, looking suave, debonair and more like ROGER MOORE than ROGER MOORE! The Prince was over recently to open the new Monagasque Consulate in London and here he is with Monaco socialite KRISTINA LYNN and celebrity psychic VALENTIN BORISSOV ( 07940 475 305) who consults with la creme de la creme of Monagasque society and maybe with the Prince himself, although he will not admit it. Come on, VALENTIN, look into the future and tell us when the highly eligible PRINCE ALBERT is going to get married and to whom!


HIS SERENE HIGHNESS PRINCE ALBERT with VALENTIN BORISSOV and KRISTINA LYNN. C.r.: private collection.




An interesting film out this month is ROBERT REDFORD's (political / War On Terror) LIONS FOR LAMBS starring REDFORD himself, TOM CRUISE and MERYL STREEP. The 2 male heart throbs came to London for the World Premiere and left ladies of all ages swooning all over Leicester Square! Then they hot footed it over to BAFTA where they did a filmed Q And A for the Academy before jumping on a plane to their next promotional destination. I have to tell you, ladies, the guys are looking good in the flesh – we hear they eschewed lattes and cappucinos while over here and tucked into our delicious and slimming English Breakfast Tea!
This thought provoking film would never have been made if HOLLYWOOD superstars like REDFORD, CRUISE and STREEP hadn't decided to pool their massive talents to strive towards a better world rather than making a fast buck.


Talking of HOLLYWOOD legends, I was thrilled to bump into one of the most talented and enduring superstars of them all, JOHN TRAVOLTA at TIM AND KIT KEMP's trendy SOHO HOTEL last month. The gorgeous and gracious MR TRAVOLTA was over in London with his HAIRSPRAY producers, NEIL MERON and CRAIG ZADAN who have a string of hits under their belts including the amazing CHICAGO. What can I say about JOHN TRAVOLTA? He is simply one of the nicest and most modest of human beings, as well as one of the dishiest. He had piloted his own jet in to Gatwick and seemed genuinely thrilled with the phenomenal success of HAIRSPRAY, the ultimate feel good musical comedy. If you missed HAIRSPRAY in the cinemas you can now buy it on DVD. The film and the brilliant TRAVOLTA are likely to be nominated for BAFTAS and will surely be up for OSCARS and GOLDEN GLOBES as well. The divine JOHN's portrayal of a warm and mumsy non theatrical 'theatrical mother' (yes, you read right: mother!) is simply sensational – I predict all sorts of nominations.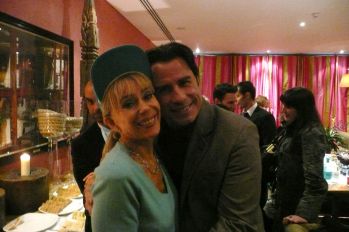 JOHN TRAVOLTA with SAL. C.r.: SUZANNE VINER.




Thank you for reading my page. Please write to me at:


[email protected]


and check out my personal website at:
www.sallyfarmiloe.com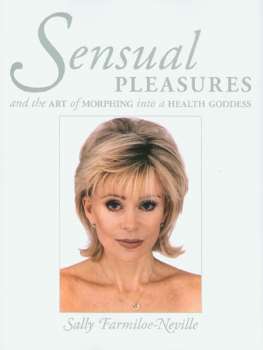 SENSUAL PLEASURES AND THE ART OF MORPHING INTO A HEALTH GODDESS (£16.99) is available from the following outlets:

Delancey Press -

[email protected]

or 0845 4589911
ISBN: 0780953911998

LOO TIME VIDEO available from:

[email protected] and:

http://www.121music.com/pages/video_01/home.html