GRIM'S DYKE HOTEL, Old Redding, Harrow, Weald, Middlesex.
Tel: 020 8 385 3100.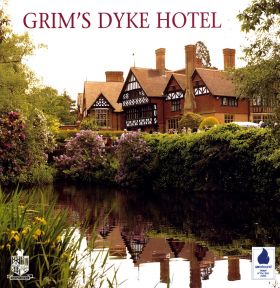 This magnificent Victorian Country House Hotel is only 10 miles from London; it nestles in 40 acres of gardens and woodland and was the home of Gilbert and Sullivan who created wonderful Operas.

A relaxed grandeur invades its entrance hall, staircases and rooms. The Library was where Gilbert composed some of his well-known Operas. The Lounge and Bar offer beautiful views over well groomed Lawns and Gardens, besides offering slender tulip shaped glasses of Pink Champagne.


At the recent Champagne Sabrage Gala Dinner, about 100 of us dined, gourmet style, in the Music Room where Commander Julian White created new Chevaliers and Sabreurs. The Champagne flowed and a wonderful time was had
by all.

I then retired to a 'land of dreams', my bedroom. The next morning, after exercising by the flowing stream, watched by handsome Swans and Geese, I ventured into Gilbert's Restaurant where I indulged in a traditional English breakfast.

Gourmet Evenings coupled with melodious delights are very tempting:

Opera and Dinner on Sunday December 2nd.
"Pirates of Penzance": Sunday 16th.
"Mikado": t.b.a.

There are great Jazz and Swing Dinner Nights including the Roaring Twenties Dinner Dance. Be a Slender Gourmet and dance, swing style, and jazz off those added calories, the fun way, much better than exercising in the Gym.


THE BROWN DOG, 28 Cross St., SW13. Tel: 020 8 392 2200.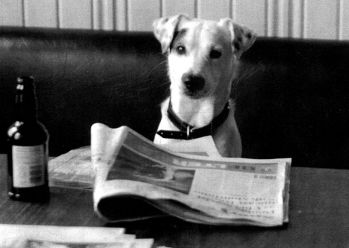 This Gastro Pub, nestled in the "Little Chelsea" area of Barnes, close to Barnes Bridge, is delightful.

I had a warm welcome from the resident Jack Russell, Mr. Bojangles, pictured here reading The Times newspaper, who held out his paw to shake my hand. He led me, and my friend, to the Garden Terrace where a charming waiter presented us with Menus and an exuberant list of French, Italian and Worldwide Wines.

A basket of warm, holey (with holes in) bread excited our palates. I started with Cream of white onion Soup with a blue cheese crouton: it was delicious. Steve, the head Chef, offers a modern English menu with a French influence. My friend chose the great English classic, Aberdeen Angus with roast potatoes, vegetables and a lovely Yorkshire pudding. I had an exotic Daube Venison with chestnuts, cavolo nero and celeriac puree. It was gorgeous, followed by my favourite dessert, Sticky Toffee Pudding with butterscotch ice cream.

I felt so delightfully replete, I nearly snuggled down into Mr Bojangles' white, fur-lined sleeping basket!

My congratulations to the owner, Jamie Prudom who has created such an individual, cosy and welcoming Restaurant.

I nominate THE BROWN DOG as GASTROPUB of the YEAR.


Millions of Happy Bubbles!
JOAN,The Slender Gourmet.


[email protected]

snaps-mayfair.co.uk