The Organic Myth
Unfortunately there is the world-wide 37 billion dollar in sales to consider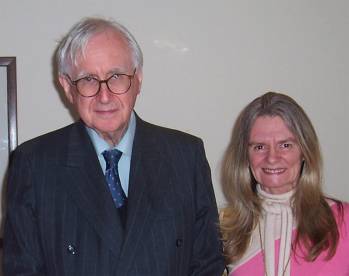 Valerie Austin with Lord Rees-Mogg



I attended a cocktail party at the Conservative Club, St James for a foundation that is looking to keep our parks in central London from development. It was an interesting event, but I have to admit it had never crossed my mind before, that even our wonderful parks could be in danger.

"Health is now the single biggest concern for us in the UK, topping job security, terrorism and crime". This is a quote by the Soil Association, whose aim is to tell policy makers and the public about the benefits of organic farming. Check out their website at www.whyorganic.org You will find their symbol on organic food, meaning they have run exhaustive checks and have decided the product is authentically organic. However, as the big boys, such as food producers and prompted by the supermarkets', get interested in this mega-market they will start to look for legal loopholes in the regulations. The local farmers who care for what they produce and are concerned with our health and environment are going to be few and far between. This is not a conspiracy but simply big business. The competition for the billions of profits generated by food industry will hot up as people start to change back to healthy food.

The Soil Association website contains plenty of up-to-date information on organic food, and where to buy it directly from the producers where it is often cheaper. You also have the opportunity to visit organic farms that are open to the public.



The Organic Myth!

Tricks of the trade used to cater for the masses


For example, in the US one small organic yoghurt producer has been taken over by a large multi-national. In the supermarkets, the yoghurt still has the picture on the label of a contented cow grazing in a country pasture, whereas after a big take over - in reality their yoghurt comes from the new giant industrial plant located near an airport.

It is also rumoured that in order to supply such huge consumer demands companies are now planning to obtain milk from chemical-free cows in New Zealand that has been powdered and then shipped abroad. Yes, it can be still called organic but certainly not the same after being tampered with.

Both in Europe and the US as larger food companies become involved in organic produce they will be under increasing pressure to meet demand and will be tempted to look for technical loopholes in organic standards.

The food producers are trying to find more economic ways to find their natural ingredients and literally doing it wrong. Some are keeping thousands of organic cows on industrial lots while others are looking across the world to buy the products where standards are difficult to enforce. Will you be able to be sure that the food is really organic when the produce are bought from countries that bribery is so rife? It isn't even clear if organic food can be mass marketed especially when the family farms are shunned.

In China there is a town that just house massive factories to cater for the West's insatiable appetite for cheap goods. The factories are manufacturing almost a third of the West's consumer goods - very cheaply. The pollution is extraordinary; these factories are working day and night with the pollution being so great that the skies are grey with industrial smog. It also seems that the same is happening in India. These are the countries that the producers are looking for to source organic food. Could this be as bad as the jogger thinking they are healthy jogging along a busy road whilst breathing in all the pollution?

Rather Alarming News This Month

"Cosmetics 'expose women to 175 chemicals in a day" Daily Mail

The chemicals in makeup and simple toiletries are putting women's health at risk. It seems that women use 12 products a day in which they can be exposed to as many as 175 chemicals linked to cancers, hormone problems and skin irritation. Check out the website www.chemicalsafeskincare.co.uk set up by a group of concerned consumers and natural product manufactures to provide consumers with more information about the ingredients in skincare. Just a couple of the frightening examples are moisturiser and lipstick that may contain the chemical Parabens, which is linked to breast and testicular cancer. Nail polish can contain Phthalates that can act as hormone disrupters and may affect fertility. Even soap can contain Propylene Glycol that can damage the central nervous system. Even our toothpaste is full of sugar. Have you noticed the sugary taste in your toothpaste? I changed to organic toothpaste from my local organic shop because it tastes so much better. However, you have to get used to it as it has a much more bitter taste at first.

Professor David Gawkrodge, consultant dermatologist and spokesman for the British Skin Foundation, explained that as much as eight million women suffer from a skin condition and the figures are rising every year. GMTV presenter Lorraine Kelly is backing the campaign for clearer product labelling. Many manufacturers state what is in their products but there is not usually enough space for the full list. I remember when I was a little girl my grandma told me about one of the ladies she knew that supplied the shops with expensive moisturisers. It was just boiled common old-fashioned lard with perfume added. I have never used any creams or moisturisers on my face since and still have compliments about my skin.

The fascinating thing about facial creams is that you can never prove if they work. You wouldn't know what your face would be like without them. A rule of thumb is "don't put on your skin what you wouldn't eat." Look at natural ingredients for your complexion. For example, after eating an avocado place the left over avocado in the skin on your face as a mask for a short time then wash it off. Price? Zero!

Effective Poster: The British Heart Foundation has a great poster in their fight against junk food. It has a lady swigging out of a large bottle of cheap cooking oil and the oil is running down her chin and neck. Its slogan? "What goes into crisps goes into you". Never a truer word.

"Blood pressure drug could cause 8,000 diabetes cases a year", screams the headlines. It is estimated that around 8,000 cases out of the 100,000 diagnosed with diabetes a year in the UK can be blamed on these drugs. It means Beta-Blocker drugs, which were said to be harmless for many years, aren't. However, the drug companies are suggesting their new drugs are safer. I wonder how many years it will take for a similar headline to appear to enable them to promote yet another new drug that is likely to be found dangerous after a few more years. Rather ridiculous when the doctors advice to get blood pressure down is to simply eat healthily and exercise; but for those that don't an unsafe drug was prescribed.

Tips on where to eat organic in London

Below are some restaurants that have at least one or more choices of organic food listed on the menu.

I can certainly say I did my homework. I roamed the streets of Richmond looking for somewhere to eat organic but did not find anywhere. I asked at least eight cafes and restaurants but was looked at as if I was an alien. It may be one of the best places to live in the UK as said by one of the London newspapers, but it isn't very healthy. Just a few miles away in Chiswick there is more choice. 'As Nature Intended' is one of the better organic supermarkets, a few cafes dotted about and even an organic bread shop.

The exclusive Woolsey, 160 Piccadilly. The latest culinary experience from the highly successful team behind celebrity haunts The Ivy and Le Caprice. Located next to the Ritz and since it is very 'in' at the moment it can be very difficult to get a reservation. Good for breakfast with great food and atmosphere.

The Frontline Club (restaurant), Norfolk Place (only 5 minutes from Paddington Station).

Founded in 2003, it gave a base in London for frontline journalists, diplomatic service, aid agencies and those who otherwise tended to meet each other in the hotspots of our modern world. Some of the great names in the business have been, or more sombrely were formerly, members of the Club, which runs an excellent restaurant within the club.

Organic Pizza, Old Brompton Rd. Still great, 'fully organic' and sponsored by the soil association which means the prices are no more than non-organic foods.

I was sent some bottles of Willow Spring Water for one of my parties on the yacht this autumn. Some of us who didn't want to drink too much drank it out of Champagne glasses (instead of the usual boring heavy glasses usually saved for water). This meant we could have a good time without looking as if we were not joining in.

There is a little corner café in Wardour Street, Soho that is worth a visit if you are in the area. I had lunch there a few months ago and it is fully organic. They have also adopted the new trend of serving raw food. It might sound terrible but it was absolutely delicious.




Eds Note: VALERIE AUSTIN is an author of six successful self-help books including SELF HYPNOSIS (Thorsons), journalist and trainer with an international reputation in the field of hypnosis. Her best-selling books and training help people achieve their full potential. She founded the Austin Corporate Stress Management Company focusing on reducing stress and anxiety amongst executives and CEO's. She is also founder of UKRAH (1992) The UK Register of Advanced Hypnotherapy. Valerie has also worked as a consultant in hypnosis at the Priory Hospital, the UK's equivalent to The Betty Ford Clinic, which specialises in food addiction and alcohol abuse. Her work in the film industry (Hollywood) interviewing movers and shakers, producing TV news segments and publishing celebrity magazines in London gave her invaluable experience for her current Harley Street practice.