LETTER FROM THE EDITOR

I've been called many things in my time, and some of my darling contributing editors have had a few names for me too, including CRUELLA DE VILLE of spotty dog fame, but after seeing THE DEVIL WEARS PRADA I think I'm a lovely editor in Chief!

But this has to be my favourite film this season - and all those divine CHANEL and PRADA clothes. ANNE HATHAWAY plays a great part as ANDY, a novice journalist, and most of the cast are fabulous too, but full marks must surely go to MERYL STREEP who plays MIRANDA PRIESTLEY, the devilish editor of fictitious fashion magazine RUNWAY. Although gossip has it that Streep's character is based on American Vogue editor ANNA WINTOUR, and the glossy screen office (see image) is a copy of Wintour's office. We also hear that Vogue recently re-decorated her office so as not to have any similarity with the movie version...hmm.

A very well made and enjoyable film and highly recommended. Go see it! Check out this website to see a trailer: www.devilwearspradamovie.com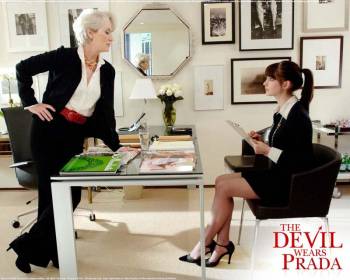 THE DEVIL WEARS PRADA OFFICE SCENE



And my mother (a dedicated reader of HG) and a fan of mine (well what do you expect) insisted I show a photo of me to prove that I'm not at all hard faced....well try doing a self portrait with a digital camera through a mirror...it's the best I can do .... obeying she who must be obeyed...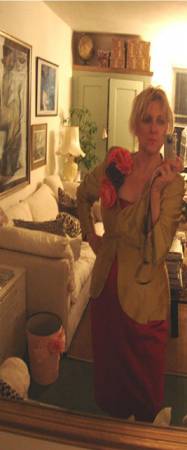 GEORGINA BRUNI



Here's a sultry image of singer LEEE JOHN, who attended one of my parties recently and gave me a copy of his brilliant CD FEEL MY SOUL. He certainly gets around. I recall getting a call from my sister a few years ago, who was in Bahrain at the time, and dining in a restaurant. "I have somebody here who knows you," she said. It was Leee John. Check out his website: www.leeejohn.com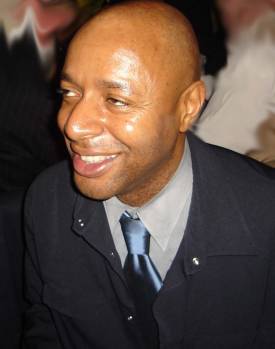 LEEE JOHN



And here's my HOT TIPS for this month

Were you a My Guy girl? Launched in 1978, My Guy pioneered a new kind of teen magazine, with no-holds-barred advice on fashion, sex and relationships. The magazine soon became a weekly attraction for teenage girls who enjoyed the romantic fiction comic style stories modeled by the likes of BOB GELDOF, GEORGE MICHAEL, TONY HADLEY, LESLEY ASH, HUGH GRANT, SIMON LE BON and many others, which we're told 'launched their careers.' Believe me, Sir Bob was once a dashingly good looking cover boy for MY GUY, and looked, oh so tidy! Sorry Bob if you are reading this but we all know you don't like dressing up these days! Having said that I remember being photographed with him several years ago at the BYRON'S SOCIETY BALL, and he looked absolutely stunning in a black velvet suit with a white silk shirt sporting long frilled cuffs ...hair tied neatly back in a black ribbon. He looked like young Lord Byron himself, which proves be can do it if he wants to! Anyway, my point is that you might be pleased to know that FRANK HOPKINSON, who was a photo story writer for MY GUY, has now put together a hard back book with all the best and worst of the publication – including fashion that you would hope never shows it's ugly head again! My Guy is published by Robson Books and available at www.amazon.co.uk and all good bookshops nationwide. It would make a nice pressie.

If you liked – or missed - the MONARCHY TV series, and I do personally like historical documentaries, the complete second series, focusing on the Tudors and Stuarts, is out on DVD later this month retailing at £19.99.

If you are planning an investment now is the time to start looking at Bulgaria before the prices rise! Remember Spain! For as little as 38,000 euros you can invest in a property at the VINEYARDS, Sunny Beach and believe me it's going to be 'THE' place to have that second home. Check out www.the-vineyards.co.uk and if you like what you see, be sure to mention my name and Hot Gossip by clicking on the link below, and you will get a discount on your purchase:
www.the-vineyards.co.uk/knightintl/contact.cntns

I want to tell you about some new skin care products I've discovered that are truly amazing! You must try them and you'll know what I mean. PERFECT POTION is a 100% natural and organic range from Australia, suitable for women, men and mother and baby. Do have a look at www.skinnutrition.co.uk where you can order direct on-line from the UK. I love the face mask and Frankincense and Rose Moisture Cream and I'm looking forward to trying more of these natural products, which I am raving about at the moment!

Do check in again next month when we will be presenting a BUMPER issue for the festive season and beyond. Have a nice November.

Georgina Bruni
Editor in Chief


[email protected]