Hi all! Well after writing about the RAT PACK last month I went to see it again and I have to say it was fantastic! I even laughed at the jokes again! I seriously advise you to go and see it before it finishes its run. You won't regret it.

X FACTOR
Can someone explain to me that after auditioning 75,000 applicants that we cannot find any new talent? Every single one in the final lot has either been in the competition before or had a publishing or recording deal!

I laughed when I heard Simon Cowell speaking about Maria Lawson, saying that she was a rare talent and that Britain needs it's own Beyonce! What a laugh! Simon turned her down eight years ago. She then signed to President Records and released a cover of 'A Night to Remember ', which was used on the Gala Bingo Adverts. She now has a publishing deal with Peer Music.

Girls Aloud
Who would have thought it! Girls Aloud's new single Biology leads the additions to the this week's Radio One playlist, making it on to the C list three week's before its release on November 14. Wonders will never cease, maybe it's because they are signed to Polydor, no, can't be, no-one would be that cynical, would they?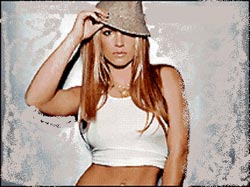 BRITNEY SPEARS



BRITNEY SPEARS
Amazing what you find on e-bay these days! I see Adrian Adams is selling his 7% stake in Britney Spears' song ' Everytime ' which he acquired from co-writer Annette Stamatelos.

Adrian said 'Many people believe this very special song was written about Britney's ex-boyfriend, Justin Timberlake and that's what Annette told me at the time. In fact, Annette told me it's also about her ex-boyfriend and the two of them wrote the song while commiserating about their ex flames 'Adrian hopes to get about £100,000 for the song, which has already returned about £40,000 for this 7% share.

I did see one purchaser asking him why he was selling it if he had already made $60,000 from it ! He said that he had other business ventures to put the money into! Personally, I think he realises that the song has reached its maximum earning potential and he wants to get rid of it. Clever bloke! Bidding is to start at £15,000 and finishes on 2nd November. However as of writing this he has had no bids as yet!

Here is the item no 4784394866 - I would be interested to know if any of my readers bid for it!

TDK CD Printer LPCW - 50
I received an e-mail from a reader asking if TDK replaced my broken CD label printer. The answer is NO! They wrote to me asking for all the information on the unit, which I supplied, but I have heard nothing since! So, let that be a warning, don't buy TDK if you want customer service!

SOME TOUR DATES

THE FUGEES
25TH NOVEMBER - HAMMERSMITH APOLLO - LONDON
13TH DECEMBER - EVENING NEWS ARENA - MANCHESTER
14TH DECEMBER - HAMMERSMITH APOLLO - LONDON

FRANZ FERDINAND
14TH NOVEMBER - CARDIFF - INTERNATIONAL ARENA
15TH NOVEMBER - BRIGHTON - CENTRE
16TH NOVEMBER - BIRMINGHAM - NATIONAL EXHIBITION CENTRE
25TH NOVEMBER - HULL - ARENA
26TH NOVEMBER - MANCHESTER - EVENING NEWS ARENA
27TH NOVEMBER - NEWCASTLE - METRORADIO ARENA
28TH NOVEMBER - NOTTINGHAM - ICE ARENA
30TH NOVEMBER - LONDON - ALEXANDRA PALACE
1ST DECEMBER - LONDON - ALEXANDRA PALACE
2ND DECEMBER - LONDON - ALEXANDRA PALACE
3RD DECEMBER - ALEXANDRA PALACE - LONDON

STATUS QUO
1ST NOVEMBER - CORN EXCHANGE - CAMBRIDGE
3RD NOVEMBER - NEWCASTLE CITY HALL - NEWCASTLE
4TH NOVEMBER - HULL CITY HALL - HULL
5TH NOVEMBER - VICTORIA THEATRE - HALIFAX
7TH NOVEMBER - CLIFFS PAVILION - SOUTHEND
14TH NOVEMBER - COLSTON HALL - BRISTOL
15TH NOVEMBER - COLSTON HALL - BRISTOL
18TH NOVEMBER - NEW THEATRE - OXFORD
19TH NOVEMBER - NEW THEATRE - OXFORD
24TH NOVEMBER - OPERA HOUSE - BLACKPOOL
25TH NOVEMBER - KING GEORGES HALL - BLACKBURN
27TH NOVEMBER - SOUTHPORT THEATRE - SOUTHPORT
1ST DECEMBER - HALLAM FM ARENA - SHEFFIELD
2ND DECEMBER - ROYAL CONCERT HALL - NOTTINGHAM
3RD DECEMBER - CENTAUR - CHELTENHAM
5TH DECEMBER - CARDIFF INTERNATIONAL ARENA - CARDIFF
6TH DECEMBER - PHILHARMONIC HALL - LIVERPOOL
8TH DECEMBER - PLYMOUTH PAVILIONS - PLYMOUTH
9TH DECEMBER - BRIGHTON CENTRE - BRIGHTON
10TH DECEMBER - NATIONAL EXHIBITION CENTRE - BIRMINGHAM
12TH DECEMBER - INTERNATIONAL CENTRE - HARROGATE
13TH DECEMBER - CARLING APOLLO - MANCHESTER
14TH DECEMBER - INTERNATIONAL CENTRE - TELFORD
16TH DECEMBER - INT'NL CENTRE - BOURNEMOUTH
17TH DECEMBER - WEMBLEY ARENA PAVILION - LONDON
18TH DECEMBER - S.E.C.C. - GLASGOW
20TH DECEMBER - ABERDEEN EXHIBITION CENTRE - ABERDEEN
21SR DECEMBER - USHER HALL – EDINBURGH

HARRY CONNICK JR
16TH NOVEMBER - THE SHAW THEATRE - LONDON
18TH NOVEMBER - THE SHAW THEATRE - LONDON

MICHAEL BUBBLE
5TH NOVEMBER - EVENING NEWS ARENA - MANCHESTER
6TH NOVEMBER - HALLAM FM ARENA - SHEFFIELD
7TH NOVEMBER - PLAYHOUSE - EDINBURGH
8TH NOVEMBER - S.E.C.C. - GLASGOW
10TH NOVEMBER - METRORADIO ARENA - NEWCASTLE
12TH NOVEMBER - N.I.A. ACADEMY - BIRMINGHAM
13TH NOVEMBER - BRIGHTON CENTRE - BRIGHTON
15TH NOVEMBER - CARLING APOLLO HAMMERSMITH - LONDON
16TH NOVEMBER - CARLING APOLLO HAMMERSMITH - LONDON
17TH NOVEMBER - CARLING APOLLO HAMMERSMITH - LONDON

LISA SCOTT LEE

The ever hopeful wannabe Lisa Scott Lee must have had a shock when her new single ELECTRIC, went in the charts at No 13 on the first week and dropped to 47 on the second week, mmm I wonder why? Use your imagination on this one! I wonder if she will be true to her word and give up singing all together, as she said that is what she was going to do if she did get into the Top 10!
I look forward to it !!!

Bandit A&R Newsletter
Helping unsigned acts/songwriters target their material to the right people


[email protected]


www.banditnewsletter.com

Songlink is for Songwriters who need to place their songs www.songlink.com

If you are a performer and you want to showcase to the industry then this is for you www.kashmirklub.com

Also don't forget the song for little Sarah, who was so brutally murdered www.asongforsarah.co.uk

ACTIVE MUSIC MANAGEMENT
www.activemm.co.uk