GETTI RESTAURANT 16-17 JERMYN STREET, LONDON.
Tel: 020 7734 7334

THE SLENDER GOURMET RESTAURANT of the MONTH

Delicious, healthy Italian cuisine prepared by Chef Luigi and his team of Chefs. This Restaurant is centrally located just around the corner from Piccadilly Circus and next to the Jermyn Street Theatre. We were warmly greeted by the Manager Marino Simonelli and his staff of waiters, and ushered to a table with window views.

'Welcome to the Wines of Italy", a very extensive list. Being a Champagne imbiber I chose a glass of sparkling Prosecco – method Classico made mainly from the Chardonnay grape.

The basket of mixed bread served with olive oil and olives was a perfect accompaniment to the bubbles in my glass. Bread can be slimming especially Italian slices with holes in that diminish the starch intake. Olive oil is so much healthier than b utter and the olives delicious.

What next – Antipasto, a speciality from Valtellina, Bresaola, thinly sliced air-dried Beef, Rocket, Parmesan shavings and lemon dressing. Light and tasty, which prepared me for my main dish of Carne. Calves Liver sautéed with butter and sage served with shallots prepared with balsamic vinegar. Potatoes and sautéed Spinach. A glass of red wine, Merlot Cabernett Brentino – powerful, full bodied with a distinctive flavour. I was in my element.

There is a set 2 and 3 course menu, priced, if I remember rightly, at around £15.
Their Xmas Menu – 2 Courses £19.50 and 3 Courses £24.50.includes Xmas Crackers and Party Poppers.

THE CHRISTOPHER WREN HOUSE HOTEL and SPA. Windsor-on-Thames, Berkshire.
Tel: 01753 861354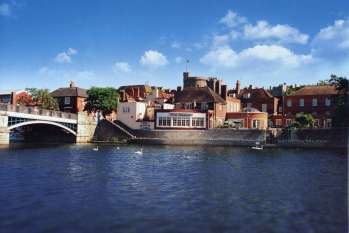 Chevaliers and members of the Confrerie du Sabre D'or. Led by Commander Julian White, picturesquely attired in full regalia of cloaks and plumage, accompanied by Pipers, crossed Windsor Bridge and entered Christopher Wren's historic hotel.

A Caveau had been established. Sabrage was about to take place. Lots of guests wanted to become Sabreurs, Sabres flashed, the word ran up the seam of the Champagne bottle, and cut the neck, the cork flew across the room. Immaculate waiters, trays filled with numerous glasses of Champagne, served happy imbibers. A gastronomic Dinner followed.

A fantastic evening; we have to thank Maitre de la Communication Officer, Clare Logue for organizing everything so perfectly. For future events of a like ilk, contact Clare, Director of THINK Hospitality at Tel: 01491 824058.

RYE LODGE HOTEL, Hilders Cliff, Rye, East Sussex.
Tel: 01797 223838.

Rye – this lovely old Cinque Port Town is a delight to visit. Combine it with a Champagne weekend at this family run Hotel and your bubbles will live up to all expectations. You might also have a chance to watch me performing my Champagne Exercises, with or without, props, ie: magnums, bottles and glasses.
This 3-night weekend starts on 4th December.

HAPPY BUBBLES – Joan - The Slender Gourmet.

XMAS PRESENTS - How about giving copies of CHAMPAGNE EXERCISES, signed by me. I will let you know in the December issue of HOT GOSSIP in which Restaurants I shall be book signing.