COVER STORY: Our cover girl this month is the glamorous Gwyneth Paltrow snapped by celebrity snapper Joe Alvarez. Thanks Joe for another great cover shot –see Joe's celebrity images on our Celebrity section.


LETTER FROM THE EDITOR
Hello November, and what a super issue of Hot Gossip this is, packed with images of your favourite celebrities, and news and views on the latest trends and beautiful and exciting people. And this month I launch a special section on my Spotlight page especially for book worms, appropriately entitled Hot Books of the Month - Editors Choice, and to kick start this section I'm pleased to introduce my deputy editor's latest, which I assure you is a real gem! See below for details.

GOODLIFE MEDIA launched ARTHUR MORRICE, a really fashionable opticians and eye practice at 11, Beauchamp Place, Knightsbridge, London. The launch party was heaving with guests trying on the latest spec designs, including those by THE SAVILLE ROW COLLECTION, a distinguished company who I'm told designed HARRY POTTER'S eyewear for the movies. With so many different styles and brands, and a first class group of people manning the practice, this has to be a welcome addition to the area.

A launch party for the publication of BEAUTIFUL CHRISTMAS CARDS by ALEXANDRA ADAMI was held at the ALLEGRA HICKS salon. In support of the book, style ambassador for Giorgio Armani, LADY HELEN TAYLOR, who is also Patron of CLIC Sargent Caring for Children with Cancer, contributed the foreword, and attended the event. In true festive spirit, a portion of the profits from book sales was doubled on the evening and donated to Clic. I am looking forward to reviewing this glamorous coffee table book for our December issue. The book is published by teNeues Publishing.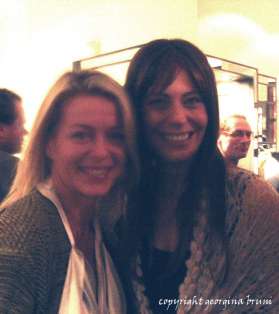 LADY HELEN TAYLOR & FELLOW GUEST MELISSA KNATCHBULL



Just in time for the festive season is the new web boutique MADAME PINK - such a fabulous girlie name, don't you think! Shop on-line for your favourite designer clothes and accessories, including GHOST, BEATRIX ONG and EARL JEANS to name but a few. I met TIFFANY and HELENA, the girls who created this worthy concept, at their launch party in Chelsea, and they are very enthusiastic about the boutique and its offerings. Now you can buy super things for yourself or delightful gifts for family and friends at the click of a mouse! And when you visit don't forget to check out the homewear and beauty products too! www.madamepink.co.uk


HELENA & TIFFANY from MADAME PINK



At the invitation of SIR RICHARD BODY of NEW EUROPEAN PUBLICATIONS and former Conservative Member of Parliament, I attended the book launch of FROUDE TODAY by JOHN COLEMAN. The launch was held at the WESTMINSTER BOOKSHOP and it was delightful to see JUSTIN GLASS, a dear friend, who also publishes some very interesting books. CHANADON www.chanadon.co.uk I will be reviewing John Coleman's book for a future issue.

Modern artist LYNN PAROTTI launched her TIME & TIDE collection at 5 Blenheim Crescent, W11, with a sale for £9,000 on the first night for one of her huge floral creations. I was delighted to view such colourful works, which are sure to be a success. After all, we do need some colour and gaiety in our lives. The evening was organized by EILEEN SPENCE-MONCRIEFF.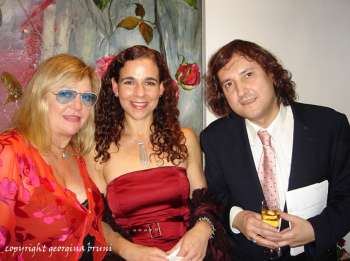 EILEEN SPENCE-MONCRIEFF, LYNN PAROTTI, VALENTIN BORISSOV



A super party was organized by my deputy Ed, SALLY FARMILOE-NEVILLE, for her friend celebrity psychic PETER LEE. The event took place at the chic MINT nightclub, Sloane Street, Knightsbridge, and was attended by a host of interesting people. It's always nice to see Peter, who's such a sweetie, and his friend TV celebrity and comic RUSTY LEE who travels down from the north to attend his annual birthday bash. Socialite PHILIP SALLON also attended.

One evening last month CHARLOTTE ELLIS, Sally and moi dined at ANTONY'S restaurant, Porchester Road, W2, just down the road from where my sister used to live. The food is absolutely divine – and I really mean it! The wine is also excellent, and the menu price list is not at all expensive – in fact very reasonable, and I shall certainly be visiting again, even if it is on the other side of the park from me. The restaurant itself is delightfully cosy with great ambiance and that romantic laid back feel – it has to be one of West London's best kept secrets - and it has a function area with a bar downstairs for those private parties. It's owned by a Polish lady called YVONNE, who is always in attendance –and so charming. The food is a combination of European – of course some Polish - do try the seafood, especially the King Prawns....fantastic! ANTONY'S 54, Porchester Road, London W11 Telephone 020 7243 8743 checkout the website which tells you all you need to know – and shows full menu. You won't be disappointed. www.antonysrestaurant.com

As every Chelseaite will tell you there's only one place to take lunch, enjoy an afternoon snack, grab a coffee with friends, or shop –and that is the DUKE OF YORK SQUARE, Kings Road. This newly designed up-market location which cost untold millions to build, is the 'in' place to be - and be seen. So it was no surprise to me that trendsetter and former actress EVA LEWIS launched her MONOCHRONE BODY & SOUL DAY SPA in this very place! This is one fantastic spa! It has two floors offering professional massages, beauty treatments – guys can even get a close shave here – manicures –pedicures –facials – make-overs ...and so on ....Forget going anywhere else – there is nowhere else that is so delightfully chic and has such experts taking care of you! Well done EVA. You are a star! MONOCHRONE, 38-39 Duke of York Square, Chelsea, London. Tel 020 7259 9259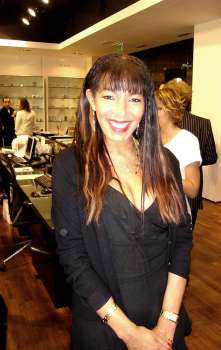 EVA LEWIS




HOT BOOKS – EDITOR'S CHOICE

And now to my book reviews! The first on my list this month is by my deputy Editor SALLY


SALLY FARMILOE-NEVILLE



SENSUAL PLEASURES AND THE ART OF MORPHING INTO A HEALTH GODDESS
Wow! That's a grand title, but I have to say it's one that is deserving of such because this is indeed a grand book! There are numerous publications that promise the world, with author's claiming that they can change our lifestyle for the better, make us a fitter and more beautiful person – but do they really help –and how boring can they be? Thankfully this is not another of those – and not just another health and beauty book either! It is a book beautifully presented and very well written by SALLY FARMILOE-NEVILLE, who for ten years has worked diligently every month gathering expert advice for her dedicated readers on how to stay healthy and beautiful. She is deputy editor, and fashion, fitness and beauty editor for Hot Gossip magazine. What also makes this book unique is that Sally has persuaded 87 men and women (moi included) to offer their personal advice and/or part with their beauty secrets. It is a fabulous informative read, with colour images of Sally and her contributors – and a super accessory for your coffee table – if you can ever put it down! Sally takes us on a magical sensual trip from TASTE through to SMELL – SIGHT – HEARING & SOUND and finally TOUCH – how cool is that! It has an abundance of tips and advice from doctors, health specialists, top class chefs, beauty consultants and just about everybody who matters...such a fabulous book – a 'must have' health and beauty bible for this age. Order

SENSUAL PLEASURES AND THE ART OF MORPHING INTO A HEALTH GODDESS by SALLY FARMILOE-NEVILLE published by the BOOK GUILD PUBLISHING on 24 November 2005. Order advance copies from the publisher www.bookguild.co.uk or Amazon www.amazon.co.uk

WILL YOUNG – THE BIOGRAPHY by ERICA McPHEE
You might know that pop Star Idol WILL YOUNG is gay, but did you know he's a twin and his twin was charged with alleged assault (curious?) Did you know WILL came from a privileged background (curious?) I generally find a biography about a very young person can be rather boring. I mean, how can they have had a life at such a young age? Well this is an interesting book written by a journalist who specializes in celebrity news and showbiz interviews, so it's got some spice to it, and she must have thought he was worth writing about! And for fans there are lots of cool colour images. And it seems that Will's first TV appearance wasn't as a wannabe pop star after all, but pictured in a brawl with angry demonstrators (curious?) I don't want to spoil it for you so go out and buy the book – lots of namedropping and the truth about the agony of getting through confrontations with the legendary SIMON COWELL. Juicy reading for those long winter nights!

WILL YOUNG –THE BIOGRAPHY published by Michael O'Mara Books Ltd. Available on Amazon www.amazon.co.uk

Until next month
Georgina

Georgina Bruni
Editor in Chief