Isn't our July cover girl RANI SINGH gorg, guys and gals? Lovely actress and presenter RANI is one of the contributors to my new book SENSUAL PLEASURES AND THE ART OF MORPHING INTO A HEALTH GODDESS which will be published later this year (watch this space) as well as a great supporter of our esteemed Ed in Chief GEORGINA's and my Charity events. She is always on the Box: keep your eyes peeled for her!

The hot weather is here at last and we have to look after our skin. My Product of the Month in this drying heat is FOREVER LIVING's "Aloe Lotion", a wonderfully nourishing and soothing lotion made from aloe gel with collagen and elastin. You can use Aloe Lotion on your face, hands and body and it feels beautifully cool and silky on the skin .FOREVER LIVING is a new and exciting range of products hailing, like many good things, from the US of A. The range includes all sorts of fab goodies including shampoos and conditioners, toothpaste, deodorant and sun protection and fake tanning products. FOREVER LIVING is sold through distributors only: mine is called PAM TAYLOR, who is lovely. PAM is just around the corner from moi but will post your products to you if you are not a native of West Kensington! Ring PAM (07985 432236) for a brochure: all the products are really cheap and work like a dream. Fans of FOREVER LIVING are said to include the fabulous KIM CATTRALL and here she is, SEX AND THE CITY fans: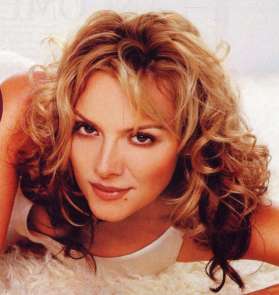 KIM CATTRALL.




Summer is a bad time for cellulite; you must get rid of it super pronto if you want to look good on the beach. The latest poor celeb to be caught out with the orange peel effect is NICOLETTE SHERIDAN who not only had to pose in a bathing suit, along with the other DESPERATE HOUSEWIVES gals for the cover of VANITY FAIR but also has to wear tight revealing mini skirts for her role as town tart in the show. I absolutely refuse to publish a pic of ANY beautiful celeb with podgy looking legs, that is simply not what this column is about so I have binned that pic. Instead I am going to inspire you all to work out, girls, by showing you an action shot of her gorgeousness NANCY DELL' OLIO showing off her toned cellulite free limbs.



NANCY DELL' OLIO.



If you do not have the time to work out as much as NANCY, try the speedy route to getting rid of cellulite and book a course of TRI-ACTIVE, the latest and greatest anti cellulite treatment to hit these shores, courtesy of DR PATRICK BOWLER at THE COURT HOUSE CLINIC (home of the famous "flab jab", beloved of NICOLE KIDMAN, GERRY HALLIWELL, TOYAH, et al.) The TRI-ACTIVE machine looks like a leggy DALEK (DALEKS are back: DR WHO says so!) but really does the biz on the cellulite front and is also great for lifting the bum, a very important consideration for bikini and "short shorts" time. The TRI-ACTIVE works by zapping the cellulite, improving the circulation and draining the lymph all in one quick, painless treatment. You will need a course of about 10 so get cracking immediately: ring 0870 850 3456 for appointments. DR BOWLER's "VITAGE Body Refining Gel" is a must have product to complement the TRI-ACTIVE treatment or works well by itself if you only have a few dimples to contend with (available from the same phone number.) The VITAGE range of products includes "Fine Lines" and "Even Tones", both of which excellent lotions for face, decollete and hands I reviewed glowingly last month. Celebs who favour the VITAGE range are HILARY SWANK and KATE BLANCHETT.


Pedicures are also "de rigeur" for summer if you want to wear this season's gorg sandals and get the foot fetishists going on the beach! If you prefer to do your own pedicure in the comfort of your own home or garden, invest in OPI's brill new "Pedicure" range, consisting of "Soak", "Soften", "Scrub", "Mask", "Massage" and "Smooth". The products are self explanatory, very reasonably priced and will make your feet feel as if they have been professionally tended at a beauty salon. After applying the "pedicure" products you will be ready for your OPI nail varnish. The range is extremely comprehensive colour wise and OPI, an American company, seem to have developed non-chipping polishes: don't ash me how but much appreciated, OPI! The best OPI colours for summer are "Royal Flush Blush" and "Blushingham Palace" which, I am informed by OPI's PR company, were created in honour of THE ROYAL WEDDING earlier this year. I wonder whether CAMILLA, THE DUCHESS OF CORNWALL is even now having her delicate tootsies painted in one of those colours by several flunkies (one for each toe) in the conservatory at HIGHGROVE? In the meantime, while you are pondering that fascinating question, you can check out OPI stockists at 01923 240010. Fans of OPI nail polishes include most of the famously long taloned American Beauties, in particular BARBRA STREISAND, BRITNEY SPEARS AND JENNIFER LOPEZ and here's MS. LOPEZ for your delectation, male readers;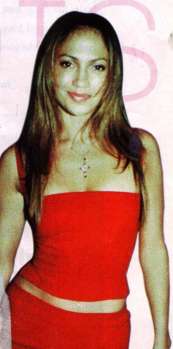 JENNIFER LOPEZ.




Those of you who play a lot of sport in the summer, like me, may get the odd twinge from your complaining muscles. Then is the time to treat yourself to a deep Neuro-Muscular massage with the wonderful TERRY KINGSCOTE, CS Phys, to iron out those knots and destress yourself at the same time. I originally met the delightful TERRY at chi chi health hydro FOREST MERE and have visited him regularly ever since. TERRY treats various well known ladies and gents including the beauteous DARCY BUSSELL and is known for his "healing hands". You can book him on 020 7835 0400 or 07714 643403; his surgery is in South Ken. Go on, achey painey ones, get those muscles attended to before they seize up!


If your aches and pains are altogether more serious and you suffer from arthritis or inflammation, there is a wonderful new "miracle product" on the market now called XANGO. XANGO, a totally delicious drink is made from the exotic mangosteen fruit and is one hundred percent pure and healthy, unlike most of the anti inflammatory drugs which are regularly prescribed for these sorts of problems. Our 2 guinea pigs, STEVE and BARBARA have been "on it" for 3 months and say it is marvellous and they have now ditched their medicatiom, which is great news. You can order XANGO from 01329 280727 or [email protected]


Soho is the place to be on hot London nights and my Restaurant of the Month for July is the delightful ANDREA DORIA, 17 Beak Street, W1 / 020 7734 04 40. ANDREA DORIA is family owned and PIERO, PAOLO, GIOVANNI and TERESA will make you feel really at home. Plus the food is melt in the mouth sensational. I discovered this fab new hot spot just near the Regent Street shops through lovely VALENTIN BORISSOV, my psychic but you don't have to be clairvoyant to work out that this 3 floored restaurant (including a private bar and private dining room) will go far. Check it out: the prices are very reasonable and they stock some frisky little Italian wines to complement your pasta and saltimboccas.


Thank you for all your letters re my book reviews. Unfortunately we do not have space in HGUK online for a whole book column, although I will be continuing my book page in our HGUK hard copy magazine. In the meantime here is a bumper crop of holiday reading for you.

HGUK cover girl CHRISTINE HAMILTON has written her autobiography, FOR BETTER FOR WORSE (Robson books, £16.99) and very amusing it is too. Famous "British Battleaxe" CHRISTINE is a natural writer and her brilliant sense of humour seems to have carried her through all the trials and tribulations of her fascinating life, including hubby NEIL's bankruptcy and their famous court battles with MOHAMMED (AL?) FAYED and the dreadful unmentionable woman who falsely accused THE HAMILTONS of dreadful unmentionable things. The attractive and formidable MRS HAMILTON is not scared of anyone and her comments and inside stories about everyone and everything from her old headmistress to famous politicians to "The Egyptian grocer" to her brilliant performance on I'M A CELEBRITY....... are hugely entertaining.

CHRISTINE has beautiful skin and favours the PURELOGICOL range of products to maintain it. The "age defying" PURELOGICOL range includes: "Collagen Body Supplement", capsules taken internally to nourish the skin from the inside out, a brilliant and innovative idea. "Collagen Face Mask" which contains anti-oxidants and vitamins and minerals as well as collagen and makes your face feel fresh and taut. "Collagen Velvet Face Serum", one of my HGUK Products of the Month as well as one of my personal favourites which makes your skin feel like silk and look really dewy. "Collagen Lip Plumper" which does just that as well as nourishing the delicate lip tissue which needs extra nourishment in summer. Check out the brill PURELOGICOL range and its stockists at: www.purelogicol.com

Now here's a pic of CHRISTINE AND NEIL with PURELOGICOL's delightful MD, ALLAN MCLAUGHLIN, GINA AKERS from THE SALON and JULIE HANNAH from THE DAILY RECORD at PURELOGICOL's recent Glasgow product launch: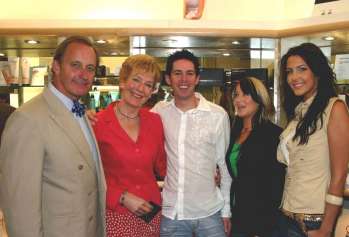 PURELOGICOL launch with NEIL AND CHRISTINE HAMILTON.




Getting back to books, another very attractive and formidable lady who also happens to be a Royal author is LADY COLIN CAMPBELL who has just written her first novel, EMPRESS BIANCA (Bliss Books, £15.99.) "GEORGIE" CAMPBELL is a wonderful writer and this tawdry tale of a "scheming bitch" who lies, cheats and murders her way into Society and success is absolutely riveting . GEORGIE's Royal books, especially DIANA IN PRIVATE and THE REAL DIANA were explosive because they were true. EMPRESS BIANCA may be a work of fiction but its glamorous author has hinted that there may well be some autobiographical bits and characters in it and the story is certainly an explosive one. A perfect beach read, you will forget the delights of water sports and still be engrossed in EMPRESS BIANCA at sunset!


For the guys amongst you I recommend SAUDI BABYLON by MARK HOLLINGSWORTH with SANDY MITCHELL (Mainstream Publishing, £15.99), the horrifying true story of SANDY MITCHELL's wrongful arrest and two and a half year imprisonment by the Saudis for a crime committed by AL- QAEDA militants. The Saudis knew MR MITCHELL was innocent but used him to cover up the AL-QAEDA atrocity (bombings) and tortured him into giving a (televised) false confession so that they could sentence him to death. Happily he was eventually freed before being beheaded but this huge miscarriage of justice should never have taken place and this innocent man who happened to be working in Saudi Arabia lost two and a half years of his life. This book is obviously upsetting and you will be appalled at the totally disgusting and corrupt behaviour of the totally disgusting and corrupt Saudis, including the Saudi Royal family, no less. You will also be appalled at the behaviour of our British government who were prepared to let an innocent man be tortured and sentenced to death to protect their arms sales to SA, not to mention our dependence on that country's oil and military strategic value. However SAUDI BABYLON is a tale that needed to be told and it is every bit as fascinating as it is repellent: an excellent read in fact.


Finally I am delighted to report that the charming and super bright PETER JAMES, author of No.1 best seller POSSESSION has another monster hit on his hands with DEAD SIMPLE (Macmillan, only £10, a definite bargain.) PETER, who is also a successful film producer who has been lucky enough to employ moi as well as AL PACINO, JEREMY IRONS, JOSEPH FIENNES, ROBERT DE NIRO, KATHY BATES, HARVEY KEITEL and (currently) SHARON STONE, has a dark and clever mind and DEAD SIMPLE is dead scary. It is the story of a stag night prank which goes horribly, blood chillingly wrong and it is dead scary because it is believable, the sort of thing that could actually happen. Without revealing the actual plot I can just tell you that DEAD SIMPLE will give you a terrifying feeling of claustrophobia and chills down the spine. PETER's cosy cop, ROY GRACE is an endearing character too and the story races along at a rollicking good speed. Great stuff.

Thank you for reading my page, dear readers and I hope you enjoy the summer.
You can e mail me at

[email protected]



Do check out my personal web site when you have a mo at: www.sallyfarmiloe.co.uk and don't forget to snap up my potty training vid for your little nippers: picnics are so much more fun when bums are dry not wet!

LOO TIME VIDEO available from:

[email protected] and:

http://www.121music.com/pages/video_01/home.html