THE SILVER SHADOW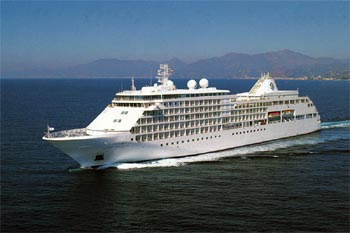 I cruised the Mediterranean on this magnificent 6-Star Ship. Luxury personified – I did not have a Cabin, I had a deluxe Suite with panoramic Ocean views.

Public Arenas – Swimming Pool and healthy Jacuzzis. A Grand Restaurant offering 30 Signature dishes especially created for the SILVERSEA FLEET by Relais Gourmands. A Terrace Restaurant featuring fine Italian Cuisine in the evening and Gourmet Breakfasts to start the day.

A Casino, luxury Shops and a Theatre. I adored the high-kicking Moulin Rouge chorus girls.

Travelling Alone Gathering - Cruise Director, Frederic Jansen, a handsome 33-year old Swedish Officer, invited the 20 'Travelling Alone Passengers to a special Evening Gathering for Cocktails.

How many men and how many women would be travelling alone, I wondered, as I made myself look as attractive as possible. Needless to say, men were outnumbered, but everyone was smiling and happy, and the Champagne just flowed and flowed.

The next evening, Captain Mino Pontillo invited me to a 'Welcome Aboard' reception, which was just one of many parties hosted by Captain and Crew. I particularly enjoyed the Dinner Dances in the Restaurant with music by the Silver Shadow Quintet.

We visited picturesque Ports like Port Vendres, Marseilles, Portafino, Sorrento, Taormina, Malta. I was having such a wonderful time on board, wining, dining, swimming and taking the sun that I just looked at them from the comfort of my deckchair and glass of Champagne.

Every meal was a highlight, an experience to be remembered.

Champagne and Caviar for Breakfast. For example, a memorable way to eat a 4-minute boiled egg. The waiter, with a deft flick of the knife, beheads the egg. Then he dabs black Malossol Caviar around the yolk and golden Malossol Caviar on the rim. A very pretty picture especially when accompanied with Champagne.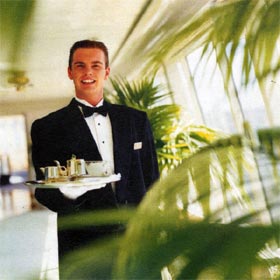 JEEVES on SILVERSEA



Ultra-luxury Silver Sea Cruises now offer personalised Butler Services.

For more information telephone Cornwall Cruises, Larry Sylvestra, 01872540690.


HAPPY CRUISING and Glorious Bubbles
Joan – The Slender Gourmet.